Since modelling Ralph Lauren's Ferrari 250 GTO back in 2009, as each year goes by, Amalgam Collection has fallen ever more in love with the perfect form and beauty of the body of this most important Ferrari icon. The form of the 250 GTO represents more than any other the quintessence of the Ferrari brand in the collective imagination. The longer you look and the deeper you go into every detail, the more perfect is the outcome of the creative work by Bizzarini, Forghieri and probably most importantly regarding the body, the finalisation of the design by Scaglietti.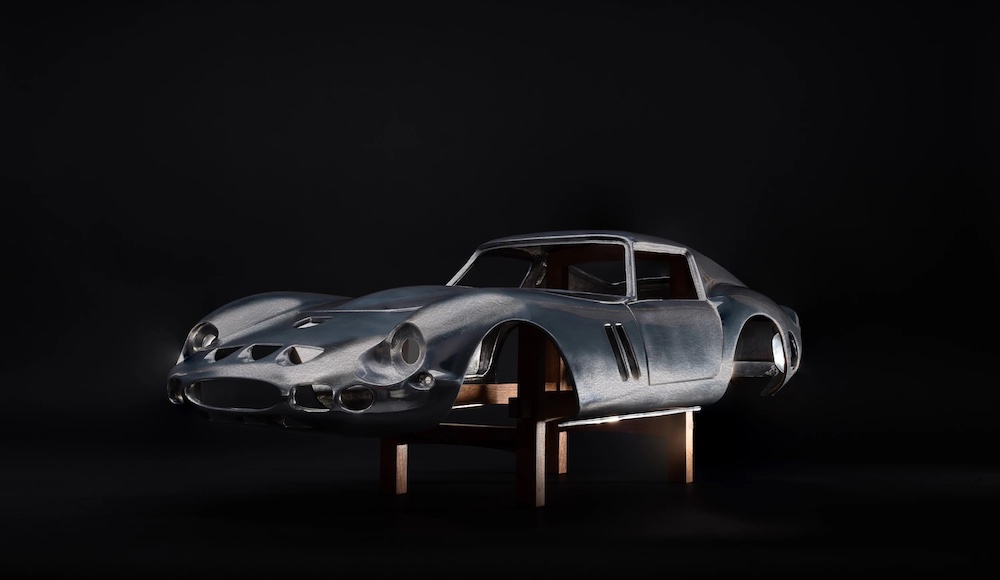 Amalgam Collection have created several perfectly detailed models of the car at 1:8, but to fully honour the beauty of the body form they have now created a hand hammered aluminium replica of the 250 GTO body at a quarter the size of the original. Each piece has been created from aluminium sheet using traditional panel-beating methodology, forming the panels with a hammer over a buck, exactly as the original full-size bodies were created by Carozzerie Scaglietti in the early 1960s.
The buck over which the body is formed, has been machined using extremely accurate data from digital scans of several significant 250 GTOs that Amalgam Collection have modelled over the years. The investment in skilled man hours is significant, and so each piece will be made to order. Amalgam, and the design team at Ferrari themselves, are of the opinion that when displayed in the hammered finish, these 1:4 body replicas are most expressive of the raw beauty of the original form and the very skilled process of creating them.
The body is shown mounted on a walnut wood frame, but other mounts can be designed and supplied to order. Wall mounting the piece would make a stunning display. This 250 GTO body replica is the first in a series of bodies Amalgam will produce. Next in line is the 250 Testa Rossa, also a design by Scaglietti, with the 265 GTB and 275 GTB/4 also in their sights to follow in 2023 and 2024.
Click here for further information
more information: amalgamcollection.com
---