Race car owners trust Canepa´s motorsport team to deliver the expertise to restore and run their vehicles at the highest level.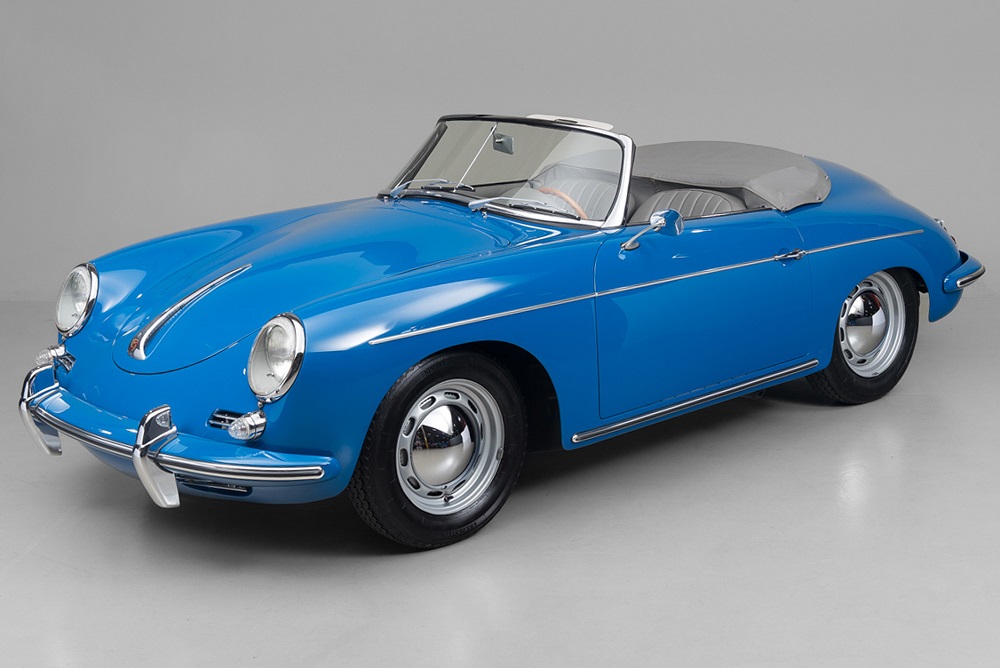 ---
1960 Porsche 356 B Roadster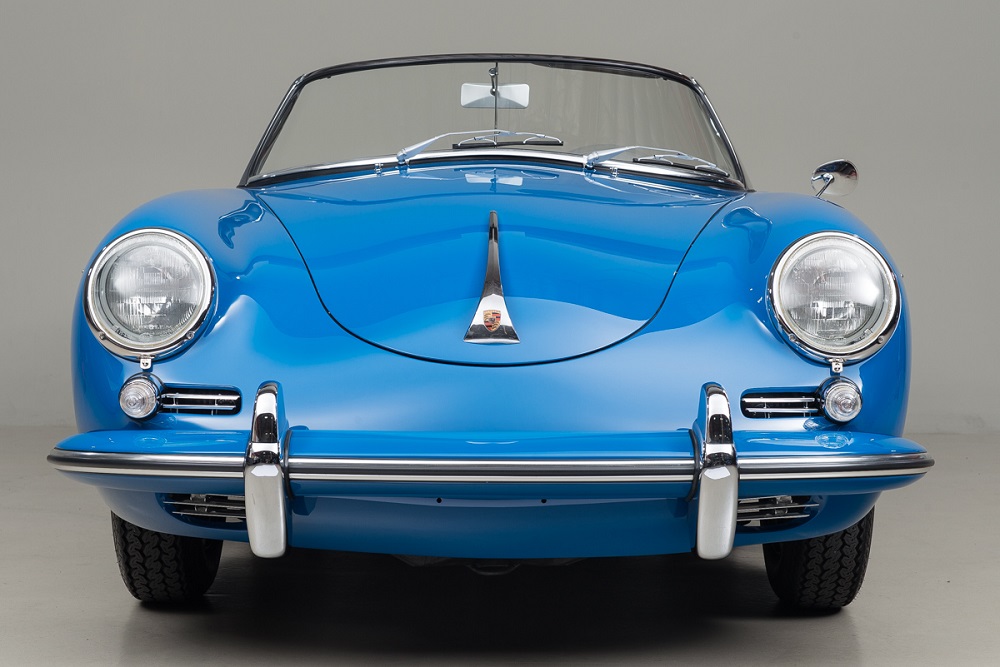 Porsche's most desirable convertible
California Car from 1960-2014
Numbers Matching
Concours winner
Recent Canepa Restoration
Rare and original Royal blue paint
For good reason the 356B Roadster is considered one of the most desirable open early Porsches. It is better driving and more comfortable than a Speedster, and is rarer and more attractive than a Cabriolet. The Roadster benefited from the updated 356B mechanicals, including better steering and gearbox, while wearing a sexier and more dramatic body than a B Cabriolet. This Royal Blue 1960 Porsche 356 1600 Roadster was purchased new from Dave Rasmussen VW/Porsche, Burlingame, California, by Mr. Larry Stevens as a gift for his daughter, Kay (Stevens) Small, upon her graduation from Stanford University in June, 1960.
Mr. Stevens was a well-known and respected corporate lawyer, prominent capitol lobbyist, and served with distinction as a flight deck officer aboard the U.S.S. Enterprise during World War I. However, he was probably best known as a college football All-American for USC, playing on the 1931 and 1932 national championship teams in the Rose Bowl. He was the last of the "Thundering Herd" when he died in November, 2006.
Kay Small kept this wonderful gift for the next 49 years. Initially she used it as an everyday driver but then eventually allowed her brother to enjoy it for many years. After he returned the vehicle, it sat in her garage for twelve years before she decided to restore it in 2007. The body, chassis, suspension and engine sheet metal were the work of Carol Kleindienst/Guy Walker of Just Carol's Porsche in San Jose, CA. The interior and top were done by Byron Robeck of Finish Line Interiors in Santa Clara, CA. The original engine and transmission were rebuilt by Robert Grigsby of RMG Enterprises in Sunnyvale, CA. Its
comprehensive restoration was completed in the spring of 2009. The car immediately won its class at the Hillsborough Concours d' Elegance in May 2009.
In November 2009, Ms. Small sold the car to David Rossiter of Folsom, California. After his acquisition of the car he activelv campaigned it in the Porsche Club of America's Zone 7 Concourse series, with first place finishes in all Zone 7 Concourses in 2010/11/12, and with year end awards for 2011/12 (did not participate in enough event to take year end for 2010, but won all entered.) The Roadster collected numerous other awards including wins at the Chico, Palo Alto, Capitol, Presidio, and Carmel-by-the-Sea Concourses, as well as The Legends of the Autobahn Concours in Monterey where the car was the featured
Porsche in the 2011 show program.
Acquired by Canepa in 2014, the Roadster has been taken to a whole new level of concours preparation. The car was disassembled and the exterior was refinished in its original factory Royal Blue. Every system was evaluated, and serviced or restored as necessary. Over 500 hours were put into making this Roadster one of the finest in existence. We have taken this car from a regional concours winning level to where it can perform at the highest level of competition, and win.
This is a matching numbers car with all original panels, every part with matching date stamp. It has been owned and operated in California since new, accident free, and is complete with original owner's manuals and cover, tool kit (with original packing list), jack, door tag, spare tire, and the very rare door pocket key – a Roadster only item.
As per the Porsche Certificate of Authenticity, its date of manufacture was 3/31/60, VIN 87779, Engine #602440, Transmission #36491, and in its very rare (believed to be 13 only) Special Order Royal Blue (6012) exterior paint with Light Grey Leatherette interior. Optional equipment included reclining seats and Continental tires. Dealer installed options
purchased at the time of sale included: seat belts, Reuter luggage rack, Les Leston steering wheel and half tonneau cover.
---
1967 Porsche 911 "Outlaw"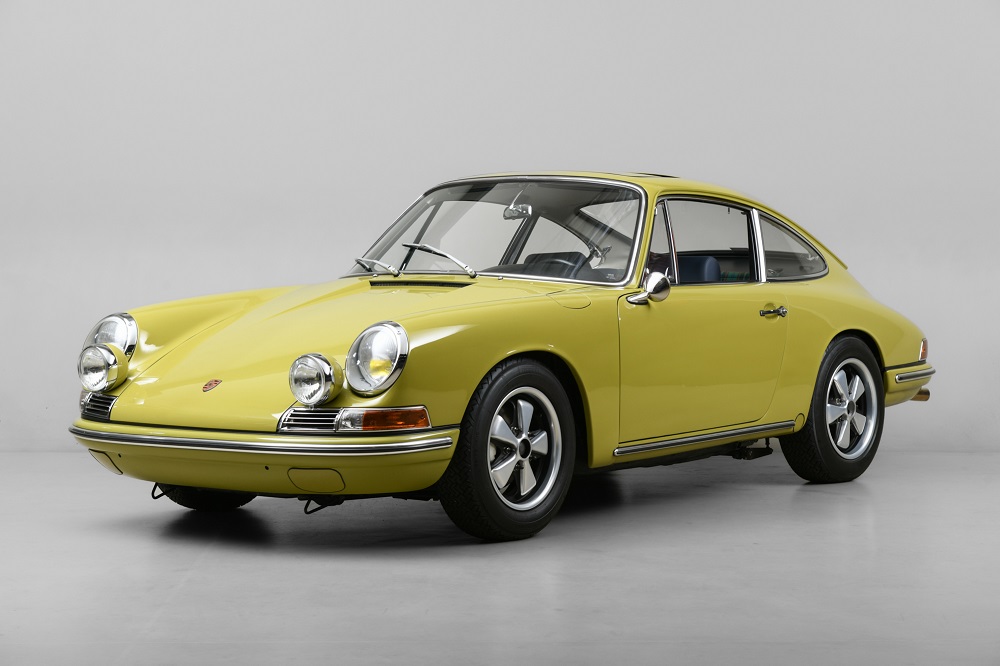 Original Factory Sunroof 911 (1 of 200)
Full "Outlaw" spec completed to the highest standard
2.8 liter fuel injected flat 6 / 915 Transmission
240hp / 235lb-ft of torque
Upgraded transmission, suspension, brakes, wheel/tires, etc.
Stunning Golden Green ('68 special color) with tartan plaid green/blue GT seats and complimentary interior trim
A very cool "no expense spared" 911 Outlaw with performance, handling and comfort
This isn't your average '67 911, and this definitely isn't your average outlaw.
The first version of the Porsche 911 is a tribute to the company's stunning five-decade evolution. The 911 is a timeless classic. Despite going through various evolutions over the years, it is still, without a doubt, the most well-liked Porsche model.
This specific example is far from stock, but that's not a bad thing. This vehicle is a true masterpiece, combining classic original components with subtle modern touches exemplifying the vision and passion of its most recent owners.
What started as a humble '67 Porsche 911 with a 2.0 liter flat six and factory sunroof has since become a gorgeous Golden Green '67 outlaw 911 sporting a '73 911T 2.7 liter that has been bored out to 2.8 liters pushing 240hp and 235lb-ft of torque.
When this car was originally restored and modified, it was a 3-year rotisserie process done to an extremely high standard of excellence. The 911 was subjected to a fresh '73 911T 2.7 liter, 915 transmission, and a Golden Green paint finish paying homage to the special-order color offer from 1968. Other components such as upgraded headers, exhaust, cams, suspension, and a custom upholstered interior were also tied into the original custom build of this vehicle.
When the most recent owner purchased this vehicle in 2014, he decided to enjoy the car for a few years before undergoing his own modifications to take it to the next level. Through Accumoto, the car was completely dismantled and inspected so the owner could get a complete understanding of what he was working with. He decided to clean up the look of the underside and wheel wells using WURTH material and then opted to color-match the trunk and engine compartment in order to create a cohesive canvas for his masterpiece.
With the help of Accumoto the engine was pushed further. They kept the 2.7-liter mag case but bored it to 2.8 liters and incorporated Rasant fuel injection paired with a MOTEC engine management system. As well the gearbox was rebuilt using all-new genuine Porsche bearings, synchros, and 1st-3rd sliders accompanied by a new guard LSD. Brakes and suspension were upgraded using S calipers in the front along with 6" x 15" Fuchs wheels. Elephant suspension and oil cooling were included and utilized as well.
The custom interior is where you can really witness the mesh between original and modern components. All black vinyl found within the vehicle is original S trim, thanks to Jason's efforts in scouring the Early 911S Registry for the correct interior. Custom-tinted sun visors were fabricated to pay homage to the early Porsches and VWs. GTS seats were then added to the vehicle after being re-covered in blue vinyl and tartan plaid material that would match the blue door cards. On top of this, all wiring, lights, mechanicals, and seals were addressed to ensure any and all potential problems would be prevented. As finishing touches to this work of art, an original Momo steering wheel and original leather shift knob as well as Cibie headlights and driving lights were added to complete the build.
Upon its arrival here at Canepa, it was evident that this 911 was nearly showroom ready. After going through our Canepa difference process where it was personally test-driven by Bruce Canepa and then inspected by our team of veteran technicians, it was clear to us that nothing was needed. Thus, the vehicle was sent over to our detailing team for a wash and light foam pad polish and it was off to our showroom floor.
---
1997 Porsche 993 Turbo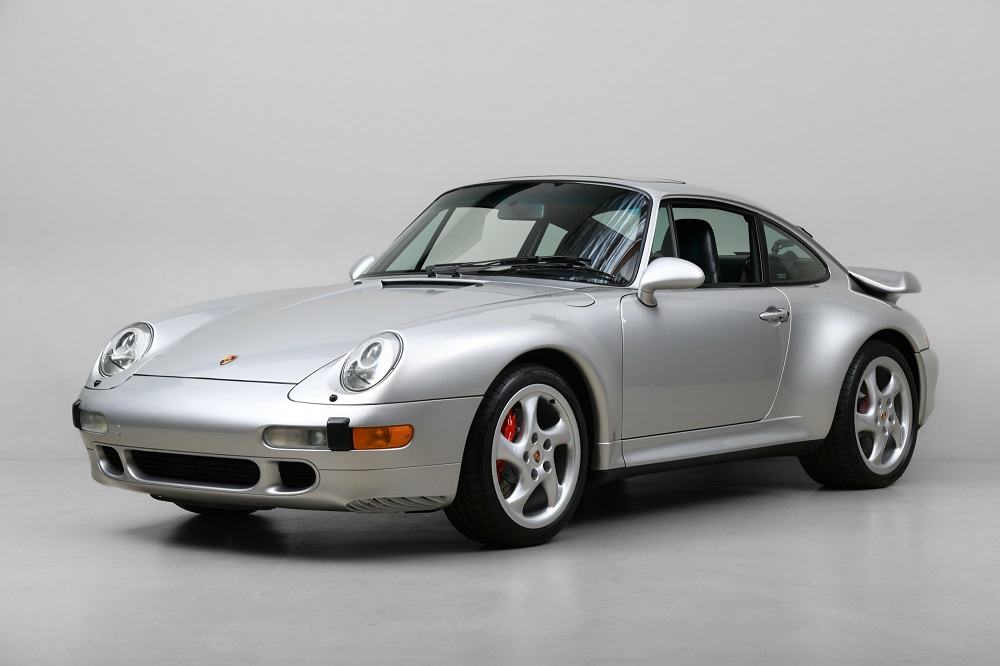 "The best air-cooled Porsche ever built." – Bruce Canepa
22,751 miles, driven less than 925 miles per year
408 horsepower twin-turbo flat six engine
18 inch Turbo Twist wheels
6-speed manual, all-wheel drive
Introduced to the automotive world in 1995, the Porsche 993 Turbo quickly became an immediate classic. With an air-cooled 408-horsepower twin-turbocharged flat six engine sending power through its 959-derived all-wheel drive system, the cars quickly became known for their astonishing real-world performance. With the ability to outperform sports cars that were double the price all while keeping both the driver and passengers in comfort, the 993 Turbo is an ultimate tour-de-force of performance, technology, and comfort.
This Porsche was completed at the Porsche factory in December 1996, spec'd with Artic Silver paint and a Black interior was delivered to its initial owner in Barrington, IL. After five years of ownership, this 993 turbo was sold to a collector in Massachusetts who kept the vehicle for thirteen years. It was then purchased by another collector in Colorado where it remained for two years before reaching its most recent owner in California. Among these last three owners up until its arrival here at Canepa, the car was only driven 4,180 miles showing the care that was put into the preservation of this vehicle over the span of nearly two decades.
Upon this 993 Turbo's arrival here at Canepa, it was given the Canepa Difference treatment where it was personally test-driven by Bruce Canepa and inspected by our vetted technicians. After Bruce's test drive, he confirmed what he already knows about these 993 Turbos—they are "the best air-cooled Porsche ever built." A statement he continues to stand by decades later. As with every Canepa vehicle, this 993 Turbo was completely currently serviced as needed, ready for the next owner to drive and enjoy it. Every owner of this 993 Turbo knew how to keep the car in cosmetically near-perfect condition and properly serviced, as evidenced by the extensive Carfax service history throughout all ownerships. This 993 Turbo was then brought to our award-winning detail department for a complete Concours detail of the exterior, interior, and underside of this incredible original condition, low-mile example. This is your opportunity to experience and behold Porsche's best-ever air-cooled vehicle.
---
1981 Porsche 935 K4b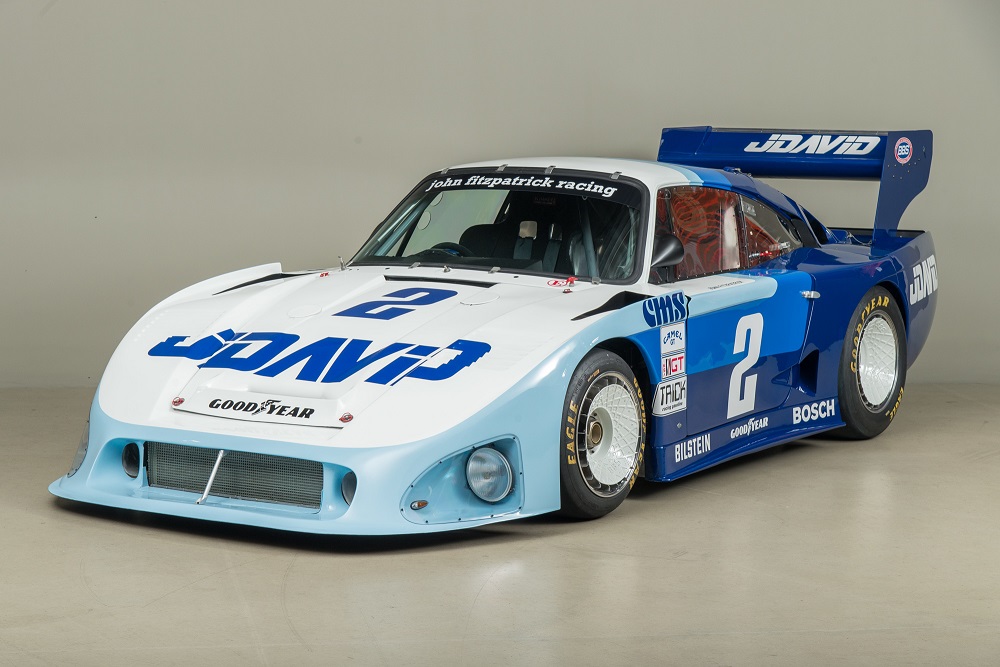 Eight 1st place finishes, 13 total podium finishes
Driven by John Fitzpatrick, Bob Wollek, David Hobbs, Al Holbert, Derek Bell, and Preston Henn
One of only two K4 chassis built by Kremer Racing
Recently restored to its 1983 IMSA specification
800+ horsepower 3.2-liter flat six, 4-speed manual transmission
One of the most powerful 935s ever created
During the mid-70s the Porsche factory reigned supreme with dominate performances from their rugged turbo-powered production racecars. By 1979 the factory began to switch its efforts to the new 936, 956, and 962 prototype, non-production based racing cars. This change spelt the end for the factory Porsche 935.
However, a demand still existed for the continued development of the ferocious 935. Fortunately some years earlier Porsche had given its blessing to a number of racing teams with close ties to the factory to purchase components and drivetrains, and then designed and produced their own upgraded chassis and bodywork. While these newly constructed vehicles were still generally referred to as Porsche 935s, in reality, they were entirely new designs that advanced the 935 concept to a new level of speed and sophistication. The pinnacle of these independent efforts was the overall win at the 24 Hours of Le Mans in 1979 by the Kremer 935 K3, the last production based car ever to win overall at Le Mans.
The Kremer Brothers of Cologne, Germany had enjoyed a close relationship with the factory since 1970, and were allowed to proceed independently with further development of many models of racing Porsches. They built their first variant of the 935, the K1, in 1976. By 1981, Kremer was ready to produce its fourth version of the Porsche 935, the K4, inspired by the factory Moby Dick 935 produced by Porsche in 1978. In fact, the factory gave the Kremer's the drawings, parts, and the Moby Dick car itself on commission to build the new K4.
01 is the first of only two K4s produced, and as a result of Kremer's constant development, bore little resemblance to an early factory 935. The K4 had evolved into a totally different vehicle, built on a full tubular chassis, with only a roof and windshield being supplied by the Porsche factory. 01 was fielded by Kremer Racing in Europe during the 1981 season, and was driven by Bob Wollek to TWO WINS and a total of six podium finishes.
John Fitzpatrick bought the car from Kremer for the 1982 IMSA season, and his team of Glen Blakely and Max Crawford immediately set to work on upgrading and modifying the car. They built a completely new body with in-door air ducts for the intercoolers, and also designed a new rear suspension and belly pans. Mechanically the K4 continued to develop the tried-and-true 935 turbo motor by using enhanced air-to-air intercoolers and ducting resulting in a 50 horsepower advantage over other 935s. With the boost fully turned up the car was capable of producing well over 800 horsepower. The result of all of this work was FIVE WINS and only one DNF in 1982. In 1983 the car raced only twice, with another win at Riverside. In 1984 the K4 was rented to Al Holbert for three races, which saw the switch to Holbert's #14 and Lowenbrau livery.
In 1986 the K4 moved into private hands when Fitzpatrick sold it to Mike Hagen of Los Angeles, CA. It passed through a few owners over the years including actor Nicolas Cage from 1999 to 2002, and most recently Touring Auto Maintenance. During their ownership the car was taken care of by Amalfi Racing, and there are extensive maintenance records and race setup notes that come with the car.
Since arriving at Canepa the K4 has received a thorough mechanical inspection along with over 150 hours of concours detail work. With drivers such as Bob Wollek, John Fitzpatrick, David Hobbs, Derek Bell, Al Holbert and Preston Henn, this Kremer K4 represents the end of one of the greatest eras of GT racing. Here is a unique opportunity to own and drive the last in a line of stunningly successful Kremer 935 race cars.
'The K4 was a sensational car, the fastest 935 ever, and still is.' – John Fitzpatrick
---
Canepa Shop Walk – Week of November 11th, 2022
Take a trip through our work shops, vehicle showroom and the Canepa Motorsports Museum. Whether you're into Porsche, Ferrari, Mercedes-Benz, Lamborghini, BMW, Shelby or anything else in between, Canepa has a little bit of something for everyone.
If you are interested in more news click here.
---