Formula 1® and RM Sotheby's have announced more details of their very special, single lot auction scheduled to take place at the Formula 1 Pirelli British Grand Prix 2021.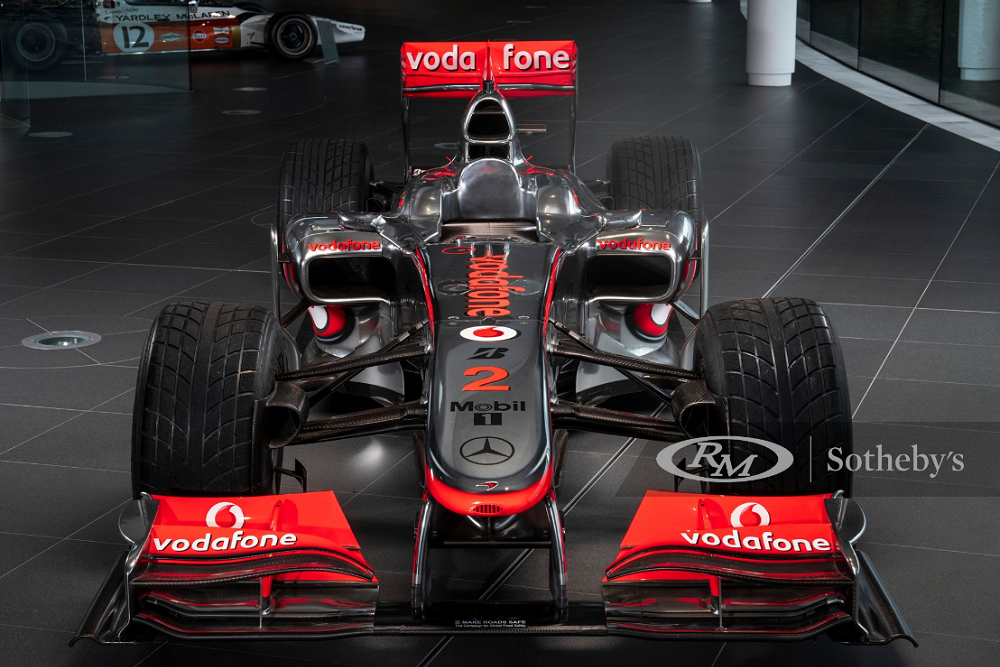 140,000 fans and bidders to attend the sale of 2010 Turkish Grand Prix winning chassis at Silverstone on Saturday 17th July
First-ever Sir Lewis Hamilton F1 GP winning car to come to market
---
Last week's announcement that the event has been included in the UK Government's Event Research Programme, means that there will be a full capacity, 140,000 sellout crowd at this iconic event to witness the sale of Sir Lewis Hamilton's 2010 Turkish GP race winner setting another world first as the largest audience ever assembled for a live auction.
The sale will be conducted from within Formula 1's famous Paddock Club by Sotheby's Senior Director and Chairman for Europe, Oliver Barker, immediately after F1's first ever Sprint Qualifying Race. The sale is scheduled for 5:15pm on Saturday 17th July and will be broadcast via jumbo screens to all 140,000 race attendees as well as being streamed via Sotheby's and RM Sotheby's online platforms.
The McLaren MP4-25A, chassis no. 01, powered Vodafone McLaren Mercedes to 2nd place overall in the Constructors Standings and Lewis Hamilton and Jenson Button to 4th and 5th place respectively in the F1 Drivers Championship behind the Red Bull's of Sebastian Vettel and Mark Webber, and the Ferrari F10 of Fernando Alonso. In addition to its victory in Turkey, chassis no. 01 took Lewis Hamilton to the Fastest Lap and a 2nd place finish in the 2010 FORMULA 1 CHINESE GRAND PRIX in Shanghai and rounded out the year taking Jenson Button to a 3rd place podium finish in the season's final race in Abu Dhabi.
Race prepared and certified by McLaren Racing's Heritage team, the mighty Mercedes Benz FO 108X 2.4 litre V8 engine, was fired up at McLaren's famous Unit 2 facility last week ahead of its return to Silverstone in 2 weeks and RM Sotheby's were on hand to capture the moment in full effect. Please do adjust your volume settings before launching the video below.
Oliver Barker, Chairman Sotheby's Europe said:
"I am hugely excited to be conducting this sale at Silverstone. It is a truly one-off event, in so many ways, emblematic of the car itself. A car driven by Sir Lewis Hamilton, F1's most successful driver and a global icon recognized for his accomplishments, achievements and relentless drive both on and off the track.
I have had the wonderful privilege of witnessing and conducting sales featuring some of the world's greatest artists; the 2021 highlights reel alone includes the sale of works from artists as diverse as the impressionists Claude Monet & Paul Cézanne, the neo-expressionist Jean-Michel Basquiat to the works of Banksy, both those that shred and don't shred; but to be asked to undertake this sale, in front of the world's largest ever auction audience, live from the home of British Motorsport really is a standout moment and career highlight, I can't wait to get to Silverstone."
The availability of this particular example, Chassis no. 1 is an unrepeatable opportunity as all four other examples remain highly coveted and in private hands, unlikely to be sold in the near future. Furthermore, the McLaren Mercedes represents a car that can still be track driven and supported by the original factory teams as part of individual Heritage departments.
Want to see more news? Click here.
---