There are many special Bugattis. There are even more famed and important owners of Bugattis. But no Bugatti, not even the Type 41 Royales that resided in Molsheim for years, is more closely identified with Le Patron, Ettore Bugatti, than this Type 57C Special Coupé. Even more significant and poignant is its parallel identification with Ettore's older son, Jean, who designed its unique coachwork, believed to be the last design to come from his talented creativity.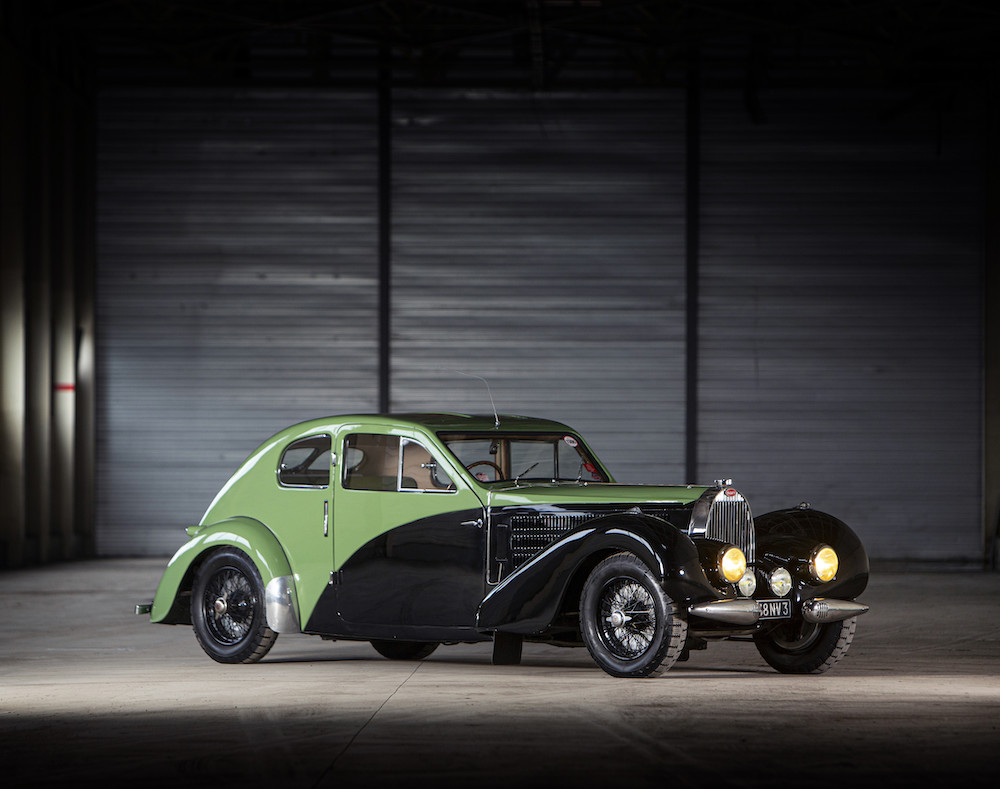 Ex-Ettore Bugatti Type 57C Special Coupé for sale at Bonhams Les Grandes Marques du Monde a Paris auction.
The Type 57 Bugatti, introduced in 1934, marked Jean Bugatti's emergence as Bugatti's leader and creative force. It was the first new model built under his direction and it incorporated many features new to Bugatti. Its dual overhead camshaft eight cylinder engine had dimensions of 72x100mm, 3,257cc displacement. The crankshaft ran in five main bearings. The camshafts were driven by a train of helical-tooth gears at the engine's rear with a further crankshaft bearing behind them. Finger cam followers minimised side thrust on the valve stems.
1938 Bugatti Type 57C Special Coupé: Chassis no. 57335/ Engine no. 340
The Type 57 also was Bugatti's first use of a transmission fixed to the engine crankcase and a single plate clutch. The top three gears in the four-speed gearbox were constant mesh.
Jean created a novel independent front suspension system using transverse leaf springs for the first two examples of the Type 57 before Le Patron spied it and insisted it be replaced by a proper Bugatti hollow tubular live axle. Thenceforth suspension was traditional Bugatti semi-elliptical front and reversed quarter-elliptical rear leaf springs with cable-operated mechanical drum brakes.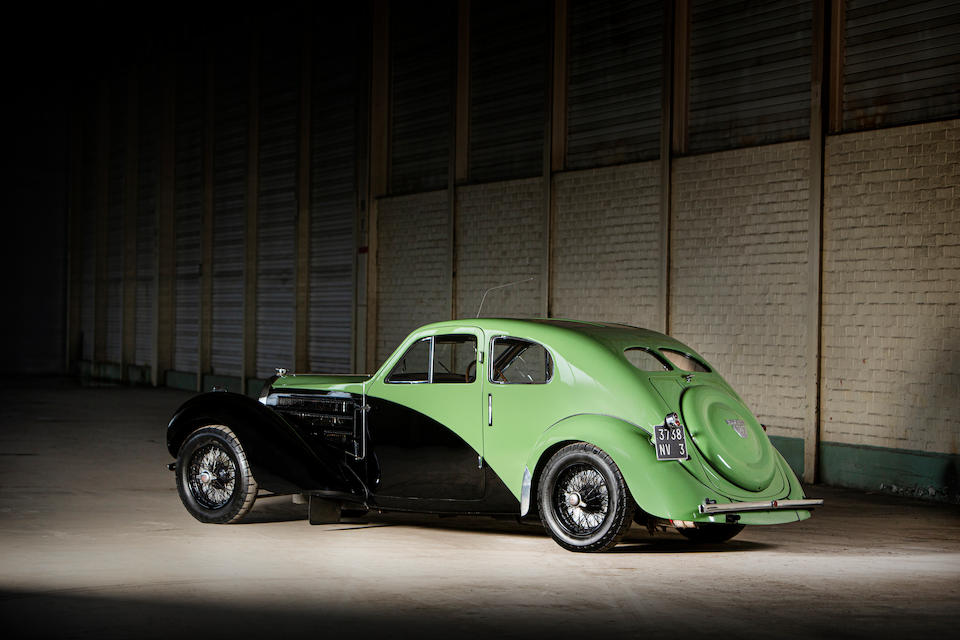 Much of the Type 57's commercial success may be attributed to Jean Bugatti's sensitive, flowing coachwork that graced the most famous examples. Atalante, Ventoux, Stelvio and the Galibier saloon vied with the best of France's and Europe's formidable coachbuilders' creations and comprised the bulk of Type 57 production. Bugatti's clients could afford the best, but overwhelmingly they chose Jean Bugatti's designs on the Type 57.
Despite financial travail development of the Type 57 continued with introduction of a stiffened frame and rubber-mounted engine along with the supercharged 160hp Type 57C in 1936. In 1938 the nearly unthinkable happened in Molsheim when Bugatti finally adopted Lockheed hydraulically-actuated brakes and replaced the beautiful and lightweight but expensive aluminium-spoked wheels and brake drums with Rudge-Whitworth centre-lock wire wheels and separate brake drums. It was in this context that this car, Type 57C Special Coupé '57335', was created. Some accounts maintain that it was presented to Ettore Bugatti by the Molsheim workforce as a birthday gift, from workers who had so disappointed Ettore when they occupied the factory in 1936.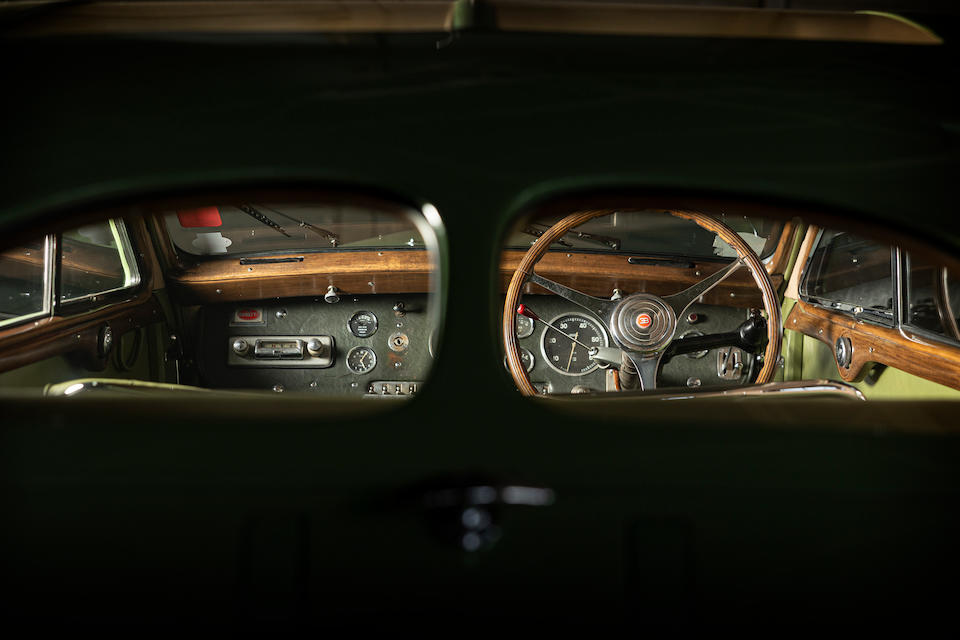 Whatever the precise motif, this car was built in June 1938 for 'in house' factory duties. It appears in the bodyshop files just completed on 23rd June 1938, under the designation '57/486 23.6 57335 green 2 tone green leather'. This means that just out of the factory the coupé with engine '486' was given the Carte Grise belonging to chassis '57335'. It will not be the only car driven with the documents of '57335' and with the registration number '3738 NV3', but it will keep this identity during its entire life at the factory from 1938 to 1959.
Some time after it left the factory this coupé was loaned to the Bugatti agent in Bordeaux, Mr Pierron. The car was exhibited at the 1938 Bordeaux Fair. Several pictures show the car fitted with polished tyres, chrome plated wheels and the glass roof special to this body. The factory's managing director Adrien Paul, the commercial traveller/representatives like Peigues, Wimille and possibly Ettore Bugatti himself drove this car in 1938 and 1939.
Mention of the car is made in the register of the 'second hand demonstration cars stock' written on August 15, 1939. It is the only one among ten cars to be designated Usine or 'Works' and described as follows 'Coach Spécial vert moteur 486 Usine'.
It was often loaned to the factory racing drivers and demonstrators, and the most famous, Jean-Pierre Wimille, was pictured at its wheel in 1939. After the war the special coupé was the personal car of the factory's executive director, Pierre Marco, who drove it as late as the mid-1950s, still with the old registration plate '3738 NV3'.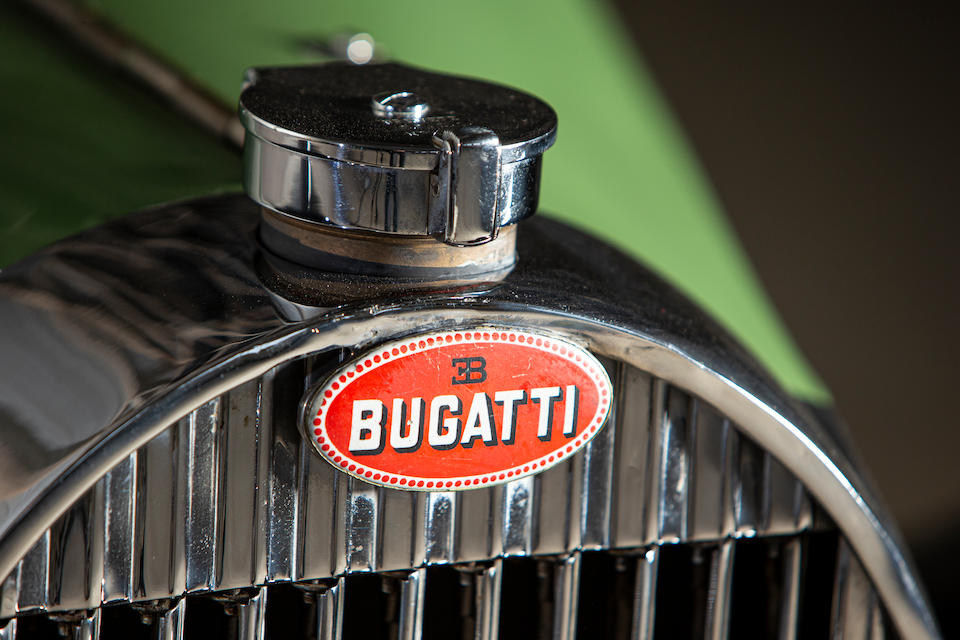 In 1959 the famous Bugatti collector and dealer in Belgium, Jean De Dobbeleer, bought the car directly from the factory. It is described in a letter dated January 30 1959 as follows: "Sale of our car 57 with supercharger which is in the condition you know and after a test drive, price FRF 1,000,000, serial number '57335' engine '340' Galibier coupé finished in green over black and we confirm that this car belonged to Monsieur Ettore Bugatti and was driven latterly by our general manager Mr Pierre Marco." This letter also informs us that the supercharger had been fitted earlier when the Type 57 was still a factory car.
In the register edited by H G C Conway in 1962 the car is described as follows: "57 C chassis 57335 engine 340 ex. 57557 two door four seat Coach Galibier, original finish two tones of green and green leather." He added that "the vehicle received many changes when it was the property of the factory. It is fitted with a Type 101 engine with S/C associated with a Cotal gearbox. The carburettor is a downdraught (sic) Weber. Brakes are hydraulically operated and special to this car. Suspensions were modified with special dampers…"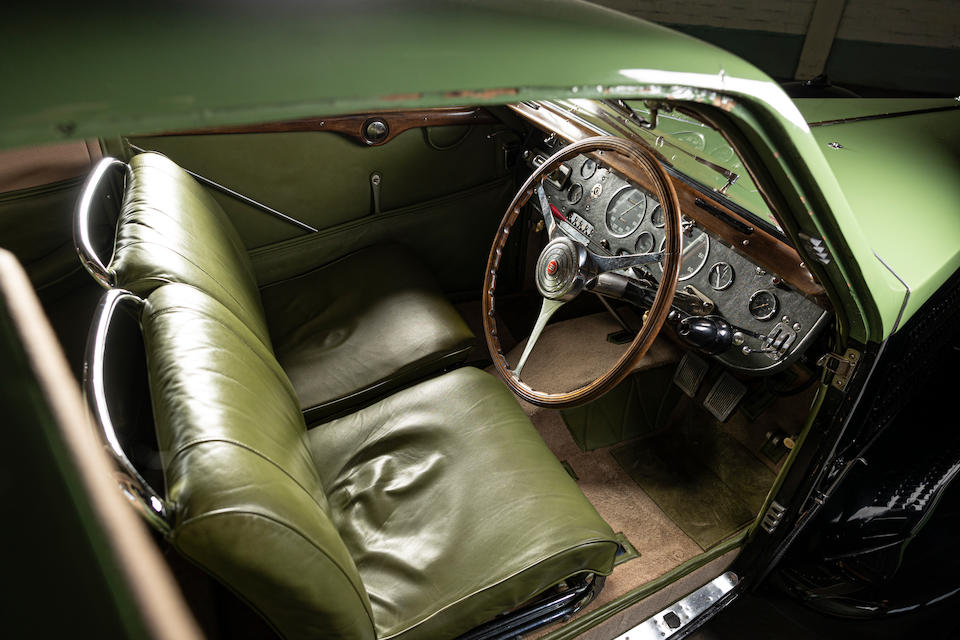 What happened to the original engine '486' remains unknown but the engine '340' which would be in the car comes from chassis '57449', which was stored at the factory in the summer of 1939. It is quite possible that this engine was traded in and subsequently fitted in the 'Coach Spécial'. It is also possible that the supercharger had been fitted at the same time. (The gearbox '486' is now in Fred Simeone's 57 G 'tank', the 1937 Le Mans-winning car.) The change could have been made when the 'tank' was kept by the factory after its racing time, but more possibly when the two cars were in De Dobbeleer's garage in Brussels.
Thus the 'Coach Spécial' offered here is the only Type 57 Bugatti kept for 20 years by the factory. Benefiting from all kinds of possible improvements, it can be seen as a rolling laboratory still in use in the early '50s when the Type 101 was introduced.
Its most distinctive element is the Special Coupé coachwork designed by Jean Bugatti. Incorporating many of the design elements that would soon find expression in the last series of Galibier saloons, particularly its sloping rear deck, teardrop wings and plain sides without running boards. As originally built it had a unique two-piece glass roof, a design element Jean had last used on the magnificent Type 41 Royale. Its spare wheel and tyre are set into the rear deck with a round metal cover. The grille is the conventional Bugatti design, not the 'V' design Jean was increasingly working into Type 57 production, and the headlights sit low in the front wing aprons giving the traditional grille special prominence.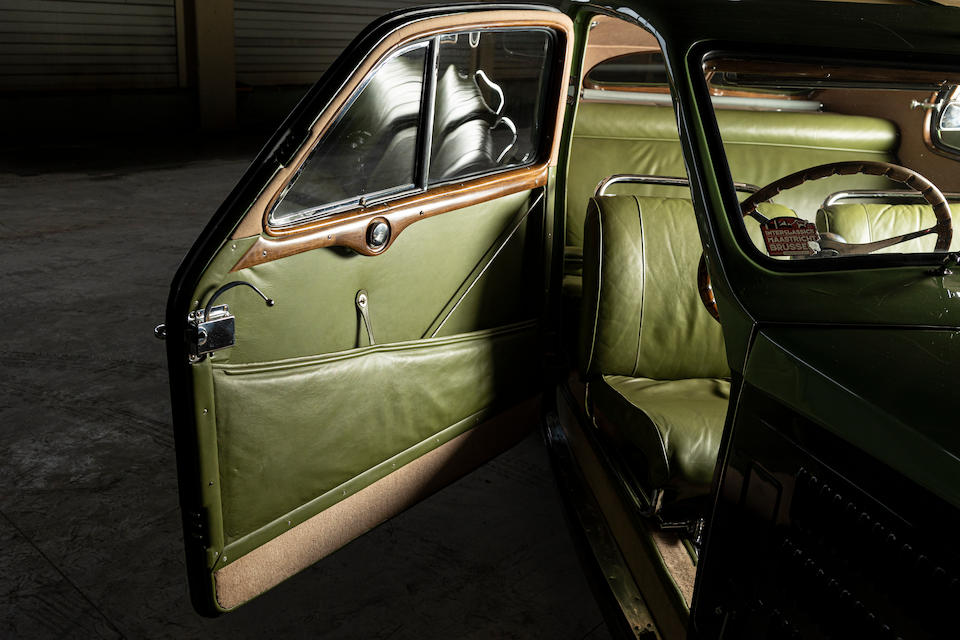 The interior is trimmed in light olive leather complementing the light green over black exterior livery. Rich wood surrounds the windows and windshield. The rear bumper bears an unusual cloisonné Bugatti emblem.
In an indication of Bugatti's financial distress, this car, frame number '278', was assigned the chassis number of a previously destroyed Type 57 Torpedo registered in Ettore Bugatti's name, thus avoiding tax as a new car.
During the next two years, until the factory was taken over in 1940 by the Nazis, it was used by Ettore Bugatti and factory driver Jean-Pierre Wimille plus others. Prior to the factory's occupation it was spirited away to a hiding place by Robert Benoist. His adventure nearly resulted in his capture, foreshadowing his later adventures as a secret agent of the British Special Operations Executive (SOE) in occupied France, and ultimate capture and execution at Buchenwald in 1944.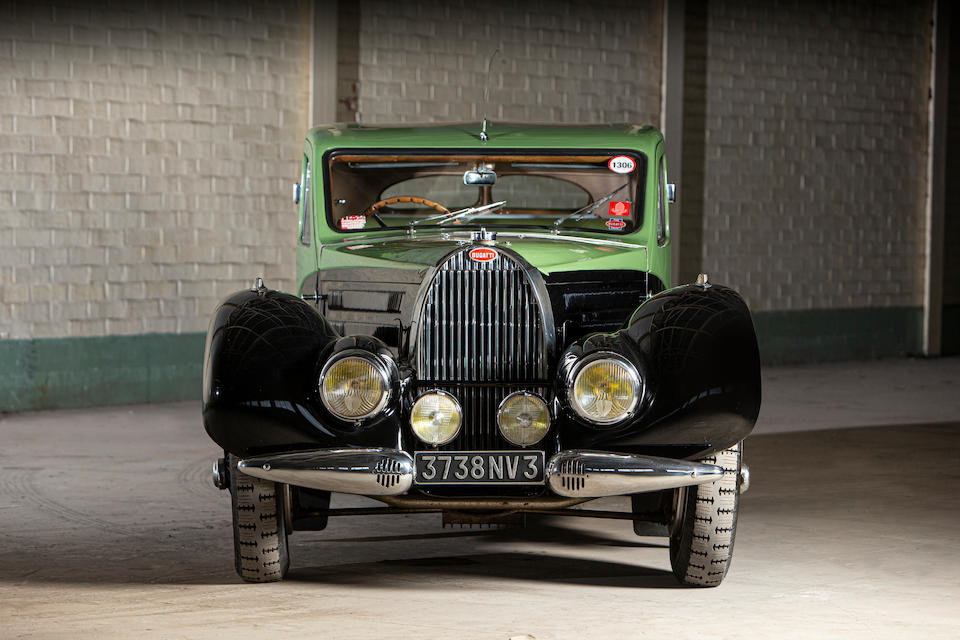 Returned to Bugatti after the war, it became the favourite car of Pierre Marco, Director General of Bugatti, and was frequently used to test new ideas and components and for development. This use brought it a number of unique and unusual features, notably the three-spoke Type 101 steering wheel and Lockheed hydraulic brakes – the latter a feature surely not incorporated in a car intended for Ettore Bugatti's use.
As a late Type 57C, in addition to its supercharged engine – fitted by the factory before it was sold to its first private owner – it has Rudge-Whitworth wire wheels and the rubber-mounted engine. It also was fitted during its period with the factory with a radio, heater and later grease fittings.
The engine itself is unusual, again pointing out the Bugatti factory's use of this car for experimental and development purposes. It breathes through a downdraft Weber carburettor with a top inlet manifold and has a supercharger similar to that used on the Type 101.
Upon Pierre Marco's retirement, and as already mentioned, Belgian Bugatti exponent Jean de Dobbeleer was able to acquire the Type 57 on January 31. De Dobbeleer adopted the factory's earlier ruse, stamping the engine compartment with '57557', a car he had previously owned, thus once again avoiding tax. Later in 1959 it was sold to American Bugatti enthusiast Lyman Greenlee of Anderson, Indiana.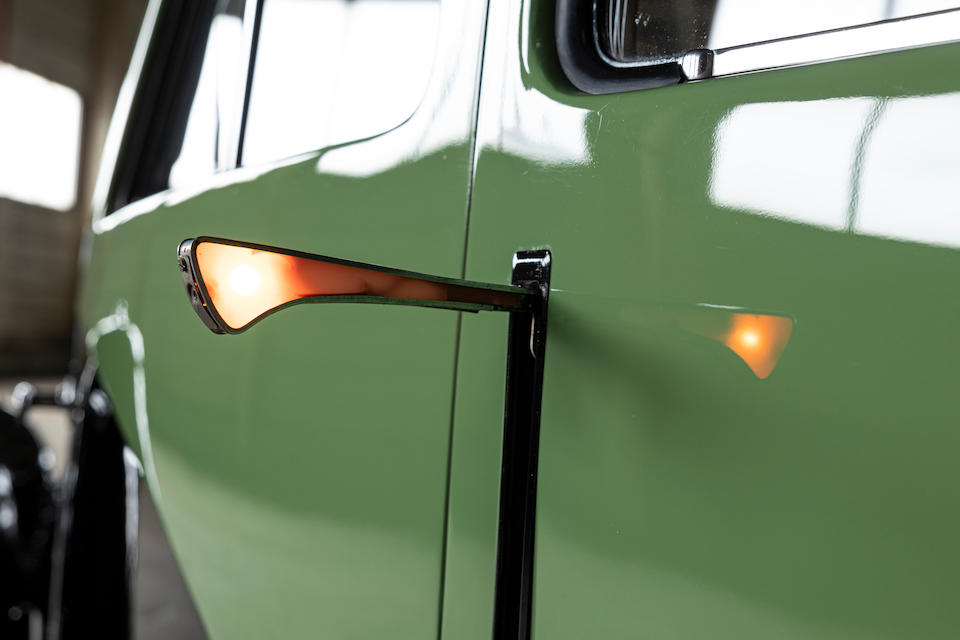 Greenlee treasured this important and highly original Bugatti Type 57, carefully storing, maintaining and rarely using it for the next 14 years, but in 1973 he agreed to sell it to William Howell in Oklahoma City. Greenlee felt Howell, whose mechanic was Stirling Moss's former mechanic Alf Francis, appreciated the car's unique history, originality and performance and would continue its preservation, reiterating its importance in a letter that accompanies the car as part of its extensive documentation file.
The next owner, Gary Kohs of Birmingham, Michigan, passed a similar background check to verify to Howell's satisfaction that he understood and appreciated the Type 57's significance and would, and could, continue its preservation when it changed hands in 1982. Greenlee qualified him in part by stating unequivocally, "Price alone will not buy the car…. You must qualify also as to your attitude toward it". That proved to be the case, as it was 27 years until ownership changed again, for only the fourth time since the car left Molsheim in 1959, when it became part of John M O'Quinn's collection in 2009, adding its unique coachwork, features, design, originality and Ettore Bugatti provenance to the collection's growing eminence.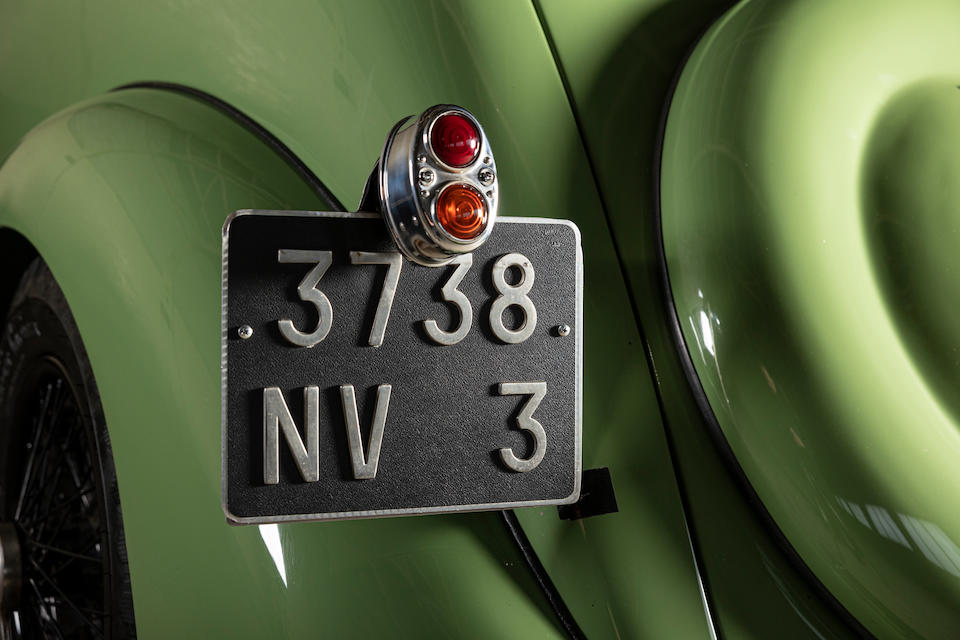 In all the years in the collections of Greenlee, Howell, Kohs and O'Quinn the Type 57 has rarely been shown, however its intimate connection with Ettore Bugatti led to an invitation in 1985 from the organisers of the Pebble Beach Concours d'Elegance to complement the historic appearance of all six Bugatti Type 41 Royales.
'57335' has been examined by experts including Hugh Conway, who have marvelled at its completely original condition. Conway noted its Durand steering box as a departure from Bugatti practice but contacted Noël Domboy who confirmed that he had instructed Pierre Marco to replace the standard Bugatti steering box to avoid a possible mishap.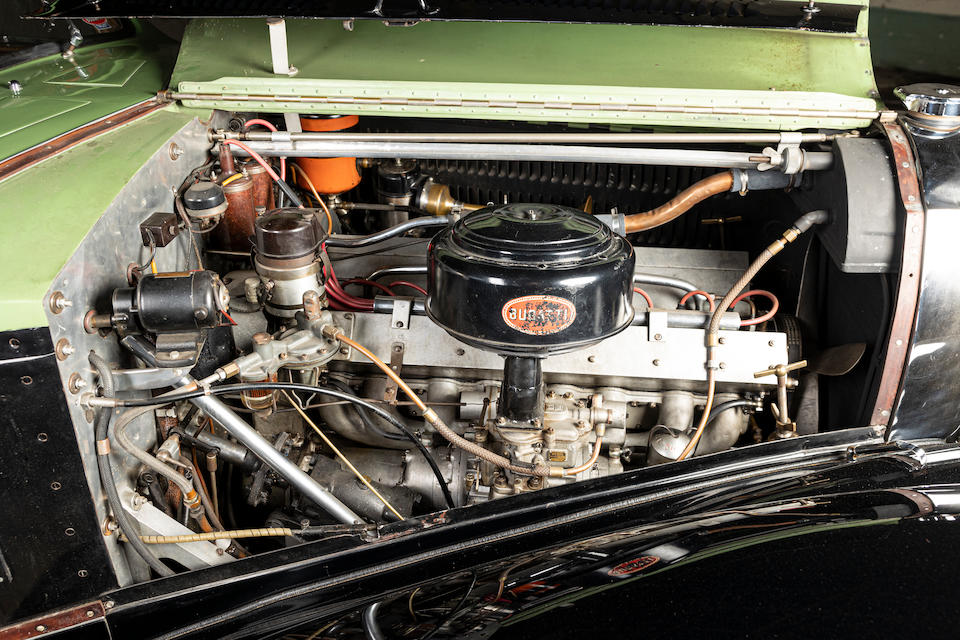 It is also unusually quick, a consequence of its continuing development in Molsheim and particularly its special engine, induction system and supercharger. Having never been apart it is delightful to drive, exhibiting how it felt to drive a Type 57C fresh from the Bugatti factory. No wonder it was Pierre Marco's favourite Bugatti.
Its condition is breathtakingly original and complete, right down to the wiring harness and electrical components. Finishes throughout the car are as Bugatti applied them three-quarters of a century ago. In addition to its extensive file of documentation, it has a complete set of 'EB' stamped tools in a leather folder. The floorboards, bonnet and body have their original number stampings. Its original two-panel glass roof was removed before the car was sold by the factory, but has since been re-created by the current vendor – one of Europe's foremost private collectors and a lifelong Bugatti devotee – who purchased '57335' back in 2013.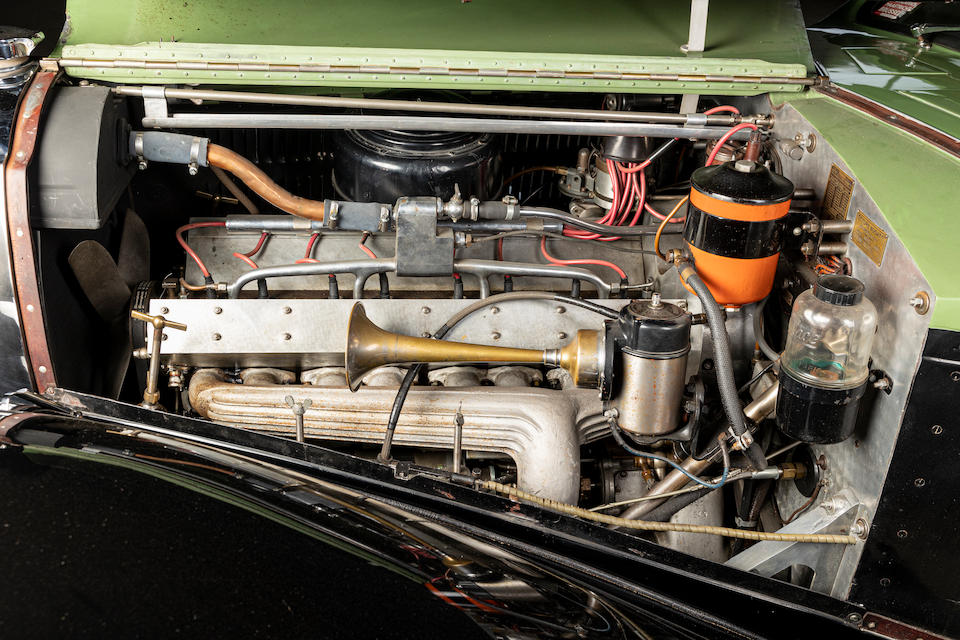 This car's unique Jean Bugatti-designed coachwork, highly developed supercharged engine, magnificent originality, 20-year history as the factory's development vehicle, and – most importantly – its personal association with and use by Ettore Bugatti, make this one of the most significant and important Bugattis to become available in years.
It is an intimate, personal part of the history of the Bugatti marque and its Patron, Ettore Bugatti, unsullied by restoration and embellished by its association with Ettore and Jean Bugatti, Jean-Pierre Wimille, Robert Benoist, Pierre Marco and a short list of owners who cherished and preserved it for future generations.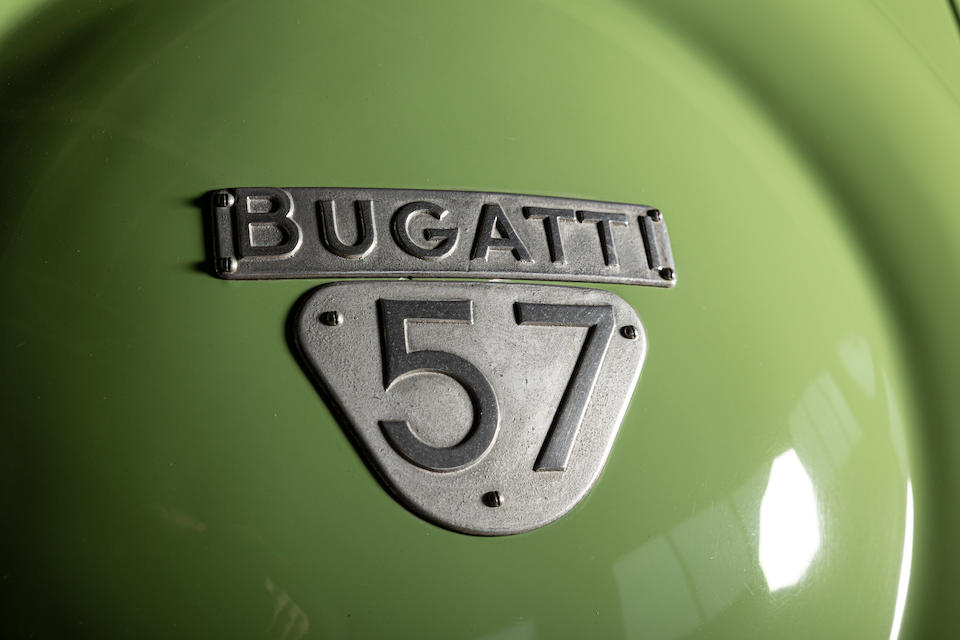 Special thanks to Mr Pierre-Yves Laugier for all the information he has made available to us in concerning the origin and the life of '57335'. Find out more