Indulge in the epitome of coastal elegance with the exquisite Luca Faloni Elba Shirt, meticulously handcrafted by skilled artisans in the picturesque landscapes of Northern Italy. This remarkable polo shirt is a true testament to the fusion of timeless style and impeccable craftsmanship.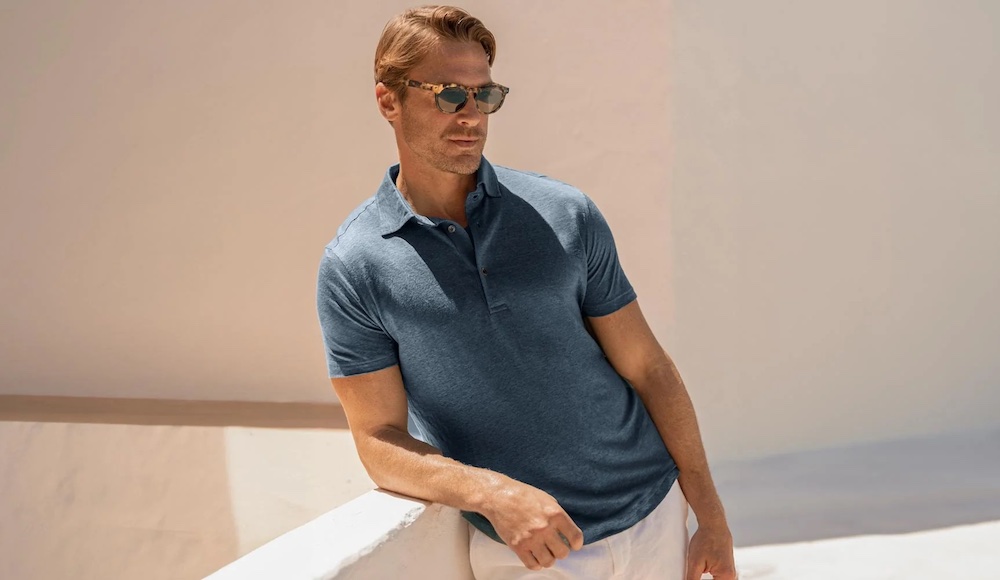 Immerse yourself in the luxurious embrace of the finest linen jersey, carefully selected for its lightweight and breathable qualities, ensuring ultimate comfort during your sun-kissed adventures. Each thread is meticulously woven together to create a fabric that effortlessly caresses your skin, offering a sensation of sheer indulgence.
To elevate the experience even further, the Elba Shirt is treated with aloe, infusing the fabric with an unparalleled softness that enhances its already sumptuous feel. Prepare to be enveloped in pure bliss as you slip into this sartorial masterpiece, knowing that every aspect has been carefully considered to provide an unrivaled level of comfort and refinement.
The Elba Shirt boasts a tailored silhouette, expertly designed to accentuate your physique and exude a sense of effortless sophistication. With its thoughtfully placed seams and precise cuts, this shirt effortlessly flatters your figure, allowing you to feel both confident and at ease as you make your way along the coastline.
Exquisite attention to detail is evident in every element of the Elba Shirt. The inclusion of mother-of-pearl buttons adds a touch of opulence, symbolizing the utmost refinement and luxury. The placket collar front further enhances the shirt's elegance, creating a distinguished look that effortlessly transitions from day to night.
Embrace the versatility of this coastal masterpiece by styling it for any occasion. For a relaxed and laid-back afternoon brunch, pair it with tailored shorts, embodying the perfect balance of comfort and sophistication. Alternatively, for a more refined seaside dinner, combine the Elba Shirt with tailored chinos and classic loafers, allowing your impeccable sense of style to shine through.
Immerse yourself in the allure of the Luca Faloni Elba Shirt and experience the ultimate embodiment of coastal elegance. Elevate your coastal holiday wardrobe with this remarkable piece, where impeccable craftsmanship, luxurious fabrics, and timeless style converge to create a garment that is truly exceptional.
Click here for further information
more information: lucafaloni.eu
---