For a photographer who spends half his life traveling the world in search of abandoned cars, it should come as no surprise that one of the favorite photographs captured by Dieter Klein was in nowheresville.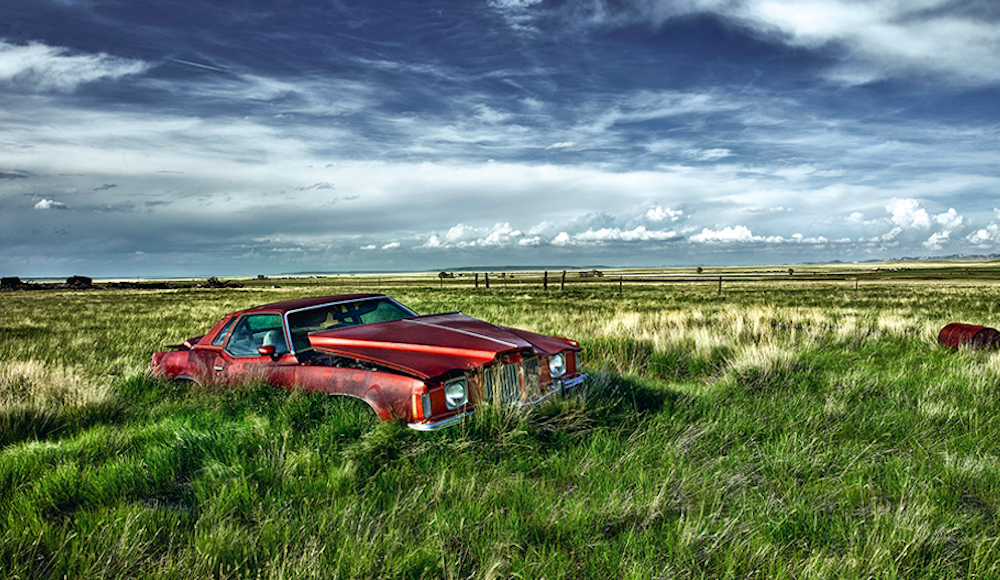 "It was the last corner of America, really in the middle of nowhere, six miles to Canada, 20 miles to North Dakota, in a town with six houses. There is nothing; nobody who cares about anything. So it meant that the abandoned car could be left and would remain forever untouched by anybody."
The car in question is a 1960 Dodge sedan (pictured above). It sits in front of an empty clapboard house. You can't tell how it got there, because the house and car are surrounded by grass. There's no driveway, no parking bay, no garage. Slowly but surely, nature is reclaiming the house and the car. The paint on the property's cladding has almost vanished. Just a few flakes here and there in sheltered corners remain, and a little at the foot of the porch door. The dusky pink paintwork of the car is turning a shade of copper-red, predominantly on the roof, trunk, and hood, the flat surfaces where the elements can take hold. The grass obscures the bottom half of the car, lazily brushing against the metalwork in the breeze.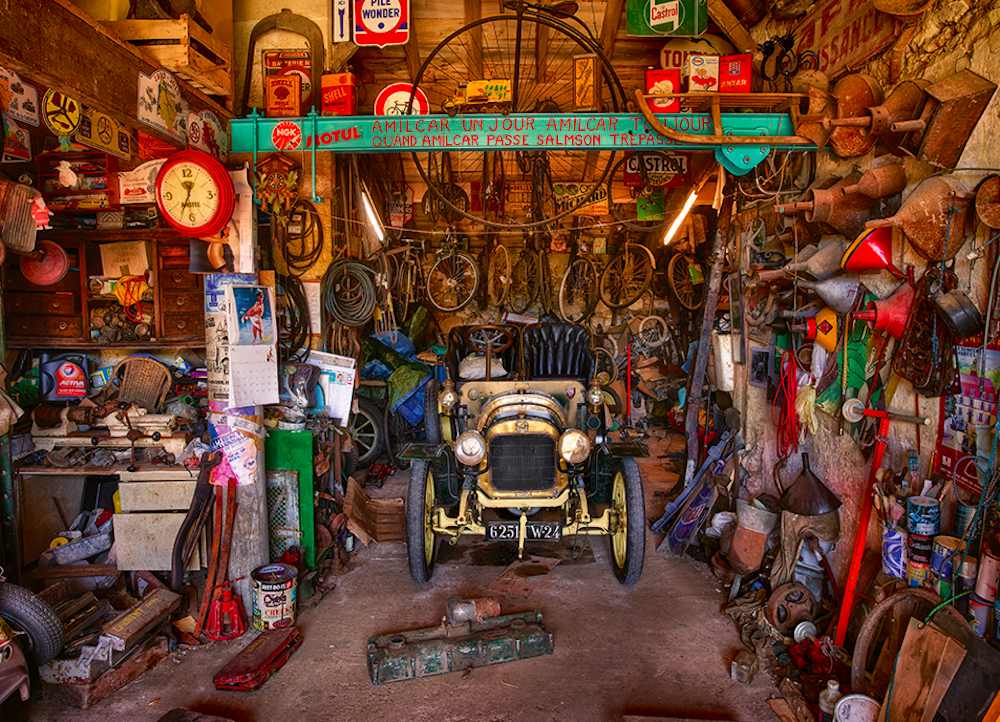 Klein had been searching the area, drawn by a pair of old grain silos that caught the sunset one night as he drove past to his motel. That's when he caught sight of the scene that now graces the cover of his book, Lost Wheels, The Nostalgic Beauty of Abandoned Cars.
As is his method, Klein set about tracking down anyone with a connection to the property. He doesn't photograph a scene without the permission of land or property owners, partly out of respect and partly because he wants to learn the story behind the scene, something the German says is lost on today's young generation of photographers.
"At exhibitions, they just want to know, 'Did you make the image on Photoshop?' and when I explain it's a real photograph, their next question is, 'Where is the car?' so they can go and photograph it. "So I tell them, 'I travelled 44,000 miles in total. So I can tell you where this one scene is, but you will have to fly for perhaps 12 hours, drive maybe 2000 miles, and perhaps it's still there or perhaps it's been cleaned up,' and normally it's the end of the discussion."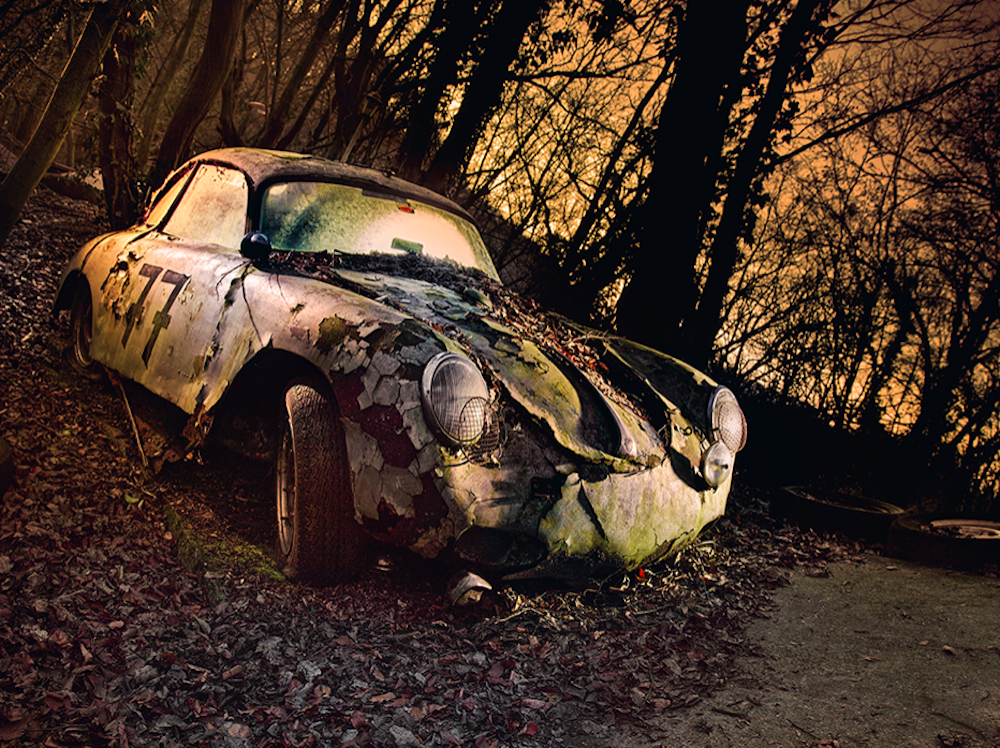 For his book, Klein estimates he spent 240 days traveling and on location, which accounts for around 10 percent of the time he devoted to it. "The other 90 percent is research."
So there he is, in the middle of nowheresville, near the U.S.-Canada border, knocking on the handful of doors in the area, when he meets Dale. Dale's father had parked the Dodge in front of his house two days before he died. That was in 1977. Dale, now over seventy himself, had no use of the car or the house, and chose to leave the scene undisturbed—a memorial if you will—out of respect to his father.
"It is really fascinating," says Klein, "so emotional; why should they store this car?" It wouldn't happen, I venture, in European countries such as Klein's home nation of Germany, or in Britain; the local council wouldn't allow a property and car like the setting in Montana to stand derelict and open to passers-by. "Yes, officials would come directly and clean it up."
Where It Started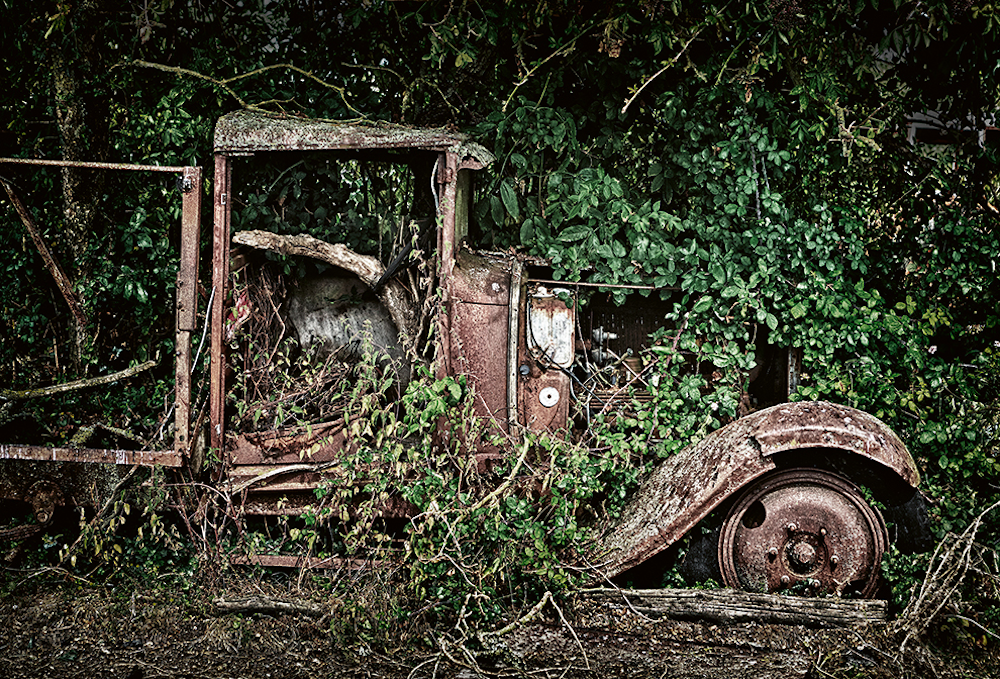 Now 63, Klein has been a professional photographer for more than forty years. As a teenager, he dreamed of becoming either a piano player, a graphic designer, or a photographer. He says by the age of 17 he knew he wasn't good enough to become a piano player, and his drawing and illustration skills weren't up to scratch to see him through a career in the design industry. So he turned to photography, working for regional and national newspapers, and later specialist trade publications. But he says that all the way through that period, he searched for themes in his work, whether capturing industrial scenes or recording interviews with artists.
In 2008, something unexpected happened. Klein took a holiday with his wife in Nouvelle-Aquitaine, south west France, and stumbled across a 1935 Citroen Rosalie 7U. The 1.4-liter engine had been switched off for good decades ago and the car had been overwhelmed by Mother Nature, a tree growing up through the floorpan and through the steering wheel, as though it were the ultimate deterrent to anyone intent on removing it.
Click here to read the full article at Hagerty
Report by Hagerty.com
---