Mercedes-AMG and Cigarette Boat Racing Team continue longstanding collaboration by creating performance one-off role models for land and water.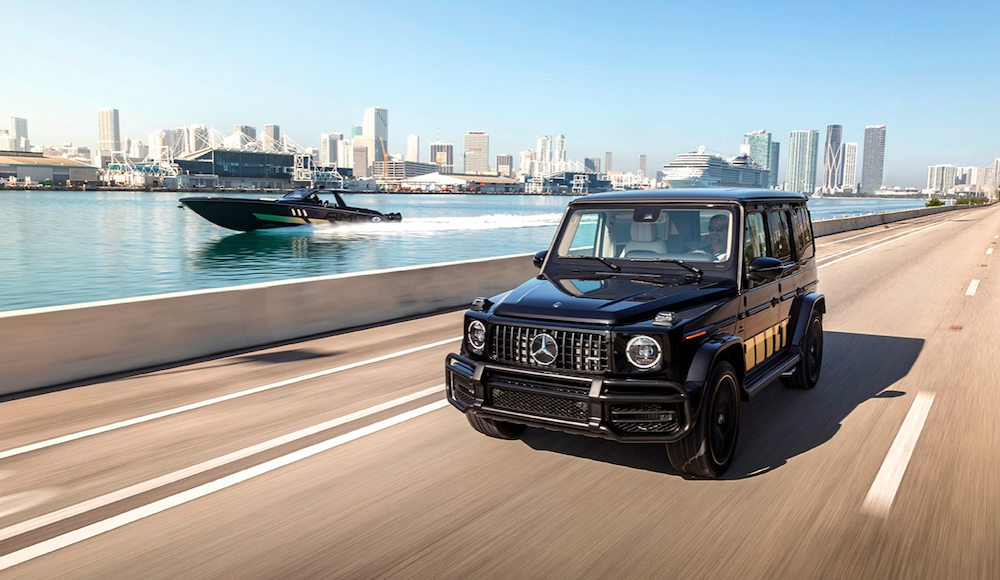 Affalterbach/Miami. Mercedes-AMG and Cigarette Racing today presented the all-new 59' Tirranna AMG Edition alongside a one-of-a-kind Mercedes-AMG G 63 Cigarette Edition (combined fuel consumption: 13,3-13,1 l/100 km; combined CO2 emissions: 304-299 g/km) at the Miami International Boat Show.
Jointly developed by Mercedes-AMG and Cigarette Racing, the 59' Tirranna AMG Edition represents the 12th special edition boat resulting from this strategic collaboration.
The Mercedes-AMG G 63 Cigarette Edition also made its debut in Miami, which was individualized at the AMG Performance Studio in Affalterbach following the same design principles as the boat.
The latest in a highly exclusive line of special edition boats, the 59' Tirranna AMG Edition sets new standards in terms of performance and design, striking the perfect balance between a luxury yacht and a performance-oriented super console. Despite its 59' length and 14' beam, the Tirranna AMG Edition is extremely agile and optimized for high performance.
Cigarette Boat Interior
When designing their new performance flagship, the Cigarette Racing Team engineers focused their attention on every detail, for example by utilizing lightweight construction in key locations: Its raked hardtop is made completely of carbon fiber, reducing the vertical center of gravity for better handling, while carbon fiber also features throughout its superstructure, with carbon-capped stringers and a carbon-fiber transom.
The hull and deck are vacuum infused using a highly optimized composite laminate schedule with PVC coring. The instrument panel is a nano-coated solid surface that is anti-reflective and heat-resistant, which also features titanium fasteners.
The striking design of the 59' Tirranna AMG Edition and the Mercedes-AMG G 63 Cigarette Edition is the result of close collaboration between the Cigarette Racing Team, the Mercedes-AMG design team and Gorden Wagener, Chief Design Officer Daimler AG.
Click here for further information
more information: mercedes-amg.com
---