An oasis that emerges to the rhythm of outdoor activities, Chalet Noir fits into the panorama of Lac Brome, hidden in the trees, it stands out for its iconic shape.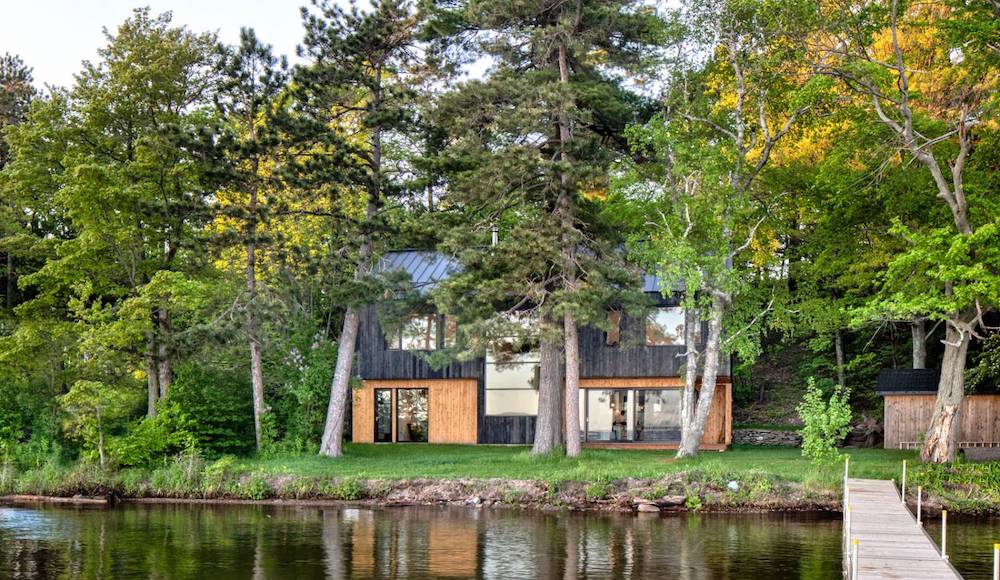 The new building participates in the active life of the owners, acting as a place of rest and meeting space. Its appeal encourages people to be more active on a daily basis. Placed on the edge of the lake, the crack in the building allows the contemplation of nature.
The Chalet Noir, half hidden under the trees, fits perfectly into the beauty of the shores of Lac Brome. Its sober and daring architecture blends perfectly with the green and wooded panorama. A breach in its structure offers a breathtaking view of the surrounding landscape.
Owned by two brothers, this second home serves as a resting place and meeting space for their families and its layout is an invitation to physical activity and to explore the environment.
The path leads from the road to an architectural ensemble whose uniqueness lies in its color – black – and its pure forms. Up close, we can see that the volume of the building has been "subtracted" forming a loggia at the entrance and a covered terrace at the rear. This mutation results in the change of color of the wood coating. Overall, it is made from locally roasted larch, using an ancient Japanese technique, and, for these "subtractions", naturally oiled larch.
The concept of the passive house defined the creation of this habitat. Its volume, positioning, materiality and insulation ensure maximum energy efficiency.
Front and rear, large picture windows form a "visual corridor" to the exterior while dividing the residence into two sections, each occupied by a family. This gap in the center of the house accommodates the staircase, the "bridge" and the living room.
Click here for further information
more information: schwimmer.ca
---