Set in the spectacular mountains of northern Spain, Rally the Globe's sensational Carrera España (25 April – 5 May) has been acclaimed as the club's best event yet with incredible driving roads, inspiring competition, splendid accommodation and two worthy winners.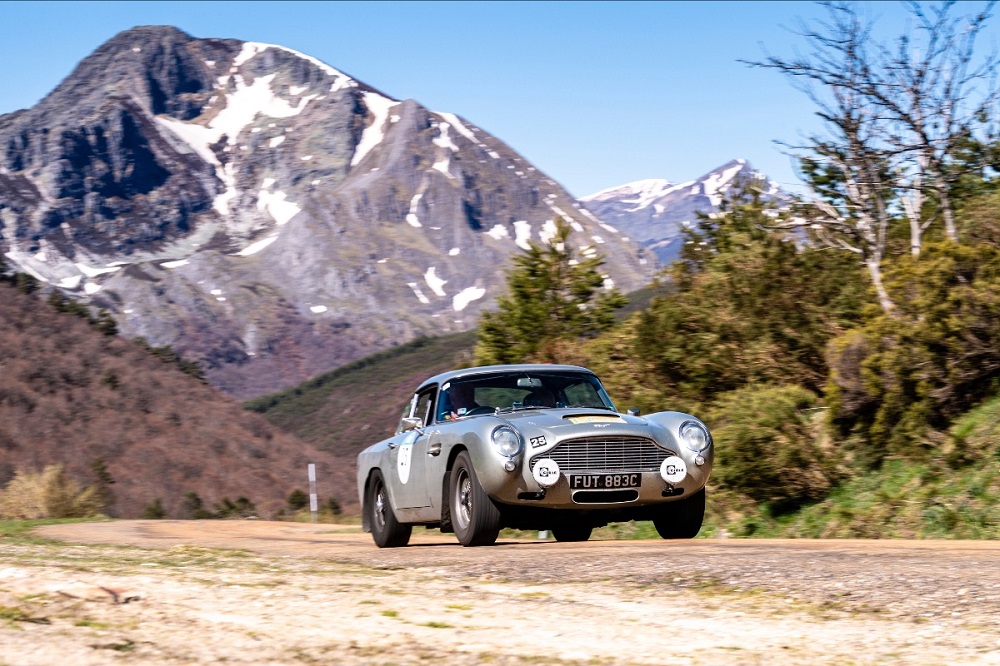 • Spectacular driving adventure through the mountains of northern Spain
• Victories for classic Aston Martin and vintage Frazer Nash-BMW crews
• UNESCO sites, race circuits and Parador hotels deliver in spades
• Ypres to Istanbul Challenge follows in June  
---
The fast starting 1955 Austin A90 Westminster of Adrian Hodgson and Mark Bramall set the early pace among those in the Classic Category but they were swiftly overhauled by ultimate victors Alan and Tina Beardshaw in their iconic 1965 Aston Martin DB5 (photo above).
Similarly in the Vintage Category, early pacesetters Graham and Marina Goodwin aboard their 1925 Bentley Supersports had to settle for second spot behind the hastening 1937 Frazer Nash-BMW 328 shared by Martin and Olivia Hunt (photo top below).
Neither prizewinners are strangers to the podium; the Beardshaws came out on top in Rally the Globe's inaugural Carrera Iberia back in 2019 while Martin Hunt won the recent Generations Rally set in the English Lake District earlier this year… and both crews were delighted with their latest successes.
"Tina and I have been married and rallying together now for 50 years and this is not just the best Rally the Globe event to date but the best rally we have ever competed on," lavished the praise from the elated Aston Martin driver.
Hunt was equally enthusiastic. "We have been following the most beautiful cars through simply breath-taking Spanish scenery and we've enjoyed every minute of it," he extolled.
The amazing 2,000 mile journey of discovery through the often undiscovered wonders of northern Spain started from the architectural gem of Barcelona on the Mediterranean Sea and finished 11 days later in Santander on the Cantabrian coast.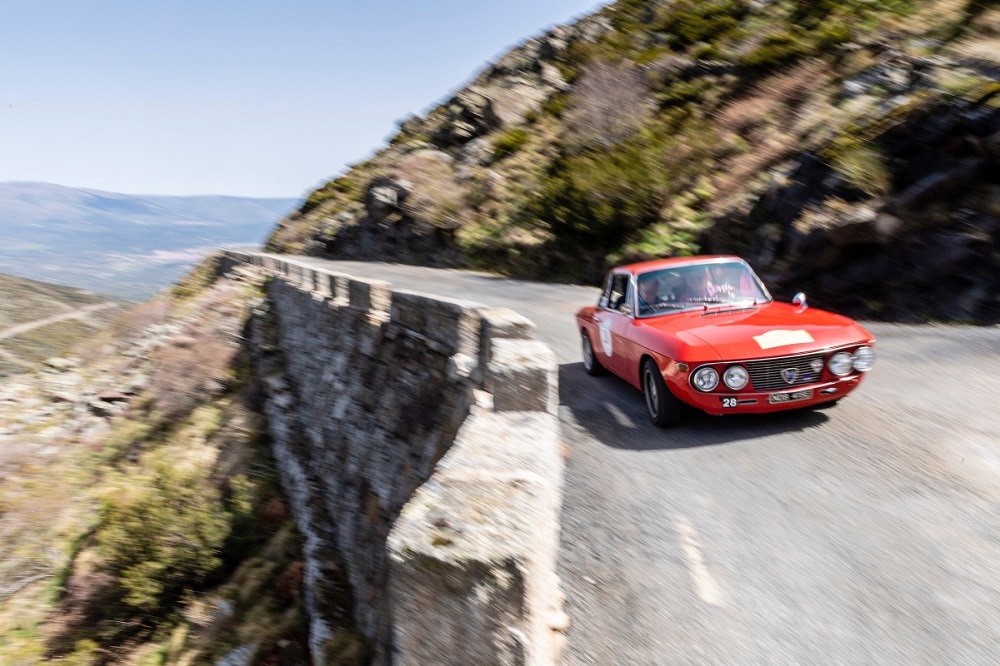 Providing exceptional competition, camaraderie and culinary delights as promised on a Carrera style event, the well-conceived, all-asphalt route featured 30 Regularity Tests and 8 Speed Tests interspersed with notable overnight halts in magnificent Paradors and former Benedictine monasteries.
It all started in the five-star Miramar Hotel overlooking Barcelona and the city's former Grand Prix circuit in Montjuic Park with 30 eager entrants revving up for the start. These ranged from the big, century old 1922 Bentley of Gavin and Diana Henderson to the svelte 1976 Lamborghini Urraco P250S of Italians Enrico Paggi and Federica Mascetti.
After a fast start lapping Barcelona's current Formula 1 circuit, regularities followed in the foothills of the Pyrenees. The route then travelled west through the Rioja region and into the ancient kingdom of Aragon before a return to the mountain roads in the high Sierras and a well-earned rest day in the UNESCO World Heritage Site of Salamanca.
With cars and crews refreshed, participants then headed towards the river Douro and the Portuguese border before embarking onto the twisty, winding highways of Galicia.
The final couple of days were spent exploring the stunning driving roads through the idyllic rural life of the sparsely-inhabited Picos de Europa National Park.
Among the many, many highlights en route were speed tests at both the Navarra race track and the Fernando Alonso Sports Complex plus vistas of the extraordinary Roman aqueduct in Segovia. A fabulous prizegiving dinner in Santander's palatial, and exquisitely positioned, Eurostars Hotel Real was another notable peak.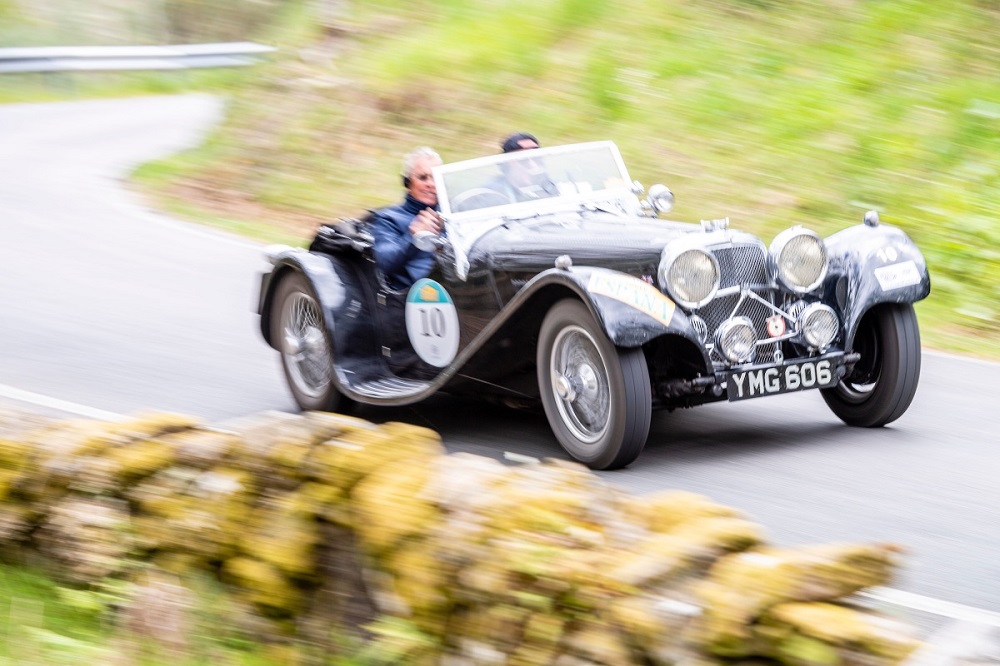 As well as honouring the victors at the gala dinner, Rally the Globe presented two discretionary accolades: the 'Against all Odds' trophy being awarded to Beat Erni and Barbara Mahrenholz for overcoming fuelling issues in their 1963 Sunbeam Alpine and the 'Spirit of the Rally' award going to Chris and Rita Dillier for their unfailingly cheerful attitude both when aboard their 1930 Ford Model A and when in the bar!
"Driving through the snow-capped peaks of the Picos de Europa under a deep blue sky was an incredible finale to what was an unbelievable rally – I couldn't be happier or prouder of the team," enthused Fred Gallagher, Rally the Globe's vastly experienced Rally Director who had masterminded Carrera España.
"People are always amazed by just how many mountain ranges there are in Spain, all blessed with terrific, traffic-free roads – you really are spoilt for choice when organising such wonderful driving adventures. The spirit shown by all the crews was just fantastic and I'm really looking forward to meeting them all again on some of our future rallies."
With the next fixture on Rally the Globe's calendar now only weeks away, Gallagher may not have to wait too long to make some welcome reacquaintances.
The epic Ypres to Istanbul Challenge commences from the Belgian rally capital in mid-June and takes crews on a three-week escapade to the Bosphorus at the far end of Europe.
Running under Rally the Globe's 'Challenge' banner of rally categories, it will be somewhat more adventurous than the Carrera España with the 3,500 miles (5,500 km) route including a wide variety of demanding gravel and unsurfaced roads.
While still in the wake of the pandemic, this year's calendar is focused on exploring Europe, plans thereafter are more global with even longer Marathon events confirmed for both North America and South East Asia.
Entries for those are already open as well as a chance to pre-register for Rally the Globe's next Carrera – taking place in June 2023, the eagerly-anticipated Carrera Riviera will journey through la belle France from north to south.
---
2022 CARRERA ESPAÑA: TOP FIVE RESULTS
Pre-War Category
1. Martin & Olivia Hunt (GB) 1937 Frazer Nash-BMW 328 0m:42s (time penalties)*
2. Graham & Marina Goodwin (GB) 1925 Bentley Supersports 1m:01s*
3. Keith & Norah Ashworth (GB) 1938 Frazer Nash-BMW 328  1m:20s
4. Chris & Rita Dillier (CH) 1930 Ford Model A 1m:43s
5. Nick & Serita Sleep (GB) 1925 Bentley Supersports 2m:02s
Classic Category
1. Alan & Tina Beardshaw (GB) 1965 Aston Martin DB5 0m:49s*
2. Adrian Hodgson & Mark Bramall (GB) 1955 Austin A90 Westminster 1m:05s*
3. Ean & Alison Lewin (GB) 1973 Ford Escort Mexico 1m:08s*
4. Manuel & Irene Dubs (CH) 1965 Ford Mustang V8 Convertible 1m:33s
5. Andrew Laing & Ian Milne (GB) 1973 Datsun 240Z 1m:33s
* Class winners
RALLY THE GLOBE CALENDAR (2022-2024)* 
13 June – 3 July 2022                                Ypres to Istanbul Challenge
24-27 October 2022                                   West Country Cloverleaf
24-26 March 2023                                      Generations Rally
June 2023                                                 Carrera Rivera
27 August – 26 September 2023                  Alaska to Mexico Marathon
27 January – 23 February 2024                   Road to Hanoi Marathon
*further events to be announced shortly
If you are interested in more news click here.
---