Historic race car owners trust Canepa´s motorsport team to deliver the expertise to restore and run their vehicles at the highest level. See here the cars of Canepa who just arrived in their inventory.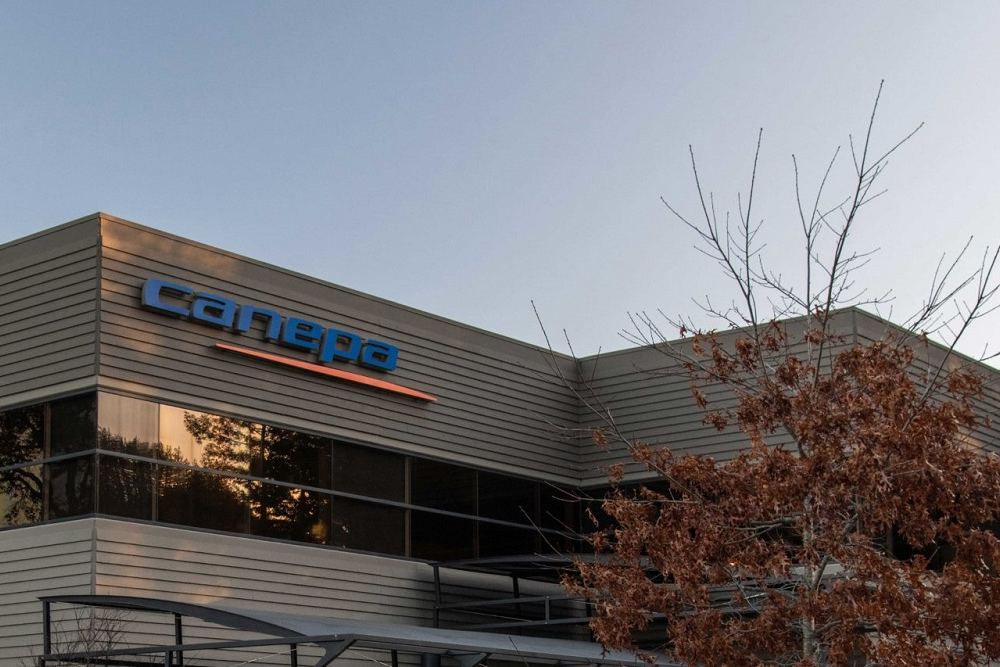 ---
2019 Mclaren Senna Can Am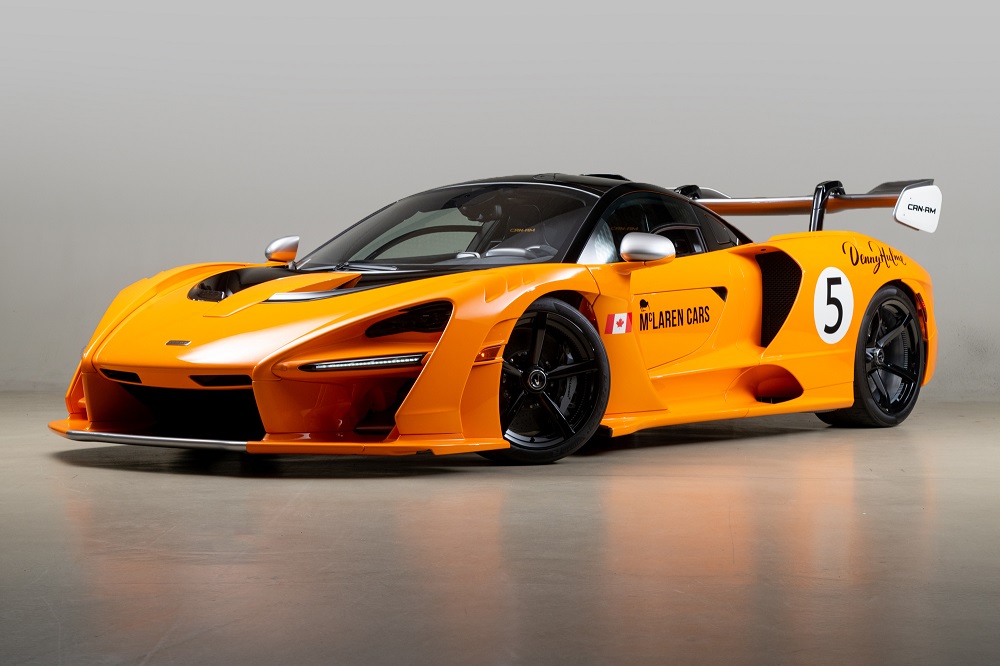 In the late 1960's, the McLaren team was unstoppable in Can-Am, a North American race series with very few regulations, that saw some of the most extreme designs in motorsports history. The 1969 season was all about the orange McLaren Can-Am cars, with the McLaren M8B starting on pole and winning all 11 races that season (three in Canada, and eight in the U.S.). To pay homage to the all-conquering M8B, McLaren Special Operations (MSO) built a limited run of just three "street legal" Senna GTR's, named the Senna Can-Am.
The McLaren Senna is, without a doubt, one of the most extreme creations to roll out of any automotive production line. From its copious amount of power to an aggressive and aerodynamic design, the Senna is a tour de force. After launching the Senna and dropping jaws, the Senna GTR was released as a race-ready track-only version. If you wanted to experience the Senna GTR on the road, you couldn't. That is, until the Senna Can-Am. With just three examples produced, the Can-Am is the rarest of all Senna variants, and a love letter to the McLaren M8B race car.
The Can-Am received a plethora of unique features that set it apart from the standard road going Senna. Built on the Senna GTR's track-only chassis, it received an increase of 25hp to match the GTR's 814hp. In reference to the all-conquering M8B, Bruce McLaren's signature and #4 racing number adorn one side of the heritage orange bodywork, while Denny Hulme's signature and #5 racing number appear on the opposite side, along with vintage McLaren Cars and Speedy Kiwi logos. The rear air brake is finished in liquid silver with white end plates, again in homage to the original M8B ace car. Other unique details include a 24 carat gold heat shield, distinctive wheels, four exhaust pipes exiting the tail end, a louvered fender design, and dedicated badging notating this car as Can Am #1 of the three produced.
Inside, the cockpit features bespoke black Alcantara trim with a Can-Am logo embroidered into the seat headrests, bespoke paint on the extended sills with details about the original race car's victories, a black anodized accelerator pedal with the Can-Am Logo, liquid silver door struts, orange door pull straps, and a badge with the car's production number.
Never tracked, never driven in the rain, and completely wrapped in clear paint protection film (PPF), this sensational hypercar presents a unique opportunity to purchase the first of the three Senna Can-Am street cars. The rarest of all McLaren Senna production, and a bona fide investment, this is a track-proven weapon that can be legally piloted to any event nationwide.
---
2014 Porsche 911 50th Anniversary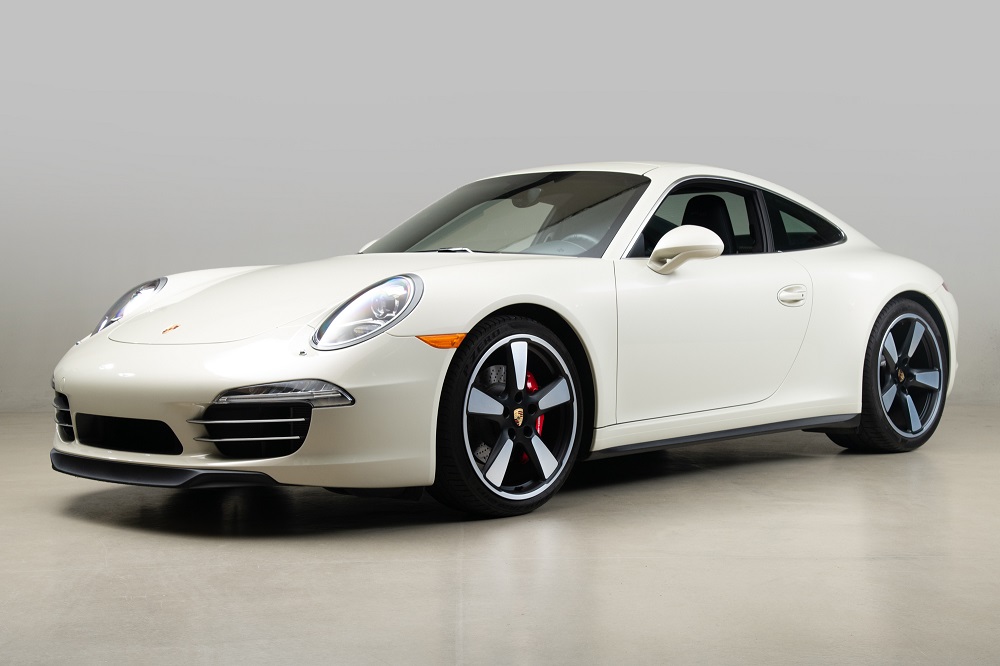 Introduced in 1963, Porsche's 911 has become an icon among sports car enthusiasts worldwide. To celebrate the models Golden Jubilee in 2013, Porsche released its stylized performance-orientated 50th Anniversary 911.
The 50th Anniversary Edition utilizes the wide body from the Carrera 4S yet remains rear wheel drive. The ride height was lowered by 10mm, and the combination of the dropped stance and wide hips makes for a mesmerizing silhouette. The front intakes, and grille on the rear deck lid are black with chrome accents, as is a two-bar strip where the C4S had a red reflector. Then there are the massive, retro Fuchs-style 20-inch wheels.
The anniversary editions interior redesign centers around the seats, which feature vintage inspired houndstooth cloth with leather side inserts. The leather on the dash and doors is finer than on other models, and the aluminum trim is a brushed finish. The car is appointed exactly how you'd want it. The gauges too are a throwback, with green lettering, white needles, and silver pointer caps – mimicking the original 901.
Porsche built 1,963 examples – the year the 911 first went on sale – available in three special colors reserved for the celebratory 911. Our example is number 1,819 in the production run, delivered new to Porsche of North Scottsdale, Arizona in 2014, and finished in the stunning hue of Geyser Grey Metallic over a Classic Black leather interior with dark grey houndstooth seat inserts. Wisely optioned at the time of original order with the rare 7-Speed Manual Transmission, it has traveled only 4,540 miles, and presents just as the day it rolled off the factory assembly line.
Upon arriving at Canepa the 50th Anniversary 911 was subjected to a comprehensive inspection within our Service department and found to be in outstanding condition throughout. To be sold with a pre-delivery Service, full concourse-show-level "Canepa Difference" Detail, Owners Manuals, laminated original Window Sticker, Spare Key, and Service Records. As coveted today, as it was at the time of introduction in 2013, this limited edition 911 presents an opportunity to acquire a highly prized iteration of Porsche's sporting icon in as-new condition.
---
1998 Porsche 993 Andial C2S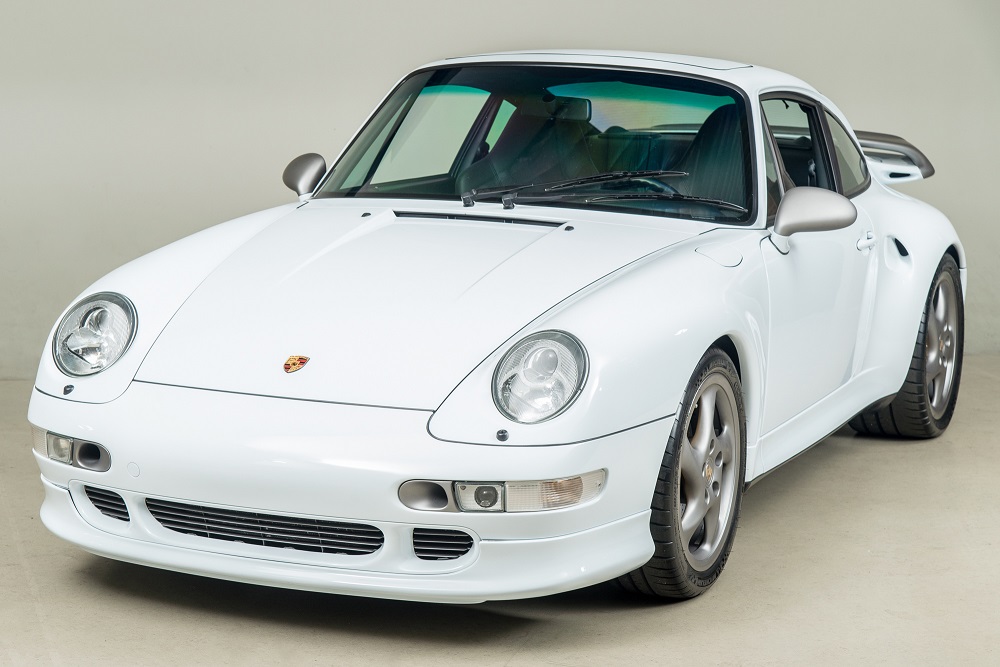 Few motorsport partnerships can draw attention like Porsche and ANDIAL, combining the German manufacturer's prestigious racing cars with the performance shop's motorsport know-how and ingenuity. With their relationship spanning multiple decades, Porsche often turned to ANDIAL for optimization of components for their race cars. From engines to suspension components, the Santa Ana performance shop was known as an industry leader and an expert in motorsports applications. It should come as no surprise that ANDIAL would eventually breathe some of their talent into Porsche's street cars, and this 1998 Porsche 911 C2S with an upgraded 3.8-liter motor is one of those rare birds. The car on offer here is the culmination of these two legendary brands coming together, and further enhanced by Canepa, to deliver one of the finest 993 C2S' in existence.
Purchased new by Max Mayer of Birmingham, Alabama, he would spec his 1998 Porsche 911 C2S to his exact wishes. Built on December 19th of 1997, he would become its first owner on March 23rd, 1998. Max already knew what he wanted to do with the 911: send it to ANDIAL Road and Racing and have them apply their magic and upgrade the stock 3.6-liter engine to the 3.8-liter monster engine. Before going to ANDIAL, Max chose body components to be added to the C2S during the build. On a mission to make a C2S with a Turbo look, he would end up purchasing over $8,500 in parts, including front Fog Light Brake vents, Turbo-S rear quarter brake vents, a Turbo-S front and rear spoiler kit and a Turbo S brake caliper set. With only 4,268 miles on the car, ANDIAL would begin work that would take this regular Porsche and turn it into a 911 that has a unique character that sets it apart from all other C2Ss.
Composed of ANDIAL's larger lightweight pistons and lightweight Carrillo rods as the base build of the engine, Max decided to spec the car with even more options. During the build, the car was given Sport Camshafts from an RS, a lightweight flywheel that was used in the RSR race car, a custom 8:32 Ring and Pinion in its 6-speed manual transmission, and a Quaife Eng. limited slip differential. Other modifications included M030 Euro Sport Suspension, which included springs, struts, shocks, and sway bars. A Sound enhancement package, which included K&N/Sport air box, new mufflers and tail pipe tips, and a shock tower brace. With the modifications applied, the ANDIAL-built C2S produced 374ft-lbs. of torque at 4,544rpm and 321 horsepower at 6,510rpm. When all said and done, the ANDIAL-powered C2S would cost Max over $33,000 in parts and labor for the pure driving pleasure that the special Porsche 911 now delivered.
Max would eventually sell the ANDIAL C2S to Dr. George Pierce Jones III of Havana, Florida on the 25th of October 2003. The bill of sale states that the 911 has 9,477 miles on the car and Max was traded a 1956 Porsche Speedster with 1,280 miles. George would drive the car almost 6,000 miles during his year and a half ownership, performing minor maintenance on the car during the time. On February 1st, 2005, he would sell the Porsche to Carmen and Lisa Giunta of Riverdale, New Jersey.
Once the car arrived, Carmen began to take copious notes on maintenance that he would have performed during his ownership. Over the course of his 5+ year ownership and 10,000 miles, he would have general maintenance done along with a few upgrades like an DACH X-pipe and 200 cell catalytic converters added. In August of 2011, the car was then sold onto its next owner with a surprisingly odd twist. Just two weeks after acquiring the car, the new owner passed away due to Hurricane Irene. With his family devastated, the now-deceased owner's business partner helped find a new buyer for the car. On September 25th, 2012, the car was then bought by a collector in Southern California.
Driving the car less than 2,000 miles during his 5 and half year ownership, he would take the car out on special occasions to keep the engine fresh and enjoy all that the ANDIAL-C2S had to offer. After arriving at Canepa early in May of 2019, the car was thoroughly inspected. With the 911 having such a unique character from upgrades, Bruce Canepa decided that the car demanded something more. Custom leather was sourced and was masterfully installed by our in-house trimmer, now sporting a handsome full olive-green leather interior and matching carpet. The hollow spoke Turbo wheels were removed and painted in Titanium grey metallic, along with a few other exterior surfaces like the top of the Turbo spoiler, mirror housings, and front brake ducts. With all the aesthetics updated to modern times, the car now has a special persona that reflects a perfect culmination of upgrades.
This ANDIAL-upgraded C2S has arrived back at Canepa, offering the next buyer a unique opportunity to buy a piece of history. With ANDIAL becoming a part of Porsche Motorsports North America in 2013, this 911 represents a time when the company was still an independent performance shop, that Porsche trusted and respected. With enough naturally aspirated power on tap to satisfy any air-cooled aficionado and updated to 21st century aesthetics, this Porsche 993 from ANDIAL is the ultimate C2S.
Want to see more auctions? Click here.
---