The ultimate expression of the Bugatti Grand Prix car, the Type 59 was a testament to Ettore and Jean Bugatti's extraordinarily creative engineering talents. In an era when the art of race car design was arguably superseded by the science, the Type 59 remained competitive despite its continued use of 'old-fashioned' mechanics.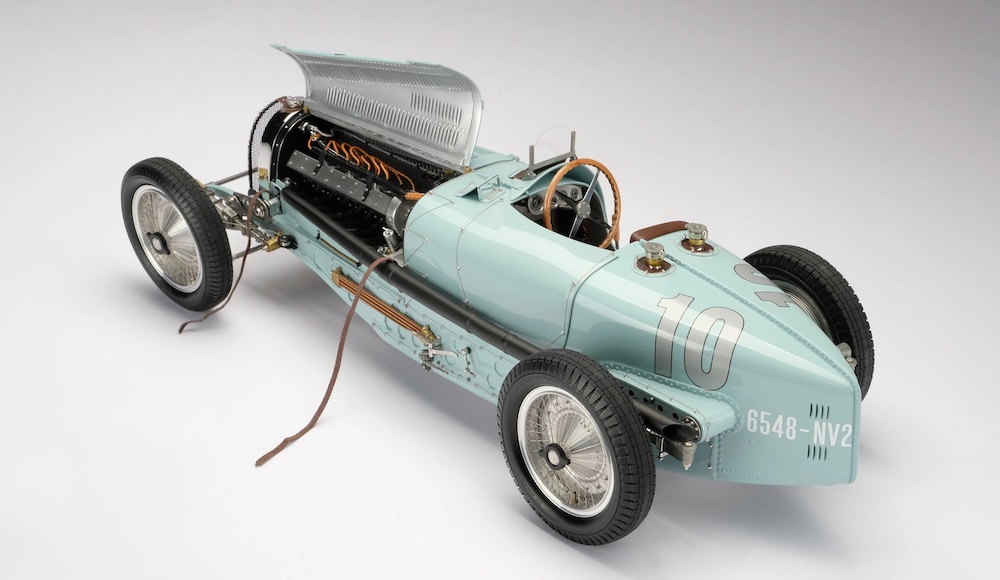 Though often defeated by its more modern government-funded rivals, its long, low and slender bodywork, have earned it a very special place in Grand Prix history. The Type 59 remains Bugatti's last successful Grand Prix racer.
The Type 59 is generally regarded as an artistic masterpiece: it still retained the heritage from the iconic and all-conquering Type 35, which Ettore Bugatti had designed a decade earlier, but in extending the wheelbase of the new chassis frame, he created a beautiful Grand Prix car with perfect proportions. Under the all-aluminium bodywork lived its straight-eight engine. The power unit was a new development, led by Ettore's eldest son Jean, not only to power the Type 59 race car but the upcoming Type 57 grand tourer. In Grand Prix specification, it was fitted with twin camshafts, dry sump lubrication and a lightened crankshaft. At its debut the engine displaced 2.8 litres, which was soon supercharged to just under 3.3 litres, and a separate four-speed gearbox was fitted roughly midway between the engine and rear differential for optimal weight distribution.
The Type 59's steel ladder frame chassis was nearly identical to that of its predecessor, the Type 54. Unusually the front and rear axles were constructed from two halves treaded together in the middle, adding some flexibility to the traditional solid axles. Ettore Bugatti favoured the two-seater Grand Prix concept, and the Type 59 was no exception, the driver was offset to right of the car's centre, and his famed eye for design to exquisite detailing such as the superbly engineered piano-wire spoke wheels. This particular addition was supported by strong mechanics: an aluminium back-plate dealt with the torque from the drive and the braking, whilst the spokes themselves only supported radial loads.
Lengthy delays meant that the Type 59 did not debut until late in the 1933 season and the car required modification to compete under the new '750 kg' regulations that would come into effect in 1934. The Bugatti was not particularly successful on the track but, although its rivals Auto Union, Mercedes-Benz and Alfa Romeo had made significant innovations with independent suspension and hydraulic brakes, the Type 59 remained competitive, despite its continued use of solid axles and cable operated drum brakes.
It won a single major Grand Prix, at Spa in 1934 and, even then, there were many mitigating factors. Bugatti's German rivals Mercedes-Benz and Auto Union withdrew from the race beforehand (rumoured to be due to issues with Belgian customs authorities at the border) and issues plagued the other competitors, meaning only seven entries started the race, three of which were Type 59s. Bugatti's remaining major adversary, Alfa Romeo flew into a commanding lead, before both of their entries retired, one due to a crash and the other as the result of a broken oil pipe, leaving the route clear for René Dreyfus and Antonio Brivio to claim a fantastic 1-2 victory for the French marque.
The Type 59 did see some more success in minor Grand Prix though: Jean-Pierre Wimille claimed victories at Algiers in 1934 and Deauville in 1936 whilst, in 1935, Robert Benoist won in Picardy.
Today, Type 59s are prized collector items and have estimated values in excess of £10 million. Just seven cars were built in Grand Prix configuration, of which four raced for the Bugatti works team and all have survived to this day. Current owners include Ralph Lauren and the industrial designer Marc Newson. One former Grand Prix chassis, converted to a sports car configuration back in the 1930s, sold at auction for £9.5 million in 2020.
This fine 1:8 scale model is based on the car as raced by Jean-Pierre Wimille in the Belgian Grand Prix on the 14th of July 1935 at Spa-Francorchamps. Wimille qualified fourth and made a fantastic start flying into second position on the opening lap, but the French hope for victory suffered an early retirement after just seven laps due to engine issues. To create the Type 59, we used our supremely accurate digital scanning on chassis 59122, kindly allowed by its current owner Ralph Lauren, and, with the cooperation of Bugatti's automotive historian Julius Kruta, developed this stunningly detailed and precise replica at scale.
Limited to just 15 pieces
1:8 scale model, over 52 cms/20 inches long
Based on the car as raced by Jean-Pierre Wimille in the Belgian Grand Prix on the 14th of July 1935 at Spa-Francorchamps
Each model hand-built and assembled by a small team of craftsmen
Made using the finest quality materials
Complete with removable engine cover
Over 5000 hours to develop the model
Over 500 hours to build each model
Thousands of precisely engineered parts: castings, photo-etchings and CNC machined metal components
Original CAD designs created after scanning chassis 59122 in the ownership of Ralph Lauren
Archive imagery and paint codes supplied by Bugatti historian Julius Kruta
Click here for further information
more information: amalgamcollection.com
---