The BRABUS Crawler introduces a new era of BRABUS off-road power. An era defined by winners. By those willing to push the boundaries and experience new heights far beyond the beaten path. As the world's first-ever BRABUS supercar based on its own chassis, this extreme adventure vehicle reimagines the meaning of driving fun at its core – merging the worlds of unstoppable power and confident elegance like never before.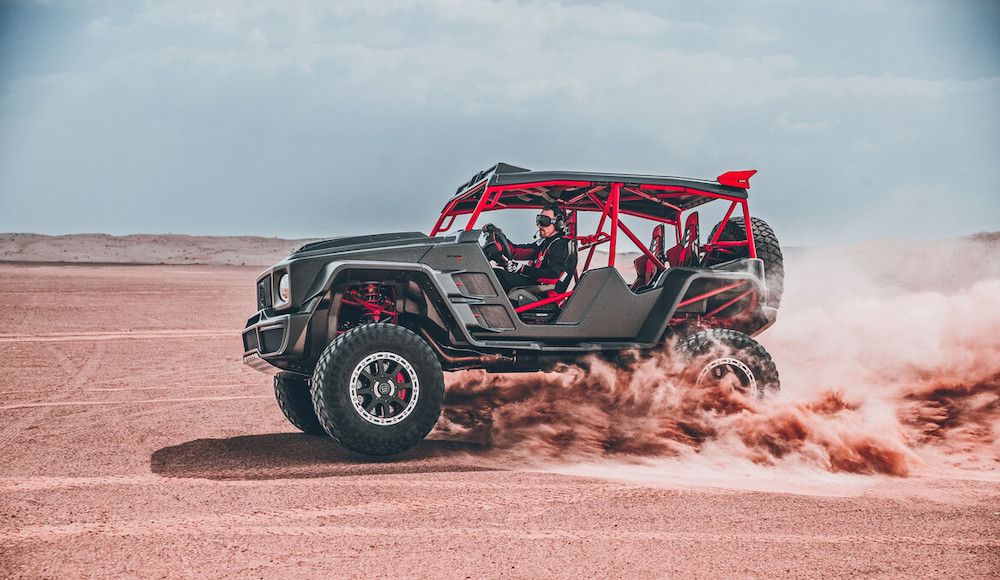 It is the apex of bold determination and pure adrenaline fueled go-anywhere performance. An uncompromising, purpose built dune racer designed to conquer the desert and vanquish the elements with its unmistakable 100% BRABUS character. Production will be limited to 15 units worldwide.
The BRABUS Crawler was conceptualized specifically for off-road action and therefore is not certified for use on public roads. Its beating heart is the BRABUS Rocket 900 4.5-liter V8 twin turbo displacement engine with specially developed turbochargers producing 900 horsepower and thus offers incredible performance. The brand new lightweight chassis of the BRABUS Crawler features a high-strength steel tube frame in striking BRABUS red and an open, four-seater body made of exposed carbon fiber.
In combination with a range of extreme off-road highlight features including front and rear portal axles, damping and height adjustable shock absorbers, newly developed 20-inch BRABUS Monoblock HD forged wheels as well as a unique bespoke interior design – the BRABUS Crawler is fully equipped for any adventure. Are you ready? Experience new heights. Experience the BRABUS Crawler.
DESIGN & EXTERIOR. MORE EXTREME THAN EVER.
100% BRABUS – The exclusive chassis of the all-new BRABUS Crawler features a special maximum-strength steel tube frame in combination with an open, four-seater body made of high-grade exposed carbon fiber. Designed to reimagine our signature "Black and Bold" design language, this never before seen concept offers unmistakable looks and next-level stability no matter where your adventure will take you.
In tune with the untamed power of a modern desert racer, the BRABUS Crawler features neither doors nor windows at the front, sides and rear. Instead, a carbon fiber roof panel mounted on the steel safety cell further reinforces the car's integrity and provides excellent sun protection on your way across the sands. At the rear, the hallmark BRABUS rear wing adds an exceedingly sporty touch.
POWER & SOUND. CONQUER THE DESERT.
The all-new BRABUS Crawler offers the best in performance engineering and power delivery in hallmark BRABUS fashion. It is pure adrenaline on four wheels; the ultimate dune racer capable of accelerating from 0 – 100 km/h in just 3.4 seconds courtesy of the BRABUS Rocket 900 4.5 liter V8 twin turbo displacement engine producing 662 kW / 900 hp. The controlled 1050 Nm of uncompromising power is transmitted instantly to the desert sands via a nine-speed automatic transmission, which can be shifted automatically or manually – all at the driver's leisure. With an electronically limited top speed of 160 km/h*, the BRABUS Crawler was designed to excel and claim the desert as its own.
The BRABUS high-performance exhaust system with sporty matte black tailpipe trims and actively controlled valves ensures the right acoustics and looks for flying over the dunes, while further perfecting power delivery by reducing exhaust backpressure.
*Due to the off-road tire configuration, the top speed is limited to 160 km/h (99mph).
WHEELS & SUSPENSION. FORGED PERFORMANCE.
Conceptualized to withstand even the most extreme adventure beyond the beaten path, the all-new BRABUS Crawler is equipped with 20-inch BRABUS Monoblock HD forged wheels. State-of-the-art manufacturing processes and a signature 'black and bold' finish ensure a unique look as well as maximum strength. Extremely robust BRABUS aluminum struts developed specifically for this brand new model in combination with fully adjustable shock absorber ensure a ground clearance of 53 centimeters – fully adaptable to any terrain you are likely to encounter in the heart of the desert.
INTERIOR. PUSH THE BOUNDARIES. 
Experience next-level elegance and pure fascination like never before. Though unlike any other vehicle in our portfolio, the all-new BRABUS Crawler shares the same next-level driving experience and attention to detail as any other typical BRABUS supercar. Bespoke, full-carbon racing seats offer perfect support as well as outstanding comfort for the driver plus up to three passengers. Matching the distinct look of the heavy-duty tube frame, our interior-design specialists covered each seat with striking red Silvertex – a high-tech fabric adopted from the BRABUS Marine range of high-performance sports boats. Beyond its unmistakable appearance, this material offers outstanding protection against fading of its color in the sun. Just as exceptional as this choice of material is the high-quality workmanship with millimeter-precise stitching and BRABUS logos embroidered into the headrest.
To ensure you stay in control of your adventure across the uncharted at all times, the BRABUS Crawler is also equipped with a state-of-the-art GPS navigation system, placed discreetly in front of the co-pilot seat. Depending on your individual area of operation, we supply specifically compiled digital map material upon request. Red anodized elements around the interior such as pedals, footrests and the high-quality aluminum GPS unit mounts provide striking contrast. For communication between the individual crew members, the BRABUS Crawler features a sophisticated 2-way communication system – which can be used with the dedicated intercoms integrated into the four included BRABUS carbon helmets or other headsets.
Click here for further information
more information: brabus.com
---