A fascinating book by John Collins. This book is a great insight into the world of dealing in classic collector Ferraris and other exotic cars from John Collins. It tells the inside story about John Collins and Talacrest, from its beginning to present day and is also a wonderful catalogue of the world's most fabulous cars that Talacrest and John have been involved with.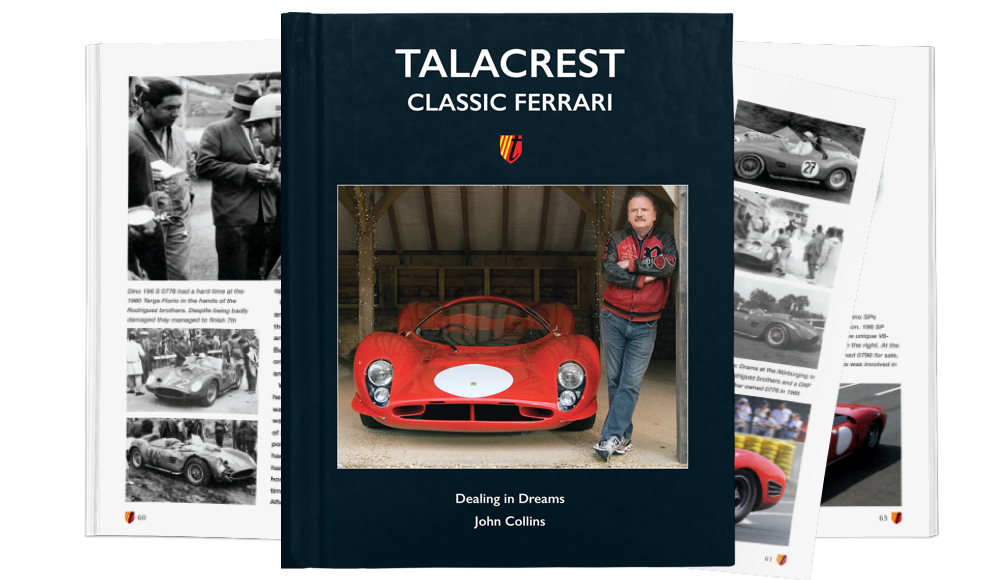 With approximately 350 pages, the book is prolifically illustrated with stunning archive pictures from Auto Italia and Marcel Massini amongst others and includes many important Ferrari road and racing cars. Many are accompanied with histories, track tests and how the deals were done.
The book has been published to commemorate Talacrest's 30th Anniversary and documents the start of the business with borrowed capital from mates in the local pub, to the development of an enterprise which became the first Classic Car dealer to win a Queen's Award for Export.
A must read for all Ferrari enthusiasts!
For enthusiasts, a candid recollection of the real stories behind some of the most exotic road and racecar transactions presents a unique insight into the operation of the market at the highest levels.
All profits from the sale of the book will be split between two charities – The Thames Valley Air Ambulance and The Racehorse Sanctuary.
Report by talacrest.com
---