Following another successful year with a welcome return to live auctions – and setting a raft of auction world records – the Bonhams global motorcar department is gearing up for a busy 2022.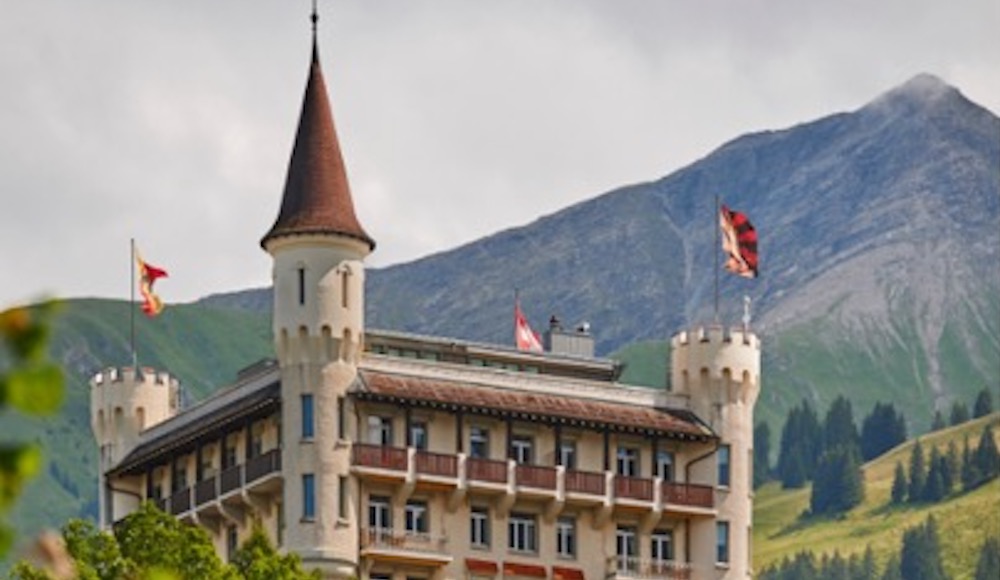 NEW LIVE SALES AND INCREASED DIGITAL OFFERING
---
Link to Bonhams Motoring:
https://www.bonhams.com/department/CAT-MOT/motoring/
---
Two new major European sales, in Switzerland and Italy, are being added to this year's sales calendar which opens later this month (27 January) with The Scottsdale Auction in Arizona.
The Gstaad Sale of collectors' motor cars will take place in the chic Swiss Alpine resort on 3 July, in partnership with the Gstaad Palace Hotel. The historic luxury hotel will host this new biennial sale, with the now-established Bonmont Sale taking place every other year.
The new venue joins an array of prestigious locations and world-class events staging highly curated Bonhams auctions this year including Monaco, Goodwood Festival of Speed and Revival, the Zoute Grand Prix and Monterey Car Week.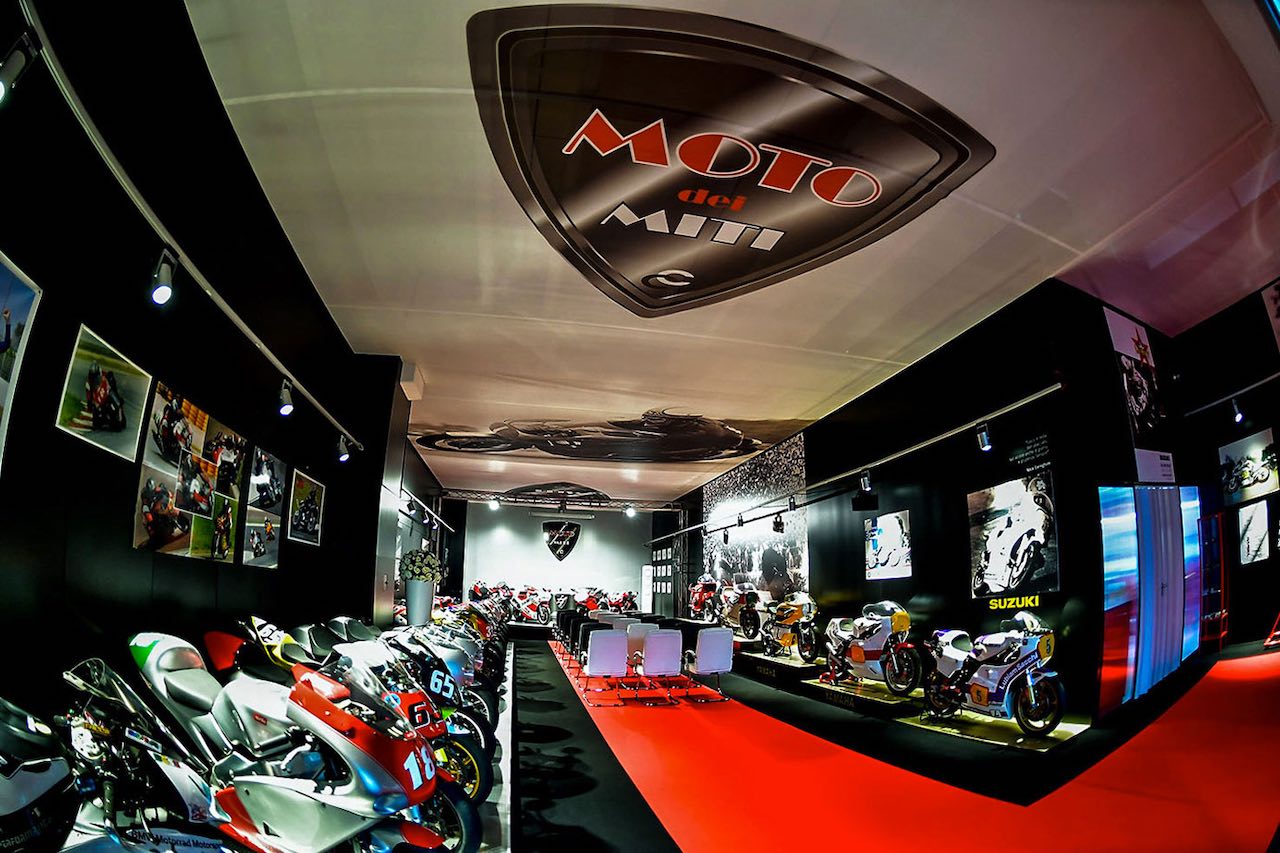 Moto dei Miti, venue for the debut Passione Moto Sale on 1 April
For the first time the motorcycle division will offer a live sale in Italy, staging Passione Moto on 2-3 April, offering more than 100 collectors' motorcycles and racing machines at the world-renowned Moto dei Miti museum, in Civita Castellana near Rome.
Complementing these flagship auctions will be a greater focus on digital sales, as part of Bonhams Motoring strategy to improve its client experience, in the face of an increased demand for online auctions. Consequently, a greater number of motor cars will be offered through The Market by Bonhams digital sales platform, replacing some of its smaller sales including the MPH-branded auctions. The popular Beaulieu sale has been brought back under the Bonhams brand.
The Bonhams Motoring 2022 calendar is listed below.
Highlights and innovations in 2021 
With a total of 34 sales, there was a return to live Bonhams auctions, which benefited from busy salerooms, notably at Amelia Island, Goodwood, Quail Lodge and Zoute, complemented by dedicated online sales, (cars, motorcycles and automobilia) delivered by the global team.
Bonhams motoring achieved a 50% increase in hammer sales, compared with 2020, resulting in a strong average sell-through rate of 86%. The department also increased its worldwide market share by 19%, while the UK team regained its footing as the dominant auction house with 50% of the total market share, a greater share than its three main competitors combined.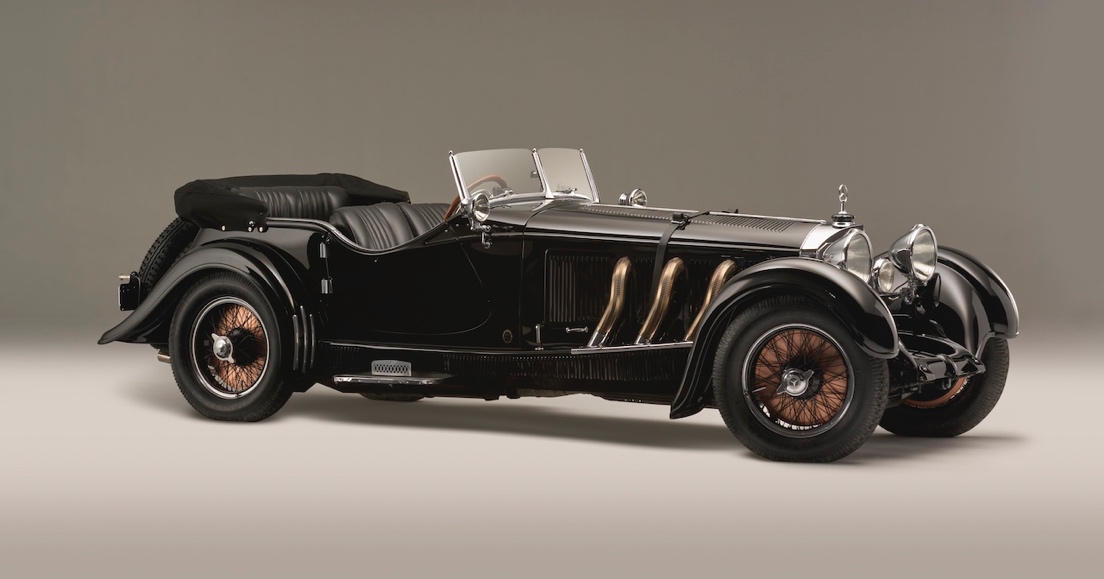 1928 Mercedes-Benz 26/120/180 S-Type Supercharged Sports Tourer achieved $5,395,000 
The Highest-value Motor Cars Sold by Bonhams in 2021
The supercharged 1928 Mercedes-Benz 26/120/180 S-Type Supercharged Sports Tourer achieved $5,395,000 at Bonhams Quail Lodge Auction in August. Offered from more than 50 years of private family ownership, it far-exceeded its $4,000,000 top estimate in the sale, which realised more than $37 million.
Close behind was another pre-war supercar: a rare 1937 Bugatti Type 57S. This sold for £4,047,000 in Bonhams Legend of the Road Sale at the Bonhams flagship New Bond Street saleroom in February. It led a white-glove auction sale of motoring masterpieces which had a 100 per cent sell-through rate and realised a total of more than £7 million. The full list of the top ten selling cars is below.
Introduction of a new auction
In the US, the inaugural Bonhams Audrain Concours Auction was staged in Newport, Rhode Island, where a 1955 Mercedes-Benz 300 SL Gullwing, was the top seller, soaring to a total of $1,556,000.
Auction World Records set in 2021
Several auction world records were set on both sides of the Atlantic.
1974 Alfa Romeo Tipo 33 TT 12 sold for $1,677,000, at The Quail Lodge Auction in August, setting an auction world record for the model. This was the last Alfa Romeo to campaign the world's most famous road race, the Le Mans 24 Hours, finishing in 4th place.
At the same sale, two marque auction world records were also set by a 1934 Riley MPH Sports Two-Seater, which achieved $967,500, and a C1928 Pedroso Roadster, which made $296,500, while another auction record was set for the Porsche 993 Turbo S by a 1997 911 Turbo S which made $654,000. 
At the Goodwood Revival sale a month later, a Jaguar XJ220 was the cat's whiskers selling for £460,000, more than any XJ220 has achieved at auction to date. The 1993 car had covered just 400 miles from new.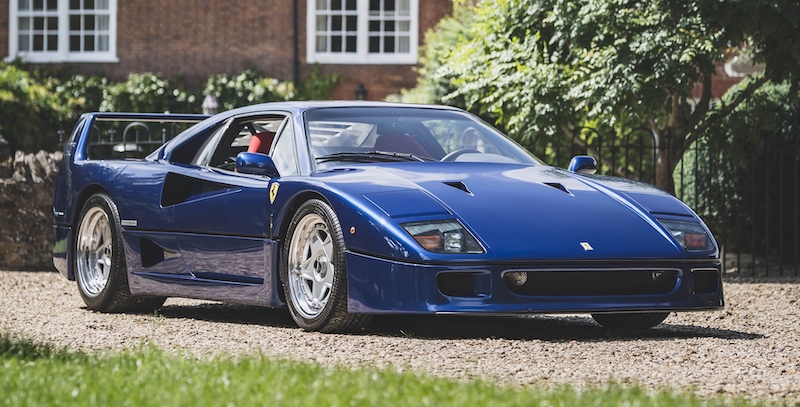 1989 Ferrari F40, sold for £1,000,500 on The Market by Bonhams
Arguably the most remarkable auction record was set by a 1989 Ferrari F40, famed for its rare blue colour scheme, which was the first car to break the seven-figure barrier on a UK/European online platform, achieving £1,000,500 on The Market by Bonhams in July. The online marketplace for classic and collectable cars and motorcycles had been acquired by Bonhams three months previously.
Celebrity Provenance
A 1993 Porsche Type 964 Carrera 2 Convertible Works Turbo Look, formerly owned from new by football superstar Diego Maradona, netted €483,000, nearly double its high estimate, following a lengthy bidding battle, in the Bonhams Motoring's first fully digital auction.
Other vehicles with celebrity provenance which successfully sold in 2021 include:

1992 33ft Airstream Model 34 Limited Excella Travel Trailer ordered new by Tom Hanks to the actor's own specification and signed by him, sold for $235,200
The four-vehicle Tom Hanks Collection – led by a 1992 33ft Airstream Model 34 Limited Excella Travel Trailer. Ordered new by the actor to his own specification and signed by him, this sold for $235,200 at The Quail Lodge Auction.
2009 Mercedes-Benz CLK 63 AMG Black Series, formerly owned by Swiss tennis great Roger Federer, was a smash, achieving CHF 195,500, at The Bonmont Sale.
2013 Range Rover Vogue SE, formerly belonging to the Royal Household and used by The Duke and Duchess of Cambridge exceeded its own top pre-sale estimate, making £50,625.
Motorcycles
2021 was another strong year for the Bonhams Motorcycles team who achieved an average 96% sell-through rate in their Summer and Autumn Stafford Sales which returned to their traditional venue at the Staffordshire County Showground.
Both sales witnessed new auction records:
An ultra-rare 1940s AJS 497cc E90 'Porcupine' Grand Prix racing motorcycle, previously owned by post-war AJS works rider Ted Frend, set a new auction world record for the model selling for £293,250 in July.
At the Bonhams Autumn Stafford Sale a 1973 MV Agusta 750GT, belonging to the late German film critic Hans Schifferle, was the top lot, more than doubling its pre-sale estimate to achieve £126,500, a new auction world record for the model.
The Bonhams 2022 Motoring Diary is as follows:
January
27                  The Scottsdale Auction, Phoenix, Arizona, USA
February
3                     Les Grandes Marques à Paris Sale, France
March
1-14                Spring Automobilia Online
3                     Amelia Island, Florida, USA
21-31              Spring Motoring Online, UK
April
TBC                 Automobilia Europe Online
2-3                   Passione Moto, Italy
10                    Goodwood Members Meeting Sale, UK
18                    The Phil Morris Collection Online, UK Motorcycles
24                    The Spring Sale, Stafford, UK Motorcycles
May
13                    The Monaco Sale, MC
June
1-14                Summer Automobilia Online, UK
24                   The Goodwood Festival of Speed Sale, UK
July
3                      The Gstaad Sale, CH
August
19                    The Quail Auction, California, USA
September
10                    The Beaulieu Sale, Hampshire, UK
17                    The Goodwood Revival Sale, UK
30                    The Audrain Concours Auction, USA
October
9                      The Zoute Sale, BE
16                    The Autumn Sale, Stafford, UK Motorcycles
November
4                      The Golden Age of Motoring Sale, London, UK
December
1-14                 Winter Automobilia Online, UK
Bonhams Motor Cars Top 10 – 2021
1928 Mercedes S-type sold for $5,395,000 at the Quail Lodge Auction
1937 Bugatti 57S sold for £4,047,000 in the Legends of the Road Sale (Bond St)
1934 Mercedes 540K made $4,900,000 at the Amelia Island Auction
1960 Aston DB4GT sold for £1,975,000 at the Legends of the Road Sale (Bond St)
1994 Bugatti EB110 achieved €2,242,500 at The Zoute Sale
1913 Mercer 35K Runabout sold for $2,425,000 at Amelia Island
1989 Ferrari F40 made €1,840,000 at Zoute.
1948 Talbot Lago T26 sold for $1,875,000 at Quail Lodge
1952 Ferrari 212 Europa realised $1,820,000 also at Quail Lodge
 1959 BMW 507 made $1,809,000 at The Scottsdale Auction