One of two iconic 1949 Buicks used in RAIN MAN, this one was acquired by Dustin Hoffman when the film wrapped. Restored by Larry Payne, Glendora, California, and shown at a 1989 Buick Car Club event, the RAIN MAN Buick has remained in Hoffman's ownership. In 34 years the car has rarely been seen publicly.
"The Buick's been in storage too long," says Hoffman, "It should be driven, enjoyed, and cherished."
A multi-award winning movie, RAIN MAN is a 1988 American road drama film directed by Barry Levinson, from a screenplay written by Barry Morrow and Ronald Bass. It tells the story of abrasive, selfish young wheeler-dealer Charlie Babbitt (Tom Cruise), who discovers that his estranged father has died and bequeathed virtually all of his multimillion-dollar estate to his other son, Raymond Babbitt (Dustin Hoffman), an autistic savant, of whose existence Charlie was unaware.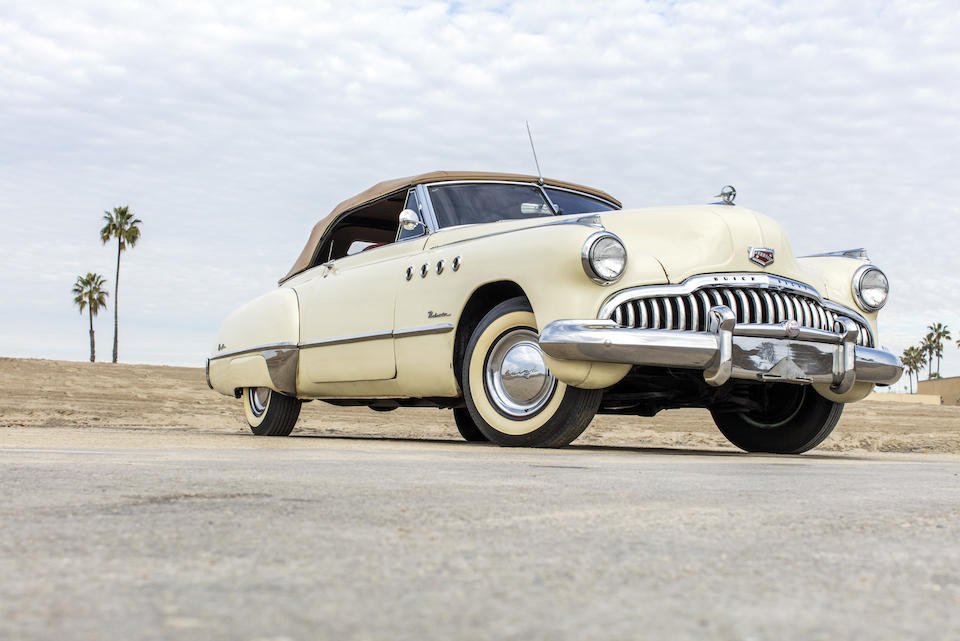 Angry at being cut out of his share of the inheritance, Charlie takes Raymond out of the mental institution and vows to bring him to live in California. Since Raymond will not fly, Charlie puts him in the front seat of the 1949 Buick and they set out on a cross-country odyssey.
---
Raymond Babbitt (Hoffman):
Definitely know this car, it's a 1949 Buick Roadmaster straight eight, fireball eight.
Only 8095 production models.

Charlie Babbitt (Cruise):
I'll tell you a story about my father, that car in the garage, was off limits to me.
He said it was a classic, it demands respect."

Barry Levinson (Director):
The car had a very strong visual presence in the film and was featured throughout. It became a character. Dustin, Tom Cruise, and the '49 Buick. In essence, the car had "third billing."
---
The RAIN MAN Buick is an extraordinary opportunity to own the "third character" in this life-changing journey that brought movie-goers all over the world to love Hoffman's Raymond for, as Roger Ebert put it, "what he was, not for what he was not, or could not be," and to learn, as Cruise's Charlie did, "how to pay attention, how to listen and how to be at least a little patient some of the time."
A once in a lifetime offering…
If you are interested in more news click here.
---