The 1939 Miller-Balsamo owned by John Goldman was selected as "Best of Show" out of over 200 entrants at the 13th Annual The Quail Motorcycle Gathering presented by Medallia. The event's highest honor was announced to over 3000 attendees at Quail Lodge & Golf Club's annual event. Over 26 awards were given celebrating the designs and legacies of the world's most iconic motorcycles.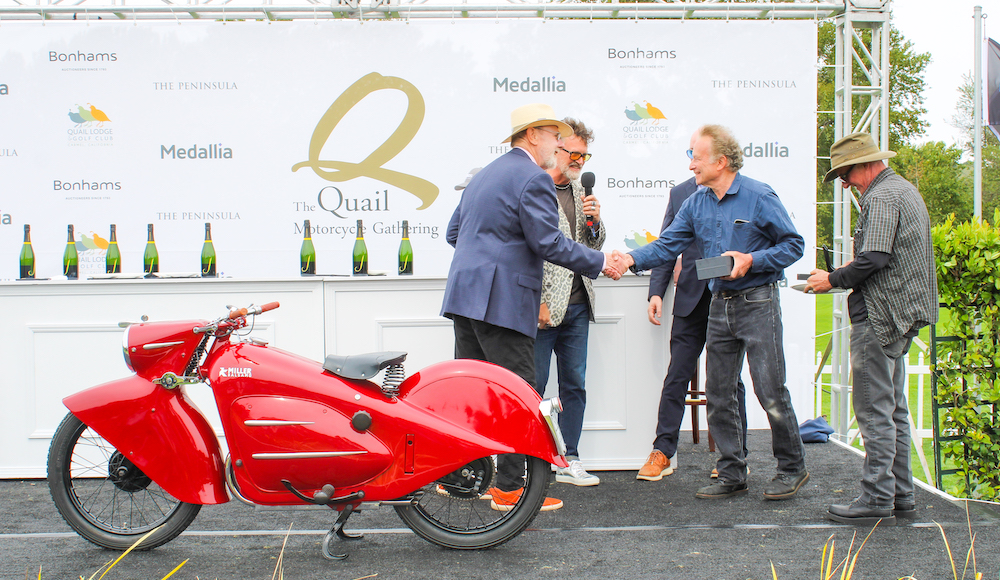 Three new featured classes for 2023 led The Quail Motorcycle Gathering's exhibition. Italian and Single, 1970s Vintage Muscle and 'Bring on the Baggers' joined 11 returning traditional classes, such as American, British, Italian, Japanese, Antique and Custom/Modified, in delighting motorcycle enthusiasts and casual fans alike.
Standout motorcycles on the grounds were three-time Grand Prix champion Wayne Rainey's 1990 Yamaha YZR500 along with the first motorcycle Rainey piloted, a 1971 Yamaha Mini Enduro 60. In the line-up of famous race machines was this year's Legend of the Sport, Bubba Shobert's 1985 Honda RS750D, one of only nine ever built. Four-time Grand Prix world champion, Eddie Lawson, also had a selection of flat track bikes from Yamaha and Bultaco on display.
"There is a euphoria exclusive to The Quail Motorcycle Gathering as a result of the enthusiasm of the patrons and the support of our event partners," said Gordon McCall, director of motorsports for The Peninsula Signature Events. "The passion for two wheels is alive and well and this event represents such a wide range of the community, reminding us why we fell in love with motorcycles"
Motorcycle and lifestyle brands, including Yamaha, Bonhams, Corbin Saddles, Heidenau Tires and Mecum Auctions, displayed curated selections of bikes and new product and service offerings. Other highlight sponsors include Zero Motorcycles, Renard Motorcycles, Law Tigers, Gigi Montrose Moto Couture, AMA, Bring A Trailer, Combat Motorcycles, Oris Watches, Weathertech Raceway Laguna Seca, SDI Insulation/SDI Racing LLC, The Vintageant, Top 1 Oil, Why We Ride, Stellar Moto and Oxford Cigar Co.
Click here for further information
more information: quaillodge.com