The 1935 SS One Airline Saloon, owned by Lisa and Jim Hendrix, of Chesterfield, Missouri, took Best in Show honors in the Concours d'Elegance Sunday at the 2023 Chattanooga Motorcar Festival Sponsored by Millennium Bank.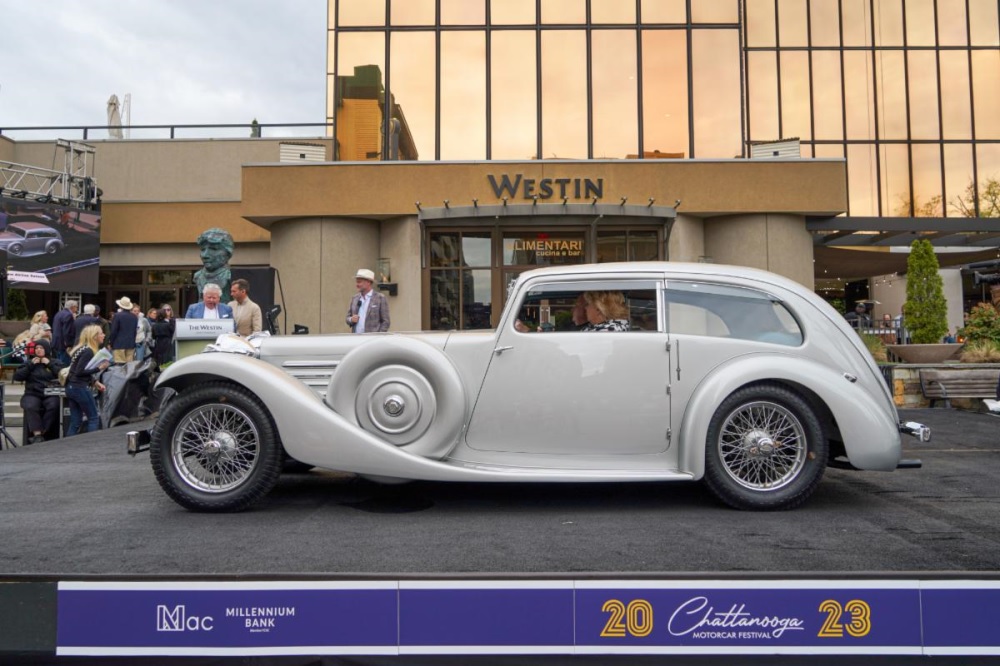 A full list of award winners is available
HERE
. A full gallery of images from the weekend is available
HERE
. Images are for EDITORIAL USE ONLY. Please credit Chattanooga Motorcar Festival.
Best in Show went to the 1935 SS One Airline Saloon, owned by Lisa and Jim Hendrix, of Chesterfield, Missouri. (Chattanooga Motorcar Festival image)
This fourth annual event in the Scenic City also featured Brian Redman's Targa Sixty Six high-speed track action at the Pace Grand Prix at The Bend (named for the late Jim Pace, one of the event's original organizers), plus panel discussions on subjects ranging from barn finds to the voices of Pixar's 'CARS' movies to Porsche's 75th anniversary.A concert by The B-52s, a Gathering of the Greats – Porsche Edition, along with Luftgekühlt's collection of Air-Cooled Porsches, a tribute to race-car driver Brian Redman, and a display of rare Ferraris at the Westin Chattanooga in West Village overloaded the senses at the Festival, benefitting Neuroscience Center at CHI Memorial and the Neuroscience Innovation Foundation of Chattanooga.Sixty race cars in four classes took to the under-two-mile race course in the area known as The Bend. The groups included modern race cars, historic race cars and the Ragtime Racers – automobiles from the 1920s and earlier, led by local car collector and businessman Corky Coker.
Famed car drifter Adam LZ performed tire-smoking drifting demonstrations on the circuit in a 2023 RTR Spec 5 Ford Mustang, while competition on a SimCraft Pro Racing Simulator took place, pitting media and fans against time set by Adam LZ, which helped raise funds for the event's beneficiaries.
The J Willard Marriott Jr. Ferrari Club was unveiled, providing an area in West Village to showcase collector Ferraris at future events.
Celebrities who took part in appearances, panel discussion and interviews included Grand Marshal Luigi Chinetti Jr., Grand Ambassador Brian Redman, Grand Marshal Emeriti Corky Coker and Lyn St. James, Justin Bell, Tommy Kendall, Chip Foose, Linda Vaughn, Wayne Carini, Patrick Long, David Hobbs, Donald Osborne, and even NASCAR racer Kyle Petty was sighted.
Kevin Cogan was recognized as the Honored Collector, and musician John Oates received the Chairman's Award from event founder Byron DeFoor.
"Everyone connected to the Festival did an outstanding job," continued DeFoor, "and I thank everyone who brought their valuable cars, both for the Pace Grand Prix at The Bend and for the Concours d'Elegance. Chattanooga is proud to share the proceeds of this event with Neuroscience Center at CHI Memorial and the Neuroscience Innovation Foundation of Chattanooga."
Chattanooga interviewed some of the key participants in this year's event:
Musician John Oates, Nashville, Tenn.: "I was here two years ago and it was much smaller. It's considerably bigger this year, but still with a kind of small town feel, which I really like. It feels very comfortable to walk around. Everyone is very friendly and chill, which is really nice too. And I love the way the cars and the various car classes are laid out around the town [during the Concours]. It gives you a chance to walk by restaurants and have everything happening at the same time, which I think is really cool. The new stage layout is great. As a performer, I focused on that immediately. Byron DeFoor, Ember Souchet and the team have gone out of their way to make it very easy. All in all, it's a great event and I'm happy to be here."
ON RECEIVING THE CHAIRMAN'S AWARD: "I'm deeply honored to have received this award. I'm happy and proud to be part of the current and future Chattanooga Motorcar Festival – wonderful people, a friendly and high-level automotive experience for everyone."
James Redman, Director, Brian Redman's Targa Sixty Six, Vero Beach, Fla.: "We were honored to be a part of this amazing event. With a race track just a mile away from downtown Chattanooga and the West Village, Targa drivers took to the track to get folks excited about the cars. Targa gave the huge crowd a chance to see cool cars being driven at speed. Lots of noise, wheel-to-wheel action and the opportunity to get up close to the cars and drivers. Adam LZ and the Ragtime Racers were great additions to action on the track, bringing together opposite sides of the motorsports world."
Jeffrey Goldstein, owner of a 1932 Ford Roadster Hot Rod, Warwick, R.I.: "I feel that it's very organized, very well run, and very well marketed. There's nothing about this visit that hasn't been good. The drive down from Rhode Island was 16 hours. That was a little challenging, because we trailered our car, but other than that, this is great. What is really exceptional are the people around here. Everybody's been so friendly and that's the definition of Southern hospitality. I can see it in all the people that we've met, from the bartenders to the people at the hotel. It's really, really been lovely."
Corky Coker, car collector, local businessman, Chattanooga, Tenn.: "The Pace Grand Prix at The Bend is an amazing track. It's a little less than two miles, with lots of curves. It's a smoother track this year, and we can keep the track hot all day long instead of having to interrupt action in order to get people across the track. Lots of people out there. The cars are amazing and, besides, I beat Byron DeFoor in his '31 Chrysler with my blower Bentley. Good."
Luigi Chinetti Jr., Grand Marshal, Florida/Canada: "The Chattanooga Motorcar Festival is really pretty nice because you don't have to walk far to see great stuff. There are nice restaurants and the people are spectacular. Everybody from the hotel to the restaurants, everybody's outgoing. Having everything close by is just wonderful. The organizers did a great job. Everybody on the street, and the vendors are all so friendly. I am honored to have been this year's Grand Marshal."
Cannon Bailey, son of Porsche racer Bob Bailey, driver of a 1971 Porsche 914-6 GT, Lake George, N.Y.: "It's a replica of the car my father drove at the 24 Hours of Daytona in 1971. It was really fun to drive it on the Pace Grand Prix at The Bend and under the old steel structure of the factory (Alley of the Greats). It's a fun track. It was nice and flowy and fun to drive. There were a lot of great cars out there."
Chip Foose, founder of Foose Design, automobile designer/artist, Huntington Beach, Calif.: "First of all, the people are fantastic. We've had a wonderful time. This is the second year and it's amazing how much the show has grown this year. I can't wait to see what the future for this show is, but there's something for everybody here and it's a family event, which is fantastic. It's wonderful to see the kids at the race track because if we don't teach children about the history of automobiles, we won't have a future for it. This show is doing that for us, which is fantastic, and I have to applaud Byron [DeFoor] and his team for everything that they're doing and it's a pleasure and an honor to be here."
Patrick Long, race-car driver and creator of Luftgekühlt, Manhattan Beach, Calif.: "I love it. I love the central location of the Westin and the camaraderie amongst the legends and the enthusiasts. It feels sort of like a Tennessee Amelia Island. Byron's energy and passion is infectious, and I think that that really guides the light of this event and I can't wait to be back. Luftgekühlt was amazing. The people who came out with their Porsches have been waiting for a lift in this part of the neighborhood. We call it a gathering. It's sort of a pop-up, an appetizer plate of what we do on a grander scale, and it's been great to sort of shine some light for the Porsche enthusiasts on what Chattanooga and the Festival is all about."
Jay Ward, Creative Director for Franchise at Pixar Animation Studio, Emeryville, Calif.: "Fantastic event. I've had a blast. What I really love is that it's all in one place. You can kind of see everything, except for going to the track in a golf cart. All the cars are right here [in West Village]. They're all within walking distance, and it has a great vibe that this is happening right downtown, not at some resort or golf course, but literally downtown Chattanooga. It's been a blast."
Adam LZ, drift racer, 2023 RTR Spec 5 D Ford Mustang, Orlando, Fla., after his drifting demo: "That was super cool. The track was definitely a little more narrow than I thought. I usually don't have fun solo driving, but I had a blast."
find more news here…
---