Audi has revealed its new electric Skysphere Concept at the Monterey Car Week. It's an electric-powered two-door convertible that's intended to "illustrate Audi's vision for the progressive luxury segment of the future". It's the first of a trio of concepts with this vision in mind to be unveiled, with the Grandsphere and the Urbansphere to follow.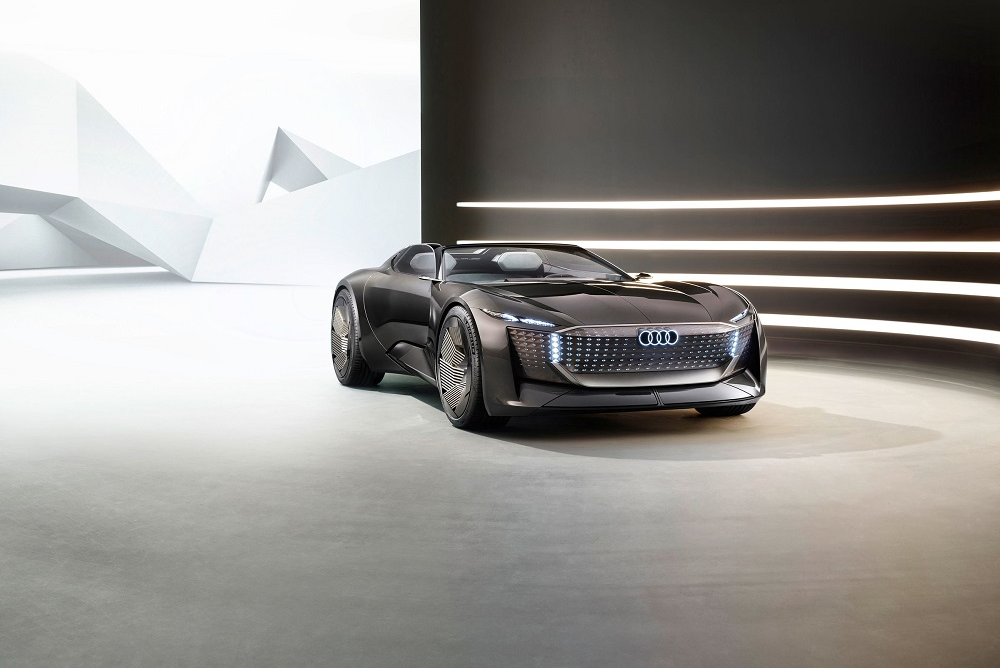 The long and the short of it is that the Skysphere is about unprecedented flexibility. Whether that's the adaptable cabin or the variable wheelbase. No, not just rear-wheel-steering. This thing actually stretches. The character of the car is effectively dictated by its two modes. The "Sports" mode keeps the car in its 4.94-metre setting, with a wheelbase that matches that of the Audi RS 5. In this mode, the rear-steering adds agility, the suspension lowers by 10mm and the driver is in full control.
"Grand Touring" mode extends the Audi Skysphere to 5.19 metres long, with the wheelbase of an A8 L, for maximum legroom. On the inside too, the driver controls fold away and the cabin becomes an airy relaxation space.
All three of the concepts are designed around their cabins or "spheres", which have been revolutionised with level 4 autonomous capability in mind. The design is Art Deco-inspired, minimalist and spacious, opening up when the wheel and pedals fold away. The highly adjustable seats are upholstered in sustainably produced microfibres, with environmentally certified eucalyptus and synthetic leather found elsewhere in the cabin.
The Skysphere's digitised interior makes the Mercedes hyperscreen in the EQS look like a Nokia 3310, with a dash-spanning screen complete with streaming and multimedia apps, a "concert hall quality" sound system and lifestyle integration. It takes a lot off your plate. This car can pick you up, navigate to where you want to go simply by talking to your phone, park itself and handle the payment.
Let's talk power and performance. Under the skin is an 80kWh+ battery, good for a range of over 300 miles. The Skysphere weighs around 1,800kg, with 60 percent of that over the powered rear axle. Yes, it seems this luxury sporting Audi roadster is rear-wheel-drive. Effectively, it's a Mercedes AMG-GT and S-Class Convertible rival all rolled into one.
While the Skysphere was just unveiled as a part of the Monterey Car Week, the Grandsphere will follow later in the year and the Urbansphere in 2022. Are you happy with how Audi's future is shaping up so far?
If you are interested in more supercars click here.
---