To commemorate the 15th Anniversary of Audi's fifth 24 Hours of Le Mans win, Amalgam Collection have created a special race weathered Limited Edition of the car that was victorious on the 19th June 2005.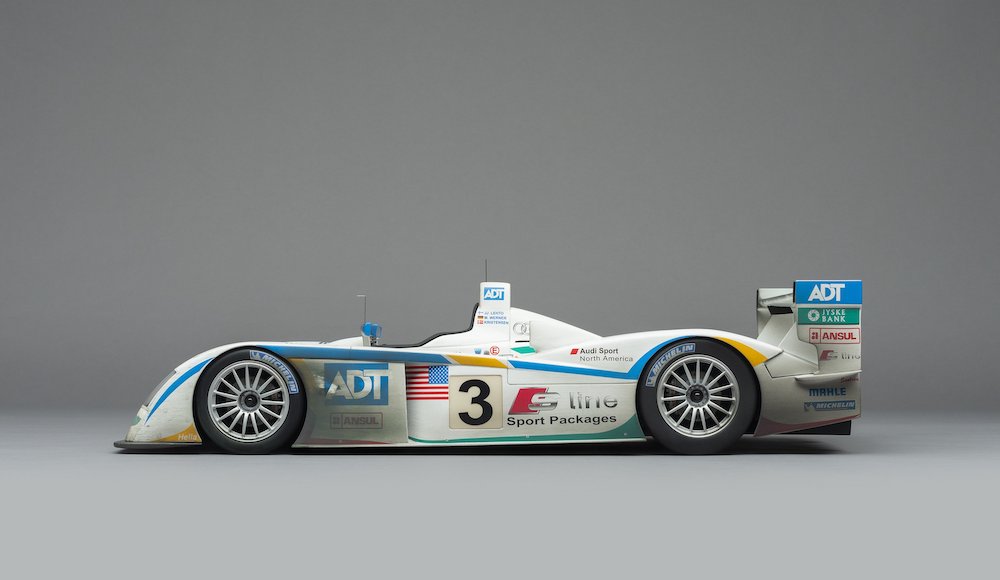 This unique edition of fifteen 1:8 scale models has been meticulously hand-painted and detailed by our artisans in Bristol to show every detail of the race dirt that adorned the car after its 24 hours of tough competition.
The artistry applied to these fifteen models continues to underline our commitment to creating beautiful hand-made pieces which fully capture both the spirit and precise appearance of iconic race cars.
This is the largest special edition by Amalgam at 1:8 scale to date, built especially to celebrate Audi's 2005 victory. The base model was developed using data supplied by Audi AG, who also scrutinised the resulting prototype to ensure complete accuracy of the model.
The weathering details are precisely applied by our artisans after thorough examination of archival imagery and footage to ensure the completed model is a perfect replica of the real car. Each model is accompanied by an archive quality Giclée print of the car mid-race, selected by the curator at Motorsport Images.
One of the most successful Le Mans racers of all time, the Audi R8 Le Mans Prototype took victory in five of the six years it competed between 2000 and 2006, only losing out to the Bentley Speed 8 in 2003. Developed by Audi's motorsport division, it was introduced as a redevelopment of Audi R8R and later birthed the Audi R8 sports car, which was released in 2007.
Audi R8
This model is a replica of the 2005 ADT Champion Racing No. 3 car which took Audi's fifth Le Mans crown and sealed Tom Kristensen's place in Le Mans history as he became the most successful Le Mans driver of all time. Piloted by Kristensen, JJ Lehto and Marco Werner, the No.3 qualified eighth, 4.2 seconds behind the leading Pescarolo.
A flawless race, however, saw them slowly creep up the places and, by the third hour, they had overtaken their No. 2 sister car, driven by Frank Biela, Allan McNish and Emmanuele Pirro, after Pirro locked his cold tyres heavily on the run to Arnage corner and made contact with a tyre barrier.
Facing little challenge after that, Kristensen took the chequered flag in a time of 24:01:30.901, averaging a speed of 210.216 km/h (130.622 mph). The R8 finished two laps ahead of second placed No. 16 Pescarolo of Boullion. Their No. 2 sister car was a further four laps behind to complete the podium in third place, whilst another Audi R8, the No. 4 Team Oreca, finished in fourth, another two laps adrift.
It was Werner's first Le Mans victory, Lehto's second and Kristensen's seventh. Kristensen surpassed Jacky Ickx's all-time record of six overall Le Mans wins and Werner completed the Triple Crown of Endurance Racing (overall wins in the 24 Hours of Daytona, the 12 Hours of Sebring and the 24 Hours of Le Mans).
This fine scale model of the Audi R8 2005 Le Mans has been handcrafted and finished in our workshops with the co-operation and assistance of the manufacturer regarding original finishes, materials, archive imagery and drawings.
The use of original CAD and supremely accurate digital scanning of the original car has allowed us to perfectly recreate every detail at scale. Furthermore, the prototype model has undergone detailed scrutiny by the manufacturer's engineering and design teams to ensure complete accuracy of representation.
Click here for further information
more information: amalgamcollection.com
---