The Aston Martin JET 2+2 Shootingbrake first appeared at the Geneva Motor show 2013. It was "the car" of the show. No one knew it would be there. Since then publicity has been enormous and continuous. Be prepared for constantly being under the limelight. It was once said "to become famous one drives a Ferrari. When one is famous one drives the ASTON MARTIN JET 2+2" This is a production car of 1. Registered with the DVLA U.K. ASTON MARTIN JET 2 This is not a concept but the start of what would become a new model range for Aston Martin.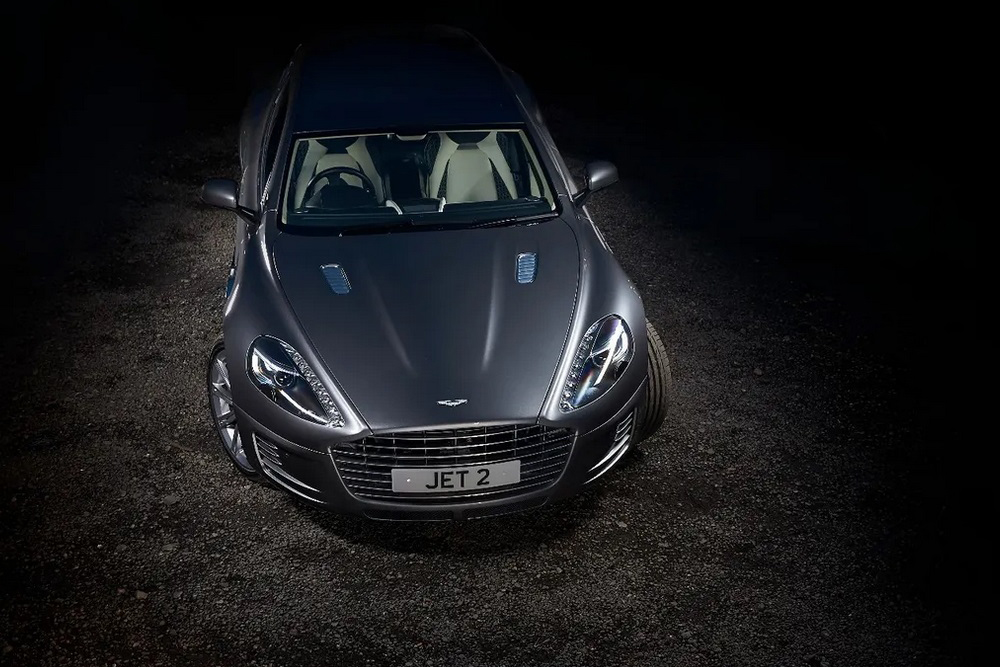 Built by Bertone. Unfortunately, Bertone went bust. So no more shooting brake's! The Jet 2+2 was a Rapide, converted to create a shooting Brake of great speed and comfort. The rear has been totally redesigned. Creating over 110cm more headroom! 1 With a hydraulic lift tailgate, the rear seats fold flat automatically 2 The rear floor slides forward to create an enormous floor area 3 In the back of the rear seats are the tv screens to allow the rear passengers to view films etc. 4 Burl oak wood trim is on the center consul right through the car to the back. 5 Door side panels have burl oak with their "ghost" Aston Martin wings set in them in silver. 6 The rear boot floor is covered in black carpet with silver runners and black inlays, and the famous "wings badge" with black centers. "Stunning". 7 Above the rear occupants is a push button to operate the glass roof. This changes the colour from. Dark blue to clear with any shade of blue in between.
At the front 1 The door panels have the burl oak panels with the "ghost" Aston Martin wings set in them in silver. 2 Above the front passengers are 2 push buttons. One controls the front glass panel. The other the rear glass panel. 3 A push of a button and it changes colour from dark blue to clear and any shade of blue in between. 4 Specially designed seats. With hourglass design/pattern. Outside 1 The whole of the rear is new. Carbon fiber or aluminum. 2 The front windscreen continues with a separate glass panel over the whole of the car. Creating the impression that the car has glass from the base of the windscreen to rear boot lid. 3 Split into 2 zones. One for the front and one for the rear. This glass roof changes colour from dark blue to clear and any shade of blue in between. 4 The glass panels are UV and heat resistant. 5 The glass panels can be controlled from the front or rear compartment. 6 Rear washer system. 7 New designed air intakes at the front. 8 New designed air vents in the rear. World wide Transport or Shipping can be arranged.

---
Report by classicmobilia.com
---