Aquanaut is a 60 feet Open-Style sport catamaran designed by Officina Armare with a purpose, in collaboration with U-Boat Worx.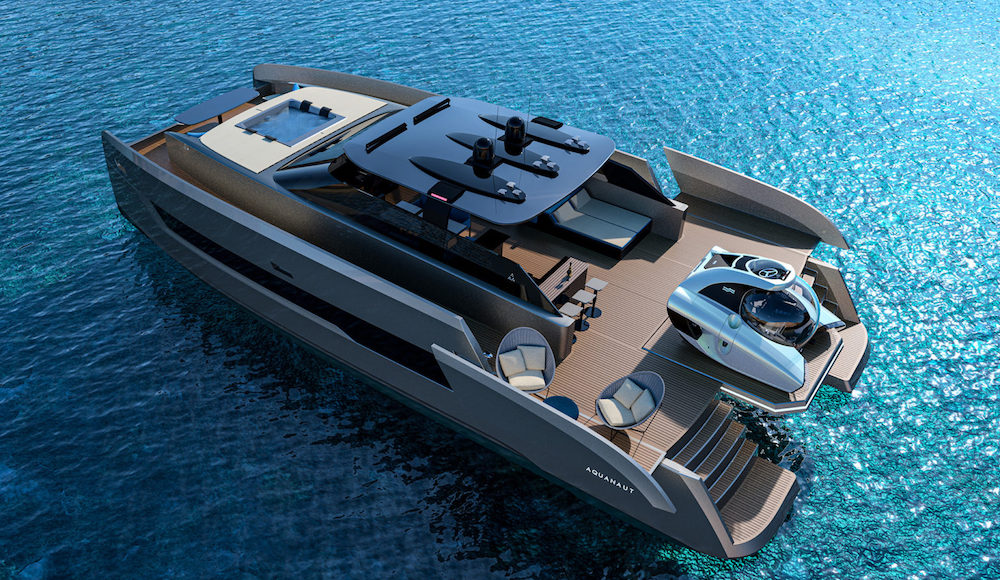 Aquanaut is an advanced multihull luxury speeder, combining a sporty yet elegant appearance and modern solutions, featuring a large deck space, open bar and Al Fresco dining areas located on aft deck and foredeck. Catamaran is equipped with dynamic inboard propulsion of 2×800 hp to offer an impressive speed potential of up to 45 kts and extreme stability at high speeds with the contribution of it's Deep-V hydrodynamic design.
The large deck space can be further expanded at anchor with bulwarks for a larger area to host parties or to simply enjoy the life at sea to the fullest.
Aquanaut is able to explore the deep seas all around the world, thanks to advenced technologies that support efficient submarine operations and it's private Nemo Submarine by U-Boat Worx. The large platform on the back for the submarine is equipped with hydraulics that can lower down the underwater craft when launching is required. The same space can be used as alounging / entertaining area when the submarine is in water and it can be lowered to water level and become the beach club as well.
The platform can go 0.75 m below the water level to launch the U-Boat Worx Nemo submersible. The efficiency of this catamaran reduces the number of crew members to zero and keeps the accommondation to standarts of up to 12 guests. Family and friends can relax in convivial comfort by sinking into the generous seating and sunbeds and enjoy the professional open bar and al fresco dining after a long day of deep sea exploration thanks to the large galley units.
The foredeck features a large jacuzzi with a seamless sun bathing area and also second more intimate dining area for up to 4 guests. Aquanaut is having double 800hp Volvo engines with Volvo IPS drives for propulsion in order to deliver the excessive power that would power the push vessel to an impressive speed of up to 45 knots.
The Concept of the Aquanaut is heavily influenced by SUV's (Sport Utility Vehicles) in terms of stability, versatility and sense of exploration or adventure besides having plenty of storage for the toys such as surf boards, Seabobs and diving gear besides the submersible.
Click here for further information
Report by officinaarmare.com
---