An investment in a Canepa collector car goes beyond obtaining a premier classic or historic racing car – it is the assurance that your vehicle has been inspected, restored, repaired, and vetted by mechanical artisans and experts. This includes a thorough mechanical and cosmetic inspection; a top-to-bottom service; any restoration to ensure the vehicle is in show condition; extensive road testing; and a complete concours quality detail of the engine, chassis, exterior, and interior – and that is only the beginning of the Canepa Difference.
---
See the current list of the Porsche Pandemonium below:
2019 Porsche 911 Speedster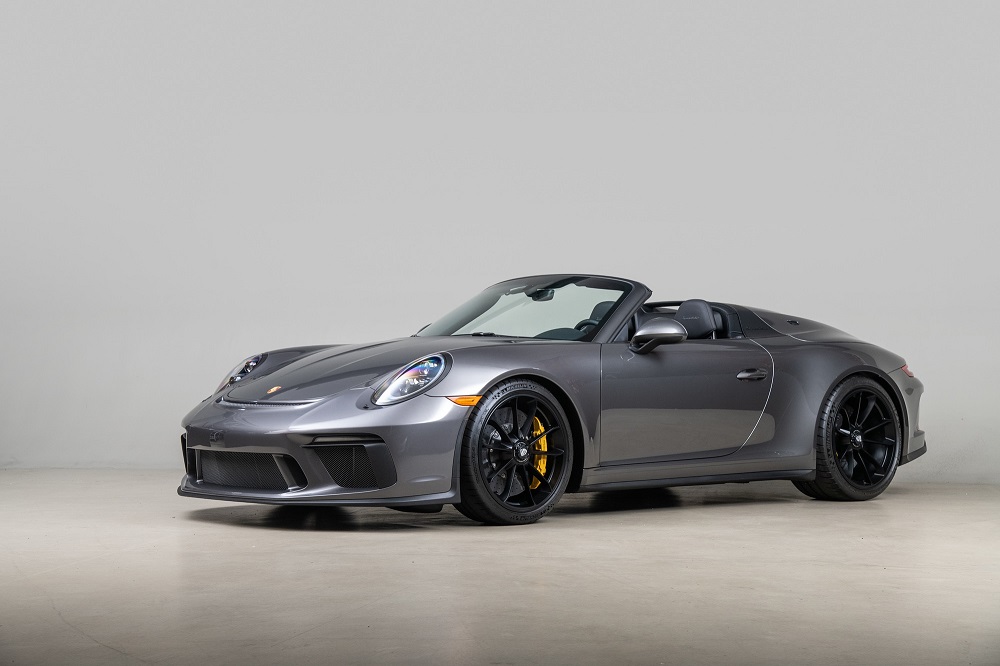 "Limited-edition" model
316 miles – Owned by Southern California's most famous car enthusiast
6-speed manual transmission, GT3-derived 502hp 4.0-liter flat six engine
Spec'd in optional Agate Grey Metallic with Black Leather interior
Options include Front Axle Lift, Ext. Range Fuel Tank, Bose Surround Sound, LED headlights, and more
The word "Speedster" evokes many different emotions for a wide variety of Porsche enthusiasts throughout the world. Max Hoffman, the premiere importer of many European sports cars for the United States, requested that Porsche make a special version of their 356. He guessed that American customers wanted a stripped down, lightweight, powerful, and elegant sportscar. Hoffman's vision turned out to be spot on and the 356 Speedster proved to be a fantastic hit, and went on to become one of the most popular 356 variants worldwide. Porsche produced a number of other Speedsters for different generations using the 911 platform. The G-series 911, 964, the very rare 993, and the 997 were all variations that were considered special editions, with unique bodywork and special performance. With Porsche's 70th anniversary since their first Porsche road car was registered in 1948 quickly approaching, the German car maker revealed the concept for one of the most stunning open-top Porsches ever made: the 991 Speedster.
---
1992 Porsche 911 Carrera RS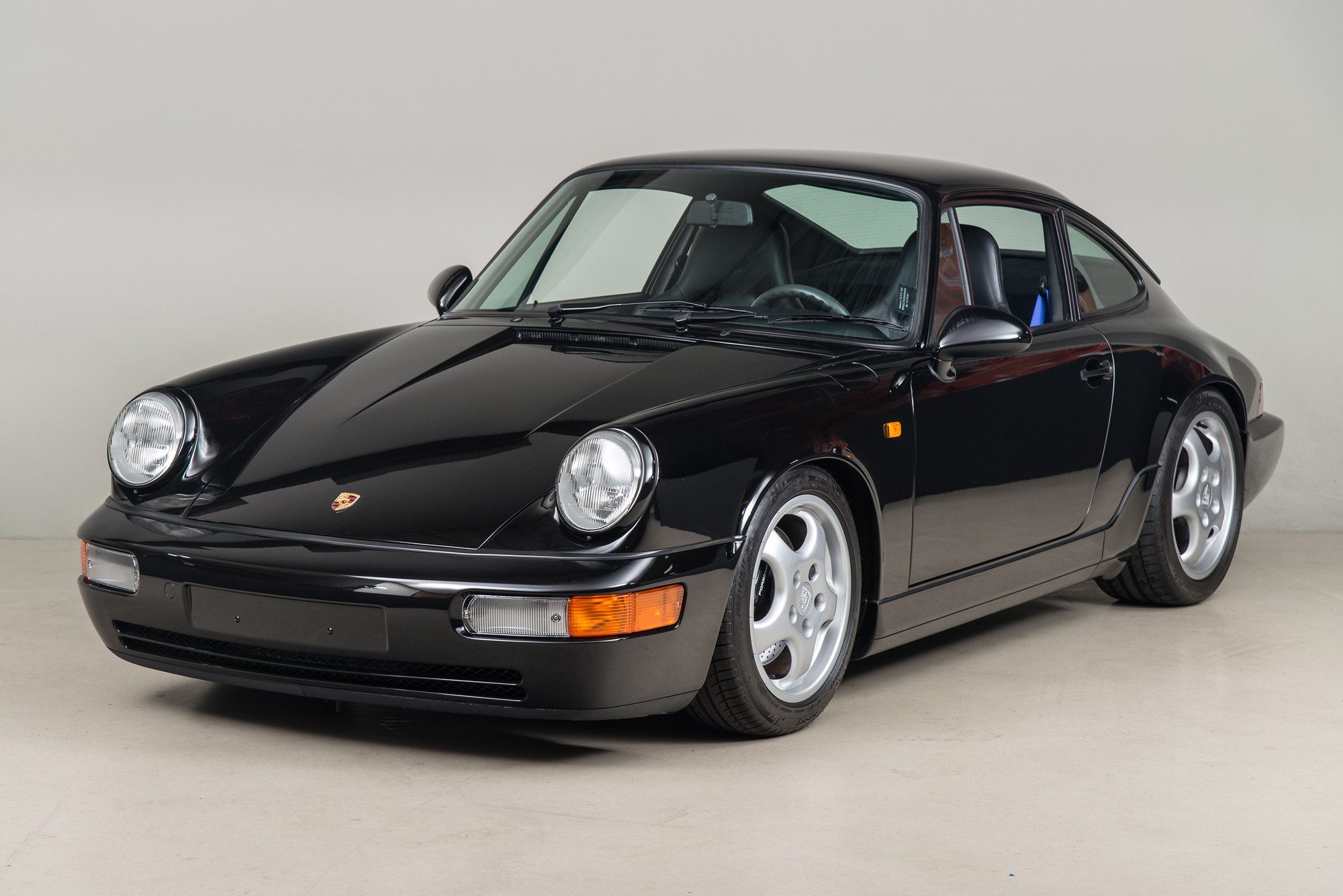 4,752 original miles
100% original – Like-new condition
Optioned with very-rare factory air conditioning
Matching numbers engine and transmission
Twin-plug 3.6 liter flat six engine, 5-speed manual transmission
Originally not offered to the US market
345 pounds lighter than the production Carrera
Porsche had two goals with the latest iteration of the Carrera RS: Remove weight and add power. By shaving 345 pounds from a stock 964 and bumping up the power to 260+ horsepower, Porsche introduced a limited edition 964 in 1992 that was worthy of the Carrera RS name. With a single-mass flywheel, twin plug engine, racing bucket seats and a stripped out interior, not only did it perform far better than a stock 964, but provided the driver with a direct physical connection to the driving experience. At only 2689lbs, by today's standards it is considered a featherweight car and one of the best-driving modern-era 911s.
This Carrera RS was ordered with a request for a standard German domestic market model in left-hand
drive configuration with plans to immediately import the car to Japan. Painted in the stunning and extremely rare Black Metallic, the RS would clear Japan customs in an exempt status as a production left-hand drive vehicle and was then sold to its first owner in 1992. Even rarer than its paint color was one of its options: factory air conditioning. In a car that was touted as the lightweight edition, most were built without a/c. During the car's time in Japan, it had two owners who added very few miles to the odometer. In 2016, Jeff Smith imported the RS for David MacNeil, owner of WeatherTech. David owned the car for almost two years and serviced the car regularly before the RS arrived here at Canepa for the first time in June of 2018.
---
1987 Porsche 911 Carrera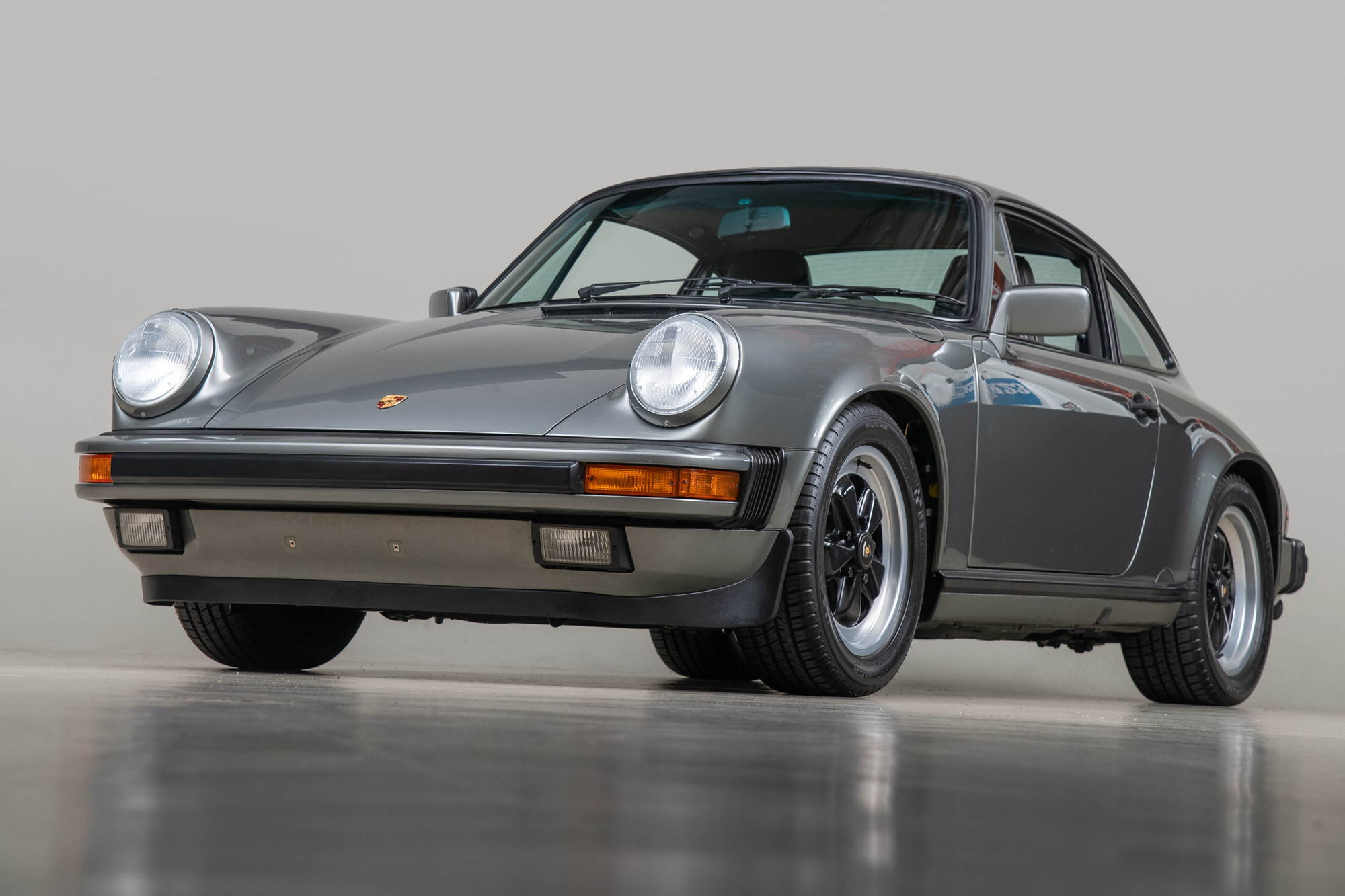 1 owner – California car since new – 64,453 original miles
Immaculate service record – maintenance records since new
Highly optioned, including limited slip differential and 8-way electric seats
Rare Granite Green Metallic paint color – first introduced in 1987
Original 3.2-liter air-cooled engine and G50 5-speed manual transmission
Includes books, service records, jack, spare wheel and tire
The birth of the "G Series" 911, which was produced from 1974 until 1989, was the next evolution of the 911 and proved to be an incredible foundation to work with. With the G series introducing some worldwide classics like the Carrera, which shared the legendary Carrera RS engine, or the 930, the first turbocharged 911 street car, there was a little bit of everything for everyone. Highly capable on the street and track and equally comfortable on long drives, the G series 911 has proved time and time again that evolution is sometimes a good thing.
1984 marked the rebirth of the 3.2 Carrera name, having last been used by Porsche in 1977. Numerous upgrades were applied to the beloved 911 platform that made it even better to drive than before. A larger 3.2-liter engine, larger brakes, upgraded fuel and injection system components. Later models (like this 1987 car) received the upgraded G50 5-speed transmission, increased power to 217hp, and a number of interior enhancements.
---
1997 Porsche 911 Carrera S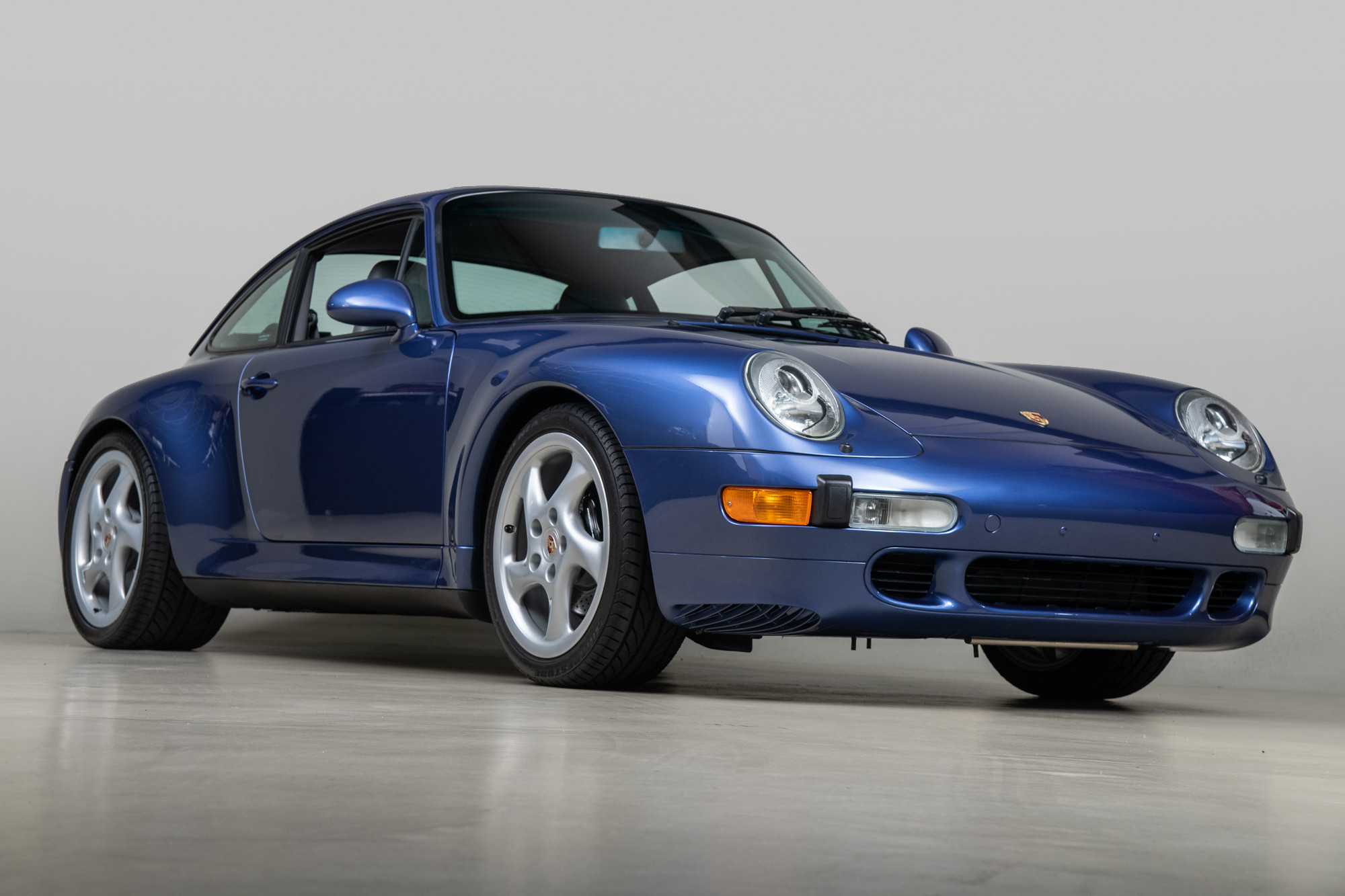 One of 759 examples built in 1997 – built for 2 years
Documented 17,799 original miles per CarFax report
Stunning optional Zenith Blue Metallic with Classic Grey Leather interior combination
Porsche Certificate of Authenticity – Matching numbers
6-speed manual transmission, 3.6-liter flat six engine
Includes original window sticker, books, Porsche COA, tools, compressor, jack, and spare
The last of the air-cooled Porsche 911s, the 993 is the final evolution of the storied air-cooled lineage from Porsche. The 993 boasts all of the innovations and refinement that Porsche learned from building the 911 for 30+ years, creating a simple yet distilled package of excellent driving dynamics, everyday comfort and accessible performance. The C2S uses the same wide body as the coveted 993 Turbo but retains the purity of the 911 with only rear wheel drive. With an incredible amount of mechanical grip, boasting all of the updates to the 993 platform and a direct driving experience with enough power to get into trouble with, the 993 Carrera S is a fantastic performer in all conditions. With only 759 C2Ss sold in the US in 1997, this makes the late-model 993 a very rare air-cooled car indeed.
This Porsche 911 C2S completed production on February 20th, 1997. Optioned in the optional Zenith Blue Metallic with a Classic Grey Leather interior, the 6-speed manual car was paired with an uprated 3.6-liter air-cooled flat six engine with 283 horsepower. The C2S also had a number of additional factory options added. The window sticker shows a Limited Slip Differential with traction control, Power Seat Package (8-way), Brake and Shifter in Carbon and Aluminum, 18" "Turbo Twist" wheels, Motor Sound Package, Hi-Fi Sound Package w/10 speakers, AM/FM Radio with CD player, and Porsche floor mats. The total MSRP for this car was $72,110.
---
1986 Porsche 911 Turbo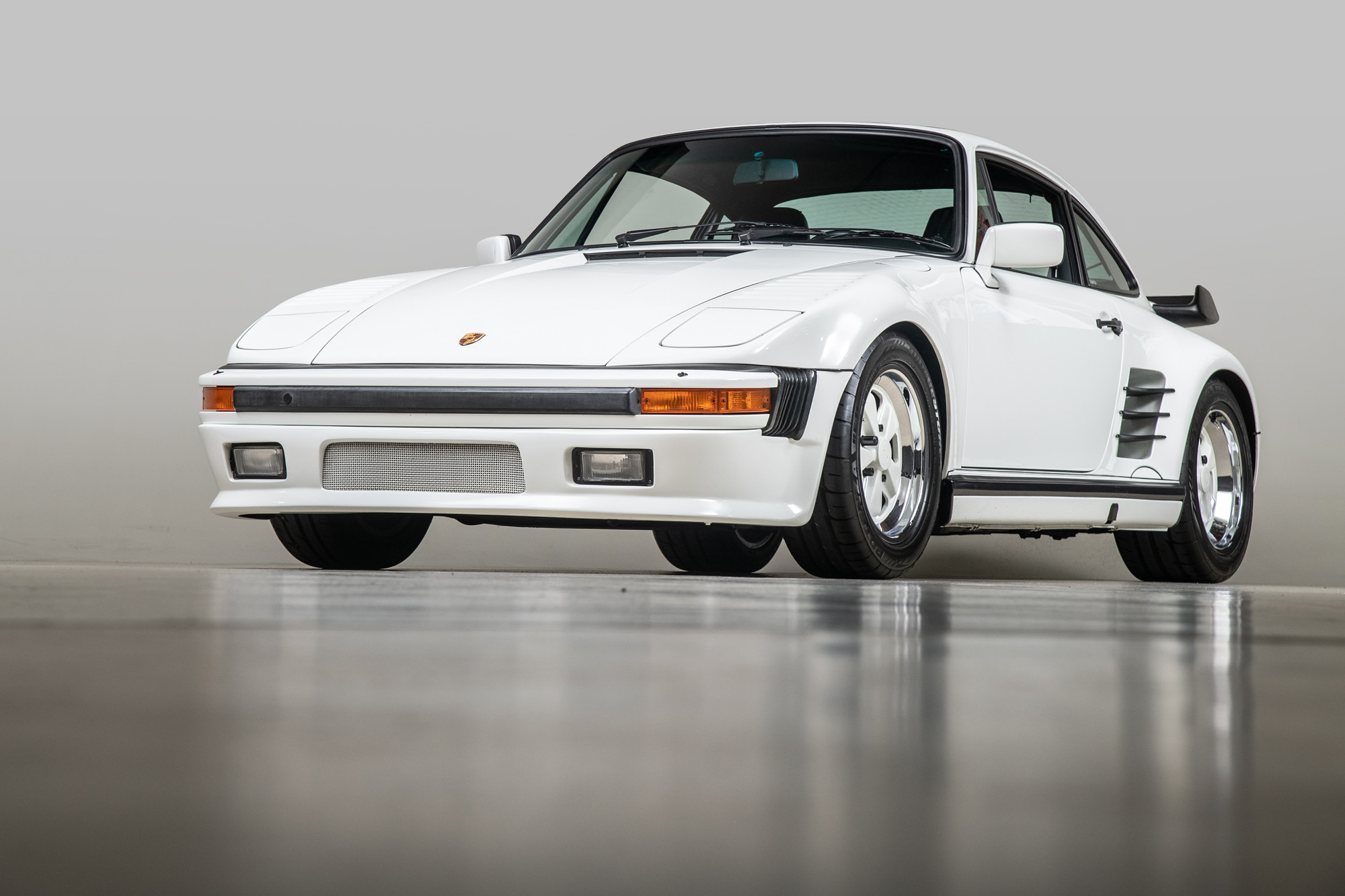 3 owners – 3,376 original miles – Time-capsule quality
Built by Porsche's Sonderwunsch department (Special Wishes Department)
Less than 250 examples built by Werks 1 between 1981 and 1986
Final year built by the special Werks 1 department
MSRP of 172,351.15 Deutschemarks
Ordered in European specification, immediately imported to US in 1987
Special white paint finish over full black leather interior
4-speed manual transmission, 3.3-liter air-cooled turbocharged engine
The word Sonderwunsch has a special meaning to many Porsche fans worldwide, with many gravitating towards cars that have passed through this elusive place. Translated, it means "Special Wishes", Porsche's special department where those with the wherewithal could personalize and upgrade to their hearts content. Located across the street from the main Porsche factory, Werks 1 was responsible for a limited number of special cars to wear the Porsche badge, with one type of car in particular that is now known worldwide: the 930 Turbo Flachbau "Slantnose".
Originally created for a particular client wanting a car that looked similar to Porsche's mega 935 racecar, it didn't take long until other clients were requesting the same type of upgrades for their future cars. In addition to the special slantnose, clients could request a number of upgrades both cosmetic and mechanical from the special department, anything from engine upgrades to full leather interiors in the wildest combinations imaginable. These options were not available from Porsche's normal production assembly line, which is why it was required for the special wishes department to perform the necessary modifications. From 1982 to 1986, less than 250 total examples were built in the special wishes department across the street. Porsche would send a factory car across the road to Sonderwunsch once completed, where the car would then be modified to the client's wishes. An unlimited choice of options also came with a hefty price tag, where it was not at all surprising that a completed slantnose would almost double the cost of a standard 930 Turbo.
---
Report by canepa.com
---