Angsana Corfu is a Mediterranean sanctuary of extraordinary beauty, a luxurious spa and beach resort offering the warmth and charms of its unique blend of Greek and Asian hospitality. Its proximity to Achilleion Palace, once home to the famed Empress Sissi of Austria, enriches its surroundings with echoes of a royal era.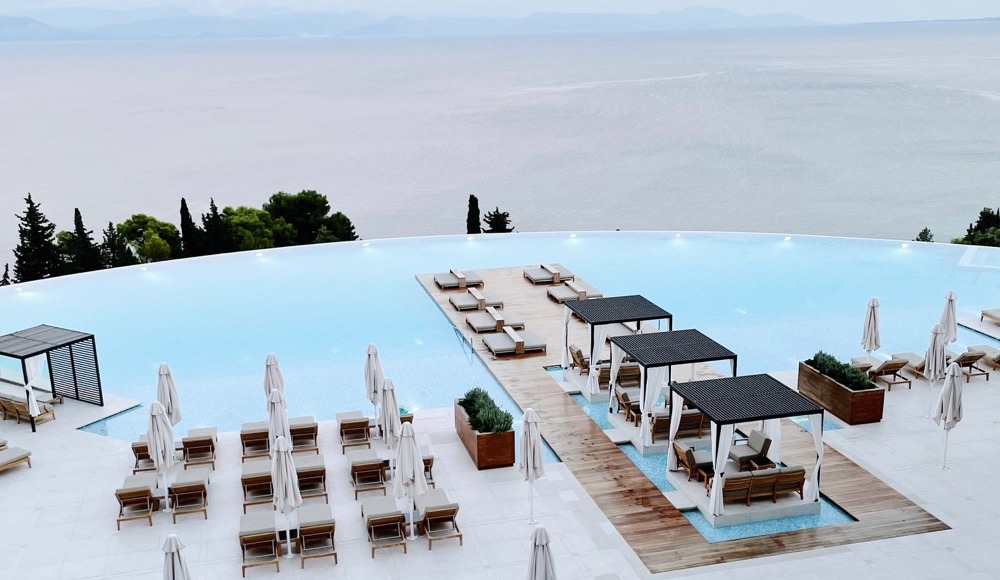 The resort is set on an idyllic lush green hilltop overlooking the turquoise waters of the historical Benitses Bay. It boasts a close vicinity to the exotic Paxoi and Antipaxoi islets. Located a short 12 km drive south of Corfu town, a UNESCO World Heritage site with its imposing Old Fortress, the resort is strategically positioned for must-see spots, beautiful sandy beaches, historical sites and activities for all tastes, an experience of local heritage and a deep sense of belonging.
The resort offers a collection of 159 contemporary rooms and suites, plus 37 luxury villa homes built in the style of local architecture, laid out across the hilltop estate. The estate is surrounded by a landscape of exquisite beauty with Mediterranean gardens and olive tree groves, overlooking the picturesque Benitses Bay, presenting far-reaching views of the Ionian sea and the countryside.
Angsana Corfu places gastronomy pleasures high on its priority list. The resort offers a unique palette of vibrant flavors and taste combinations sourced from around the world. Our chefs serve up a universe of options, from fusion Asian cuisine and sushi bites to Greek cuisine with local Corfiot delicacies and tasty international favorite dishes. With our full range of signature restaurants, and outdoor dining lounge terraces overlooking a panorama of expansive seaviews and mountainous Corfiot landscape, every meal will be an experience to remember.
Amongst Angsana Corfu's most prominent luxurious facility is our main outdoor infinity pool, encapsulates the heart of the resort's lifestyle. In addition, an indoor heated pool for winter days or training regimes and a kids' pool bring the fun of poolside life to every guest. A personal fitness program can be designed and executed at Angsana Corfu dedicated state-of-the-art Gym and at the outdoor Yoga Pavilion, for a healthy and fit summer life.
Wellness is revived at our signature award-winning Angsana Spa, a space of euphoria, providing guests with a rejuvenating sense of touch using fusion massage techniques, where East meets West. Angsana Spa consists of 11 treatment rooms , outdoor with secret gardens and superb seaviews, located right next to the indoor pool area overlooking the bay, making it a true oasis for the body and the soul.
There will always be something for the children, who can happily hang out and socially mingle at our kids' club and pool, the Ranger's Club. Our beach spot will offer luxurious sun loungers, a beach bar and fun water sports activities. A dedicated concierge is available to deliver special guest requests.
Click here for further information
more information: angsana.com
---