Scotland is one of, if not the most beautiful landscapes in the world. It's also one of our favourite destinations, and we're not alone. Since the pioneering days of HFS and his Runabout, Morgan cars have acted as the facilitator for countless individuals to connect with the breathtaking scenery that Scotland offers up in spades. It's also the destination for our latest film.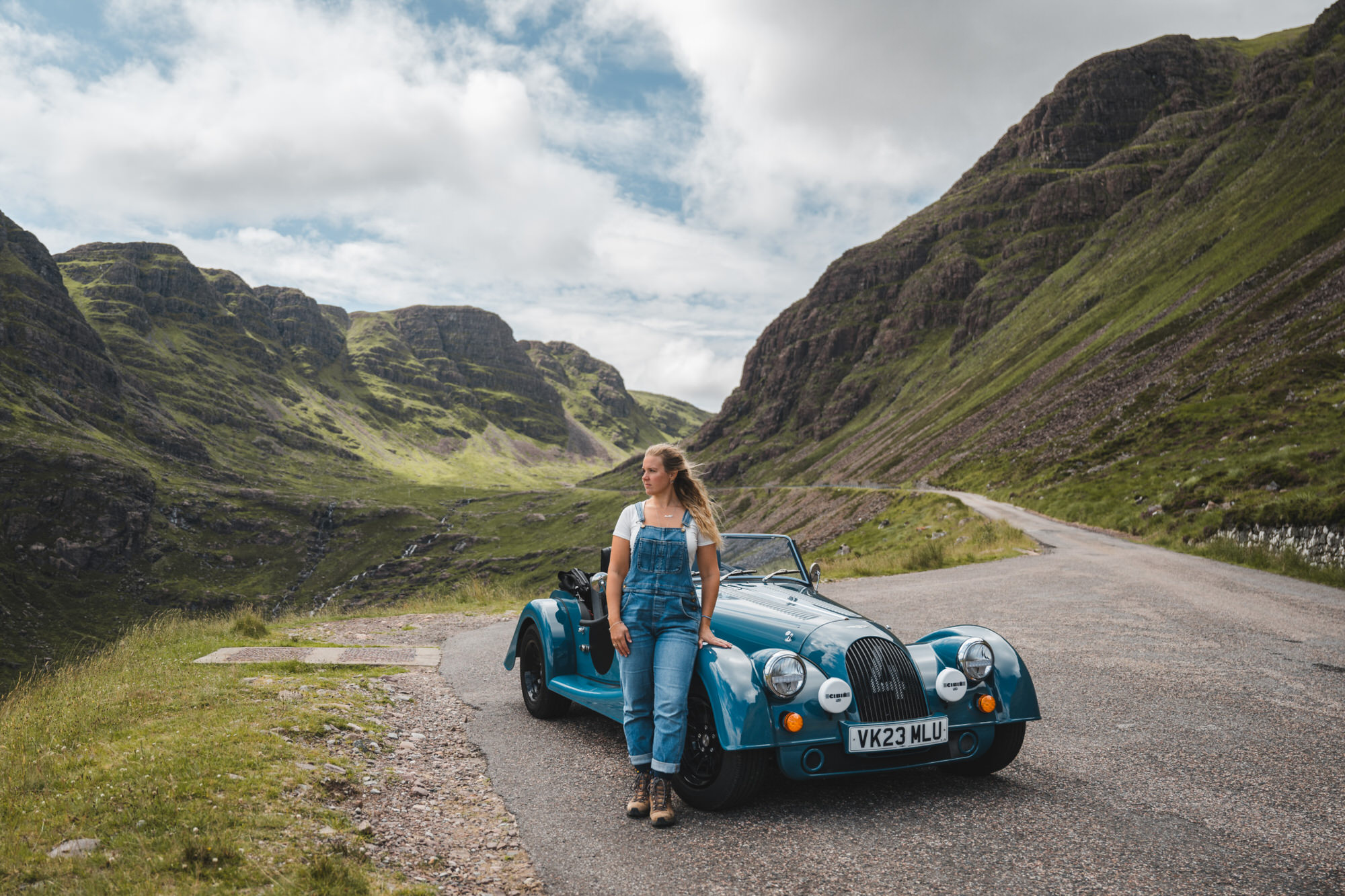 KEEP ON EXPLORING: A MORGAN ADVENTURE WITH CHALLENGE SOPHIE
Today's Morgan sports cars provide an antidote to sanitised motoring, where the word connection still means one to your surroundings and mechanically to your vehicle. With every sound, smell, and vibration, drivers are enticed to form this connection and embrace whatever elements that the natural world throws at them. Whilst we do not set out to make a purpose-built adventure vehicle, every drive in a Morgan – regardless of age or model – is an adventure.
Sophie Storm Roberts, adventure athlete and founder of TrailBlazers – an initiative to build confidence and courage in teenage girls – knows all too well the benefits of rural exploration and getting lost among the best landscapes that the world has to offer.
Our latest film is a rallying call to viewers to embark on their own journey, and inspired by Sophie's own experience exploring Scotland in a Morgan Plus Four. You can watch the film below and learn more about Sophie's story in the following article.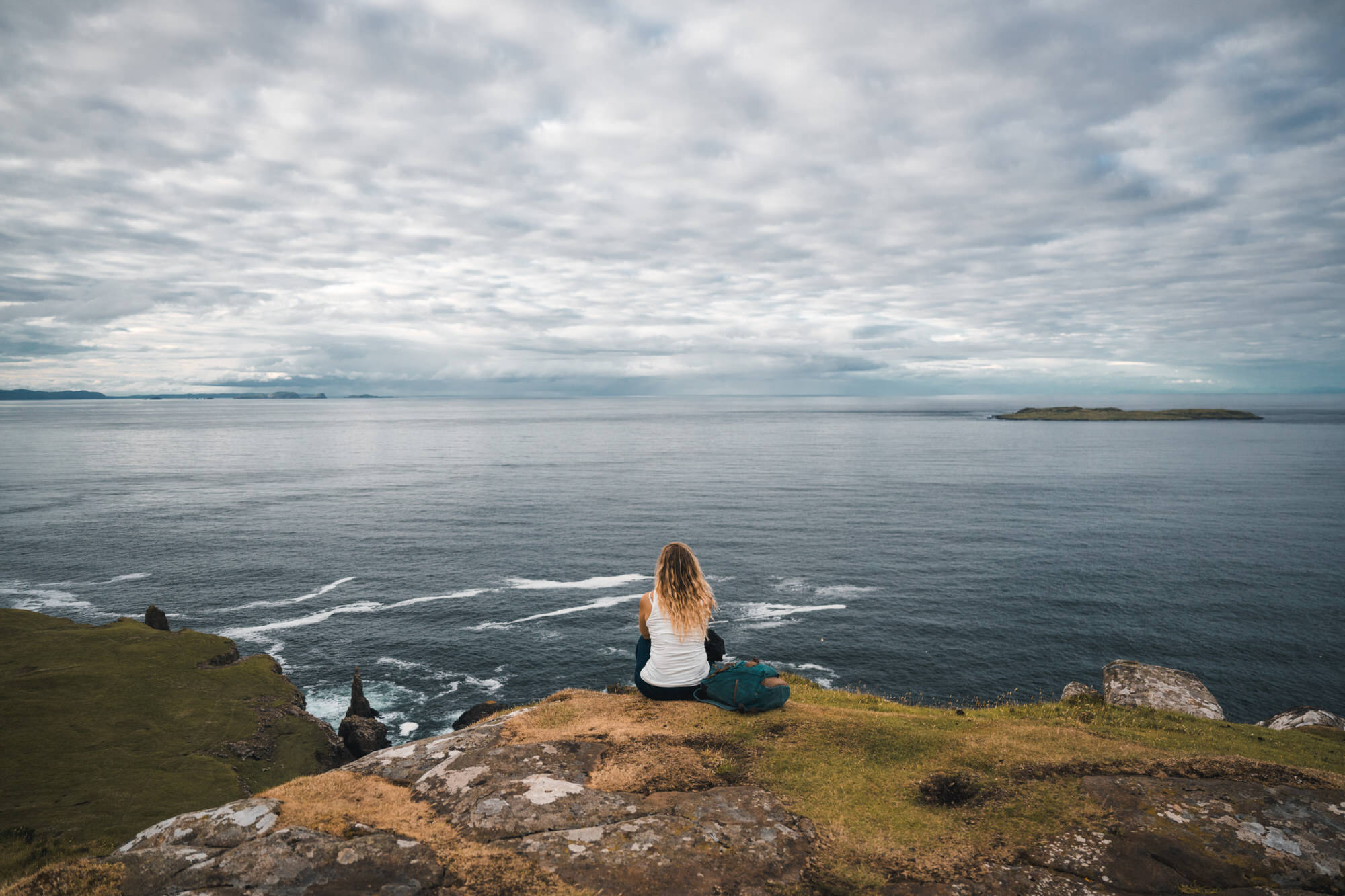 Sophie, firstly, please could you introduce who you are and tell us your story?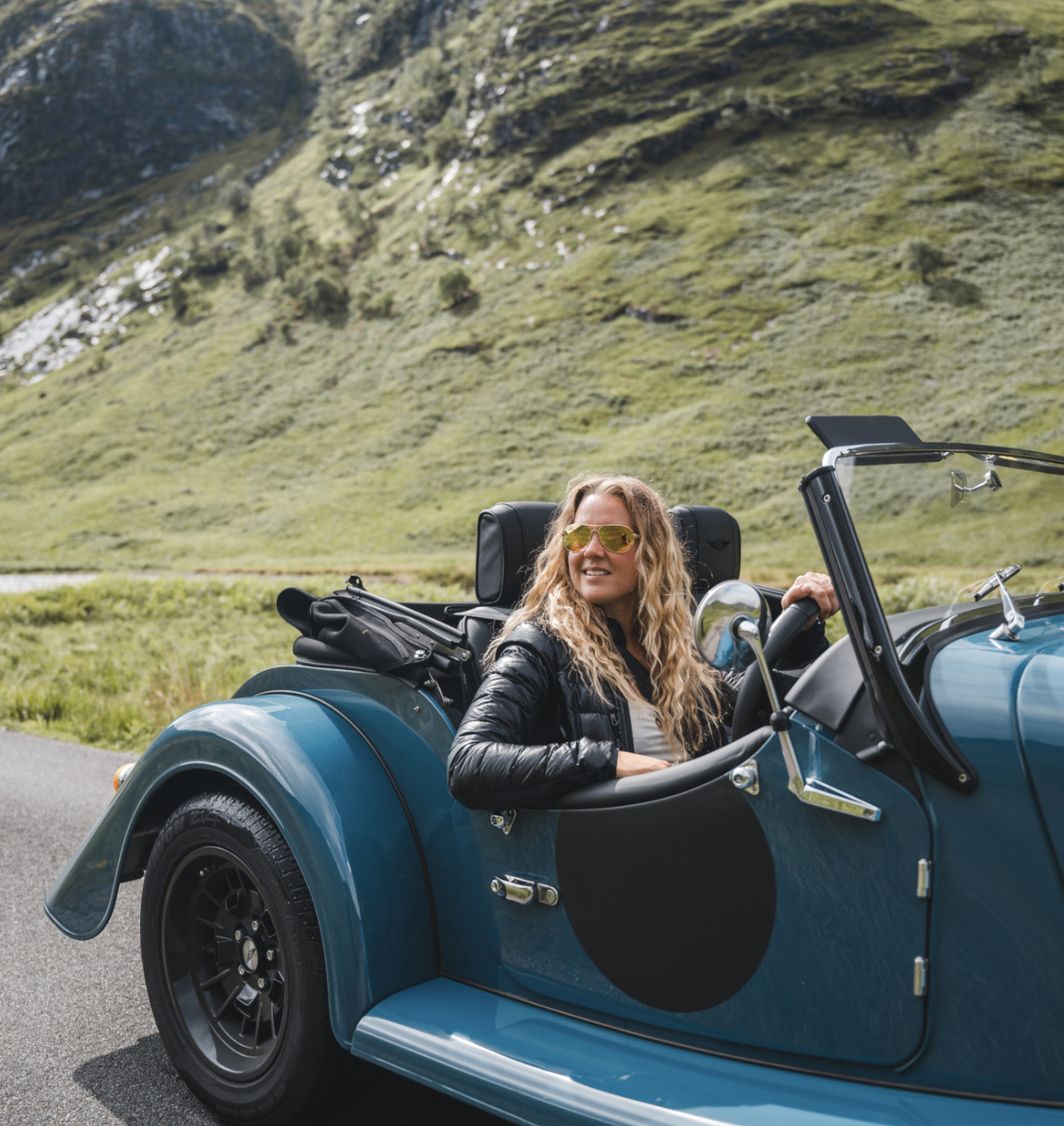 "I love asking the big questions in life and will go to extraordinary lengths to find the answers. I started my career in sales for a startup in East London, but the more I ticked the boxes of what I thought I was supposed to do, the more unfulfilling I found it. I couldn't ignore the burning question 'Is this really it?'. Driven by the quote: 'A ship in a harbour is safe, but that's not what a ship was built for. Go Sailing!' I quit my job and ventured into the world to create a new story."
"During the last decade I've lived out my wildest dreams and more. I've found a passion for challenging myself and have become driven to understand who I am and what I'm capable of. I'm not from an athletic or adventurous background, but I have built my physical and mental ability and have done all kinds of challenges, from Ironman to ultramarathons, cycling London to Paris in 24 hours, 24 hours of Tough Mudder and becoming the only person in history to cycle the Alps and climb the highest mountain in each country; 'The Alpine Coast to Coast'. Facing adversity has helped me develop tools to navigate life and I share these with people through my work. I've created a business that enables me to travel the world and make an impact as a life coach, motivational speaker, and adventure athlete."
By the time our followers read this, they'll hopefully have seen our latest short film which shows you exploring stunning Scottish rural landscapes. Can you tell us what you got up to in your time with the Plus Four and where your adventure took you?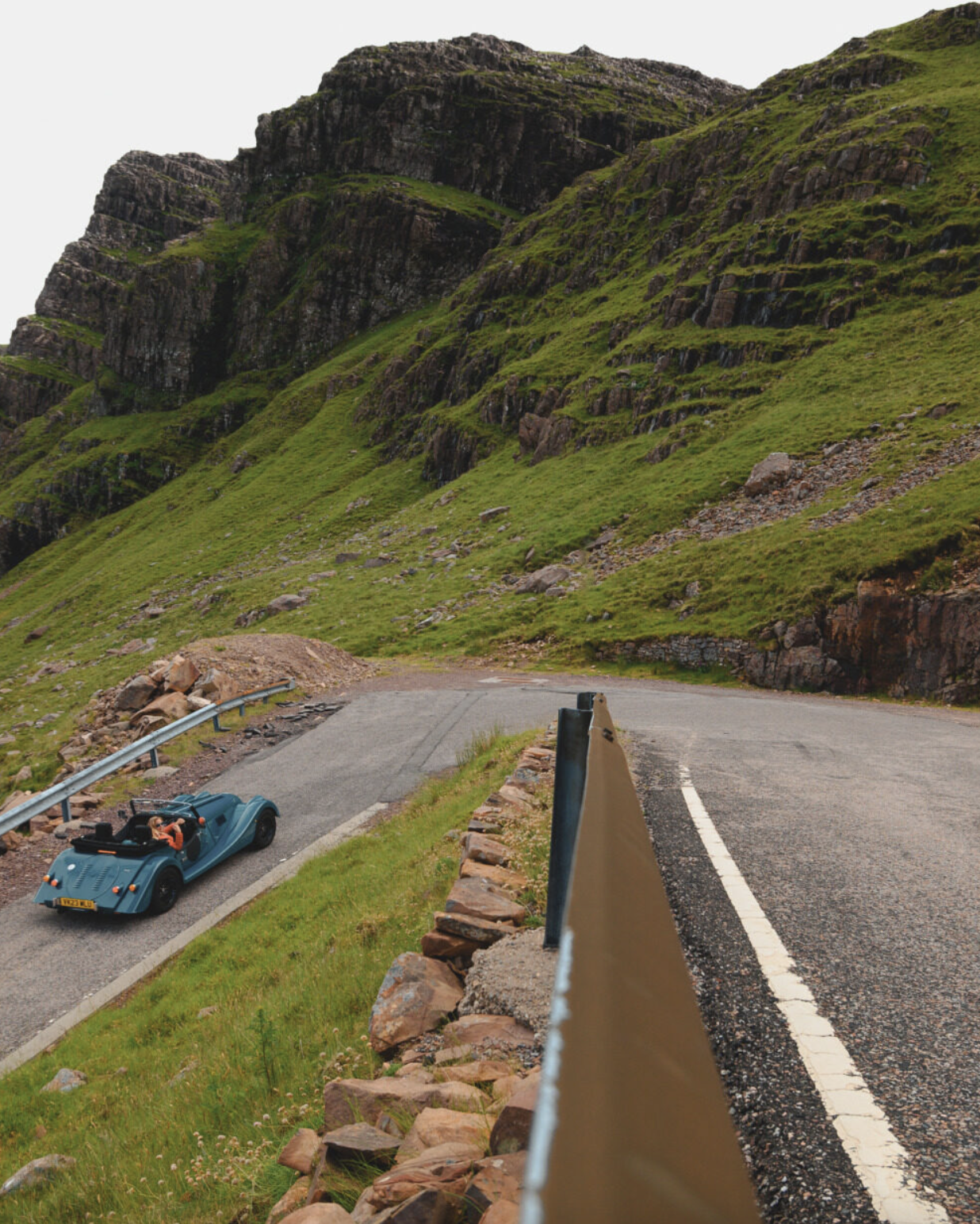 "My adventure started in Glen Coe which is my favourite place on the planet. Driving along the A82, with mountains flanking both sides of the road, it's a truly awe-inspiring, majestic place. With clouds filtering over the tops of the mountains like a wizard's cauldron, there was an other-worldly air to the place. I headed down what has become known as the 'James Bond Road', a stunning single track road carving through the mountains alongside a fast-flowing river and waterfalls. Next up was the Isle of Skye and a gorgeous drive along lochs and through forests, before crossing the Skye bridge. I love a hidden gem and exploring off the beaten track, so I avoided the well-known spots on Skye and headed to a secret emerald green loch to swim in the coldest water I have ever experienced. A true shock to the system! After the exhilarating swim, I continued my quest and headed to the very North of Skye where a red telephone box signalled the start of my walk to 'The Lookout Bothy' – another gem on Skye. The sun was setting and illuminating the skylines of the Outer Hebrides and the Northwest Coast of Scotland. Upon arriving at the Lookout Bothy I saw a pod of dolphins and marvelled at the 360 degree views."
"There's a saying in Scotland, 'West is Best', and if you've ever been to the West Coast, you'll understand why. You must make the effort to get there as Scotland is vast, but if you do, you will be rewarded with the most incredible scenery on the planet. I may be biased, but I'd urge readers to go for themselves and let me know. Cruising up the Bealach Na Ba pass in the Plus Four with the roof down, heated seats on and music playing, I felt the whole world melt away. Nothing existed apart from this moment. Focusing on the features of the road as it carves its way up and over the most iconic mountain pass in the UK, I was in flow and completely immersed in the experience. A state that's rare to find when caught up with daily life and the multitude of things life requires."
"The next few days were spent cruising up the Northwest Coast until I got to the Kylesku Bridge. Along the way, I stopped in quaint towns like Gairloch and Ullapool. I ate fish and chips at sunset on the beach, sampled local delicacies, and hiked through Scotland's oldest pine forest. I sat on a rock for a few hours in a place that felt like I could have been on top of the world. Just BE-ing. Something we don't give ourselves enough permission to do. Amongst all the roles we play in life, things we need to do and places to go, the opportunity to stop, think, listen, observe and BE is rare. The voice of a friend pops into my head "Do less, be more." This is Scotland's gift to us."
Your familiarity with Scotland is evident, and it's clear that the country has made an impression on you. Can you tell us more about what you've done there?
"I've explored all over Scotland and every time I visit, it feels like coming home. I never imagined it was possible to fall in love with a place, like we do with a person. I absolutely love it here. I tend to avoid the cities and head to the wild West Coast, the stunning Outer Hebrides, or the epic Cairngorms. The Isle of Skye is incredible too. I've been all the way up to Shetland Islands. I've slept in all kinds of weird and wonderful places including a lighthouse, a hobbit house, a castle, on the summit of Ben Nevis and in a bothy built into the rocks overlooking the sea. I've built and slept in a snow cave with a blizzard raging outside, and I've wild camped on the most beautiful beaches with no one around. I've cycled the North Coast 500, climbed Ben Nevis multiple times, created some of my most inspired ventures like TrailBlazers, and it's been my refuge when I've needed the tonic that only Scotland offers."
We see the film as a bit of a rallying call, an excuse to get out there and explore, wherever that is and however you want to. What's your message to people watching and thinking "I'd like to do something like that"?
"Whatever it is that lights you up, that ignites a fire inside you, go and do that. You will never regret it and the world needs more people who are doing the things that light them up. I think an adventure is when you have a plan to go from A to B but what happens in-between is unknown. A road trip is an excellent opportunity to open yourself up to adventure, because you can explore as you drive and meet people along the way that will share recommendations you might not find in a book."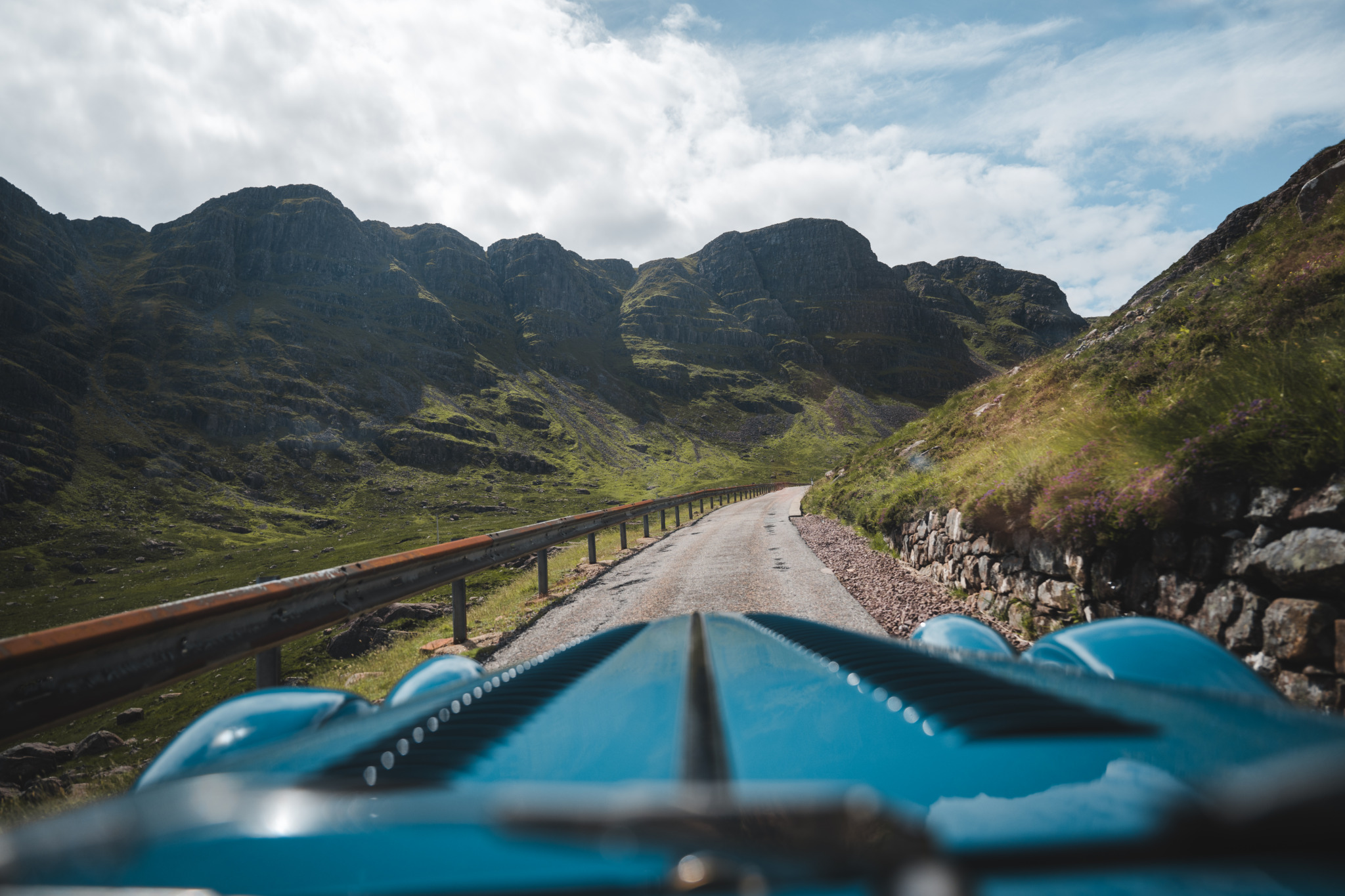 Now that you've experienced a Morgan and ticked off your first adventure with a road trip in Scotland, where are you dreaming of for your next Morgan exploration?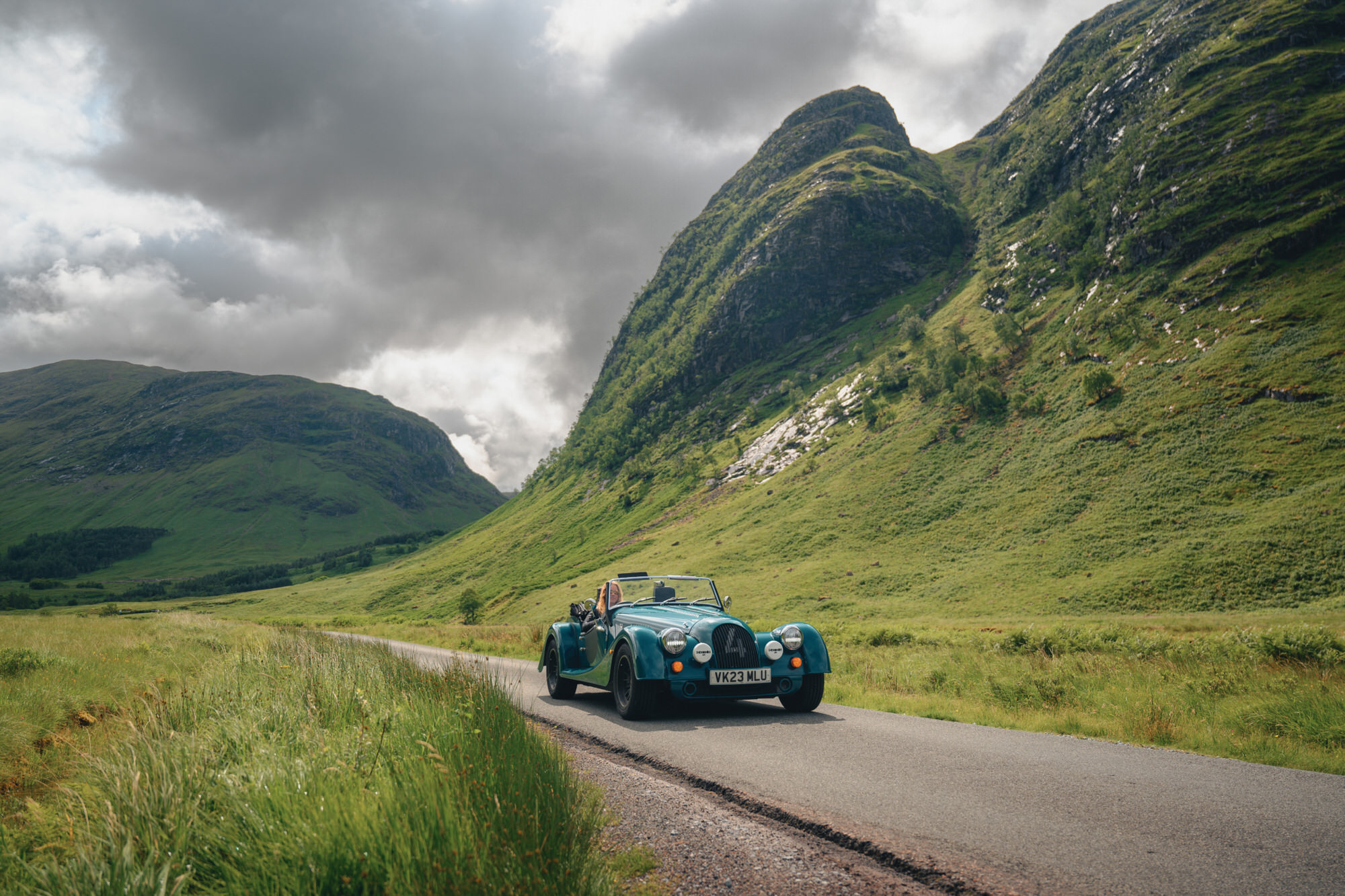 "Driving the Plus Four has totally revolutionised the way I feel about driving. I never really understood what people meant when they said they love driving, until now. Driving back to Glasgow on the last day of the adventure, I was thinking how rare an experience this is. The roads up there are something else and there are very few cars, people or traffic controls standing in your way of an unforgettable experience. I think the next adventure would have to be very different! Cruising around Iceland in the Midnight Sun, stopping off to explore waterfalls and thermal springs, a weekend adventure to Snowdonia in Wales, a trip to the Coast… wherever I can enjoy the outdoors and the experience of driving a Morgan. I must say, it does get a lot of attention too which is fun as you meet a lot of people and share stories!"
If Sophie's words have inspired you to embark on your own adventure, join our online community and share content with us on our social channels.
Report by morgan-motor.com