This book takes the reader behind the scenes at Maranello Concessionaires Ltd, Britain's famous Surrey-based importer of Ferraris founded by Colonel Ronnie Hoare. When Neill Bruce first photographed a Ferrari road car, a Dino 246 GT, in 1971, his work so impressed the powers-that-be at Maranello Concessionaires that they commissioned him to do all their promotional photography thereafter.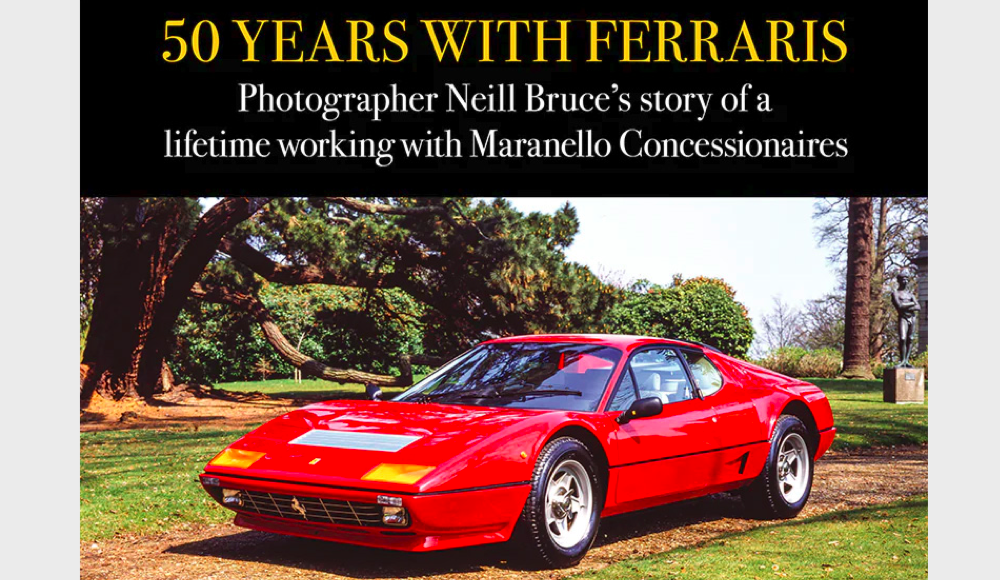 Whether shooting production cars, factory scenes or motor show stands, he has been in Ferrari's orbit ever since. In this illustrated memoir of his 50 years with Ferraris, he presents some of his best pictures — the great majority in colour — and tells engaging stories about how they came about, including some of the mishaps along the way. All Ferrari enthusiasts will be captivated by this delightful book.
Top-quality photography, originally shot on large-format film and reproduced to today's highest standards on gloss art paper.
Road cars of the 1970s, including Dino 246 GT, 365 GTC4, 365 GTB4 'Daytona', 365 GT4 Berlinetta Boxer, 308 GT4 2+2 and 308 GTB.
Evocative photography of a visit to the Maranello factory in 1973, including a meeting with Enzo Ferrari and tours of the main factory, Scaglietti's body-manufacturing facility and the Fiorano test track.
Road cars of the 1980s, including 400i, BB 512i, Mondial QV Cabriolet, Testarossa, 288 GTO and 328 GTB.
Inside the Maranello Concessionaires workshops, showing all sorts of fascinating scenes such as servicing, body repair and the paint shop.
Road cars of the 1990s, including F40, 412, 348 ts, Mondial t, 512 TR, 456 GT 2+2 and 348 Spider.
Insights into the techniques and procedures involved in car photography.
Click here for further information
more information: rallyandracing.com
---