In Japanese culture, the word "shibui" describes the aesthetic of studied restraint. Shibui is the art of knowing when to stop. It is achieved through simplicity balanced with decisive complexity. The August 1960 issue of House Beautiful described shibui as a "profound, unassuming, quiet feeling. It is unobtrusive and unostentatious. It may have hidden attainments, but they are not paraded or displayed. The form is simple and must have been arrived at with an economy of means. Shibui is never complicated or contrived".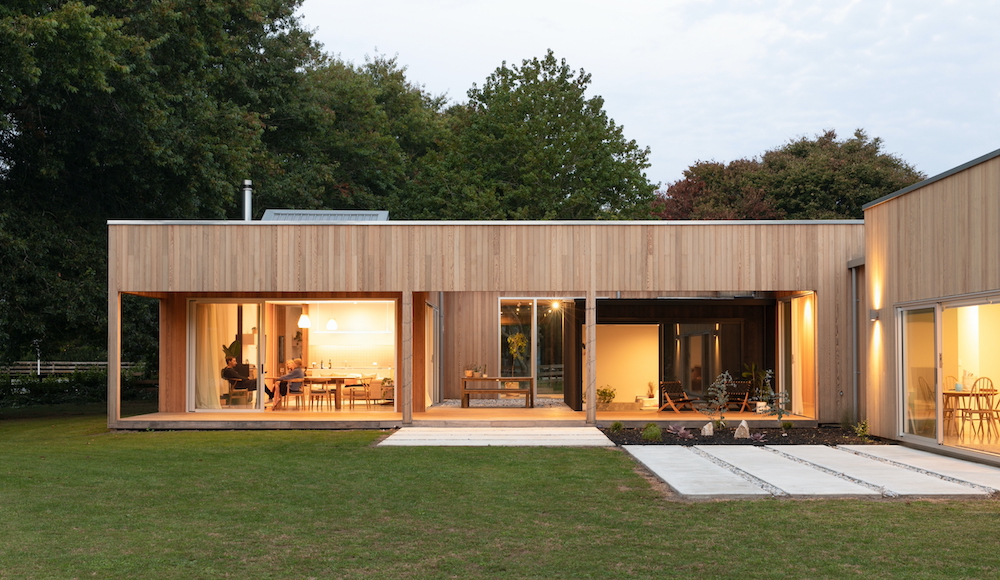 In 2017 Red Architecture was commissioned to design a dwelling for a site in Tamahere, Waikato, with a serene outlook, enhanced by mature trees. The brief was for a sophisticated, modern family home, with generous space and volume. However, despite the large footprint, the spatial arrangement needed to facilitate connectivity between the spaces and its occupants and any sense of overwhelm created by the volume of space should be diminished. It was also hoped navigating the spatial arrangement would create a sense of journey and enhance the experience of traveling through the home.
In response to the brief, the Japanese discipline of shibui was adopted for its celebration of complexity and restraint. Correspondingly, the approach to the house is stripped of adornment and presents a strong, minimal composition. A detached asymmetric timber-shingled ancillary building, a gravel garden and a long path create a minimalist, sculptural approach to the house, while simultaneously building a sense of anticipation. Intentionally, the simple spatial arrangement means the utilitarian workings and "hidden attainments" of the house are not obvious upon arrival, rather a sense of restraint is employed.
Click here for further information
more information: redarchitecture.co.nz
---