Singita Sabora Tented Camp charts a visionary new course for luxury adventures under canvas. A destination perfect for travellers yearning for an African safari infused with the continent's contemporary energy and enveloped in unrivalled levels of comfort.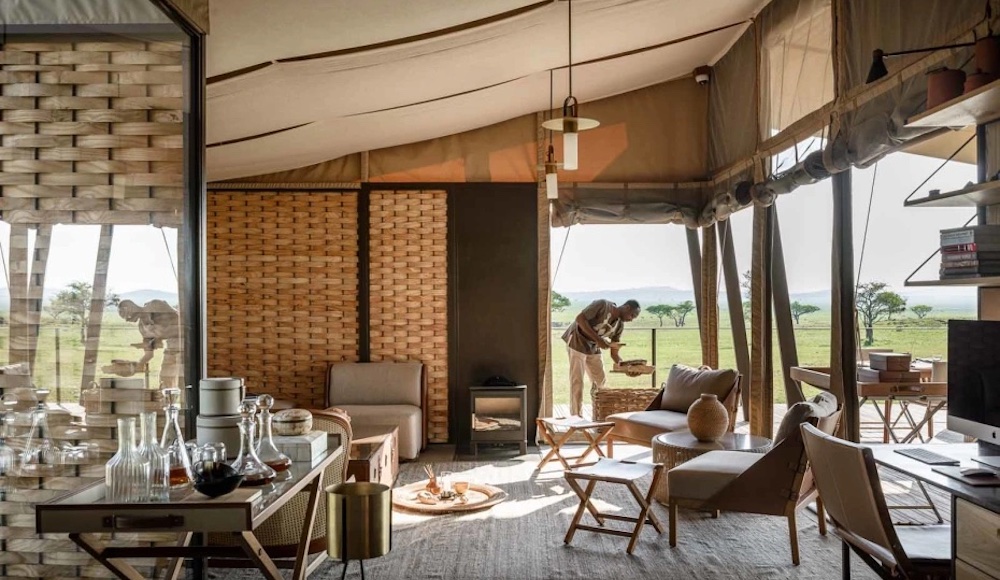 It features mindfully created interiors with a rich combination of textures, forward-thinking and functional aesthetics, and a modern interpretation of the quintessential elements of a romantic tented safari.
Celebrating Africa's creativity and craftsmanship, the work of local artisans feature throughout.
Complemented by pared-back interpretations of traditional safari style, it sets the tone for a leading-edge expression of life under canvas that is light, modern & elegant. Each suite includes a private meditation deck, an outdoor sala with daybeds, a private fitness area, and a lifestyle unit with a perfectly curated in-room pantry and dining space. A unique 'Guest Deli' featuring wicker baskets and fridges filled with gourmet delights allows guests to pick and choose treats to enjoy in the privacy of their suites or picnic spots around the camp.
Capturing the spirit of East Africa
Sabora Tented Camp is set in 350,000 acres of protected wilderness in Singita Grumeti, which provides guests with a front-row seat to some of the most prized game viewing on the continent – including the Great Migration.
Click here for further information
more information: singita.com
---