Amalgam Collection is delighted to introduce their model of the Aston Martin DB4 GT Zagato '1 VEV', exactly as raced at the 1961 RAC Goodwood Tourist Trophy by Roy Salvadori. Amalgam will be producing models at the rate of up to 5 a month in the run through to the end of the year, and ahead of the global launch of the model next week, they are offering their loyal customers the opportunity to secure one of the 10 models for delivery before the holiday season, by placing an order now, with full payment.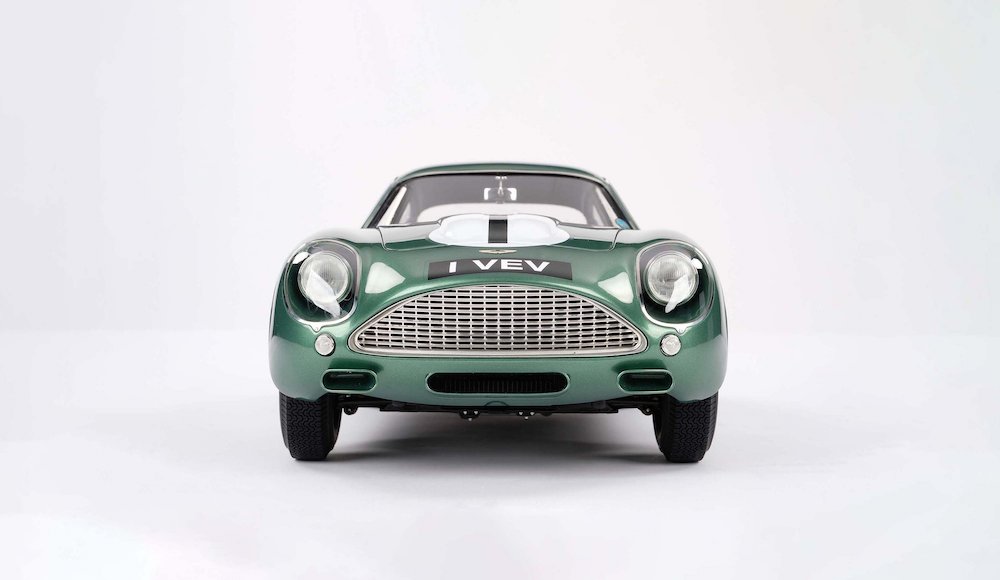 It has taken many, many hours of research, digital scanning of 1 VEV, CAD design work and pattern making, followed by casting, fitting and fine paint finishing. Now finally, after 12 months of hard and very skilled work, we are close to finishing the first small batch of one of the most important and beautiful creations in the entire history of the motor car.
British Aston Martin engineering, combined with Italian Zagato body design: a powerful partnership that has given birth to many extraordinary cars since the 1960s, but none more beautiful and valuable than the Aston Martin DB4 GT Zagato. There is good reason for the current valuation of 1 VEV between $10 and $15 million USD.
Discipline is the father of creativity, and the beautiful form of the DB4 GT Zagato was moulded and forged by the demanding brief handed to Ercole Spada to take every aspect of the already exceptional DB4 GT's performance, and push it to a new level. With a raised top speed of 154 mph, the Zagato bodied car added three miles per hour to the top speed, with 0-60 in only 6.1 seconds.
This was truly a race car made legal for the road, and anyone who has seen one of these cars up close will have experienced the impression of aircraft quality engineering they exude. In a nutshell, this car is automotive art at its most refined, and with only 19 cars created it is no surprise that the value is so very high.
Limited Edition of 199 pieces
Bespoke Models can be built to the owner's specification
Each model hand-built and assembled by a small team of craftsmen
1:8 scale model, over 53 cms/21 inches long
Made using the finest quality materials
Over 5000 hours to develop the model
Over 500 hours to build each model
Thousands of precisely engineered parts: castings, photo-etchings and CNC machined metal components
Built using extraordinarily precise digital data from scanning the original car, 1 VEV
Click here for further information
more information: amalgamcollection.com
---