On a warm Michigan Wednesday in August of 1965, Ford introduced its original SUV, the Bronco. Inspired by a new wave of Americans journeying into the backcountry, the engineers at Ford produced a vehicle rugged enough for off-road travel with the capability to cruise at highway speeds without giving passengers a beating with wind and road noise. The iconic Bronco cut a trail into the great outdoors that would be followed by generations to come.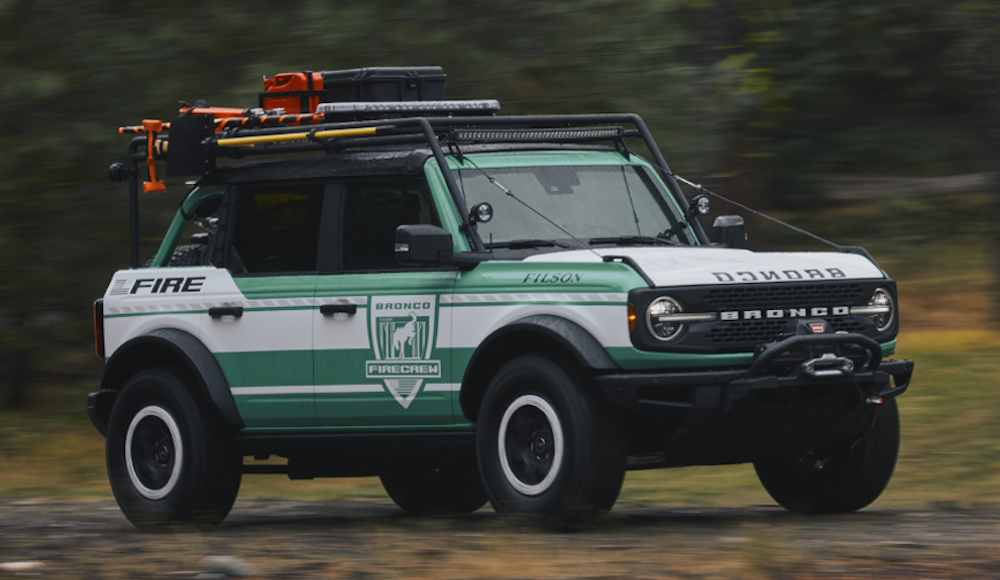 Today, Ford and Filson honor that legacy.
Bronco, the Built Wild SUV reintroduced by Ford for 2021, partnered with Filson to unveil a one-of-a-kind concept vehicle to celebrate wildland firefighters and to support the National Forest Foundation (NFF) and their outdoor conservation efforts. The collaboration was informed by the brands' shared histories supporting and outfitting the brave men and women of the U.S. Forest Service as they protect America's public lands. With the announcement of the Bronco + Filson Wildland Fire Rig Concept, released during one of the most devastating wildland fire seasons in history, the brands hope to remind Americans to thoroughly educate themselves about fire prevention and responsible recreation while our public lands continue to see increased traffic.
"Filson and Bronco share a history in the wildest parts of the American landscape and have provided the gear and transportation necessary to protect the country's public lands for decades," said Doug Thielen, Director of Marketing at Filson. "This collaboration speaks to those shared histories and through it, we honor the hard and dangerous work of wildland firefighters who put their lives on the line every day for our National Forests, public lands, and nearby communities."
As far back as the 1940s, Filson Cruiser jackets were the official Class A attire of the U.S. Forest Service, and many still see the iconic green U.S. Forest Service-badged Broncos out in the wild. That rich history comes through to today's Bronco + Filson Wildland Fire Rig. Based on a 2021 Bronco four-door SUV, the concept vehicle blends advanced off-road capabilities with rugged design details, using Filson materials and a full firefighting skid built into the back. The vehicle's exterior color is a nod to the authentic Forest Service Green, with reflective white striping and Bronco + Filson Wildland Fire Rig crests on the doors.
Click here for further information
Report by filson.com
---