Canepa is offering this Porsche 911 GT2RS for sale. The Ultimate "Bad Boy". 612 Miles. Weissach Package. 700 hp / 553 lb-ft 3.8-liter twin-turbocharged boxer 6. 7-speed dual clutch PDK transmission.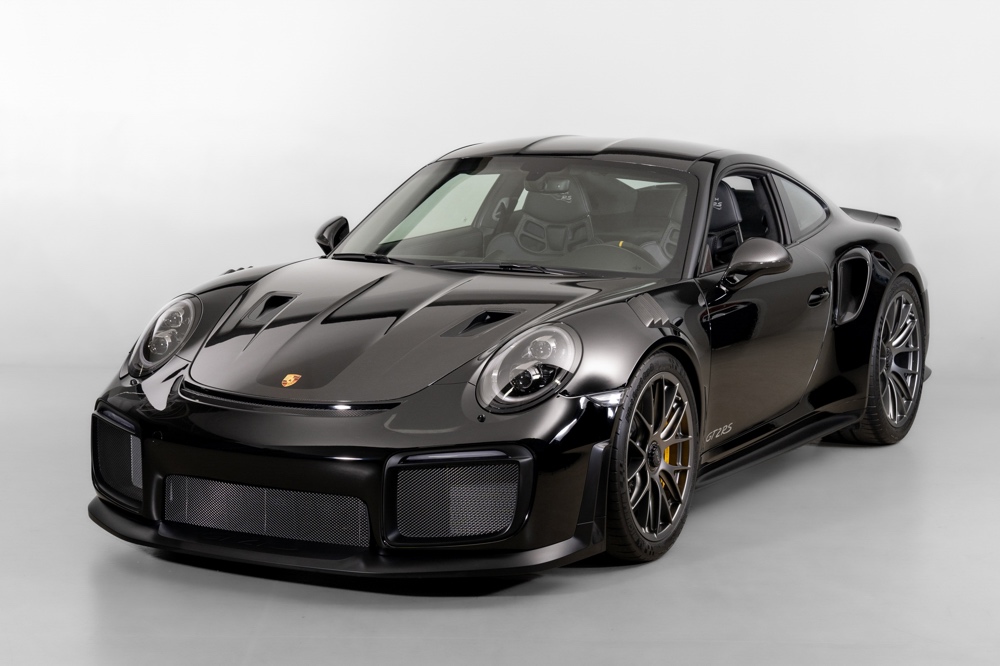 GT2RS magnesium wheels
Black leather-Black Alcantara interior
Front Axle Lift system
Bose surround sound system
The Porsche 911 GT2 RS name laid dormant in Stuttgart for just around 7 years, last used in 2011 with the 997. However, in 2017, the 991 GT2 RS was announced creating an uproar of excitement. With a beastly 700 horsepower from its 3.8-liter twin-turbocharged engine, this dual-clutch, rear-wheel-drive work of art was an instant sensation, earning itself the title, "the most serious 911 ever". Adding on top of its already resounding positive press, it set a production car lap record at the Nürburgring with a 6:47 minute lap time, cementing this car as the ace among street-legal cars in the world.
This 2018 Porsche 911 GT2 RS is perfectly optioned from the Porsche factory. This Stealth black, over Black leather- Black Alcantara with platinum gray stitching complimented throughout with silver grey seat belts and yellow calipers magnified by the addition of the $18,000 Weissach package. With a carbon fiber hood and roof, and numerous other parts for lighter weight and aerodynamic modifications, this transforms the already potent car into the ultimate road and track 911. Other options include the must-have 20/21 911 GT RS magnesium wheels ($13,000), front axle lift system, BOSE surround sound, extended deviated stitching interior package, automatically dimming mirrors, and chrono package. With a total sticker price of $337,160, this GT2 RS is at the high end of factory option cars.
This GT2 RS remains in pristine, original "like-new" condition, showing just 612 miles on the odometer. The vehicle is completely protected by XPEL clear guard ($10,000 value). As well, carbon winglets are installed as an additional option to the factory wing, giving it a subtle understated transformation in style.
This GT2 RS represents the pinnacle of Porsche 911 performance that will certainly not be matched for years to come. With its motorsport-derived nature, the driver can live on the ragged edge of performance whenever desired yet comfortable enough to use within daily life driving. The Black exterior of the vehicle gives it a very stealthy presence and is what Bruce considers to be the ultimate color for this car. His own personal GT2 RS was black. In his words, the contrast between the black paint and carbon components is utterly "menacing". The power is relentless, the handling sublime, and the styling could not have been better executed.
Included Options
Weissach package 18,000
Black 0
Leather/Alcantara in black-black with platinum gray stitching 3,480
Extended range fuel tank 23.7 gal 140
20/21" 911 GT2 RS magnesium wheels 13,000
Front axle lift 3490
Fire extinguisher 140
Luggage net in passenger footwell 0
Smoking Package 0
Floor mats 0
Bose surround sound system 1,600
Voice Control 0
Automatically dimming mirrors with integrated rain sensor 700
Chrono package w/ preparation for lap trigger 550
Wheels painted in Satin Platinum 690
Sun Visors in Alcantara 590
Door Sill Guards in Carbon Fiber, Illuminated 530
Total Options: $42,380 Total MSRP: $337,160
Click here for further information  
---
collectorscarworld is partnering with the most renowned classic car specialists and dealer-ships in the world. We always offer selected rare and sought-after collectors cars and supercars for sale and every day a special car is featured for one of our partners. The passion for classic cars is diverse, sometimes it concerns the beauty of forms that can be admired at a concours, sometimes it is the smell of rubber , old leather and gasoline at a racing event or trip in the sunset.
Or its a classic car you have great memories with or which your parents owned a longtime ago. Classic cars and supercars are an expression of the lifestyle that someone shares with other petrolheads, and which is immortal, enduring and always a lot of fun. If you are looking for a special car or need support in the evaluation and history of cars, please contact us at info@collectorscarworld.com
---