My passion for classic cars pushed me to create Timeless Addict, and even if I dreamed about it, I did not think it would allow me to drive a legend such as the Cobra. However, this incredible moment happened, thanks to the trust and friendship of Pascal Gaudard of Sioux Automobiles. Of course, he has already allowed me to carry out several magnificent test-drives, but here, for me, we are moving to a higher stage with the mythical roadster imagined by Carroll Shelby. A dream came true, a meeting full of emotions and above all the discovery of a simply phenomenal car, the Cobra 289 Roadster.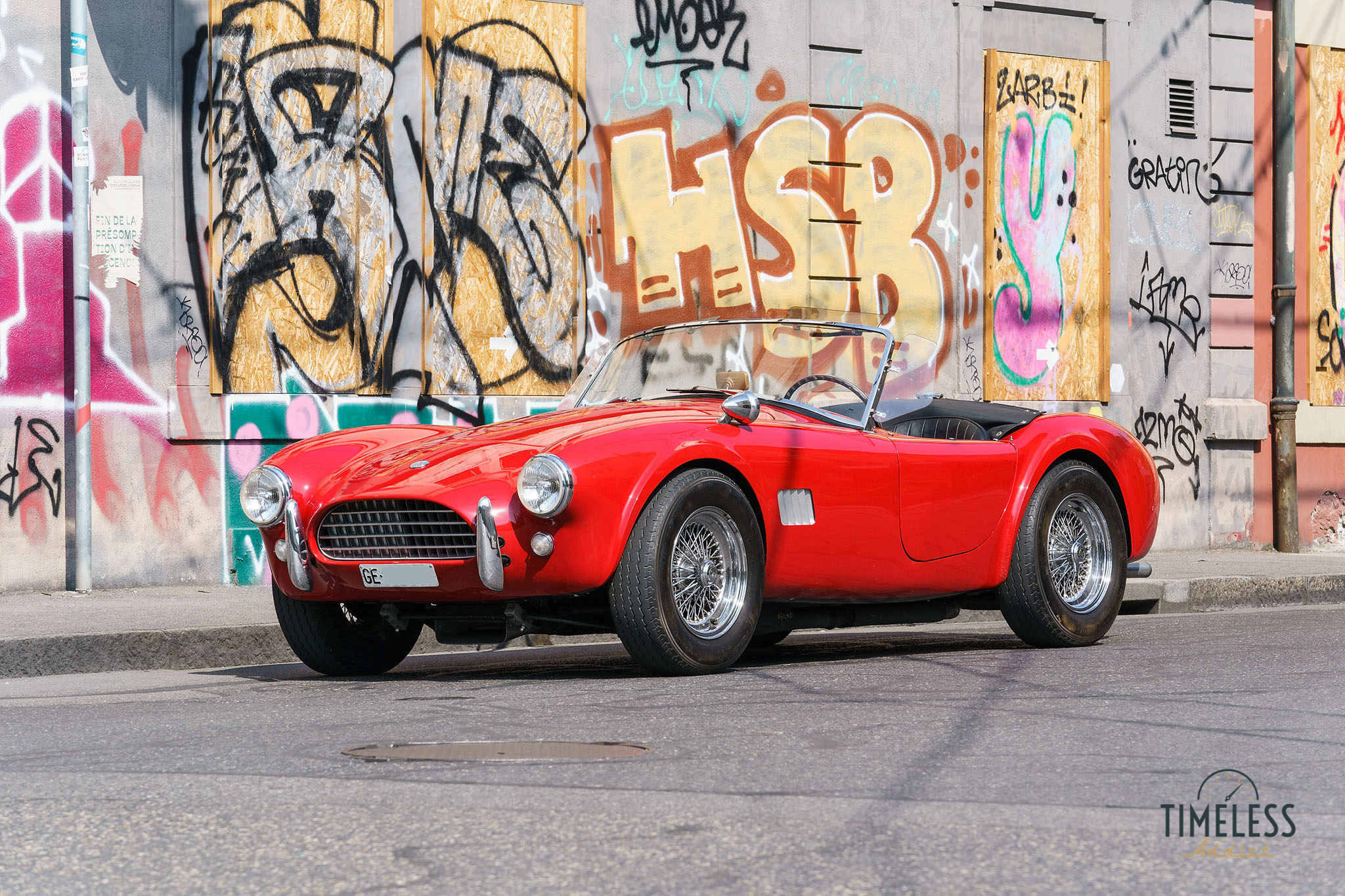 It is impossible to hide it and those who have met me since that wonderful day already know it, there is a before and after from now on. Driving this Cobra 289 Roadster in its wisest version, a "Street" with flat fenders, was a revelation for me and reproducing this experience is now an obsession that will never let me go. Well, I quickly got back to earth knowing that I will never be able to own one but, who knows, maybe I will have the chance to drive others in the future.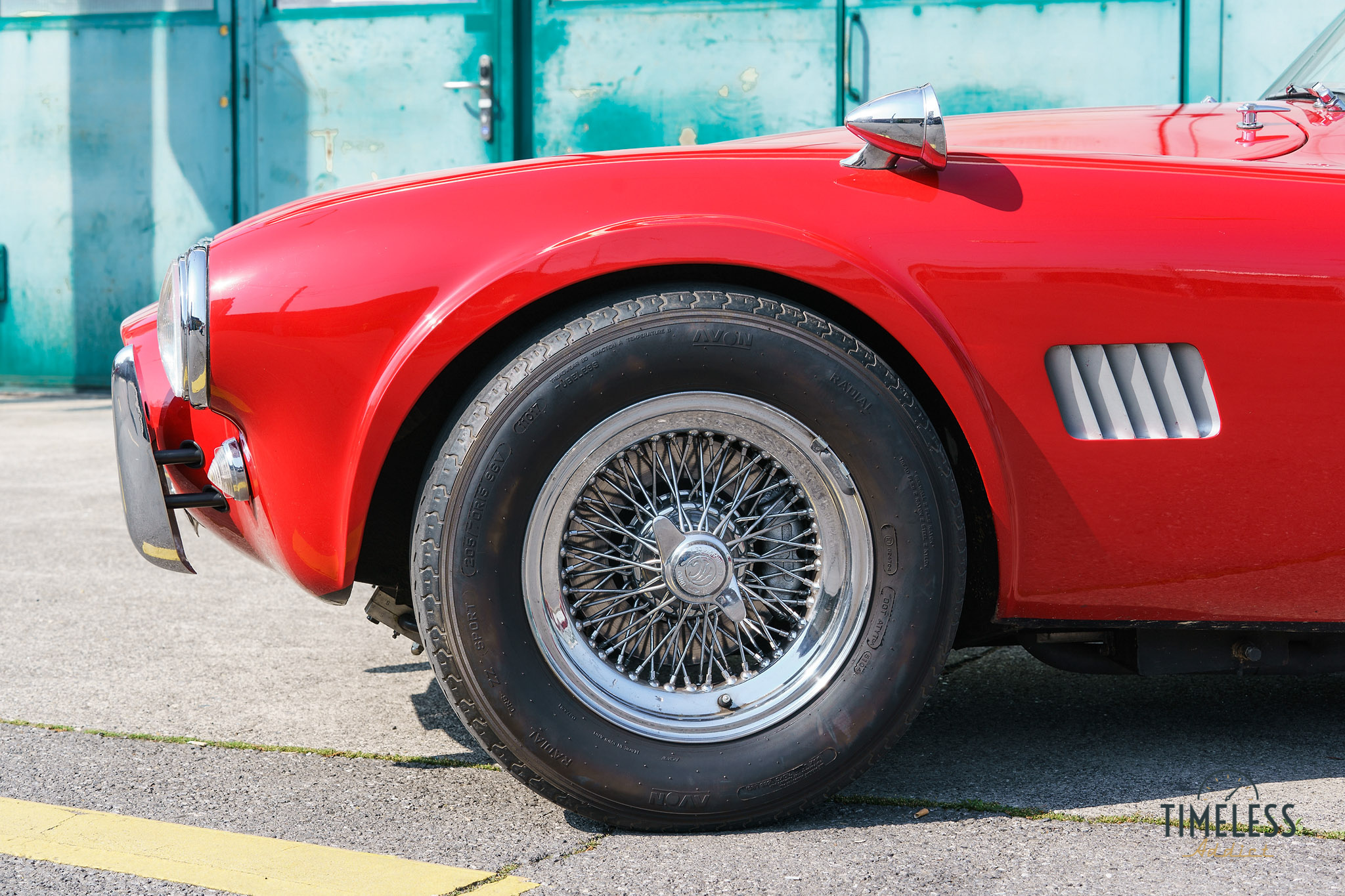 For car enthusiasts, the Cobra is a myth that everyone knows. However, I realized that for those who are not really interested in cars, it is relatively unknown. Indeed, if everyone is able to identify a Ferrari or a Porsche, even classic ones, it is by far not the case for the Cobra. So, I will start by briefly introducing the beauty.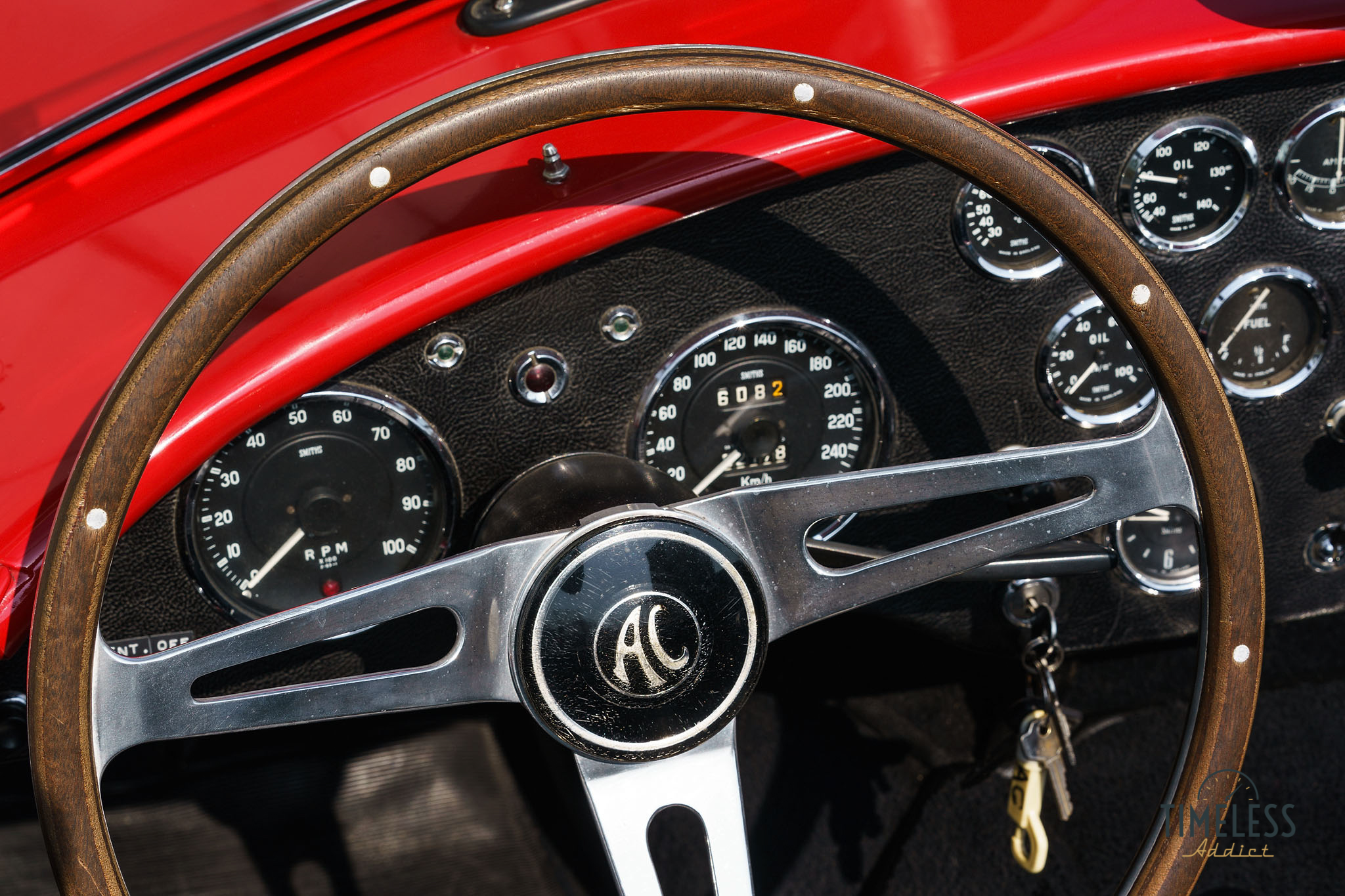 First of all, its origin… English or American? Both in fact! If the base is an AC Bristol, created by John Tojeiro under mandate of the Hurlock Brothers, then owners of the English brand AC Cars Ltd, the rest of the development comes from the talented Carroll Shelby based in the United States. It is impossible to talk about Cobra without mentioning him. Shelby, who won the 1959 24 Hours of Le Mans in an Aston Martin DBR1, could no longer race  due to health problems in the early 1960s. With the help of Ken Miles and Phil Remington, among others, he decided to design a car that would rival Ferrari.
To this end, he equipped an AC Bristol with a Ford V8, first 260ci, then the famous 289ci that powers the one we are interested in today, and then he even added a "big block", the demonic 427ci. It is probably this version of Cobra which is the most famous in the world and also the most copied. In fact, the Cobra is most likely the car of which there are the most replicas, so much so that even when you drive a "real" one, people you meet immediately think it is a "fake". In terms of modesty, it is the perfect object.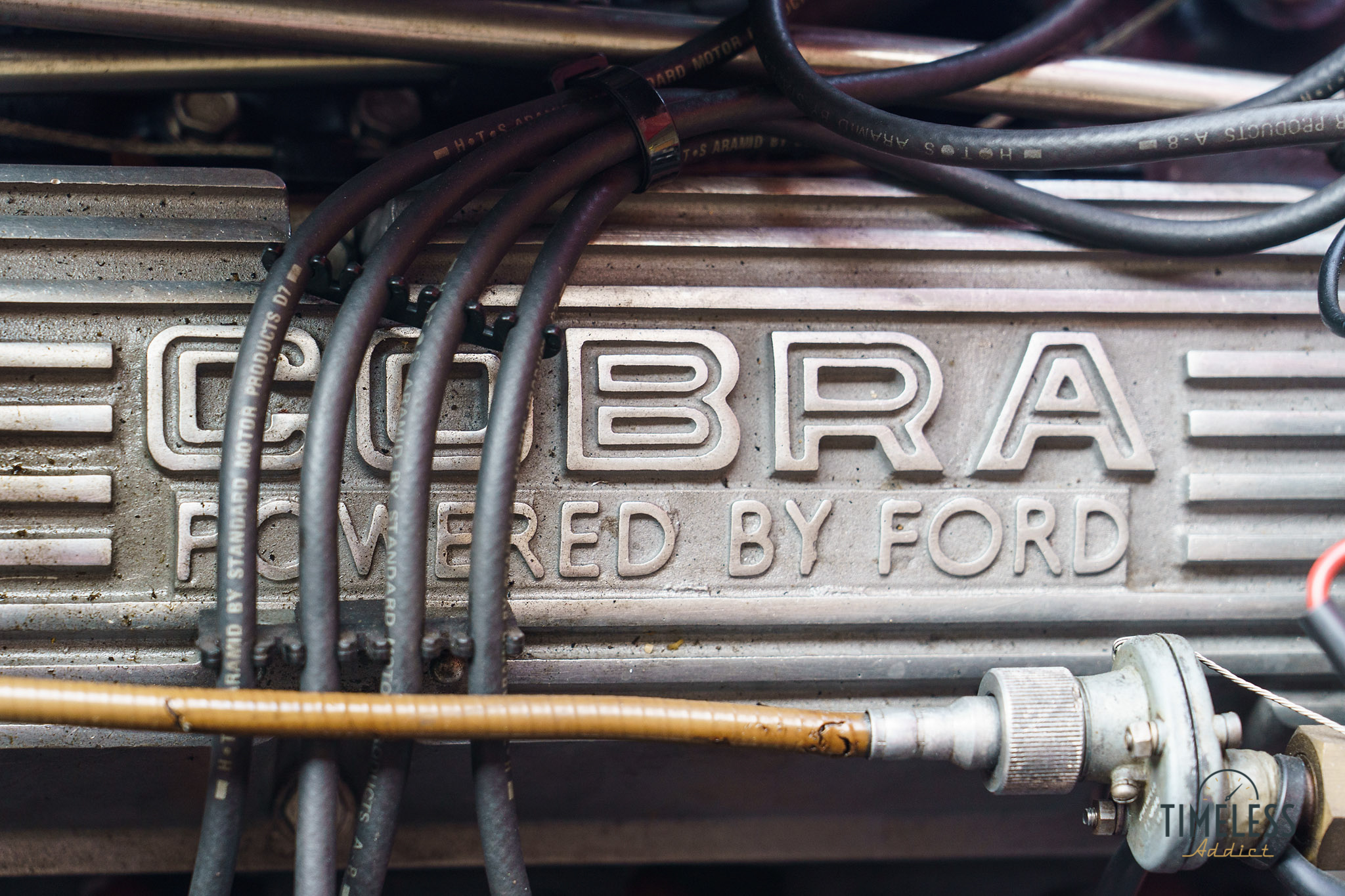 Going back to its history, the Anglo-American beast was unveiled under the name Cobra in 1962, during the New York Auto Show. In 1963, the engine initially installed was replaced by the latest evolution of the 4.7 V8 (289ci), as well as the screw steering which was replaced by a rack and pinion steering. Moreover, as I mentioned before, the car is available, from 1965, with a 7.0 V8 (427ci). Cobras were produced until the end of the 60's, for a total of about 1'000 cars.
Aware that the roadster would not be enough to beat Ferrari in competition, especially with the fantastic 250 GTO, Carroll Shelby designed the Shelby Daytona Cobra Coupé in 1964. This one is even more mythical and rare, as only 6 exemplars exist ! We will come back to this car in a future report. In short, after winning the GT World Championship in 1965, the project was shelved when Ford mandated Shelby to finalize the design of another legend, the GT40. But that is another story.
In my youth I was attracted by the most beastly version, the Cobra 427. But with time and encounters, my passion set its sights on the 289, especially the FIA version that I could admire many times during the Goodwood Revival. Devilishly impressive, as much by their performances as by their lines, it is difficult to remain indifferent to Cobras, all versions included. However, for me, the 289 has more charm, while keeping the right amount of aggressiveness.
To speak specifically about the one we are lucky enough to drive today, because it has flat fenders, it is even rather discreet. That is probably also why the curious people we met during our test drive did not recognize a Cobra right away.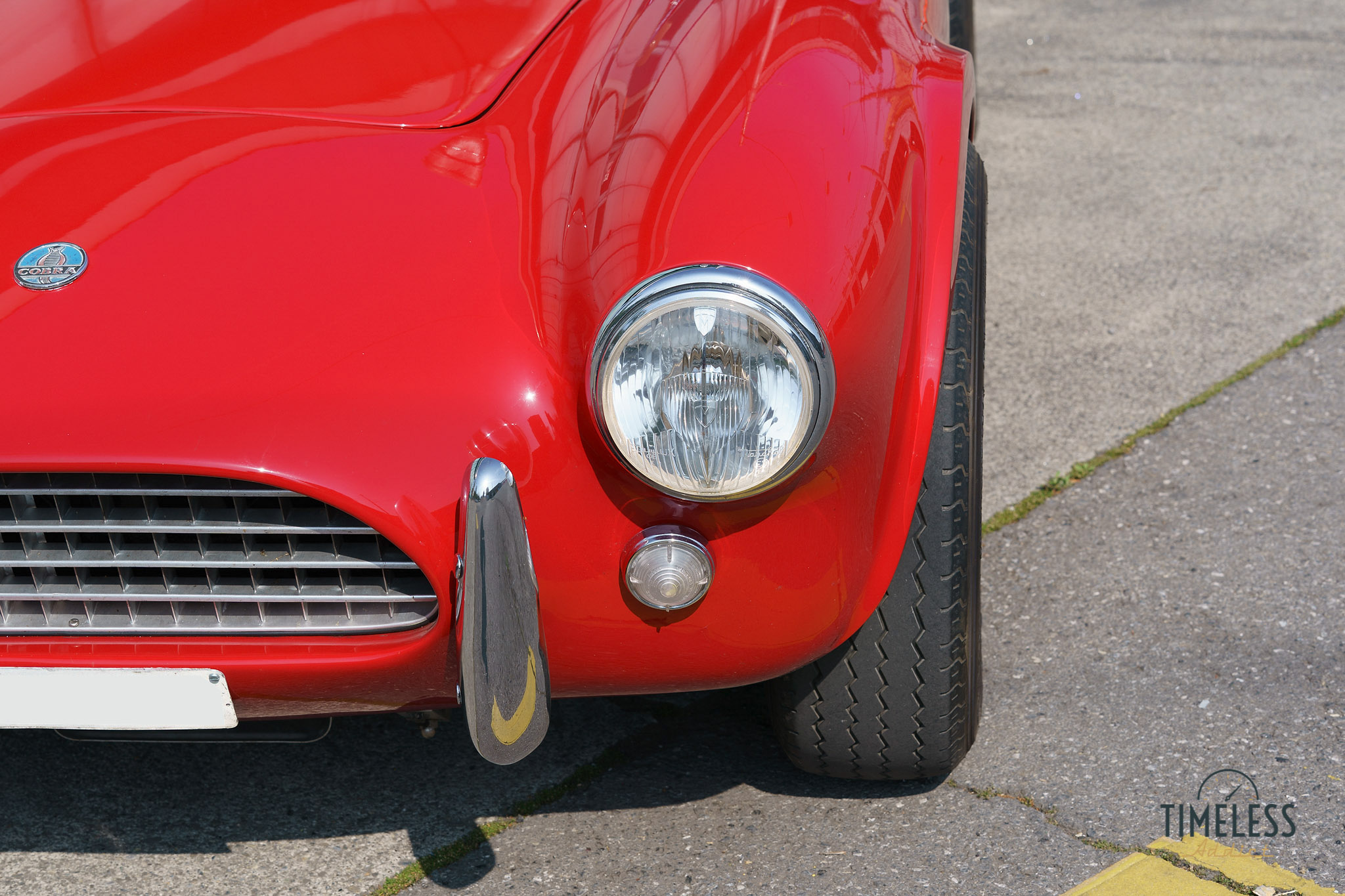 Our Cobra 289 Roadster is a 1964 MkII model, in "Street" version with flat fenders. Its red color suits it quite well and it is especially its original color, combined with its black leather interior and its chrome spoked wheels. To be even more precise about this car, we are dealing with the "COX 6012" chassis. This Cobra is the one that was presented at the Geneva Motor Show in 1964 ! It is great to be able to offer you a test drive today, as its history is so closely linked to our region.
This Cobra was ordered by the Swiss importer of the time, Hubert Patthey, to be exhibited at the 1964 Geneva Motor Show. However, as the Hurlock Brothers could not confirm that it would be available in time, at the beginning of the year, Mr. Patthey decided to call Carroll Shelby directly. The latter made the necessary arrangements with the Hurlock Brothers, asking them to make up for the lack of availability of the European versions by taking one of those planned for the USA. This is how our Cobra 289 "COX 6012" finally arrived in Switzerland in February 1964, but with a few parts stamped "2354" that were intended for the Shelby Cobra "CSX 2354".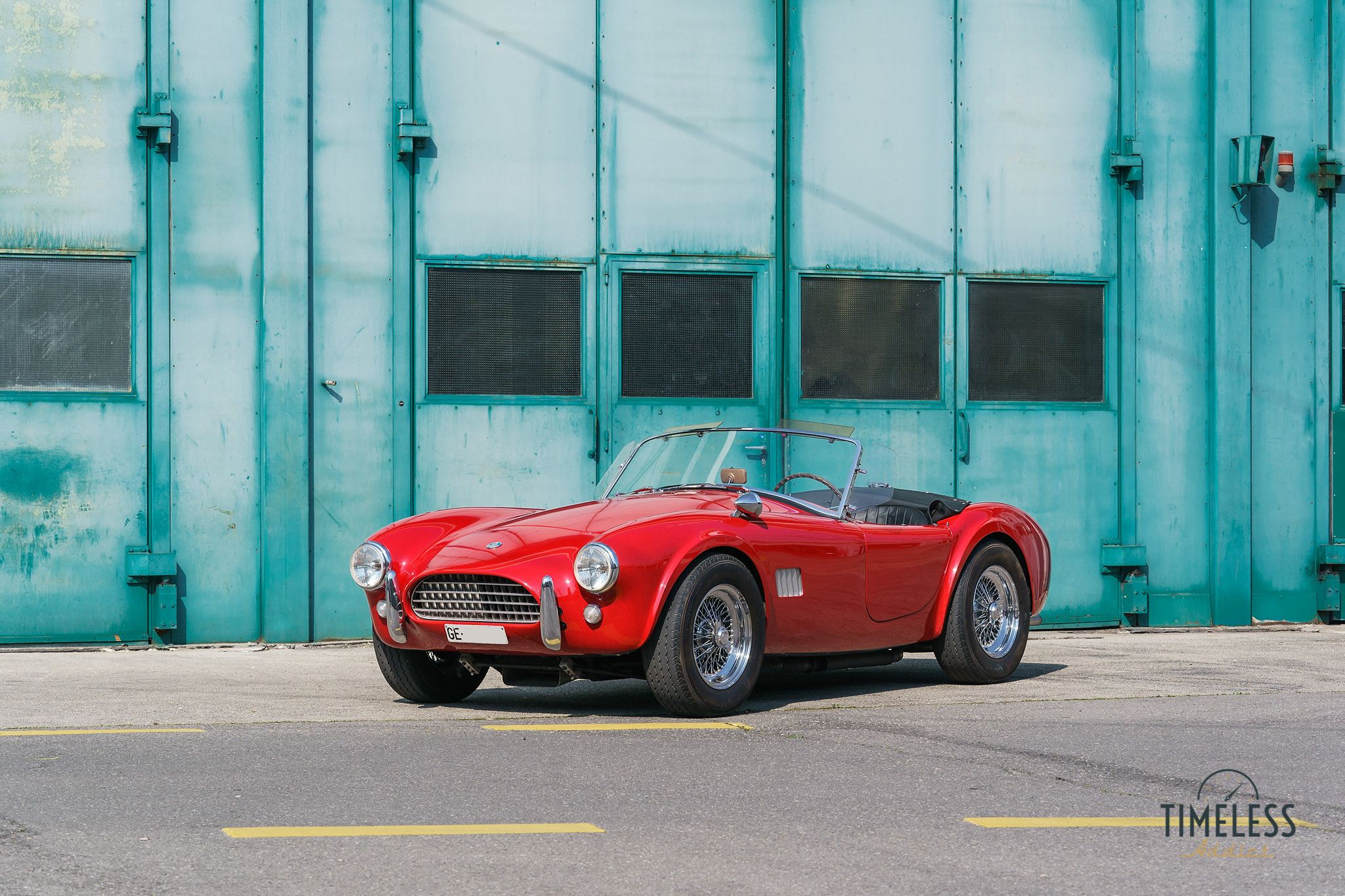 Small parenthesis, the models for Europe are called Cobra, while those for the USA are Shelby Cobra. Moreover, the chassis names are specific, namely COX for Cobra Export meaning that the car was built in England but exported to Europe and those remaining in their country of origin have a chassis beginning with COB (B for Britain). Finally, those for the USA are CSX, for Carroll Shelby Export.
End of the parenthesis, let us come back to our test car with another funny detail. When this Cobra was registered in our country, the original central mirror was refused because it was too small. Mr. Patthey replaced it with a "Lucas" model coming from a Jaguar Mk2 and, to this day, this is still the one that is on the car.
This Cobra begins its life in Switzerland, at an architect in the canton of Bern, replacing a 1959 AC Ace, also red. He kept it until 1971, during which time he participated in a few races, notably on the Lignières circuit. After that, the car moved to the vicinity of Zurich, then to the canton of Vaud and finally back to the second owner who regretted having sold it.
In 1998, the latter sold it again and this time it left Switzerland to go to an enthusiast in Germany. It is this collector, a great Cobra connoisseur and also owner of a 427, who will discover the anecdote of the parts having the number "2354". Ten years later, he sold it to an Austrian friend and collector who kept it until the end of 2010.
In January 2011, Sioux Automobiles acquired it and brought it back to its almost native land in Geneva. Today, the car has a little more than 82'000 km on the odometer, which is the exact mileage covered since 1964 and it has never been restored. In 2011, during a service, it was even noticed that it still had its original clutch ! The engine is the original period block, as is the rest of the mechanical parts that power this sublime Cobra.
Let us also note that in 2017, on the occasion of the second edition of the Concours d'Élégance Suisse, which takes place in the gardens of the Château de Coppet, the car won the Honorary Jury Prize.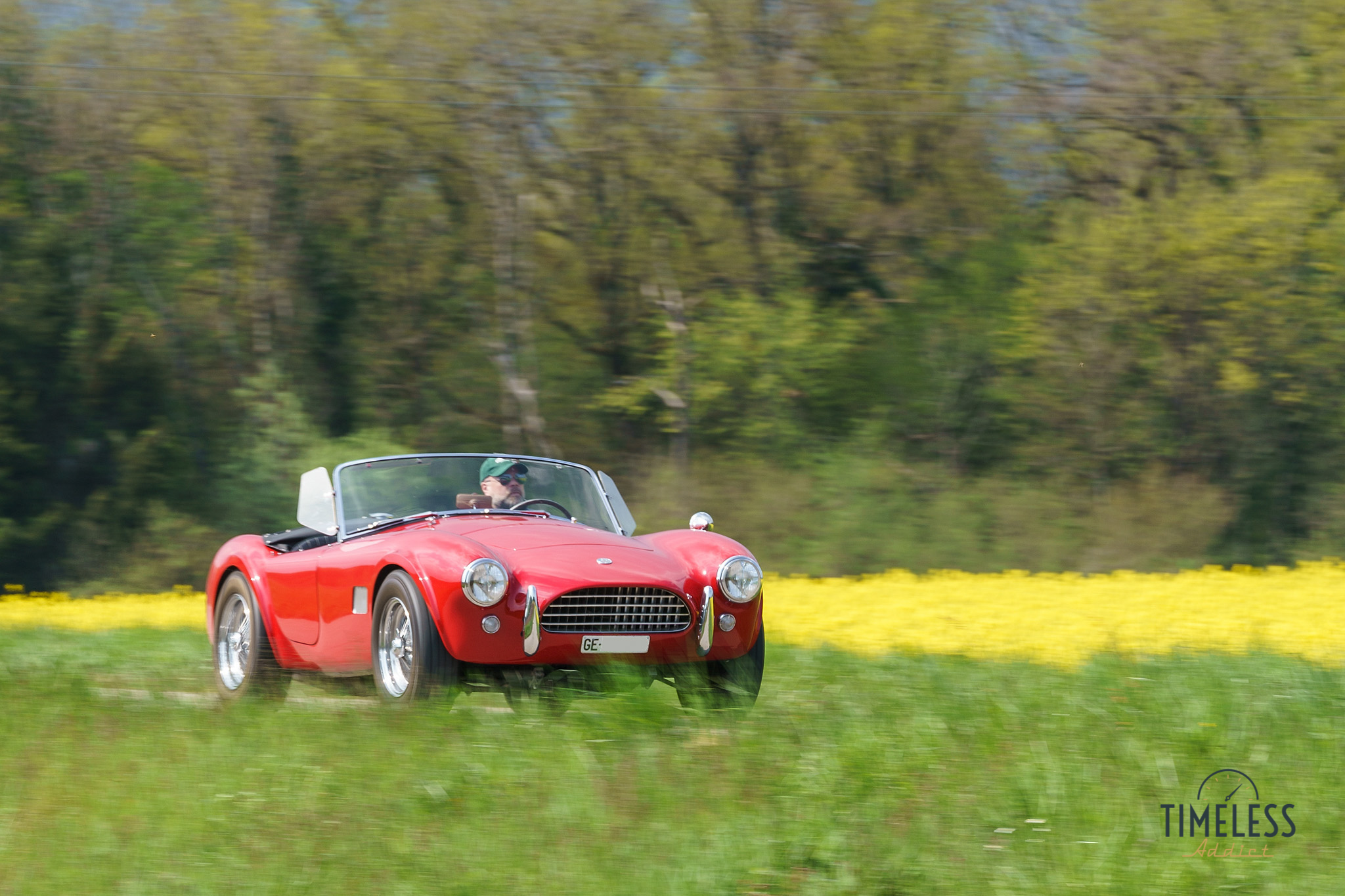 As a lifelong lover of the Cobra, it is difficult for me to remain objective while admiring it. The lines are elegant yet sporty. The gaping mouth, with an additional air intake under the car, gives it just the right amount of aggressiveness, especially since only the bumpers act as bumpers. Normally on these models, there is still a grille surround, but I must admit that I prefer it like this.
No frills, no extravagant attributes like you would expect to see when you mention the Cobra name because, as I said before, this is a flat-fender road car. Of course, this is still a relatively flashy car and this was confirmed during our test drive by the heads that turned and the thumbs that rose. Nevertheless, it is still the most discreet Cobra.
Once the door is open, I slip inside and admire the cabin reduced to its simplest form. Normal for a sports car of this generation. The big wooden steering wheel, the multitude of gauges and the gearshift, finally we do not need anything more when the pleasure of driving is on the agenda. To come back to the set of gauges, they are from Smiths, confirming that it is indeed a European model. On the American versions, the Cobras are equipped with Stewart Warner in miles.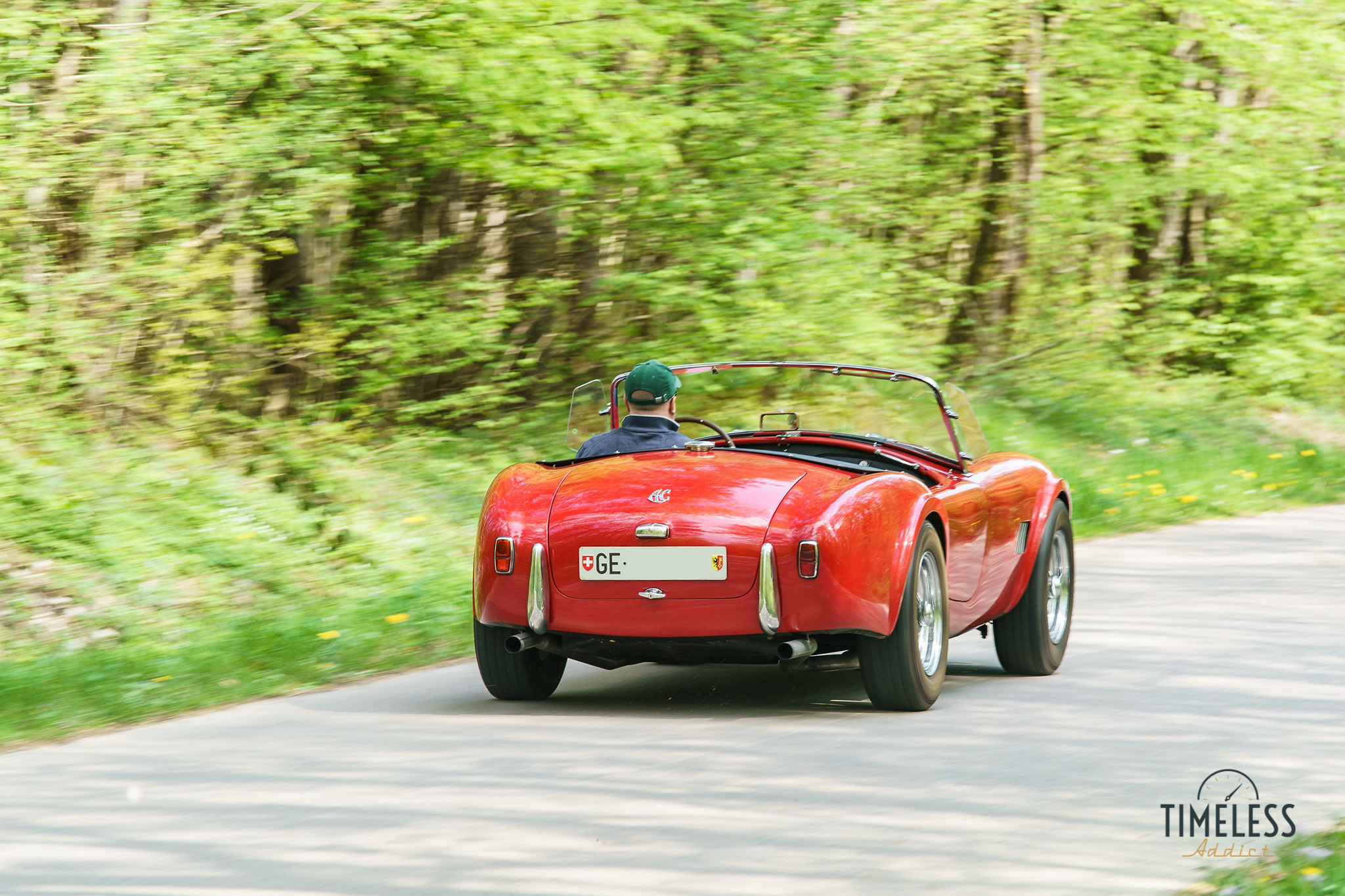 The aluminum bodywork allows for a weight of around one ton, which, combined with the 271 hp of the 4.7 V8, for around 400 Nm of torque, promises good sensations. The whole thing is coupled to a robust Borg-Warner 4-speed gearbox. The 0-100km/h is achieved in about 5.5 seconds, which is quite a performance in 1964. The Cobra 289 has independent suspension and four disc brakes.
Moreover, at that time, it was possible to equip this V8 with a Holley carburetor instead of the Autolite on our car and with a Shelby intake pipe in aluminum, instead of cast iron. This way we got a little more than 300 hp, as much as on the famous Shelby GT350 equipped with the same engine. We hope to be able to offer you a test drive of this other legend of automotive history soon.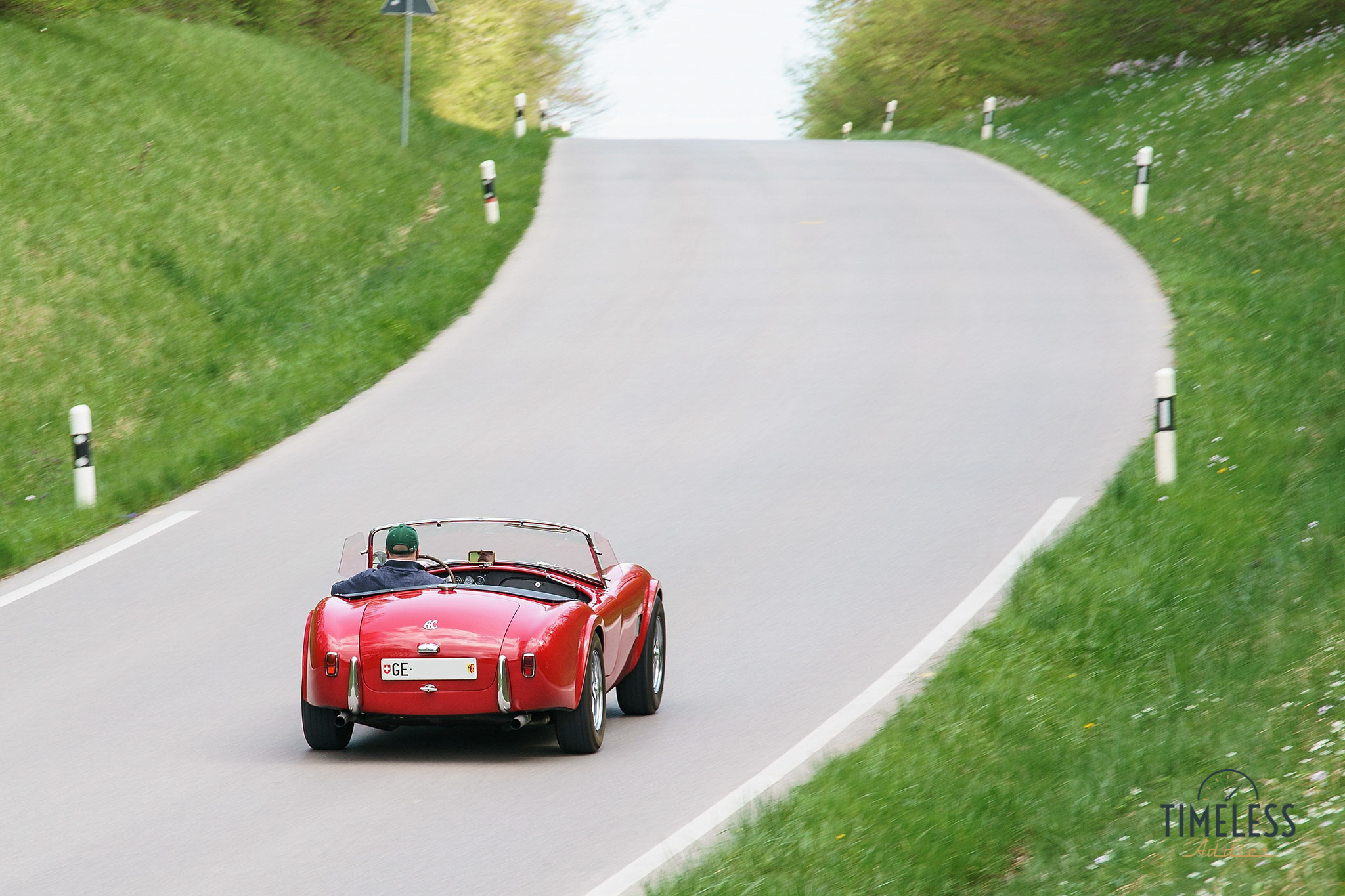 As you can see, I am under the spell of this car, but it is time to make it roar. I turn the key and the traditional sound of the big American V8 immediately brings a smile to my face. A smile that I will not let go of until it is time to get out of the driver's seat. The rumblings of this engine have enchanted me forever.
I engage first gear and let us go for a unique experience. I immediately noticed how easy it was to handle this Cobra. The clutch is not restrictive, the gearbox is easy to manage and the steering is not too hard, as long as the car is moving. I look at Pascal, almost surprised, and he simply replies that this is only the beginning.
We are leaving an industrial area on a public holiday, there is almost no traffic, which is rather reassuring when you know the price of the beauty. No, I will not mention it, it is useless… After a few kilometers in ride mode, I discover a soft car, thanks to the flexibility of its mechanics, and rather very docile. Hair in the wind, well the little I have left, and without any protection except the windshield equipped with small side windshields, even when driving cool, emotions are there. It is a pleasure to drive this Cobra.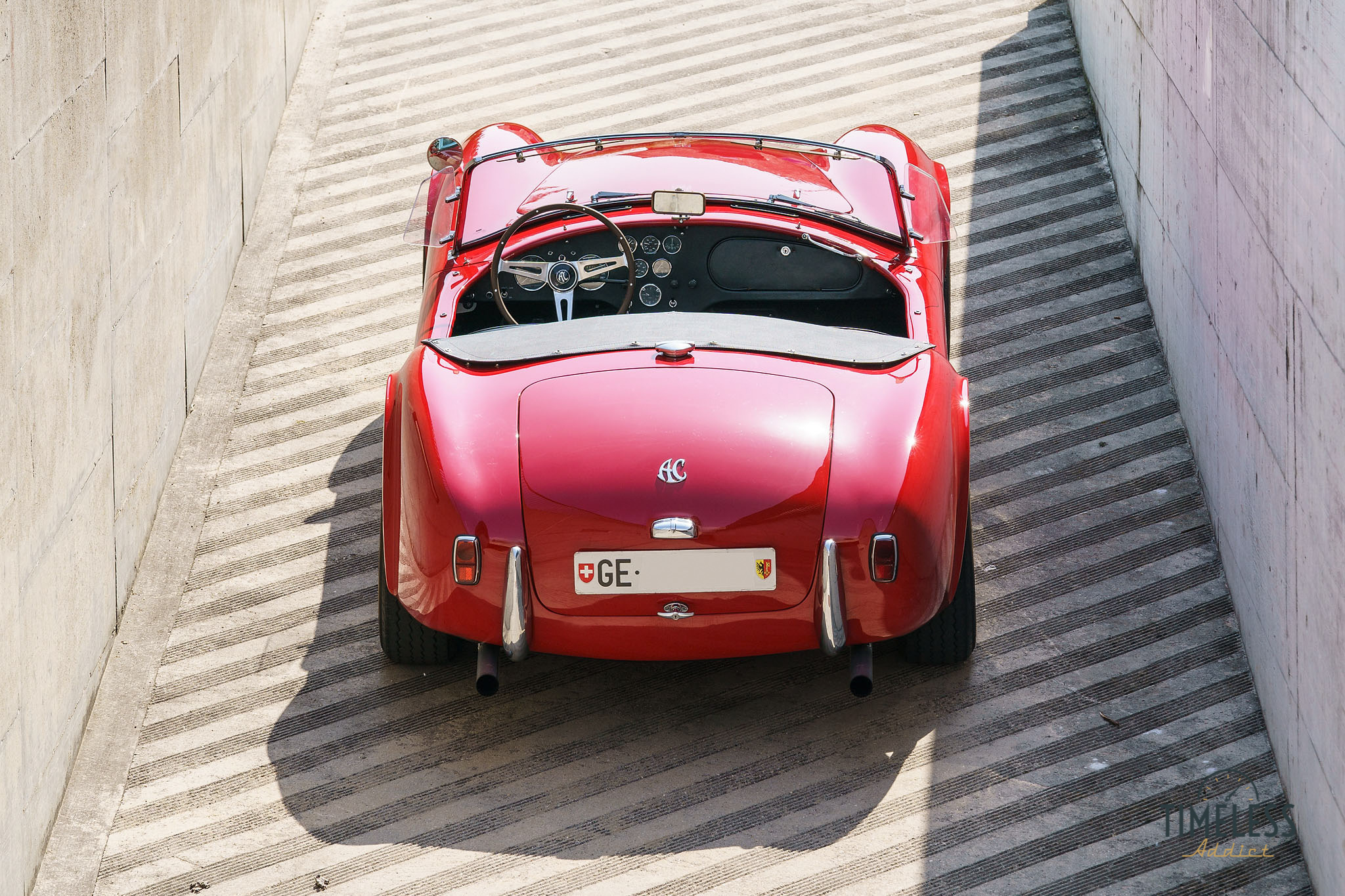 We arrive on country roads that I know well and I increase the rhythm. It is always so clear to roll and the music of the V8 makes only accentuate my ultra jovial mine. I force myself to be a little serious for the pictures because, according to our photographer, I really look like a kid in a toy store on Christmas Eve. The different gauges validate me that everything is at the right temperature, I climb higher in the revs before shifting, and it is still easy. I keep on going, the pace becomes steady and our Cobra swallows the corners with determination and pleasure, I am happy.
Another observation, the car is ultra homogeneous. The engine is not too much like a 427 and, above all, the chassis and the suspension give the whole thing a simply amazing cohesion ! This Cobra 289 eats up the asphalt with such ease, especially for a 1964 car, that I am really impressed. It is fabulous and I did not expect it to be so extraordinary at all. Congratulations Mr. Shelby, you and your team have done an impressive job!
I continue to drive around, alternating between sporty driving and a more leisurely pace, hypnotized by the melody of the V8. It is impossible to imagine having to cut short these magical moments, this Cobra is really wonderful in every way. The sensations it gives, both when standing still and when driving it, are difficult to put into writing. But take my word for it, I am tasting something that is terribly addictive and I can only hope that it happens again, hopefully very quickly and repeatedly. Those who have had the chance to drive a real Cobra will understand me, I am sure !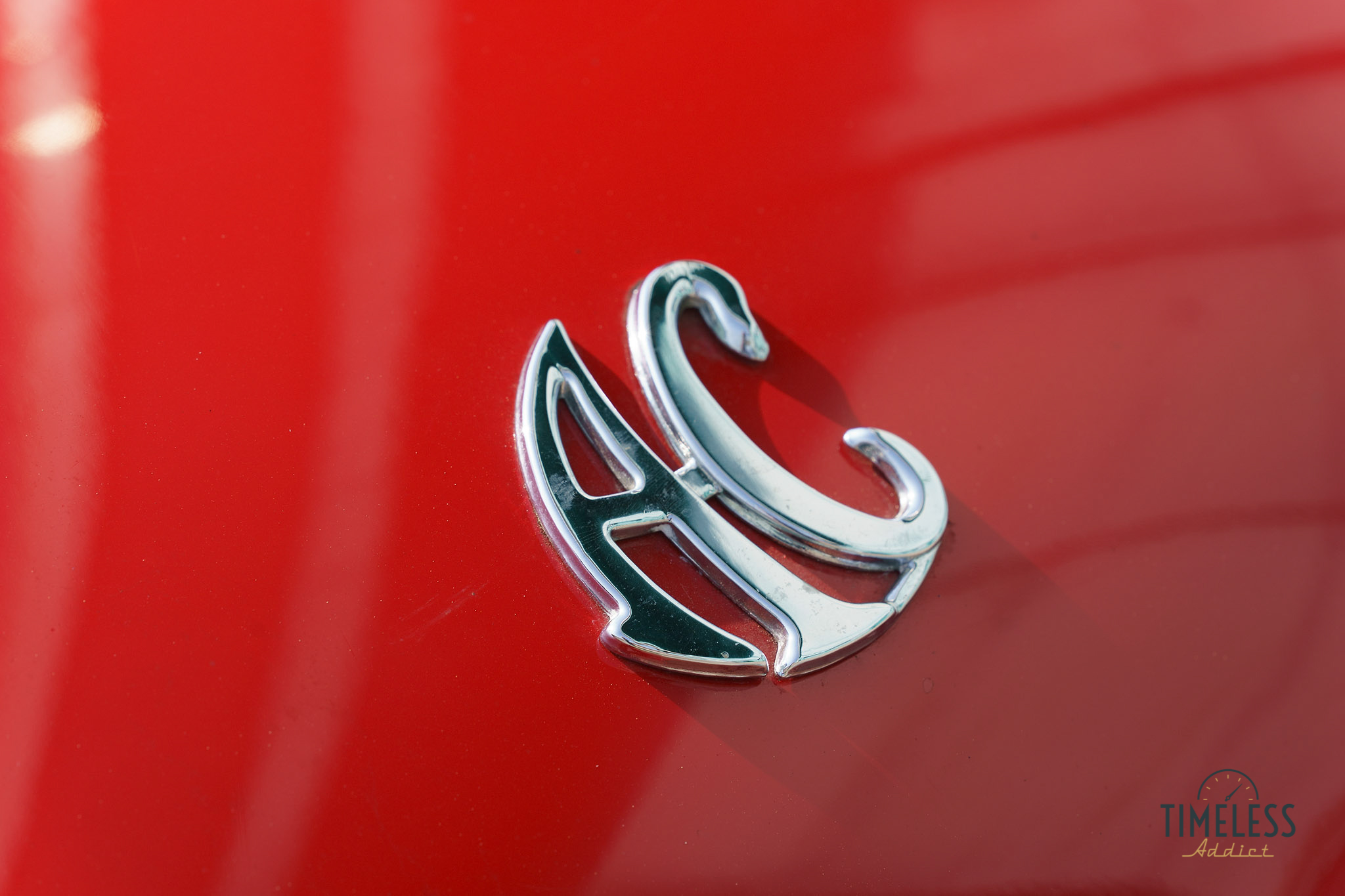 Just like the snake of the same name, which is a perfect name for this car, the "bite" of this Cobra is fatal. I am not about to get over it and I must admit that driving this Cobra 289 Roadster is probably my best automotive experience to date.
Sure, there are still a few driving myths on my "wish list", but even if some of them promise a lot, I am not convinced that they will bring me the same cocktail that I enjoyed with this Cobra.
Our thanks to Sioux Automobiles in Geneva for making available this mythical Cobra 289 Roadster.
Redactor : Sebastien Morand / Photograph : Claude-Alain Ferrière (English translation of an original publication, in French, on Timeless Addict)