"The GT40 Concept casts a familiar, sleek silhouette of its predecessor, yet every dimension, every curve and line on the car is a unique reinterpretation of the original. The GT40 features a long front overhang reminiscent of 1960s-era race-cars. But its sweeping cowl, subtle accent lines and fibre-optic headlamps strike a distinctly contemporary pose. Its new lines draw upon and refine the best features of GT40 history and express the car's original identity." – Ford Motor Company, 2005.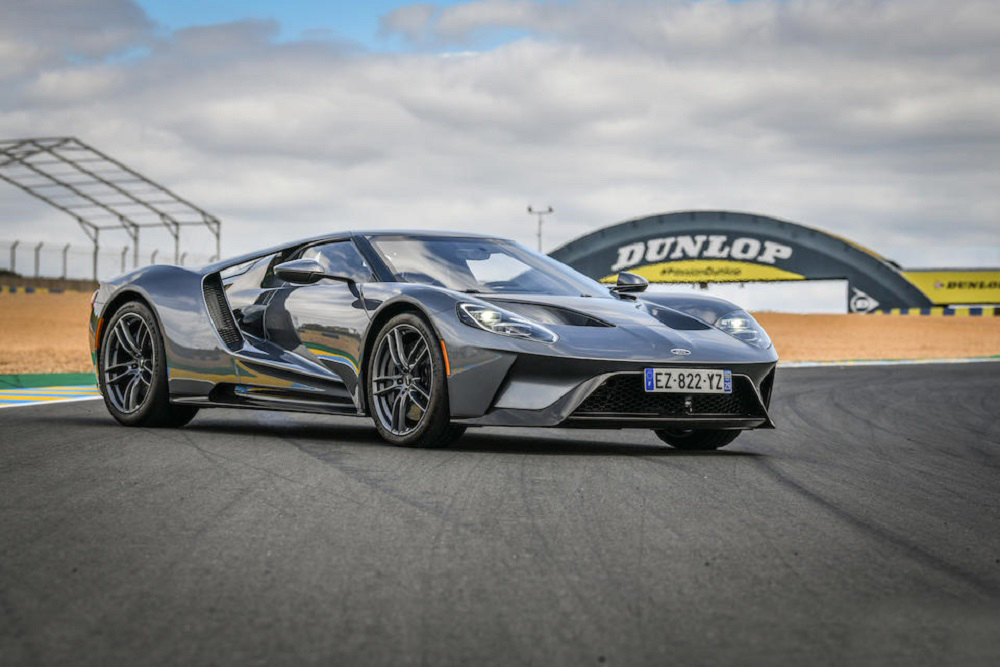 Chassis no. WAHURWA2AX2AABAAQA
•Modern reworking of an iconic racing GT
•Delivered new in France
•One owner from new
•Less than 1,500 kilometres from new
•Immaculate condition
---
Based on Eric Broadley's Lola GT, the original Ford GT40 was spawned by the Dearborn giant's ambition to beat Ferrari at Le Mans, a feat it duly achieved for the first time in 1966. The GT40 project had commenced three years previously, following Ford's failed attempt to buy into Ferrari, and was based at the Ford Advanced Vehicles plant at Slough, England. The GT40 first ran competitively in 1964 but failed at Le Mans that year and again in 1965. That first sweet Le Mans victory would fall to the 7.0-litre Mark II, with victory the following year going to a US-built Mark IV 'J' car. (The GT40 Mark III was the British-built road-going version).
A decade later and the GT40's status as an all-time great classic sports car had been firmly established, leading to an increased demand for unmolested originals and the start of a replica-building industry. Perhaps the only surprise concerning the emergence of a reconstituted 'official' version is that it took Ford the best part of 40 years to get around to it.
The 'new generation' GT was developed by Ford's Special Vehicle Team Engineering department under the direction of John Coletti and Fred Goodnow. The composite body panels were unstressed, as on the original, but instead of the monocoque chassis construction used in the 1960s, SVT Engineering developed an all-new aluminium spaceframe combining extruded sections and panels. Doubling as fuel reservoirs, a pair of massive sills contributed much to the original's chassis stiffness, whereas the new GT relied on a centre-tunnel 'backbone' that greatly improved ease of entry and exit. The suspension design was an advance on the original's, consisting of unequal-length control arms and a pushrod/bell-crank system acting on horizontally mounted coil spring/damper units. Braking was handled by six-piston, Alcon callipers with cross-drilled and ventilated discs all round.
In defeating Ferrari's more highly stressed V12s, Ford proved that the traditional American V8 possessed all that was necessary to compete at the cutting edge of international endurance racing. A far cry from the simple pushrod units of the 1960s, the supercharged MOD 5.4-litre V8 produced 550bhp at 5,250rpm and 500lb/ft of torque at 3,250 revs; figures on a par with those of the 7.0-litre engine that won at Le Mans in 1966 and 1967. The all-synchromesh six-speed transaxle used ZF internals and was sourced from RBT Transmissions, whose founder Roy Butfoy had been a member of Ford's racing team at Le Mans.
The interior featured leather-upholstered, Recaro bucket seats with aluminium ventilation grommets embedded into the panels. The instrument layout folloed the original's, comprising analogue gauges and a large tachometer complemented by modern versions of the traditional toggle switches.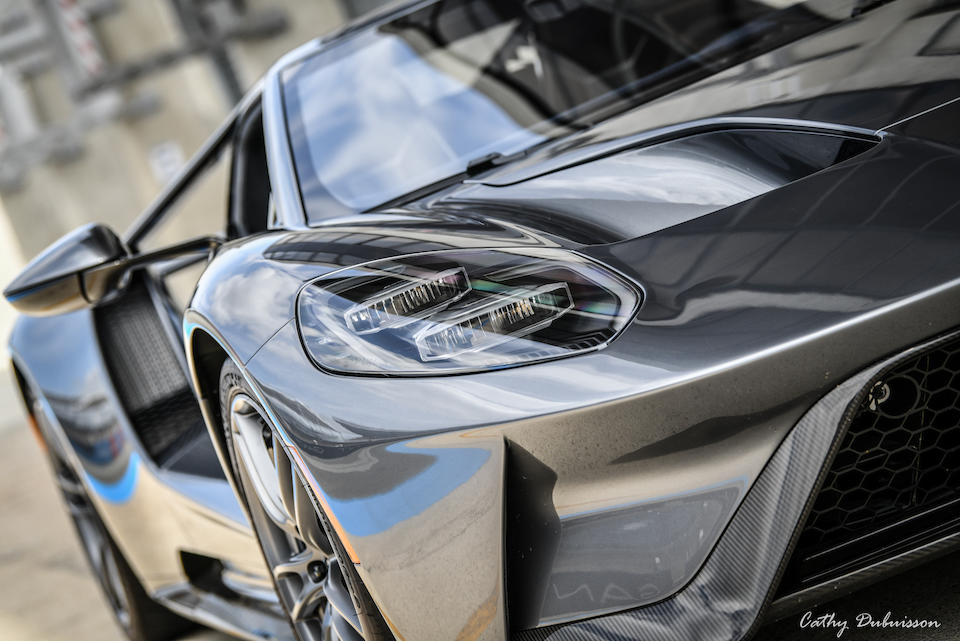 Back in 1966, the Ford GT40 endurance racer became the first car to exceed 200mph along the Mulsanne straight at Le Mans. Matching that would be some achievement for the production road car, even allowing for nearly 40 years of technological progress. Tested for Motor Trend magazine by Indycar racing legend Bryan Herta, the new Ford GT duly topped 200mph at Ford's Kingman test facility in Arizona, emphatically demonstrating that it was indeed worthy of that famous name. A total of 4,038 cars had been completed when production ceased at the end of 2006, over three quarters of which were delivered in the USA.
In 2015 a second-generation Ford GT was unveiled at the North American International Auto Show. Technologically a far cry from its predecessors, the new Ford GT features a 3.5-litre twin-turbocharged V6 engine, a carbon-fibre monocoque chassis, carbon-fibre body panels, pushrod suspension, and active aerodynamics. Producing 647bhp, the turbo V6 drives the rear wheels via a Getrag seven-speed DCT gearbox. The factory claims a sub-3.0 second 0-60mph time and a top speed of 216mph, which makes the Brembo carbon-ceramic brakes a necessity rather than a luxury.
In fact, Ford's new supercar had been created with GT racing in mind, hence the presence of an integral roll cage and a host of other competition-car technologies. Yet despite its start-of-the-art track-focused suspension, the GT has a ride quality rivalling that of a luxury saloon. Autocar's Matt Prior was obviously impressed: "the GT… has a level of composure – that balance between ride and handling – that I'm not sure I've better experienced in 20 years of road testing. It's so compliant, yet there's so little roll, and body movements are so well controlled, that is genuinely astonishing". All of the planned 1,000 road models had been sold before deliveries commenced in 2017.
The immaculate Ford GT we offer was ordered by the current owner for delivery in France and has covered fewer than 1,500 kilometres from new, most of them on two long journeys. Offered with its bespoke car cover, special battery charger, original purchase order, and a personalised letter from Ford Motor Company Executive Chairman Bill Ford, the stunning example we offer represents a not-to-be-missed opportunity to join the select band of Ford GT owners.
---
Report by bonhams.com
---