RMD is offering this ex-Dempsey Racing Lola B12/80 for sale. LMP2 Lola originally fitted with a Judd BMW 3.6 liter V8 engine. Owned and raced by Dempsey Racing in the 2012 IMSA championship.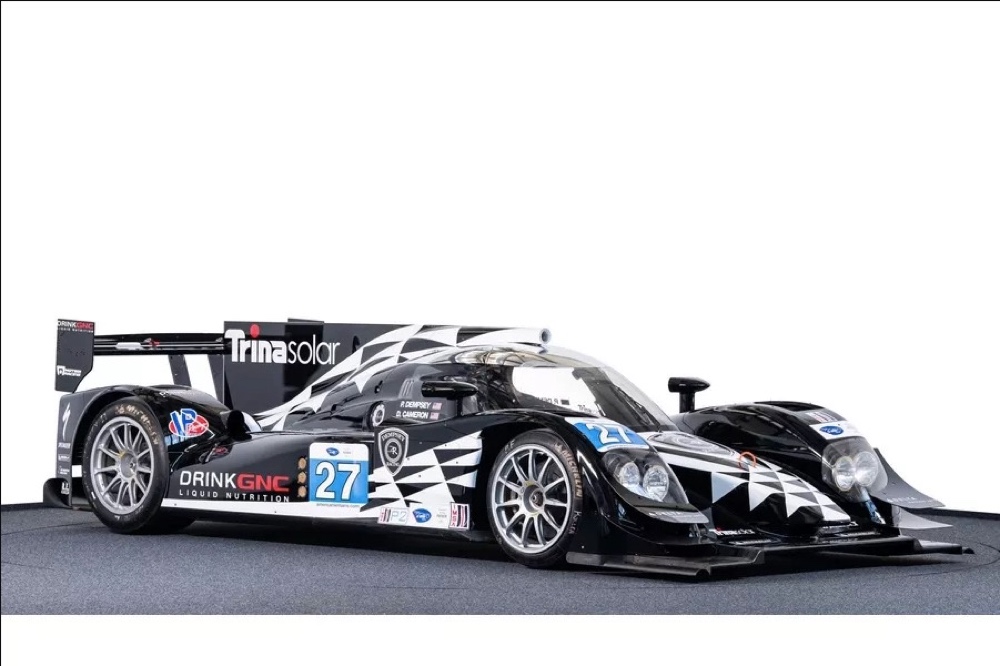 Top ten finishes at Lime Rock, Mid-Ohio and Road America
Fully rebuild in 2019 including engine and gearbox
Front-running entry for Masters Endurance Legends in Europe and/or USA
The B12/80 offered here is one of the last racing cars to be completed by Lola before they ceased operations in 2012. Available with powerplants from Nissan, Honda HPD, Lotus and – as with this car – the Judd BMW M3 V-8, the Lola B12/80 was the LMP2 version of the larger B08/60 chassis. With the large spinal fin, the car featured excellent stability at speed, a must for a car designed to go nearly 200-mph down the Mulsanne Straight at Le Mans.
Its technical data are as follows:
Chassis:             Lola – Carbon fibre monocoque chassis, 2-door coupe
Engine:              3.6 liter naturally aspirated JUDD BMW M3 V8 (derived from BMW S65)
Steering:            Rack-and-pinion steering with Kayaba power assist system
Power:                ca. 475 bhp
Gearbox:            Hewland/Lola 6-speed sequential manual gearbox
Suspension:      Double wishbone, push-rod actuated coil springs over dampers
Weight:               ca. 825 kg
HU05 was formerly owned by Dempsey Racing and was raced by Patrick Dempsey himself during the 2012 IMSA championship with top ten finishes at Lime Rock Park, Mid-Ohio, and Road America (detail race history is below in the history section).
In 2019 the car was completely overhauled and serviced with invoices totaling over €100,000.
The work done included:
• complete rebuild of the V8 LMP2 engine including set-up by JUDD
• overhaul of the gearbox (stripping and crack-testing all parts)
• new carbon clutch
• refresh of the fuel lines and cooling system
• new suspension triangles
• rebuild of brake callipers
• new master cylinders
After the rebuild the car did one shake-down and hasn't been used since. It just needs a new fuel cell and crack-test to make it 100% race-ready.
Spares include two sets of wheels and HU05 also comes with its current DMSB Wagenpass and technical documentation.
This stunning ex-Dempsey racing Lola B12/80 LMP2 would be a front-running entry for Masters Endurance Legends while it is also ready to make its re-appearance on the US Historic racing scene including HSR's Daytone 24hr Classic.
Click here for further information
---
collectorscarworld is partnering with the most renowned classic car specialists and dealer-ships in the world. We always offer selected rare and sought-after collectors cars and supercars for sale and every day a special car is featured for one of our partners. The passion for classic cars is diverse, sometimes it concerns the beauty of forms that can be admired at a concours, sometimes it is the smell of rubber , old leather and gasoline at a racing event or trip in the sunset.
Or its a classic car you have great memories with or which your parents owned a longtime ago. Classic cars and supercars are an expression of the lifestyle that someone shares with other petrolheads, and which is immortal, enduring and always a lot of fun. If you are looking for a special car or need support in the evaluation and history of cars, please contact us at info@collectorscarworld.com
---