"The GT40 Concept casts a familiar, sleek silhouette of its predecessor, yet every dimension, every curve and line on the car is a unique reinterpretation of the original. The GT40 features a long front overhang reminiscent of 1960s-era race-cars. But its sweeping cowl, subtle accent lines and fibre-optic headlamps strike a distinctly contemporary pose. Its new lines draw upon and refine the best features of GT40 history and express the car's original identity." – Ford Motor Company.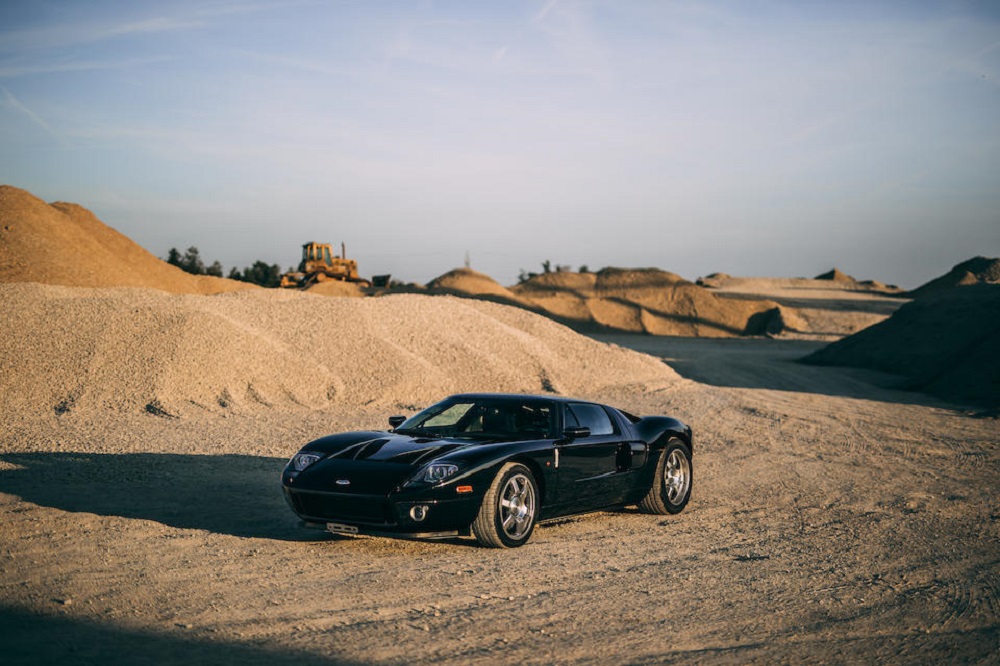 Chassis no. 1FAFP90S45Y401089
1 of only 101 European supplied examples
Super rare Mark II black Stripe delete livery with classic cast aluminium wheels
1 of only 4 delivered in this configuration
Fully documented
'As new' condition
Delivered new in Switzerland, swiss carte grise and EU duty paid
---
Based on Eric Broadley's Lola GT, the original Ford GT40 was spawned by the Dearborn giant's ambition to beat Ferrari at Le Mans, a feat it duly achieved for the first time in 1966. The GT40 project had commenced three years previously, following Ford's failed attempt to buy into Ferrari, and was based at the Ford Advanced Vehicles plant at Slough, England. The GT40 first ran competitively in 1964 but failed at Le Mans that year and again in 1965. That first sweet Le Mans victory would fall to the 7-litre MkII, with victory the following year going to a US-built MkIV 'J' car. (The GT40 MkIII was the British-built road-going version).
A decade later and the GT40's status as an all-time great classic sports car had been firmly established, leading to an increased demand for unmolested originals and the start of a replica-building industry. Perhaps the only surprise concerning the emergence of a reconstituted 'official' version is that it took Ford the best part of 40 years to get around to it.
The 'new generation' GT was developed by Ford's Special Vehicle Team Engineering department under the direction of John Coletti and Fred Goodnow. The composite body panels are unstressed, as on the original, but instead of the monocoque chassis construction used in the 1960s, SVT Engineering developed an all-new aluminium spaceframe combining extruded sections and panels. Doubling as fuel reservoirs, a pair of massive sills contributed much to the original's chassis stiffness, whereas the new GT40 relies on a centre-tunnel 'backbone' that greatly improves ease of entry and exit. The suspension design is an advance on the original's, consisting of unequal-length control arms and a pushrod/bell-crank system acting on horizontally mounted coil spring/damper units. Braking is handled by six-piston, Alcon callipers with cross-drilled and ventilated discs all round.
In defeating Ferrari's more highly stressed V12s, Ford proved that the traditional American V8 possessed all that was necessary to compete at the cutting edge of international endurance racing. A far cry from the simple pushrod units of the 1960s, today's supercharged MOD 5.4-litre V8 produces 550bhp at 5,250rpm and 500lb/ft of torque at 3,250 revs; figures on a par with those of the 7-litre engine that won at Le Mans in 1966 and 1967. The all-synchromesh six-speed transaxle uses ZF internals and was sourced from RBT Transmissions, whose founder Roy Butfoy had been a member of Ford's racing team at Le Mans.
The interior features leather-upholstered Recaro bucket seats with aluminium ventilation grommets embedded into the panels. The instrument layout follows the original's, comprising analogue gauges and a large tachometer complemented by modern versions of the traditional toggle switches.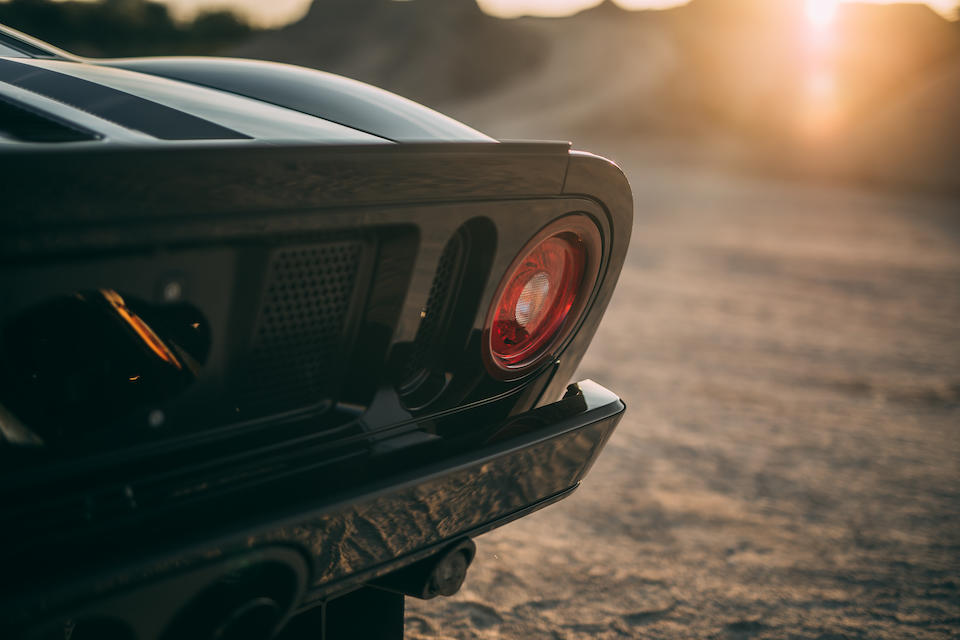 Back in 1966, the Ford GT40 endurance racer became the first car to exceed 200mph along the Mulsanne straight at Le Mans. Matching that would be some achievement for the production road car, even allowing for nearly 40 years of technological progress. Tested for Motor Trend magazine by Indycar racing legend Bryan Herta, the new Ford GT duly topped 200mph at Ford's Kingman test facility in Arizona, emphatically demonstrating that it was indeed worthy of that famous name.
One of the much sought-after 101 examples built for the European market, this Ford GT was ordered new by Mr Claude Sage, former team manager of Scuderia Filippinetti; former President of the Geneva International Motor Show; former CEO of Honda Automotive Suisse; and former Vice-President of the Swiss Automotive Distributors Association and the Swiss Automobile Sport Office. Mr Sage's involvement with Ford began at the end of 1964 when he left Automobile Revue to establish Performance Cars Ltd in Geneva in agreement with Mr J Hirsch, CEO of Ford Switzerland; John Wyer, CEO of Ford Advanced Vehicles (FAV) in Slough; and Mr R Geddes, representative of Ford Motor Co.
Performance Cars was set up specifically to sell Ford's high-performance models, and together with Scuderia Filippinetti raced the Ford GT40, Shelby GT 350, Ford Lotus Cortina and Shelby Cobra, including a Daytona Coupé at Le Mans. Together with FAV and Carrosserie Graber in Bern, Claude Sage had a hand in developing the first street version of the original Ford GT 40. He also raced when he was young, including at the 24 Hours of Le Mans in 1963 (Alfa Romeo SZ) and 1964 (Porsche 904 GTS).
Mr Sage ordered his Ford GT in 'Mark II Black' livery with the 'Stripe Delete' option, and few would question the wisdom of his choice: devoid of these extraneous elements, the beautifully curvaceous body is shown to its best advantage. Amounting to over 100 pages of documents, the three impressive history files contain copies of all correspondence between Mr Sage and Ford accumulated during the purchase process, including the Ford GT application form, purchase order, original sales invoice, etc. This matching-numbers example is complete and comes with all books, keys, covers, and Ford GT delivery accessories, plus a matching 'Ford GT' cap and shirt. The car was fully serviced at the Ford GT specialist GT101 in the UK in 2018 (at 5,816 miles). We are advised that the showroom-condition exterior is mint, with no dents or scratches or dents; likewise the original interior. Mechanically the car is said to be excellent.
With only 101 made, examples of the European-specification Ford GT rarely come to market; and this pristine example, offered for sale by a leading light of the Swiss motoring establishment, is worthy of inclusion in any private collection as one of the most significant and exciting cars ever to carry the 'Blue Oval' badge.
---
Report by bonhams.com
---