Gallery Aaldering is offering this amazing Bizzarrini Kjara for sale. A unique opportunity to buy one of the rarest Bizzarrini's ever.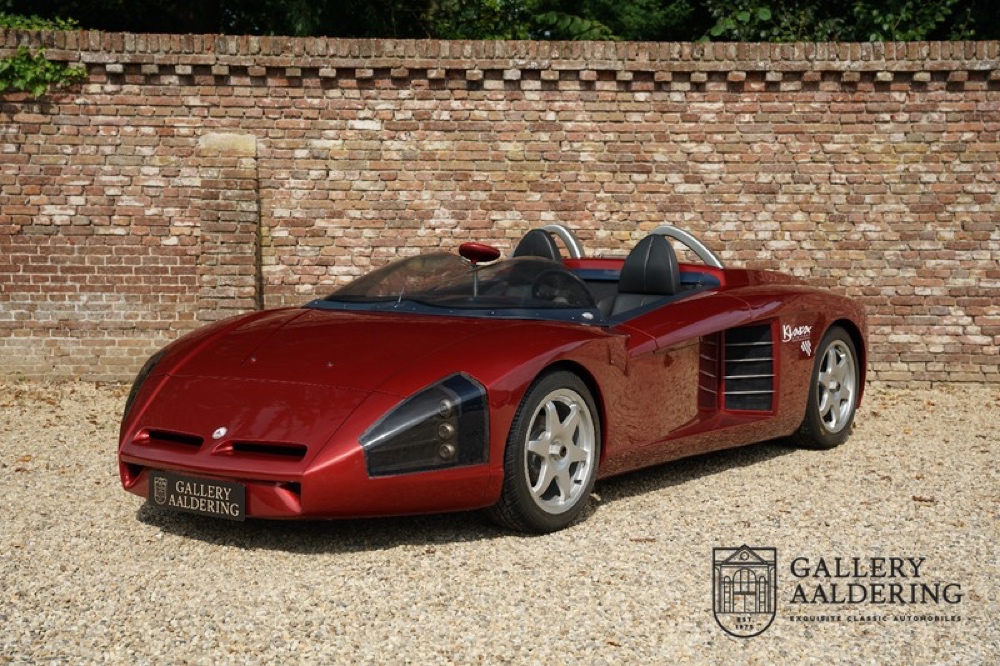 In 1998 Bizzarrini started developing this Kjara in collaboration with Leone Martellucci of the Technical University of Rome. Bizzarrini has always been renowned for his foresight and this Kjara is no exception. It will therefore not surprise you that this is a hybrid car. The drive is provided by a 2.4 liter 5-cylinder diesel engine that works together with 4 electric motors.
In 2000, the concept was completed and the car made its debut at the Turin Motor Show. The Bizzarrini Kjara was always intended purely as a concept car. Purely to show how Giotto Bizzarrini would put together a modern sports car.
The bodywork is therefore very progressive. The design is very aerodynamically advanced and is also equipped with optimal cooling for the 2.4 JTD and electric motors.
The interior is spartan in design and typical of a concept car with visible main power switches and relays.
The drivetrain was very progressive at that time and is still quite up to date even today. The hybrid part of the Bizzarrini Kjara is no longer connected but the 2.4 JTD diesel engine has recently been running.
As you would expect from a car that has had a life as a concept car, the Bizzarrini Kjara has some traces of use all around. It shouldn't spoil the fun because this is truly a unique opportunity to buy one of the rarest Bizzarrini's ever. The Bizzarrini Kjara comes with a presentation board that comes with the car.
Click here for further information 
---
collectorscarworld is partnering with the most renowned classic car specialists and dealerships in the world. We always offer selected rare and sought-after collectors cars and supercars for sale and every day a special car is featured for one of our partners. The passion for classic cars is diverse, sometimes it concerns the beauty of forms that can be admired at a concours, sometimes it is the smell of rubber , old leather and gasoline at a racing event or trip in the sunset.
Or its a classic car you have great memories with or which your parents owned a longtime ago. Classic cars and supercars are an expression of the lifestyle that someone shares with other petrolheads, and which is immortal, enduring and always a lot of fun. If you are looking for a special car or need support in the evaluation and history of cars, please contact us at info@collectorscarworld.com
---