Canepa is offering this Porsche 964 Turbo S for sale. 1 of 17 "Package" models. "Like new"-condition – completely original. 8746 miles. Lowest production run of any air-cooled Turbo.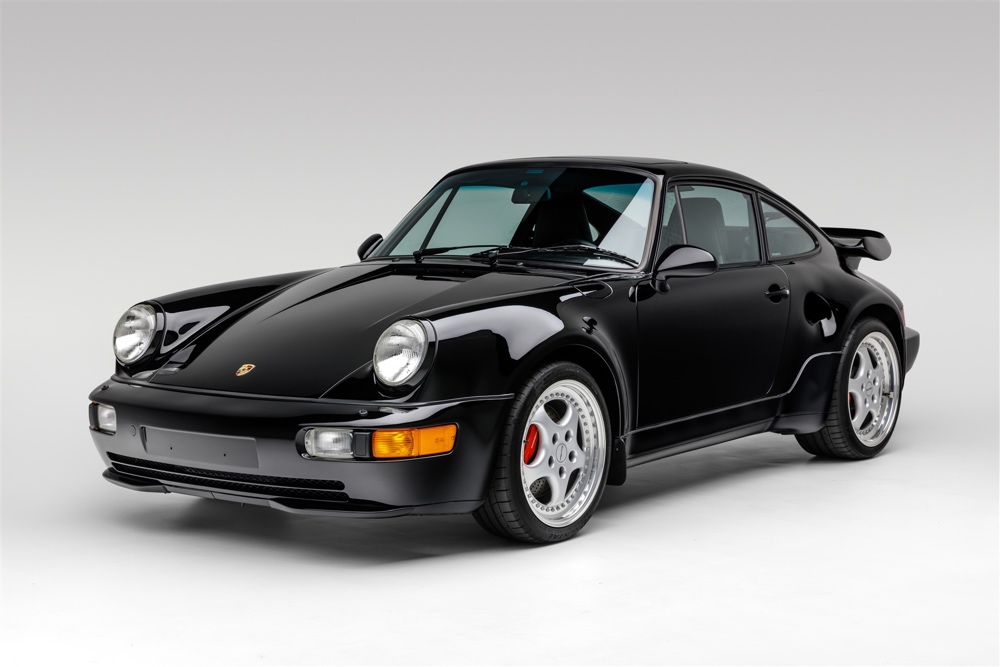 When announced on February 12, 1993, the Porsche 911 Turbo 3.6 was to be the highest performance regular production car they had ever offered for sale in North America. It was a single turbo, rear engine, rear-wheel drive, wide-bodied 911 that produced 355hp and 384 pound-feet of torque. They achieved these staggering numbers by swapping out the 3.3-liter engine from the previous Turbo model with a modified 3.6-liter engine from the recent line of 911 Carreras. In total, fewer than 1500 Turbo 3.6 were produced for the world, with less than a third of those reaching North American streets. In September of 1993, well into the production run of the Turbo 3.6, Porsche together with their Exclusive department decided to release an even more powerful "S" variant of the Turbo 3.6, estimating they would build fewer than 100 Turbo 3.6 "S" models for the world.
Most of these "S" models were to have the new Flatnose or Flachbau Version II front end, different from the earlier Flatnose of the 1980s. By November 30, 1993, final production numbers were announced to the dealers and the USA was to receive 39 X85 (new Flatnose) Turbo 3.6 S coupes. Rolf Sprenger at Porsche Exclusive together with PCNA and Porsche Canada decided to build a final limited production of 17 Turbo 3.6 S coupes without the Flatnose bodywork. By doing this they ended up creating one of the lowest production runs of all air-cooled Turbo models. As well, the Turbo 3.6 S "Package" was the most powerful single turbo, rear-drive 911 ever offered for sale in North America.
The Turbo 3.6 S "Package" included the 380 hp X88 engine modifications inspired by the Andial­built Brumos Racing IMSA engine, with a larger turbocharger, intercooler, fuel injectors, oil coolers, camshaft, and four-pipe exhaust system adding 25 hp at a higher peak rpm (for both power and torque). Additionally, the "Package" cars had Porsche Exclusive options X92 Turbo S front spoiler, X93 Turbo S rear spoiler, X99 Turbo S (959 style) rear fender vents, and polished 18″ three-piece Speedline alloy wheels. This Package cost an additional $20,921 on top of the $99,000 base price for the Turbo 3.6.
According to an accompanying internal Porsche Hausmitteilung, this is #9 of the 17 Turbo 3.6 S "Package" models by vin number. Retaining a copy of its original window sticker, and original books and pamphlets, as well as several past bills of sale and service records, the history of this car is known back to initial delivery. In addition to the standard Turbo and Turbo S "Package" options, this car was also optioned with a full leather interior in Black, Dark Rootwood gear shift knob and handbrake lever, electronically adjustable sports seats, remote 6-disc changer, and electric sunroof.
Ordered by and sold new by the Houston, TX Porsche dealer, Don McGill Imports Inc. to its first and longest-term owner on February 2, 1994. A Carfax report indicates that this Turbo S remained with its original owner for almost twenty-five years and showed around 8,500 miles of use when sold (less than 355 miles per year). This Turbo S ended up in a collection in Arizona before being acquired by its most recent owner.
Upon arrival at Canepa, every vehicle goes through a process called the Canepa Difference where the vehicle is test driven by Bruce Canepa himself and then fully inspected. Once inspected, serviced, and deemed mechanically sound, the Turbo was taken in by Canepa's concourse award-winning detailers to make sure the car is as completely spotless and as if straight from the factory. Although, in the case of this 964, Canepa didn't have much to do as it was kept in such amazing condition due to being collector-owned throughout its entire life.
Options:
Completed 11/93
L741 Gloss Black Paint
VN Black Leather Interior
All Leather Seats
1994 Turbo "S" Model
CO2 USA Delivery
XC9 Gear shift knob in Dark Rootwood
X32 Parking Brake Handle in Dark Rootwood
X88 Turbo "S" Increased Horsepower
X90 Wheel caps with Porsche crest (MY1994)
X92 Turbo "S" Front Spoiler Lip
X93 Special Turbo "S" Rear spoiler
X99 Turbo "S" Rear Fender Vents
383 Sport seat with elec. height adj. – left
387 Sport seat with elec. height adj. – right
650 Electric Sunroof
692 Remote 6-Disc CD changer Alpine Porsche CDC-1
09981 Werk 1 Transfer (X Options Installed)
09991 Sonderwunsch Programm (Special Wishes, Porsche Exclusive)
Attached memorandums from Porsche indicate that this is one of just seventeen 3.6 Turbo S "Package" cars sold worldwide.
Click here for further information  
---
collectorscarworld is partnering with the most renowned classic car specialists and dealer-ships in the world. We always offer selected rare and sought-after collectors cars and supercars for sale and every day a special car is featured for one of our partners. The passion for classic cars is diverse, sometimes it concerns the beauty of forms that can be admired at a concours, sometimes it is the smell of rubber , old leather and gasoline at a racing event or trip in the sunset.
Or its a classic car you have great memories with or which your parents owned a longtime ago. Classic cars and supercars are an expression of the lifestyle that someone shares with other petrolheads, and which is immortal, enduring and always a lot of fun. If you are looking for a special car or need support in the evaluation and history of cars, please contact us at info@collectorscarworld.com
---