Canepa is offering this Schuppan Porsche 962 CR for sale.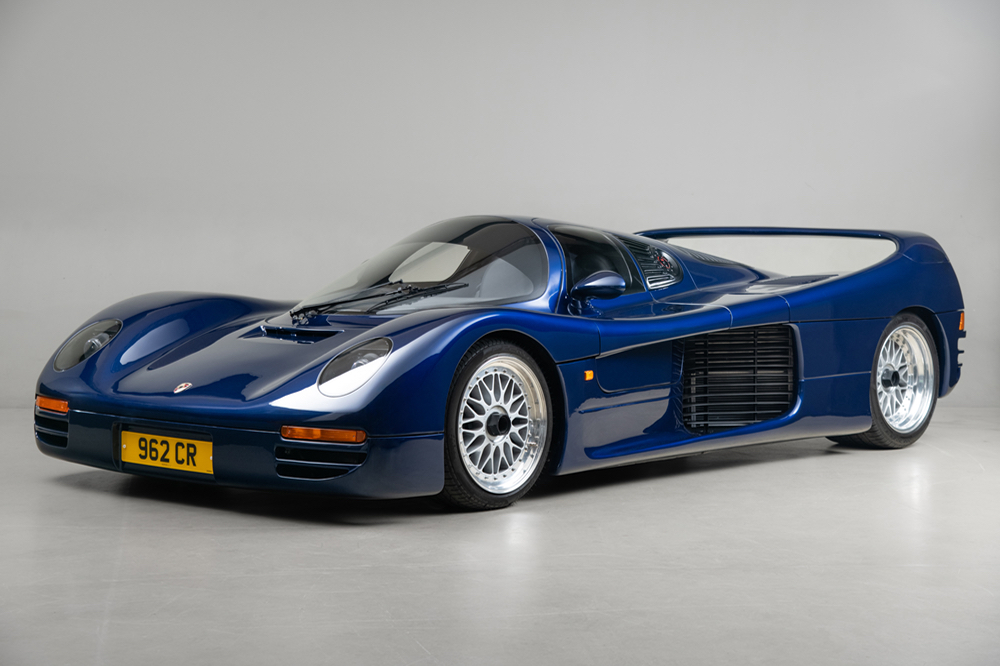 Prototype and development car – chassis #1
1 of 6 ever made
Carbon-fibre monocoque and bodywork
Twin-turbo 3.3-litre flat-6 engine
600hp
0-60 in 3.5 seconds
Porsche's 962 was the most successful endurance race vehicle of all time, and in the early 1990s, F1 driver and Le Mans champion Vern Schuppan had the notion to make a road-legal version of it. This legendary hypercar would soon be known as the Schuppan 962CR.
Vern Schuppan had a distinguished career in racing. He transitioned from driving karts to Formula 5000 to Indy cars and F1 over the 1970s and 1980s. In 1983, he won Le Mans as a works Porsche driver at the wheel of a Porsche 956 Rothmans with co-drivers Hurley Haywood and Al Holbert. His relationship with Porsche allowed him to develop his own project to turn the 962 into a road car. The core design and running gear of the 962 were to be used in Schuppan's concept for this new automobile, which would be coupled with a specially manufactured carbon fiber chassis by Reynard. The 600-horsepower 6-cylinder twin turbo Porsche engines were built to IMSA specifications. The bodywork was made of carbon fiber, according to a special design by Mike Simco, and leather bucket seats along with other modifications were added to make the vehicle more road-worthy.
Performance was mind-boggling, with a top speed of 230 mph and a 0-60 time of 3.5 seconds. In 1994, it was said to be the most expensive road automobile, with a price tag of US$1.5 million. Regrettably, Schuppan's firm VSL shut down after just six automobiles were completed due to a combination of high manufacturing costs. Today, only four surviving examples are known to exist.
Built-in 1991, this 962CR was the prototype and development vehicle for the
proposed production run. It stands out from the other Schuppan 962 vehicles because it was constructed using an ex-Omron TS-01 ACT carbon fiber chassis that had participated in the 1990 Le Mans race. This vehicle was featured in advertising collateral and the press at the time. The CR01 went into private hands after serving as the VSL's premier marketing vehicle. The expert group "Group C" maintained and updated it. The history file that goes with it describes the projects and significant expenses. Trevor Crisp, a former Group C employee who is now with Katana and one of the car's constructors, looked after the vehicle when a private individual owned it.
A few decades later, the penultimate owner, a British man living in France, had the engine rebuilt and dyno tested. When the present owner bought the automobile from him, he immediately started working on a complete restoration. The automobile was dismantled and examined. The car's safety-critical components have all undergone crack testing and have either been replaced or repaired. To achieve a better fit and a better finish, the bodywork was completely stripped down to bare carbon. It has been repainted in Lapis blue, a Porsche color.
Following a partial disassembly, the car was meticulously reassembled and subjected to dyno testing, with power graphs available as evidence. At this time, the twin Turbos also underwent comprehensive rebuilding. During the engine's removal from the vehicle, an upgraded alternator configuration and pulley arrangement were introduced, enabling the incorporation of an air-conditioning system—a first for this car model. Despite assertions in Schuppan literature that these vehicles were originally equipped with air conditioning, historical reality indicated otherwise. Today, the driver can luxuriate in the comfort of functional air conditioning, supplemented by external airflow through an upper bonnet intake.
The gearbox underwent a thorough disassembly, inspection, and subsequent reconstruction. Notably, no wear was detected on the gears. The chassis was assessed and found to be in impeccable condition, necessitating only a polishing to restore its initial luster. Streamlining future maintenance, quick-release wiring connectors were integrated to facilitate the detachment of the engine and gearbox assembly from the chassis. The initial bag tank was substituted with a new unit.
The suspension components—uprights, calipers, and wishbones—underwent crack testing, followed by a meticulous stripping, repainting, and reassembly process. Fresh bearings and seals were installed throughout. The bespoke stainless steel exhaust system and intake plenums were meticulously polished to a show-quality finish.
Interior modifications included the lowered positioning of seats to accommodate taller drivers and passengers exceeding 6 feet in height. A new windscreen and side glass were commissioned from Pilkington to enhance driver visibility. Additionally, the steering wheel was outfitted with a new quick-release mechanism to facilitate closer proximity to the driver and easier ingress and egress. The interior underwent a complete re-trimming process in black leather.
Advanced enhancements incorporated a reverse camera featuring an LCD screen located in the traditional rear-view mirror position. Electronically adjustable side mirrors have been introduced as well. Lighting was comprehensively modernized by integrating a more efficient blend of halogen and LED units. All four wheels underwent a comprehensive restoration, with new barrels and hardware installed and new tires fitted. In its current state, the vehicle exudes the essence of a fully operational 1990s Hypercar. Notably, these updates are implemented without compromising the inherent originality of the car.
Chassis number one, perhaps the purest supercar ever made, is also one of the rarest road-legal supercars ever made. This is a once-in-a-lifetime opportunity to purchase a 962CR, giving its future owner the chance to own and appreciate a genuine blue-chip investment.
Race history of Porsche 962 C TS962-01C SCHUPPAN
1990 Omron 55 (AUS)
Fuji 500 Kilometres – Eje Elgh (S), Vern Schuppan (AUS)
1990 Omron 55 (AUS)
Fuji 1000 Kilometres – Vern Schuppan (AUS), Eje Elgh (S), Eje Eigh (S), Thomas
Mezera (AUS) – Race stopped due to heavy rain
1990 Omron 19
World Sports Prototype Championship Suzuka – Eje Eigh (S), Vern Schuppan
(AUS) – 9th
1990 Omron 55 (AUS)
24 Heures Le Mans – Eje Eigh, Thomas Danielson, Thomas Mezera,
Vern Schuppan – 15th
1991 Omron 55 (AUS)
Fuji 500 – Vern Schuppan (AUS), Eje Elgh (S), Eje Eigh (S), Thomas Mezera
(AUS) – DNQ
1991 Omron 55 (AUS)
Suzuka 1000 Kilometres – Vern Schuppan (AUS), Eje Eigh (S) Thomas Mezera
(AUS) – 11th
1991 Omron 55 (AUS)
Sugo 500 Kilometres – Eje Elgh (S), Thomas Mezera (AUS) – 9th
1991 Omron 55 (AUS)
Fuji 1000 Kilometres – Eje Elgh (S), Thomas Mezera (AUS) – 4th
1991 Team 0123 (AUS)
Suzuka 1000 Kilometres – Julian Bailey (GB). Kenny Acheson (GB) DNF
Click here for further information
---
collectorscarworld is partnering with the most renowned classic car specialists and dealer-ships in the world. We always offer selected rare and sought-after collectors cars and supercars for sale and every day a special car is featured for one of our partners. The passion for classic cars is diverse, sometimes it concerns the beauty of forms that can be admired at a concours, sometimes it is the smell of rubber , old leather and gasoline at a racing event or trip in the sunset.
Or its a classic car you have great memories with or which your parents owned a longtime ago. Classic cars and supercars are an expression of the lifestyle that someone shares with other petrolheads, and which is immortal, enduring and always a lot of fun. If you are looking for a special car or need support in the evaluation and history of cars, please contact us at info@collectorscarworld.com
---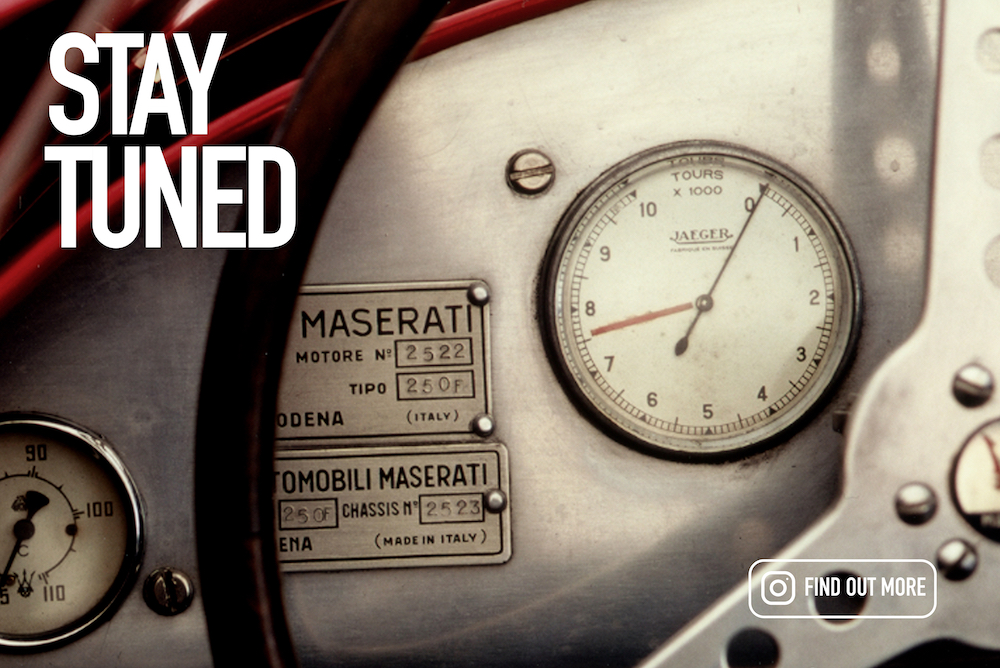 Interested in further "Cars For Sale"? Click here.