Canepa is offering this Porsche 911 Carrera for sale. Original owner 1985 – 2021 31,388 original miles. Highly optioned, sunroof, leather, 8-way electric seats. Original 3.2-liter air-cooled engine, 5-speed manual transmission. Includes owner's manuals, jack, tire pump, spare wheel and tire.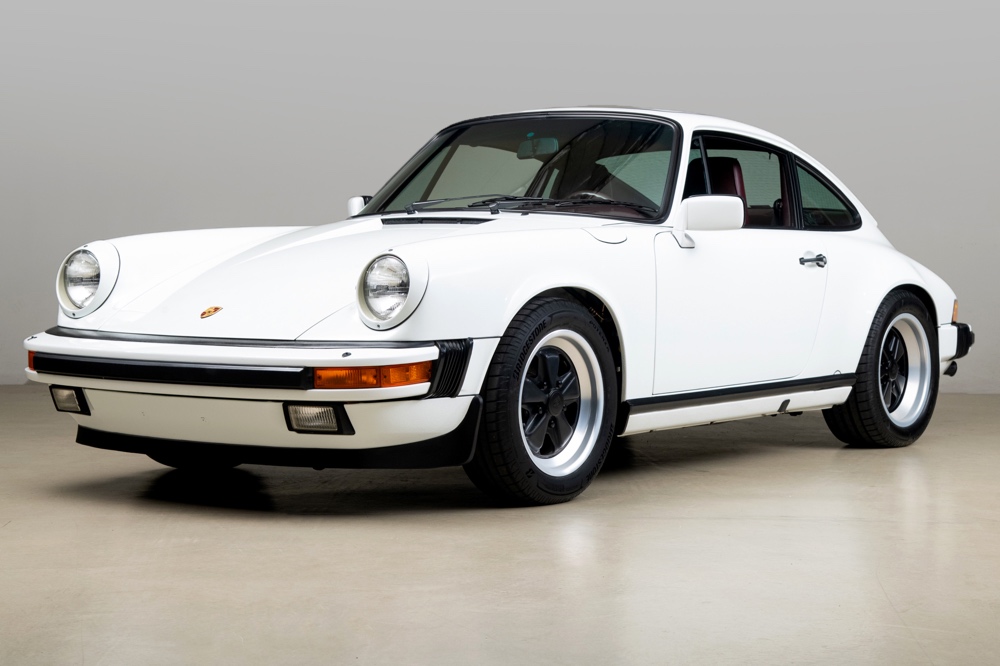 The birth of the "G Series" 911, which was produced from 1974 until 1989, was the next evolution of the 911 and proved to be an incredible foundation to work with. With the G series reintroducing worldwide classics like the Carrera, which shared the legendary Carrera RS engine, or the 930, the first turbocharged 911 street car, there was a bit of everything for everyone. Highly capable as a performance car and equally comfortable on long drives, the G series 911 has proved again that evolution is sometimes a good thing.
1984 marked the rebirth of the 3.2 Carrera name, having last been used by Porsche in 1977. Numerous upgrades were applied to the beloved 911 platform that made it even better to drive than before. A larger 3.2-liter engine, larger brakes, upgraded fuel and injection system components.
Mr. Ladd worked as an electrical superintendent for the majority of his life. Over the years, Mr. Ladd always selected a car along with his wife that could accommodate his family's needs, but never something truly of his own. His children recall their dad allowing their mom to select the cars for the family, including a couple of jeeps and other vehicles. In the 1980's, after 40 years of hard work, Mr. Ladd decided to indulge himself with a new Porsche. For years, Mr. Ladd had always admired the design and quality that a Porsche represented. He viewed this car as an accomplishment in his long career and transition into the retirement lifestyle.
On May 18th, 1985, Mr. and Mrs. Ladd arrived at Pacific Valley Porsche in Stockton, CA to take delivery of their new Carrera. The 911 was painted Grand Prix White with a very unique burgundy interior. It was spec'd with a limited slip differential, power locks, 16" Fuchs forged alloy wheels, leather interior, 8-way electric seats for driver and passenger, cruise control, sport suspension, and a sunroof. A long-time enthusiast of Porsches, this car's original owner had a special place in his heart for the air-cooled 911s.
Mr. Ladd took exceptional care of the 911 throughout his entire ownership, ensuring that the car was driven but also impeccably serviced. He took the car to the same Porsche dealership that delivered his car. Upon his passing, the Carrera was given to his son, who made sure to protect the car through the next years. During their entire 36-year ownership, the car saw a total of only 31,224 miles, keeping this example in pristine condition with extended care from the owner.
Upon arrival at Canepa, each and every collector car for sale is put through an extensive and diligent process called the "Canepa Difference." This includes a major and comprehensive mechanical inspection where all systems are checked and serviced as necessary. They also receive an award-winning concours-level detailing, a thorough cleaning of each and every surface that ensures that every car is a sight to behold. Finishing off with a foam-pad-only polish to enhance the paint finish, each and every car is a perfect example and a personification of Bruce Canepa's impeccable attention to detail.
Bruce is so impressed with this special low mileage 911 Carrera he decided to add a few factory enhancements including a factory Carrera optional front chin spoiler, 16×8 rear alloy wheels, and a set of new Bridgestone Potenza Sport Radial tires 205/55/R16 front and 245/45/R16 rear.
Finding a Porsche 911 kept by the original owner for 36 years is an increasingly rare anomaly to find in the collector market. Cars move through different hands, some more caring and thoughtful than others. With a car that was kept by a single person for more than 3 decades, it takes something special about that person to want to keep the car in their care, a sign that they truly enjoyed the car. Complete with its books, jack, and spare wheel and tire, this Porsche 911 3.2 Carrera is ready for its next owner to enjoy the exciting attributes of an air-cooled Porsche 911. A car that keeps on giving the more time you spend with it, this well-loved 911 will bring driving fun for years to come.
Click here for further information  
---
collectorscarworld is partnering with the most renowned classic car specialists and dealerships in the world. We always offer selected rare and sought-after collectors cars and supercars for sale and every day a special car is featured for one of our partners. The passion for classic cars is diverse, sometimes it concerns the beauty of forms that can be admired at a concours, sometimes it is the smell of rubber , old leather and gasoline at a racing event or trip in the sunset.
Or its a classic car you have great memories with or which your parents owned a longtime ago. Classic cars and supercars are an expression of the lifestyle that someone shares with other petrolheads, and which is immortal, enduring and always a lot of fun. If you are looking for a special car or need support in the evaluation and history of cars, please contact us at info@collectorscarworld.com
---