Grand Prix Classics is offering this Triumph TR8 Racing Coupe for sale.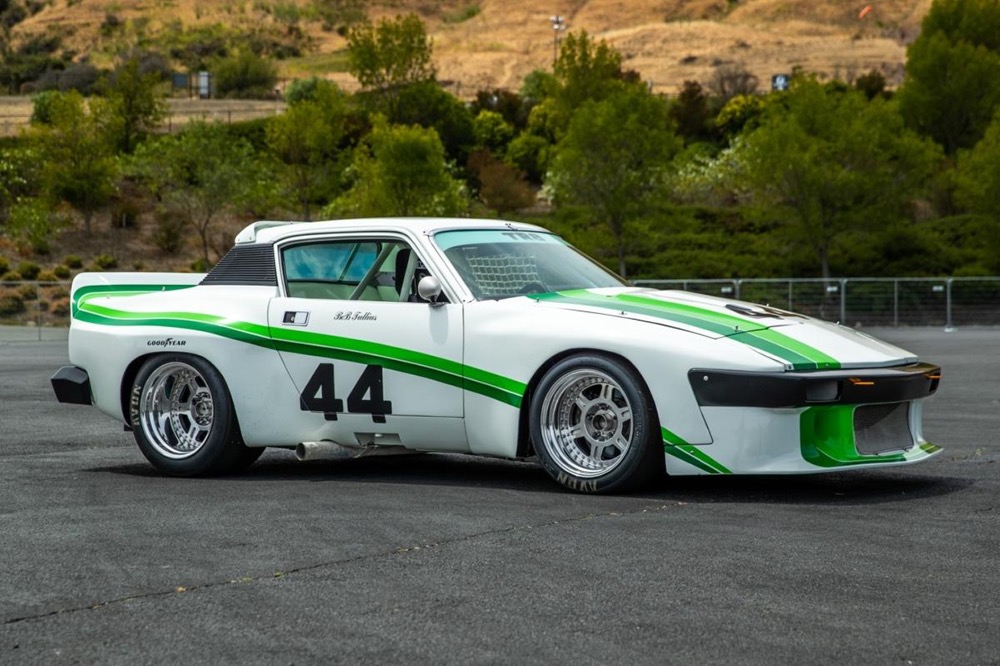 Make: Triumph
Model: Group 44 TR8
Type: IMSA GTO
Year: 1979
VIN #: 79-289
Exterior: Group 44 livery of white with green stripes
Production: 1 of 2 built, 8 race wins to this chassis, 1 to the other
Engine: 3.9 Liter fuel injected Rover alloy block and head V8 with 395 HP.
Gearbox: Triumph close ratio 4-Speed
Weight: 2400 lbs dry
History: Bob Tullius' Group 44 team was the British Leyland (Jaguar Triumph) factory USA racing effort. They won 13 SCCA National Championships, two Trans Am Championships, and a Trans Am Manufacturer's Championship before 1979, when Group 44 started its development and racing program of the Triumph TR8. Bob Tullius realized the potential of the lightweight, aerodynamic V8 powered TR8 and proved that it was a race winner. In its debut race at the Watkins Glen 6 Hour, the TR8 dominated the class against the Corvettes and Camaros and finished 1st in class and 7th overall. It was so successful in SCCA competition that the SCCA continued to give the TR8 added weight penalties. Consequently, Tullius took the TR8 to the IMSA series where it finished 1st in class and 6th overall at the Sebring 12 Hours. The TR8 continued to dominate the GTO class over the Chevrolet Corvettes and Porsche RSRs placing second in the IMSA GTO championship.
The Triumph TR8 was one of the most successful SCCA and IMSA production-based racing cars built. With eight class wins in the 1979-1980 seasons and second place in the 1980 IMSA GTO points championship. Surviving in stunning original race condition as it left the racetrack at its final race – Sebring 12 Hours. Still with paint, body and mechanics from March 1981. This TR8 stayed with Bob Tullius and the Group 44 team until 2008 when selling to its second owner. Sold in 2011 to its third owner who undertook a comprehensive restoration. Then selling to its fourth owner in 2019, where it underwent a complete mechanical rebuilding, completed in 2021.
This is an opportunity to acquire one of the most recognizable, successful and original SCCA/IMSA racing cars of the era. It is eligible to race today in most historic venues and would be a showstopper and race winner once again.
Race History:
1979
July 7: 6 Hr Watkins Glen – 7th Overall, 1st in class
August 5: Trans Am Watkins Glen – 4th Overall, 1st in class
September 2: 500 Mile Road America – 6th Overall, 1st in class
September 23: 100 Mile Road Atlanta – 13th Overall, 2nd in class
October 14: Trans Am Laguna Seca – 11th Overall, 1st in class
November 25: 250 Mile Daytona Finale – 46th Overall
1980
February 3: 24 Hr Daytona- 52nd Overall
March 22: 12 Hr Sebring – 6th Overall, 1st in class
April 27: 5 Hr Riverside – 27th Overall, 11th in class
May 4: 100 Mile Laguna Seca – 9th Overall, 2nd in class
May 26: 1.5 Hr Lime Rock – 4th Overall, 2nd in class
June 15: 100 Mile Brainerd – 17th Overall
July 4: 250 Mile Daytona Paul Revere – 6th Overall, 1st in class
August 17: 6 Hr Mosport – 8th Overall, 1st in class
August 31: 500 Mile Road America – 7th Overall, 1st in class
September 21: 50 Mile Road Atlanta 1 – 12th Overall, 2nd in class
November 30: 250 Mile Daytona Finale – 8th Overall, 2nd in class
1981
March 21: 12 Hr Sebring, Group 44 – 10th Overall, 4th in class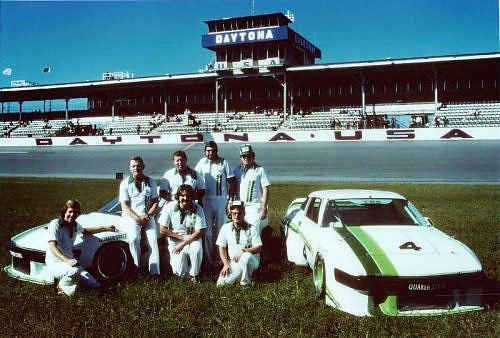 Condition: A comprehensive bare shell cosmetic and mechanical restoration completed in July of 2021, to include bare shell body paint of an original car. Full mechanical rebuild of all components from A to Z. Full engine rebuild by Top of the Hill, with build sheet and dyno sheet included, fuel injection, fuel lines, everything. Complete rebuild of gearbox, differential, all suspension, brakes, new fuel cell, fire system, seatbelts, alignment. Track tested at Sonoma Raceway. Raced at RMMR Laguna Seca in August of 2021 and Velocity Invitational at Laguna Seca in November of 2021, then at Rolex Monterey Motorsports Reunion of 2022. Dialed in, fresh competitive. Restoration receipts totalling well over $250,000.
Documents: Four large binders. One containing Group 44 Team records, set up sheets, dyno sheets, and race results. One with original Group 44 promotional materials, flyers, British Leyland correspondence. One with the complete restoration receipts and photographs. One with miscellaneous items.
Recent Races:
2021:
August RMMR Laguna Seca – First Event
November Velocity Invitational Laguna Seca – qualified 4th, ran 3rd.
2022:
August Rolex Monterey Motorsports Reunion Laguna Seca
Of Note: The most successful IMSA GTO car of the 1979-1980 seasons. One of only 2 British Leyland factory backed Triumph TR8s, raced by Bob Tullius Group 44 team. This chassis has the most wins. A documented outstanding restoration to the highest level. A great entry for the Daytona "Classic" 24 Hour and the Sebring "Classic" 12 Hour, RMMR, Velocity Invitational.
Group 44 won 13 SCCA National Championships, two Trans Am Championships, and one Trans Am Manufacturer's Championship. Then went on to develop the Jaguar XJR5 GTP cars, which raced in the IMSA Series.
Spares: Engine, gearbox, wheels, and much more.
Click here for further information  
---
collectorscarworld is partnering with the most renowned classic car specialists and dealer-ships in the world. We always offer selected rare and sought-after collectors cars and supercars for sale and every day a special car is featured for one of our partners. The passion for classic cars is diverse, sometimes it concerns the beauty of forms that can be admired at a concours, sometimes it is the smell of rubber , old leather and gasoline at a racing event or trip in the sunset.
Or its a classic car you have great memories with or which your parents owned a longtime ago. Classic cars and supercars are an expression of the lifestyle that someone shares with other petrolheads, and which is immortal, enduring and always a lot of fun. If you are looking for a special car or need support in the evaluation and history of cars, please contact us at info@collectorscarworld.com
---