The 1970s would be a big deal for Richard Petty, as he would win NASCAR Grand National championships in 1971, 1972, 1974, 1975 and 1979. The car offered here is the one that got it all started, claiming the first-ever Winston Cup Series crown posted, Petty's third series title and propelling him to the $1 million mark in total career prize money. The just-released '71 G-series body design proved its worth, and beyond being a 1971 NASCAR Grand National championship-winning car, this would be the last stock car to win a NASCAR Grand National championship using a production-based body and engine.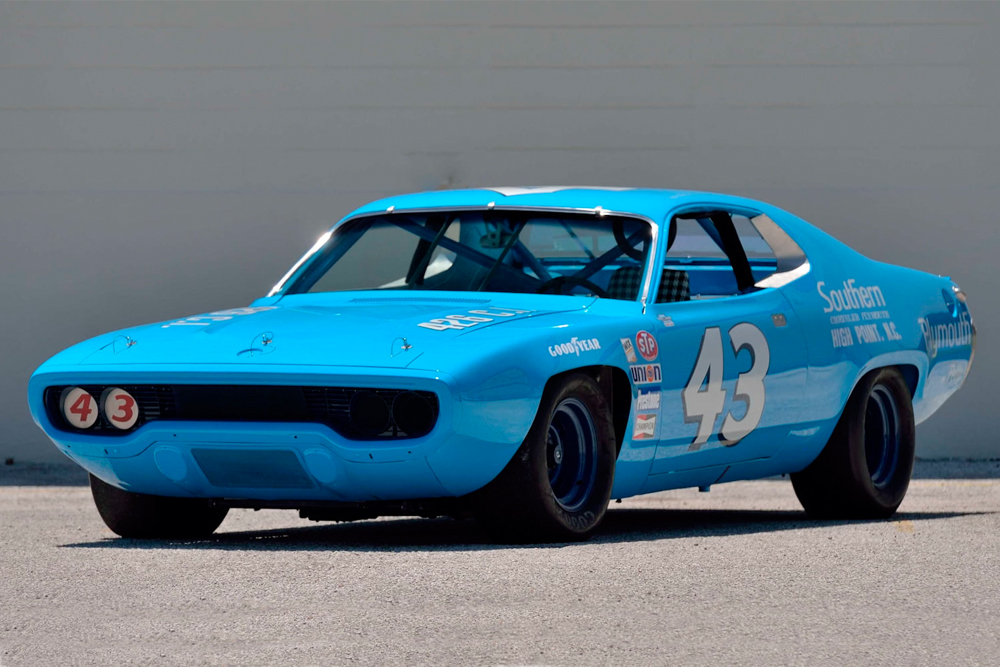 ---
One of only two Chrysler fully sponsored factory cars for 1971, this car would also uphold the final full-season honor for Plymouth, as Petty used a Dodge for part of his 1972 campaign. The car was delivered to Petty Enterprises' shop as a body-in-white, and Petty scored an incredible 21 race wins—19 in this car—and 38 top-five finishes in NASCAR's final "long season."
It even visited the White House that year by presidential invitation. Now restored to its 1971 configuration, this car features a rebuilt 426 CI Hemi NASCAR-detailed engine with the bathtub intake and cowl induction. Behind this is an A833 4-speed manual transmission with Hurst shifter and an 8.75-inch Mopar rear end. Of course, the gorgeous body is covered in trademark Petty Blue with period-exact lettering and decals. The interior features a black plaid seat and Petty's cushioned peace-sign headrest, as well as a custom dash, Prestolite ignition parts and taped steering wheel. Chrysler's torsion-bar front suspension with reinforced A-arms and dual shocks and rear leaf-spring suspension with tubular shocks remain in place. Body changes from stock include the blocked-off headlight and tail-lamp openings, rear-bumper aero covers, a mesh grille and 15×8-inch steel racing wheels.
With an album of restoration photos included, this car has been showcased in "Hot Rod" magazine and was prominently featured at the 2009 Woodward Dream Cruise. This is Petty's last Plymouth-sponsored car, the first STP-sponsored car and the last Plymouth that Petty drove in competition.
---
Report by mecum.com
---