Canepa is offering this Ford Mustang Mach 1 for sale.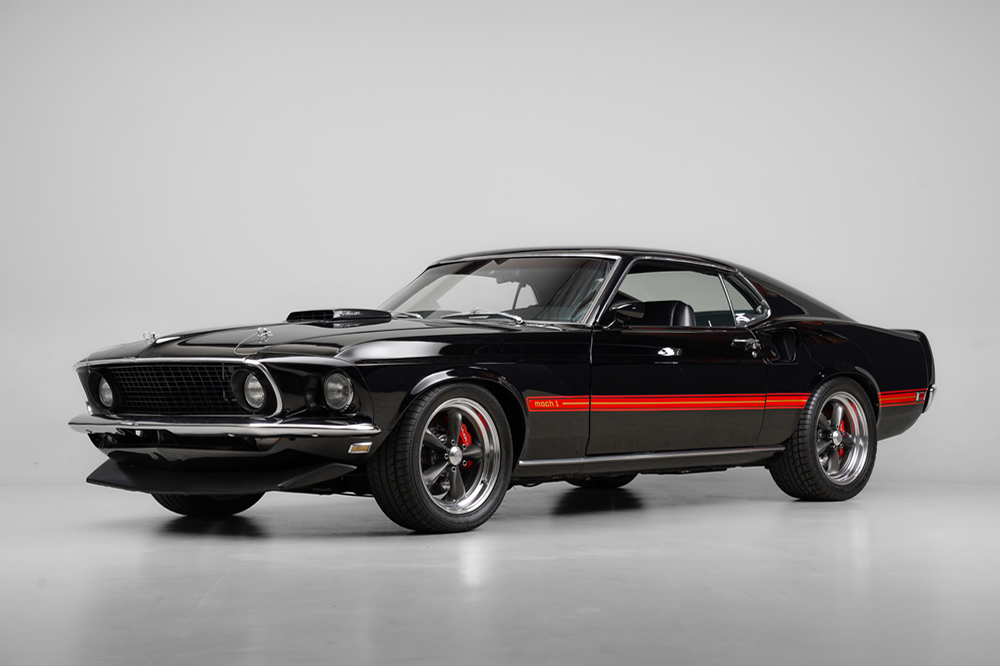 No-expense-spared Mustang Mach 1 "restomod" by Canepa
Original Cobra Jet 428 upgraded to 490 horsepower and 517lb/ft of torque
Tremec 5-speed manual transmission, modern-era suspension and brake systems installed
Vintage Air A/C system, upgraded cooling system, interior sound/heat insulation
A true "one-of-one" Mach 1 build with modern performance and vintage looks
"The most rewarding Mustang Mach 1 to drive, period." – Bruce Canepa
"Never meet your heroes" is likely something you'll hear as you search for your pedestal-sitting automobile. You've held it in such high regard for so long that when you first drive it you may end up being underwhelmed or, even worse, disappointed. However, the evolution of the restomod has completely changed that phrase and what it means to enjoy a vintage car, and nothing personifies this more than this Mach 1. Mega power, modern suspension, modern comfort amenities, and of course old-school sex appeal all apply here with a no-expense-spared build of this 1969 Ford Mustang Mach 1.
Finding an original rust-free Mach 1 Cobra Jet is sometimes a lifetime search for some, and this Mustang had something special in store for it. A previous owner wanted the perfect pony car and found this example, a numbers-matching example that had received a $100,000 rotisserie restoration. He drove the car for the very first time and it was immediately apparent that he had gotten used to modern car performance. In modern terms, driving a stock Mach 1's performance does not hold up due to major deficiencies in the brake and suspension department, trying to keep up with the 335 horsepower, big block 428 Cobra Jet engine. After a few more drives and thinking about what to do, in 2007 he brought the car to Canepa and from there the Mustang would become the ultimate Mach 1 Cobra Jet "restomod."
The project spanned the course of three years, an on-going project with additions constantly being made. Bruce Canepa quickly understood and knew what to do: make the Mach 1 outperform modern cars, keeping it as stock-looking as possible, without making any permanent changes that couldn't be returned to stock if desired. Three main areas were addressed to upgrade the Mach 1: engine and transmission, suspension and brakes, and comfort amenities.
The build process began by removing the stock suspension, brakes, steering, and drivetrain. Canepa Motorsport's racing mechanics evaluated and determined what would be done to have the car perform to the highest level, all while remaining streetable and comfortable.
Before the car was taken apart Bruce had a vision for the Mach 1. It would be lowered 1" and be fitted with 17" Torque Thrust wheels that accepted modern high-performance tires. The suspension received a set of Maier racing springs, custom-valved Koni adjustable shock absorbers, larger sway bars, Maier reinforced front control arms, shock tower brace, polyurethane bushings, and custom built 17" Torque Thrust wheels with high performance Bridgestone tires. The brakes were completely upgraded with a set of Baer 6-piston Pro+13 disc brakes front and rear connected to all new brake lines. Steering was upgraded with Unisteer's power rack and pinion kit, with a subframe cradle to reduce front end flex under heavy loads during cornering and braking. Once all the suspension and steering modifications were completed, it was corner weighted and aligned by Canepa Motorsport racing technicians.
The heart of the Mach 1 is the prodigious 428 Cobra Jet engine, barely fitting underneath the bodywork evident by the factory Shaker hood. Bruce wanted more out of the engine, freeing up horsepower that modern technology now could deliver. The engine was stripped down, blueprinted, and the big block was rebuilt to 465 cubic inches, yielding an astounding 490 horsepower and 517lb/ft of torque. The engine received new Edelbrock Performer RPM aluminum cylinder heads, forged crankshaft, connecting rods, pistons, piston pins and locks, piston rings, main bearings, connecting rod bearings, camshaft bearings, timing chain, Comp camshaft, and valve lifters. Routing the power to the rear wheels was a new Tremec TKO 600 Road Race 5-speed transmission with a lightweight flywheel and a dual friction Centerforce clutch. A new custom driveshaft mated to a new 9" Ford Tru-Trac limited slip differential. The car still breathes through its original shaker hood, with a custom set of FRP headers and ceramic coated, custom mandrel bent 3" exhaust system with Magnaflow mufflers.
No system was overlooked, from keeping the upgraded engine cool with a Griffen high capacity radiator with a Moroso coolant expansion tank, to keeping the driver cool with a new Vintage Air Generation IV air conditioning system. The charging system was rebuilt with a Powermaster 140 amp 1-wire alternator. The stock heater was restored with a new heater core. All of the instruments were pulled from the car and rebuilt, as were all the window winding mechanisms. Even the headlights were upgraded with a set of European Cibie H1 and H4 headlights.
While the car was being mechanically upgraded, the entire interior was removed and the body's interior was lined with sound deadener and heat insulation, creating a cabin that is both comfortable and stock looking in appearance.
In person the car is remarkable to behold. With a quick glance it looks relatively stock, but upon closer inspection you begin to realize how special this car is. Other than the lowered stance and bigger wheels and tires, most people would have no idea what this 53-year old pony car can unleash. With over $185,000 spent on upgrading and perfecting this Mustang, there is certainly no other Mach 1 like this.
After the owner thoroughly enjoyed his new pony car, he sold the car to Canepa to buy other cars for his collection. In April of 2014 the most recent owner purchased the car after wanting a muscle car that performed like a modern car. Fitting the bill perfectly, he kept the Mach 1 for over 5 years. He drove it just over 4,000 miles during his ownership, taking it out for spirited drives in the backroads of Sonoma, California. Upon returning to Canepa, it looks as if it had never left. The restored finishes from the rotisserie restoration are still in excellent condition, the interior has the same old-school charm, all while the upgrades making this a must-have Mustang. The car was thoroughly cleaned inside and out, the black paint polished with only foam pads and light polish, and the Mach 1 now sits ready for its next owner to take anyone by surprise. Whether it's a stoplight drag race, Sunday weekend backroad jaunts or coastal cruising, this under-the-radar Ford Mustang Mach 1 will do all equally and keep the owner grinning.
Click here for further information 
---
collectorscarworld is partnering with the most renowned classic car specialists and dealer-ships in the world. We always offer selected rare and sought-after collectors cars and supercars for sale and every day a special car is featured for one of our partners. The passion for classic cars is diverse, sometimes it concerns the beauty of forms that can be admired at a concours, sometimes it is the smell of rubber , old leather and gasoline at a racing event or trip in the sunset.
Or its a classic car you have great memories with or which your parents owned a longtime ago. Classic cars and supercars are an expression of the lifestyle that someone shares with other petrolheads, and which is immortal, enduring and always a lot of fun. If you are looking for a special car or need support in the evaluation and history of cars, please contact us at info@collectorscarworld.com
---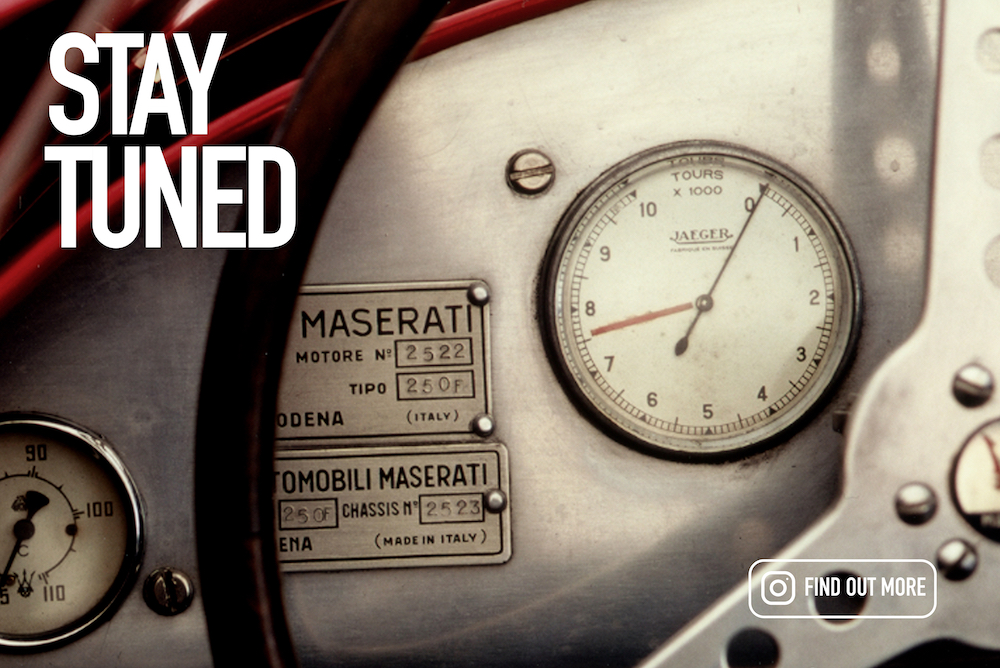 Interested in further "Cars For Sale"? Click here.