Canepa is offering this Porsche 911 "OUTLAW" for sale.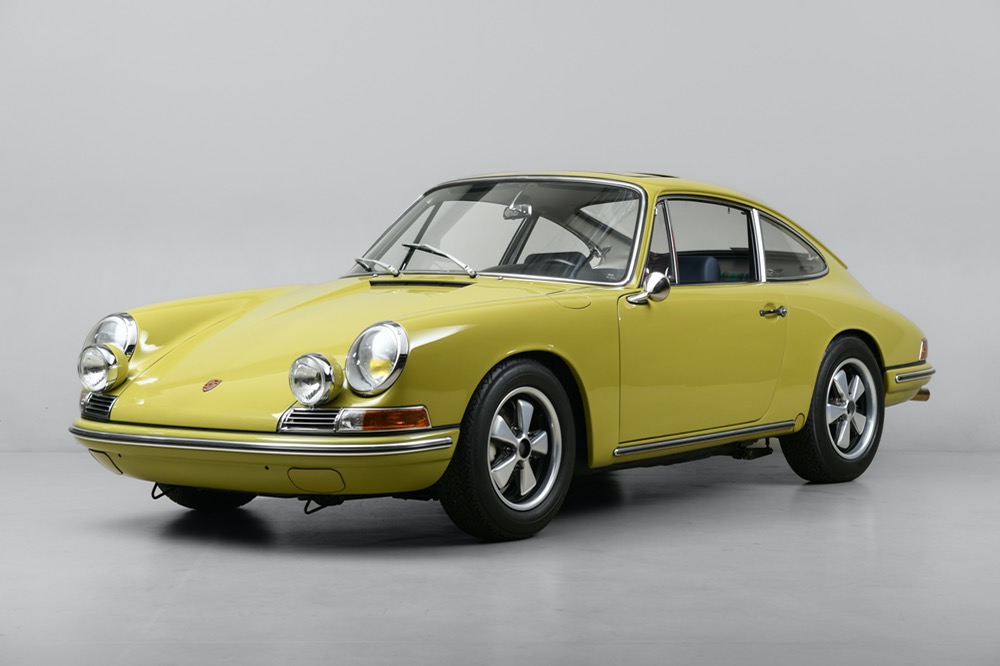 Original Factory Sunroof 911 (1 of 200)
Full "Outlaw" spec completed to the highest standard
2.8 liter fuel injected flat 6 / 915 Transmission
240hp / 235lb-ft of torque
Upgraded transmission, suspension, brakes, wheel/tires, etc.
Stunning Golden Green ('68 special color) with tartan plaid green/blue GT seats and complimentary interior trim
A very cool "no expense spared" 911 Outlaw with performance, handling and comfort
This isn't your average '67 911, and this definitely isn't your average outlaw.
The first version of the Porsche 911 is a tribute to the company's stunning five-decade evolution. The 911 is a timeless classic. Despite going through various evolutions over the years, it is still, without a doubt, the most well-liked Porsche model.
This specific example is far from stock, but that's not a bad thing. This vehicle is a true masterpiece, combining classic original components with subtle modern touches exemplifying the vision and passion of its most recent owners.
What started as a humble '67 Porsche 911 with a 2.0 liter flat six and factory sunroof has since become a gorgeous Golden Green '67 outlaw 911 sporting a '73 911T 2.7 liter that has been bored out to 2.8 liters pushing 240hp and 235lb-ft of torque.
When this car was originally restored and modified, it was a 3-year rotisserie process done to an extremely high standard of excellence. The 911 was subjected to a fresh '73 911T 2.7 liter, 915 transmission, and a Golden Green paint finish paying homage to the special-order color offer from 1968. Other components such as upgraded headers, exhaust, cams, suspension, and a custom upholstered interior were also tied into the original custom build of this vehicle.
When the most recent owner purchased this vehicle in 2014, he decided to enjoy the car for a few years before undergoing his own modifications to take it to the next level. Through Accumoto, the car was completely dismantled and inspected so the owner could get a complete understanding of what he was working with. He decided to clean up the look of the underside and wheel wells using WURTH material and then opted to color-match the trunk and engine compartment in order to create a cohesive canvas for his masterpiece.
With the help of Accumoto the engine was pushed further. They kept the 2.7-liter mag case but bored it to 2.8 liters and incorporated Rasant fuel injection paired with a MOTEC engine management system. As well the gearbox was rebuilt using all-new genuine Porsche bearings, synchros, and 1st-3rd sliders accompanied by a new guard LSD. Brakes and suspension were upgraded using S calipers in the front along with 6" x 15" Fuchs wheels. Elephant suspension and oil cooling were included and utilized as well.
The custom interior is where you can really witness the mesh between original and modern components. All black vinyl found within the vehicle is original S trim, thanks to Jason's efforts in scouring the Early 911S Registry for the correct interior. Custom-tinted sun visors were fabricated to pay homage to the early Porsches and VWs. GTS seats were then added to the vehicle after being re-covered in blue vinyl and tartan plaid material that would match the blue door cards. On top of this, all wiring, lights, mechanicals, and seals were addressed to ensure any and all potential problems would be prevented. As finishing touches to this work of art, an original Momo steering wheel and original leather shift knob as well as Cibie headlights and driving lights were added to complete the build.
Upon its arrival here at Canepa, it was evident that this 911 was nearly showroom ready. After going through the Canepa difference process where it was personally test-driven by Bruce Canepa and then inspected by the Canepa team of veteran technicians, it was clear to us that nothing was needed. Thus, the vehicle was sent over to Canepa's detailing team for a wash and light foam pad polish and it was off to Canepa's showroom floor.
Click here for further information
---
collectorscarworld is partnering with the most renowned classic car specialists and dealer-ships in the world. We always offer selected rare and sought-after collectors cars and supercars for sale and every day a special car is featured for one of our partners. The passion for classic cars is diverse, sometimes it concerns the beauty of forms that can be admired at a concours, sometimes it is the smell of rubber , old leather and gasoline at a racing event or trip in the sunset.
Or its a classic car you have great memories with or which your parents owned a longtime ago. Classic cars and supercars are an expression of the lifestyle that someone shares with other petrolheads, and which is immortal, enduring and always a lot of fun. If you are looking for a special car or need support in the evaluation and history of cars, please contact us at info@collectorscarworld.com
---