Ferrari 275 GTB 4 Cam – a reference example of the ultra desirable 4 cam model and beautifully preserved as a car by knowledgeable custodians! It is in superb condition, having covered a mere 150 miles over the last 4 years and is ready to tour, event or show!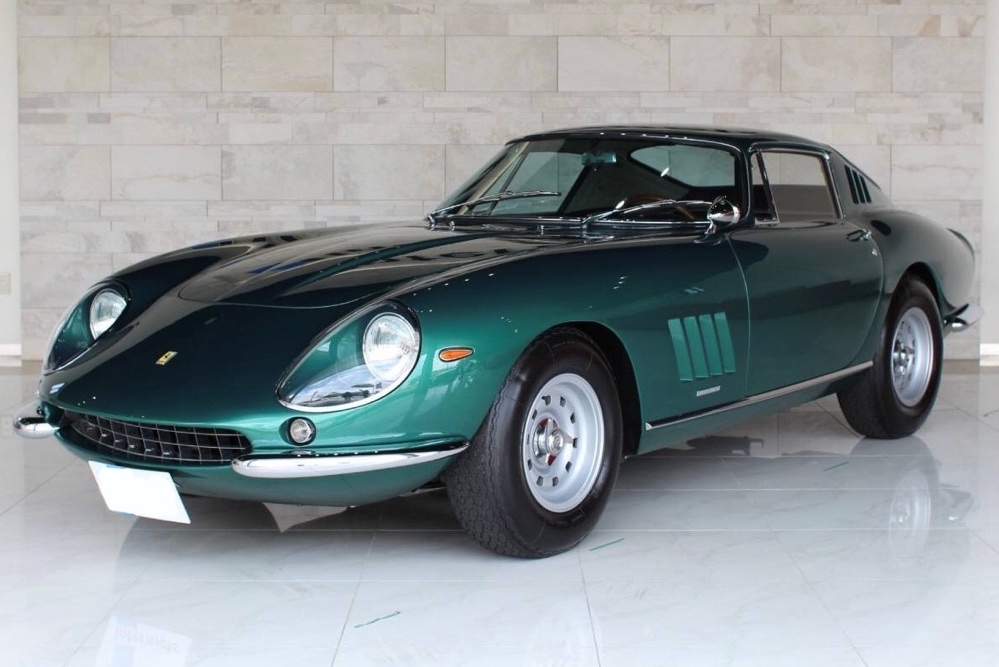 – Rare Original Pino Verde over Arancia
– Best in Class at the FCA National Meeting in 1982 and 1983
– Provenance Includes Noted Collectors Dr. Ron Finger and Sherman Wolf
– Offered with Books, Tools, Blaupunkt Radio, and Borrani Wire Wheels
– Documented by Ferrari Historian Marcel Massini
67/nov – Luigi Chinetti Motors, Greenwich, CT, USA
67 – Harrah MCM, Reno, NV, USA
1968/Jan – Hodges Chemical Company, Burlingame, CA, USA "VYA 674"
1971/Jul – Roger Selby, Redwood City, CA, USA
1976 – Grand Touring Cars, Inc. (Harley Cluxton), Phoenix, AZ, USA
1977/Jan – Mark Magruder, Grand Junction, CO, USA
1977/Oct – Grand Touring Cars, Inc., Phoenix , AZ, USA
1978 – Dr. Ronald Finger, Savannah, GA, USA
1981 – James Kircher, Ludington, MI, USA
1982 – International Auto, Chicago, IL, USA
1983 – Sherman M. Wolf, Amherst, NH, USA
1998 – Mel Weiss, Kinnelon, NJ, USA
2009 – Orin Smith, Vero Beach, FL, USA
20.. – USA
2017 – Japan
2021 – Talacrest
This example was completed in 1967 and although the original intention was to sell it in Milan, through local dealer Crepaldi, in the end it was included in a lot of cars shipped to American importer Luigi Chinetti Motors. In the November of the same year, it was supplied to Bill Harrah's Modern Classic Motors in Reno (Nevada), which, at the time, was the West Coast distributor for Ferrari.
It has enjoyed and ownership roster including a number of well known Ferrari collectors and unusually for a car of this kind, it has never been totally dismantled or completely restored and is still a matching-numbers car. According to previous certified records, dated 1976 and 1983, it had done 31,000 miles in 1976 and 40,000 miles in 1983, and 38 years later has still a recorded mileage of only 43,000 miles.
Click here for further information 
---
---