Talacrest is offering this stunning Ferrari 275 GTS for sale. One of 200 examples made. Ferrari Classiche certification.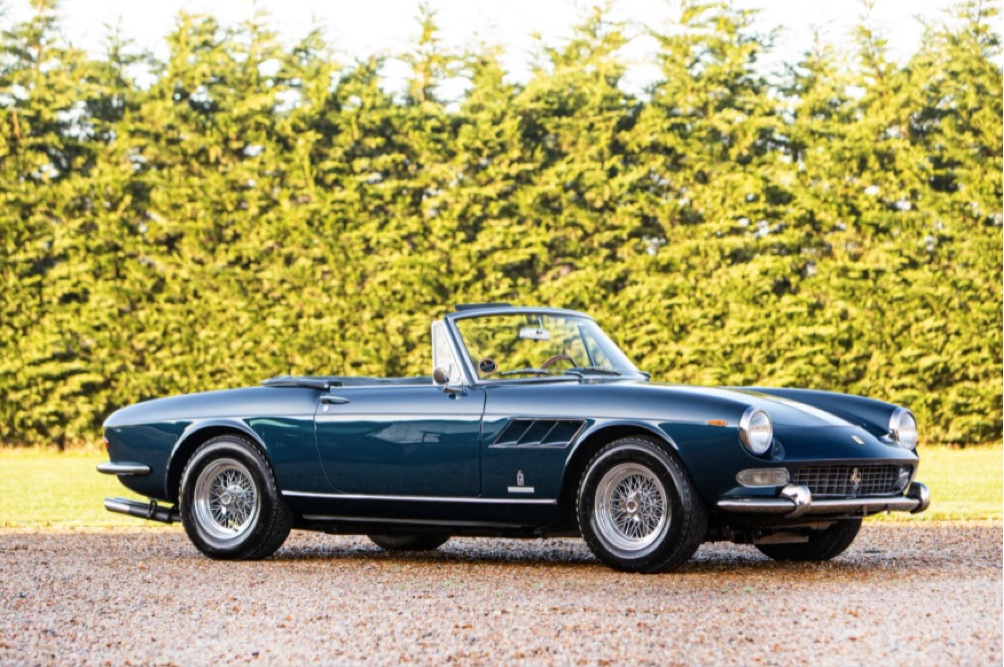 Launched at the 1964 Paris Motor Show together with it's Coupe sibling the 275 GTB – both cars shared the same running gear together with the Colombo designed 3.3 litre V12 engine – albeit the GTS variant in a slightly milder and tractable state of tune with 20 hp less produced at 600 lower rpm. This hardly makes the car a slouch – it was tested in period at 145 mph…
Designed as a replacement for the 250 GT Series 2 Spyder – the Ferrari 275 GTS was produced by Pininfarina in Turin – with a limited production run restricted to just 200 examples (of which 14 were right hand drive) – the majority of which were predictably sold in the United States. This makes this pretty convertible rarer than it's Berlinetta brethren and in truth to drive – the car arguably makes a more relaxed and sweeter tourer. This model was made between 1964 and 1966.
The 275 GTS shares the same transaxle arrangement as a GTB and even today represents a really practical and rewarding driving experience.
#07631
Talacrest is in the process of compiling the history for this car, but so far they have ascertained 07631 was brought over from the US in the late 80's andafter being owned by Austrian and German collectors was brought to the UK to be restored by Terry Hoyle on 1992.
The car was used by it's German owner enthusiastically and was seen in 1996 at the Ferrari Racing Days event at the Nurburgring.
Now in the UK, the car is in great condition and presents a rare opportunity to own a rare Enzo-era Ferrari V12 convertible – which has just been finished in Blue Sera.
Click here for further information
---
collectorscarworld is partnering with the most renowned classic car specialists and dealerships in the world. We always offer selected rare and sought-after collectors cars and supercars for sale and every day a special car is featured for one of our partners. The passion for classic cars is diverse, sometimes it concerns the beauty of forms that can be admired at a concours, sometimes it is the smell of rubber , old leather and gasoline at a racing event or trip in the sunset.
Or its a classic car you have great memories with or which your parents owned a longtime ago. Classic cars and supercars are an expression of the lifestyle that someone shares with other petrolheads, and which is immortal, enduring and always a lot of fun. If you are looking for a special car or need support in the evaluation and history of cars, please contact us at info@collectorscarworld.com
---