Talacrest is offering this Ferrari 275 GTS for sale. One of 200 examples made. "Red Book"-certified by Ferrari Classiche in February 2012.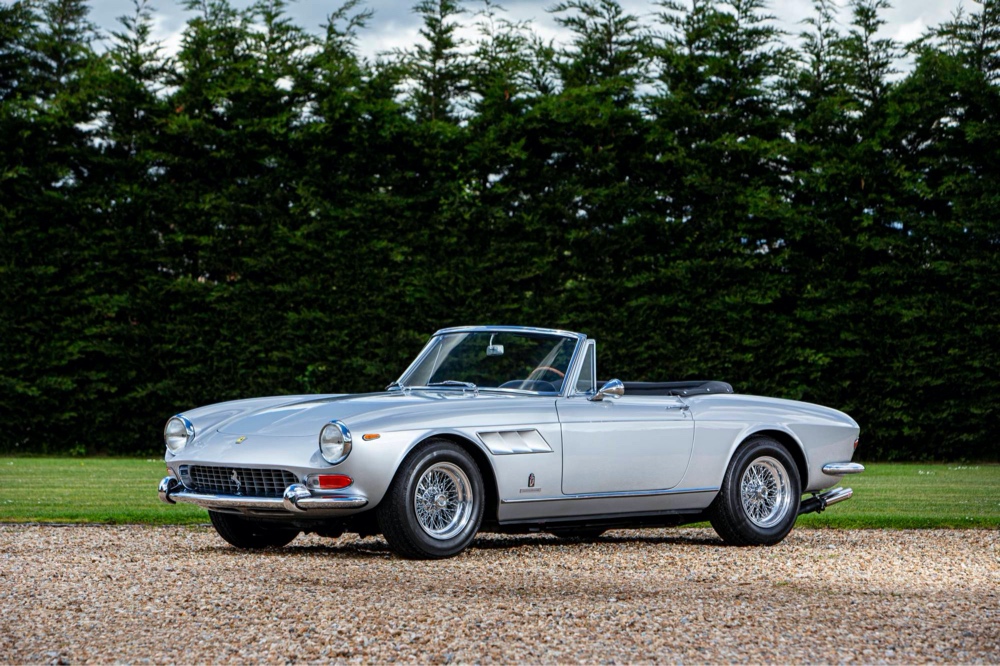 Chassis #06963
Engine #06963
Gearbox #460
Finished in Argento, with the interior upholstered in Nero leather
Retains its matching-numbers V-12 Colombo engine
Known ownership history from new until the present day
Launched at the 1964 Paris Motor Show together with it's Coupe sibling the 275 GTB – both cars shared the same running gear together with the Colombo designed 3.3 litre V12 engine – albeit the GTS variant in a slightly milder and tractable state of tune with 20 hp less produced at 600 lower rpm. This hardly makes the car a slouch – it was tested in period at 145 mph…
Designed as a replacement for the 250 GT Series 2 Spyder – the 275 GTS was produced by Pininfarina in Turin – with a limited production run restricted to just 200 examples (of which 14 were right hand drive) – the majority of which were predictably sold in the United States. This makes this pretty convertible rarer than it's Berlinetta brethren and in truth to drive – the car arguably makes a more relaxed and sweeter tourer. This model was made between 1964 and 1966.
The 275 GTS shares the same transaxle arrangement as a GTB and even today represents a really practical and rewarding driving experience.
Chassis number 06963
Completed on 2 April 1965, this Ferrari 275 GTS was destined for Vienna, Austria, and arrived at the facility of the Austrian Ferrari importer, Wolfgang Denzel, that month. This car's Pininfarina-styled body was finished in the striking colour of Grigio Argento, with the interior upholstered in Rosso Connolly leather. Following its arrival in Vienna, this GTS was tested by the Viennese authorities and was declared fit for use on the roads on 30 June 1965. A photograph of the car following the test is available on file, and contained in a historic Vienna registration document.
Later that year, Denzel sold chassis number 06963 to its first owner, Mr Jirschik in Vienna, who registered this Ferrari 275 GTS on 19 January 1966, with the Vienna license plate "W 663.218". After three-and-a-half years of ownership, this Ferrari was sold to its second owner, Mr Dietmar Seidl in Vienna, on 16 October 1969. He registered the car on the license plate "W 664.780". On 14 April 1971, the Ferrari entered the care of its third owner, Mr Josef Hascher, in Vienna, who re-registered the car on the license plate "W 48.756".
Just over 12 months later, this 275 GTS was sold by Mr Hascher to a Mr Franz Schiefthaler, an architect from Linz, Austria, who became the fourth owner. Mr Schiefthaler unknowingly became the longest custodian of this Ferrari, enjoying the car for 30 years. Copies of a historic Vienna registration document show stamps indicating Mr Schiefthaler was in possession of the car from 3 June 1972, when he re-registered this Ferrari on the Linz license plate "L 81.633". As can be seen in this document, Mr Schiefthaler moved address and updated the license plate on 25 April 1984 to "L 3363". He continued to use this 275 GTS as shown by notarised stamps in 1993 and 1998. At some point during his ownership, he decided to have this rare Ferrari spider restored, electing to change colour scheme to Rosso paintwork over a Nero leather interior. Mr Schiefthaler had the Austrian license plates and registration cancelled in 2002, ending his 30-year tenure with chassis number 06963.
In March 2004, this Ferrari 275 GTS was sold via an Austrian and German dealer to the fifth owner, Mr. Stefan Schrörghuber, who registered the car in Germany on 15 June 2004. At some point during his ownership, Mr. Schrörghuber set about a course of restorative work for this Ferrari. While undergoing a comprehensive restoration, this 275 GTS was resprayed in the colour of Argento, yet retained the Nero leather interior fitted during previous ownership. Upon his passing in 2008, chassis number 06963 was sold to its sixth owner, residing in Germany. After two years residing in Munich, this Ferrari 275 GTS was sold to its seventh owner on 14 March 2011, who immediately purchased a set of Borrani wire wheels and Michelin XWX tyres.
Previous Owner
This excellent example was "Red Book"-certified by Ferrari Classiche on 15 February 2012, stating that this Ferrari retains its matching-numbers chassis and engine. This 275 GTS was registered in Denmark on 13 August 2013 by the previous owner, and in April 2016 Autocentre Gråsten repaired the starter motor, replaced the fuel pump, and fuel filter. In May that year, Classic Sports Car of Stige, changed the spark plugs, fuel hose and fuel filter. In late 2019, the same workshop carried out an oil and filter service, replacing the sump plug. Additionally, they replaced the shock absorber bushes, as well as the front and rear anti-roll bar bushes. The most recent work was carried out on 22 April 2021, with the blower motor replaced, coolant flushed, and a new gasket installed on the radiator cap. During the previous ownership period, accumulated invoices exceed €15,000, highlighting the care and attention the last owner bestowed on this stunning Ferrari 275 GTS.
Today chassis number 06963 is accompanied by its bill of sale from 2011, Ferrari Classiche "Red Book", report by marque expert Marcel Massini, reproduction 275 GTS manual, historic Vienna registration document, and numerous restoration photographs showing before, during and after the process.
This 1965 Ferrari 275 GTS provides a tempting opportunity to acquire a rare and highly sought after open-top Prancing Horse. With its stunning colour combination, comprehensive ownership history, paperwork, and Ferrari Classiche certification, this example is prime for enjoyment by its next owner.
Click here for further information
---
collectorscarworld is partnering with the most renowned classic car specialists and dealer-ships in the world. We always offer selected rare and sought-after collectors cars and supercars for sale and every day a special car is featured for one of our partners. The passion for classic cars is diverse, sometimes it concerns the beauty of forms that can be admired at a concours, sometimes it is the smell of rubber , old leather and gasoline at a racing event or trip in the sunset.
Or its a classic car you have great memories with or which your parents owned a longtime ago. Classic cars and supercars are an expression of the lifestyle that someone shares with other petrolheads, and which is immortal, enduring and always a lot of fun. If you are looking for a special car or need support in the evaluation and history of cars, please contact us at info@collectorscarworld.com
---