Beautiful AC Shelby Cobra 289 FIA! Constructed following FIA Appendix K regulations and road registered!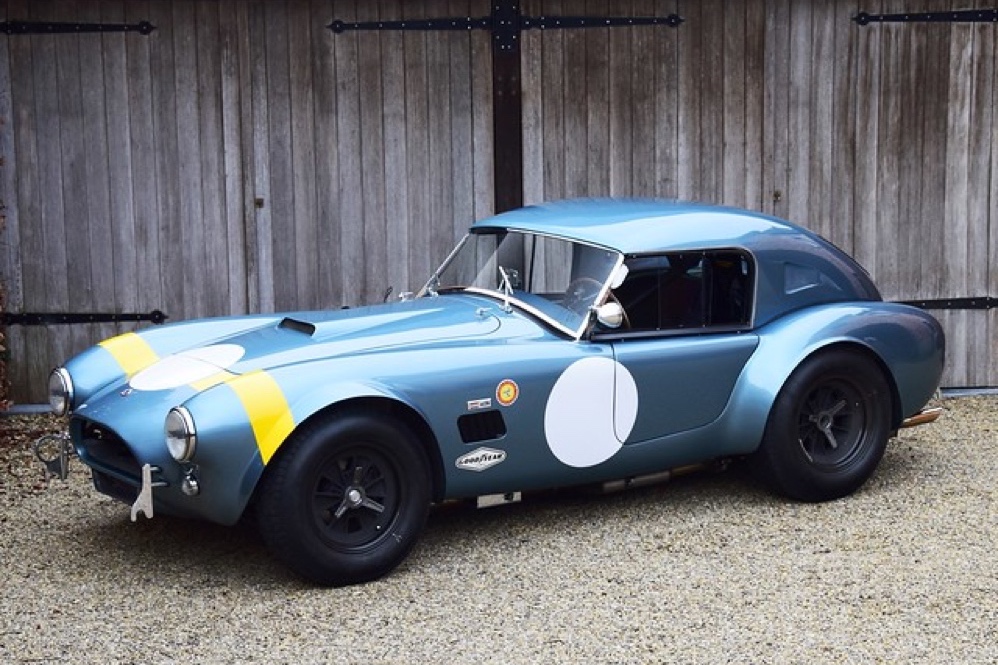 Cobra's are efficient and very successful historic racing cars! This Shelby Cobra 289 is completely built by Gelscoe Motorsport. It is fully constructed for historic competition with only the very best parts available. This Cobra is built from scratch following the FIA Targa Florio specification and comes with a brand new FIA HTP Appendix K valid until 2031.
The build process of this AC Shelby Cobra 289 FIA was without any expenses spared, and constructed with only the very best components available. The 289 engine is a latest specification Pete Knight unit, producing 410 bhp on the dyno. with reports present in the documentation file.
The exhaust is a full stainless steel system with 4 mufflers to suit modern noise requirements. The brand new T10 gearbox is made in accordance with FIA recognition form 1, and paired to a final drive with H/D output shafts. The rear diff is correct cast iron 4HU Salisbury differential mounted with homologated diff cooling and 3.77 ratio. The Cobra has a brand new 140 liters Premier Bladder fuel tank with 20L reserve tank and dual Holley fuel pumps for durability. The suspension has rosejointed A-arms and Koni 8211 shock absorbers which were especially developed for racing Cobra's (and the very best you can use on these cars).
The leafsprings are heavily upgraded for high speed racing. The brakes have Tilton main cylinders with Girling CR and ORA calipers fitted with Mintex brake pads. To get all this power on the road, this beautiful Cobra sits on Crosthwaite & Gardiner magnesium wheels fitted with L-section Dunlop Racing tyres. Everything is very lightweight, including the full aluminium body and Le Mans hardtop (also in aluminium).
The well appointed interior is period correct, with the fully original Cobra 289 dashboard layout and rare Stewart Warner gauges and the typical wooden steering wheel. The driver is perfectly installed in a lightweight Tillet racing seat with full FIA approved 6-point harness and FIA specification roll cage – all inspected and approved. The Targa Florio specification body looks just gorgeous in Viking Blue, and the fit-and-finish of this car is way above what you would expect from a racecar. And most importantly, this Cobra has a road registration which makes it eligible for almost any road event, and the perfect tool for Tour Auto or Targa Florio Classic.
This is another very competitive race AC Shelby Cobra 289 FIA constructed with extremely high attention to detail and authenticity. It is 100% race ready with FIA HTP, and is competitively priced to sell. This is a rare opportunity to obtain a turn-key ready racing Cobra with a proper road registration.
Click here for further information 
---
Want to see another AC Shelby Cobra? Click here.
---