Veteran Scottish motor racing writer Graham Gauld's history of Ecurie Ecosse – published 1992 – describes how thirty years earlier, in a letter to team backer Major Thomson, David Murray declared: "…my scheme this year (1962) is to cooperate with John Tojeiro in producing two cars for the Le Mans race. As you know I have a 2½-litre Coventry Climax engine and I feel that this engine in a coupe body could do well in the GT Prototype class".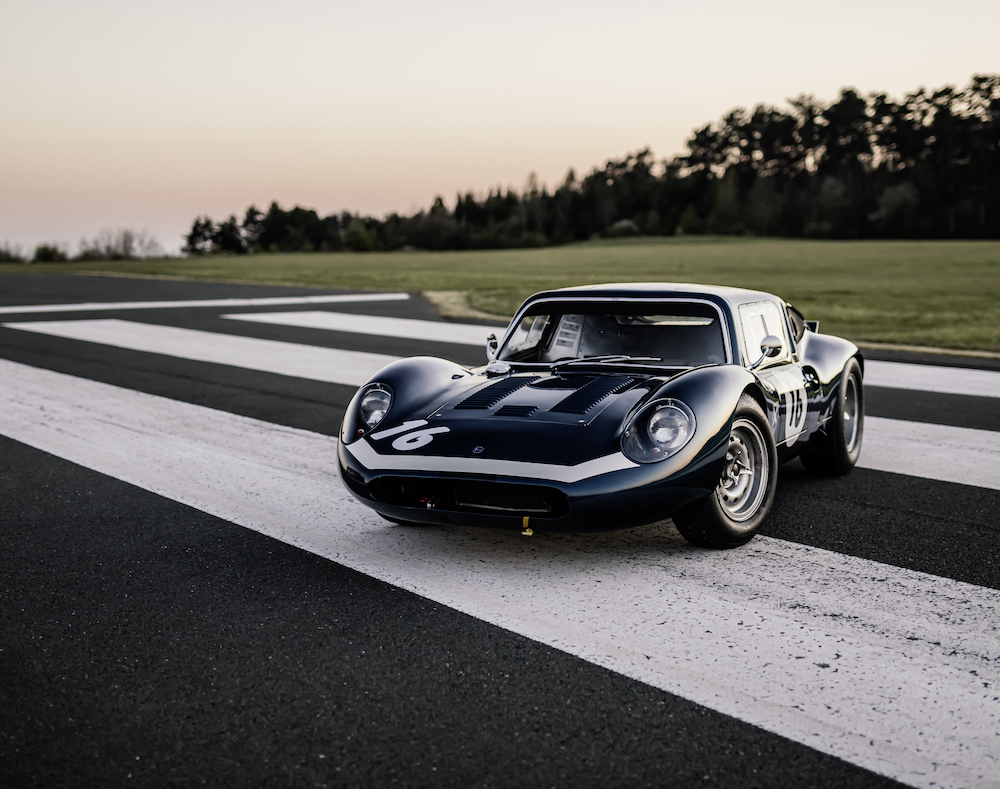 David Murray went to invite specialist competition car constructor John Tojeiro to dinner
….in his Cambridge Street, Edinburgh, flat. He outlined his ideas and John Tojeiro responded by suggesting he could use his existing Formula Junior Tojeiro chassis design, suitably widened and strengthened, as the basis for a new rear-engined coupe. Within days, on February 28, 1962, David Murray entered the as yet non-existent car for Le Mans that year…
Senior Ecurie Ecosse team mechanic Stan Sproat was detailed to work with John Tojeiro at his Barkway premises, building two new chassis in parallel. Graham Gauld relates how the available five-speed gearbox from the team's set-aside Cooper Monaco sports-racing car would mate with the 2½-litre Climax FPF 4-cylinder twin-cam engine, but it was rather heavy. Apart from an expensive Italian Colotti transaxle there were few other transmissions then suitable to match a rear-engined chassis layout. The contemporary Hewland Formula 2 gearbox was not man enough to handle the torque of the 'four-banger' Climax engine, so John Tojeiro and Stan Sproat pressed ahead with construction of a chassis tailored to the Cooper transmission, and since the team had only one such gearbox the second car could not be completed to run at Le Mans that year, as had been planned.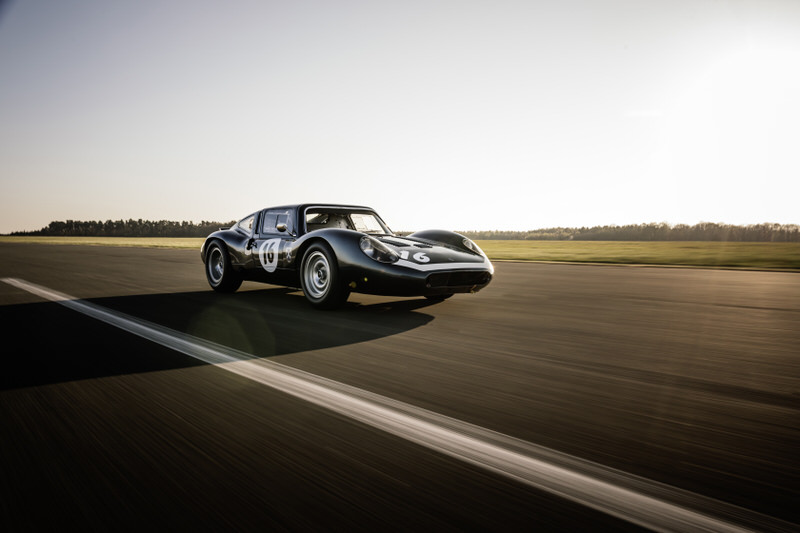 Sixteen special Tojeiro-designed wheel castings were ordered and some discussion
over enlarging the Climax engine to the contemporary 2.7-litre 'Indianapolis' or 'Tasman' capacity ended with it being left – economically – at the standard 2,496cc. Commercial artist Cavendish Morton – who had styled the preceding Tojeiro sports car bodies, was commissioned to produce a body shape for this new Ecurie Ecosse or 'EE' Coupe project. According to his own account, Cavvy Morton was never paid as had been agreed by David Murray, despite submitting his invoice for "Designing body for GT Tojeiro EE – £26 5 shillings". In fact Graham Gauld settled the debt 29 years later during production of his book on the team's history…
In March 1962, David Murray tried hard to bring his 1956 Le Mans winner Ninian Sanderson back into the legendary Scottish team back at the Sarthe to share the new Tojeiro EE-Climax Coupe with Tommy Dickson, but he preferred a TVR instead (which became an early retirement). David Murray by then had turned to veteran journeyman driver Jack Fairman…
This exciting project rapidly ran out of time before the 24-Hour race that June. Extra hands were hurried to the Tojeiro workshop at Barkway to complete the lone race entry and its sister EE Coupe which was to be taken along as a source of major spares, short of engine and gearbox.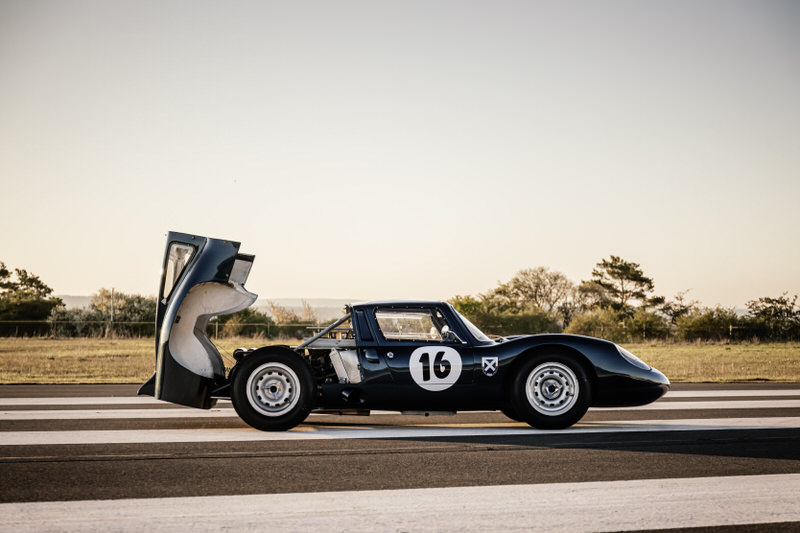 Specialist racing car body builders Williams & Pritchard had been expected to produce the aluminium panels with which to clothe these new Ecurie Ecosse Coupé cars. But when the company decided they could not meet Murray's target deadline the project was completed instead by Wakefield's of Byfleet who built the aluminium bodies in just six weeks. Hasty completion of the first car left the rear tyres fouling its body paneling while the radiator mounting and pannier fuel tanks also required modification. The front- mounted spare wheel did not fit beneath the original bonnet which had to be re-rolled at Barkway for extra clearance. Unpainted, both new Coupes were finally shipped to France at 4.30pm on the Monday preceding the great race, with the paint and spray equipment accompanying them in the team's famous Commer transporter. On a wet road near Sevenoaks, Kent, the Commer skidded and hit a wall, the impact also denting the new EE Coupés' panels inside…
All was repaired and finalised at Le Mans just before scrutineering. The exciting looking EE Coupé was then accepted in every respect apart from a wooden box test when had to pass into the cockpit through the door. It simply would not fit, but as David Murray later told the Ecurie Ecosse Association, the ACO scrutineers "…were very decent…they said that if we could get the door to open a little wider they would allow the car to race, so we changed the hinges on the door and they let us through…".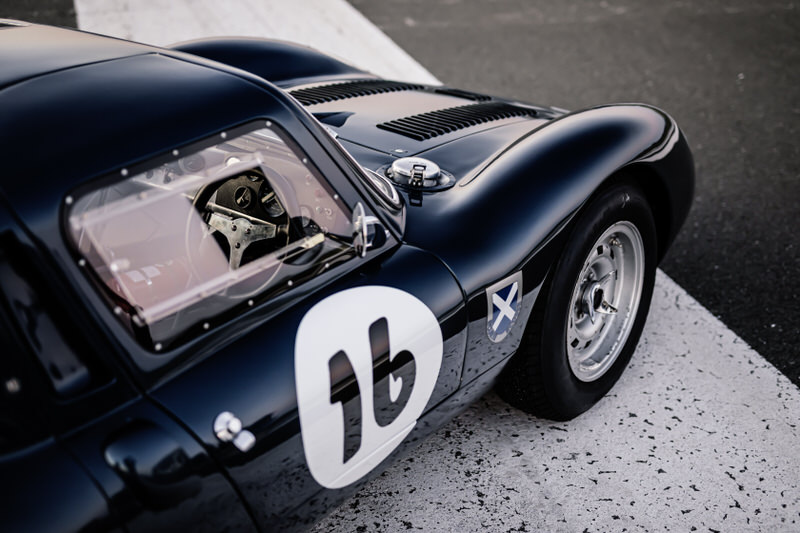 In the 24-Hour race the Flag Metallic Blue EE Coupe with its Climax engine behind the cockpit ran well for eight hours and although forced to retire when its Cooper gearbox engaged two gears simultaneously, locking solid, it was the second-best placed British car at that time.
On the journey home to Edinburgh, Graham Gauld relates how the "…battered transporter called into Charterhall, where a club race meeting was taking place, complete with the chassis and body for the second Tojeiro on the upper deck…".
The Le Mans race car was then prepared to compete in the 50-lap August Bank Holiday Guards Trophy International race at Brands Hatch. Conditions that day were dreadful, and in torrential rain Jack Fairman spun and rolled the Ecosse car. Damage was not too serious, but it capped a difficult season for the team and late in the year David Murray determined to gain some much need positive publicity by using the repaired Tojeiro EE Coupe to attack FIA 1-Hour and 100Km speed records at Monza Autodrome in Italy.
Jack Fairman drove but the attempt had to be abandoned when a broken oil pipe sent the car smoking into the pits. David Murray told the press present that this 'fire' rendered further running impossible, but the sad truth was that he simply didn't have the funds to stay at Monza any longer. According to Graham Gauld the episode's only concrete achievement was to set the highest speed yet by such a car around the Monza Pista de Alta Velocita speedbowl – 152mph.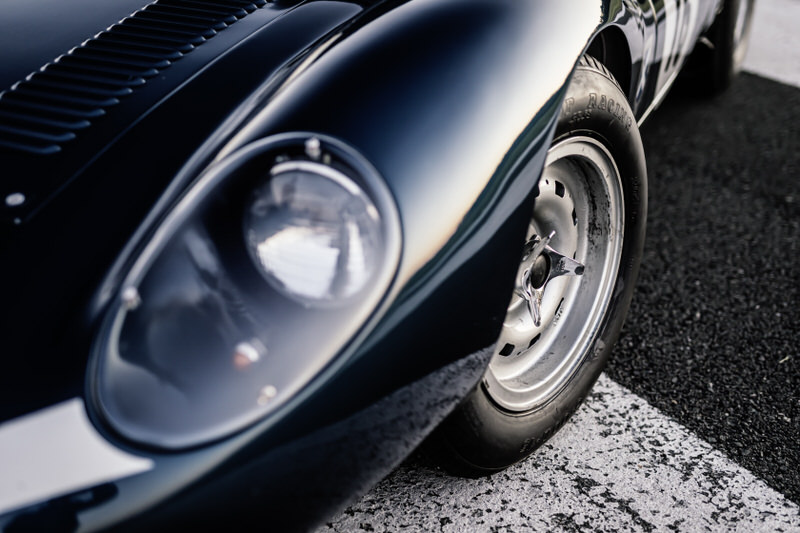 Meanwhile, interest had been growing in adapting production-based American V8 engines for installation in the two Tojeiro EE Coupés for 1963. Stan Sproat read about a new alloy-block lightweight V8 engine produced by General Motors. He recognized its evident potential – pre-dating interest shown by Bruce McLaren and Teddy Mayer in founding their McLaren sports car marque around such a power unit…and indeed by the Rover company which adopted the 3.5-litre GM V8 engine as the basis for its own production unit in the 3500 and SD1-series saloon cars.
Plans were laid at Merchiston Mews – the Ecurie Ecosse HQ in Edinburgh – to convert one EE Coupe to accept one of these new lightweight aluminium-block 3.5-litre Buick V8s, which could be mated to a Chevrolet Corvair transaxle-type gearbox. On November 12, 1962, writing to Major Thomson, David Murray recommended sale of the old Cooper Monaco, suggesting that "…the proceeds of sale of the Cooper Monaco might be used to finance the purchase of the Buick engines (including the additional parts for conversion into racing engines) and the two Corvair gearboxes which will also require modification". But the Major demurred, preferring to have the Climax engine returned from Merchiston Mews for refitting into his Cooper Monaco.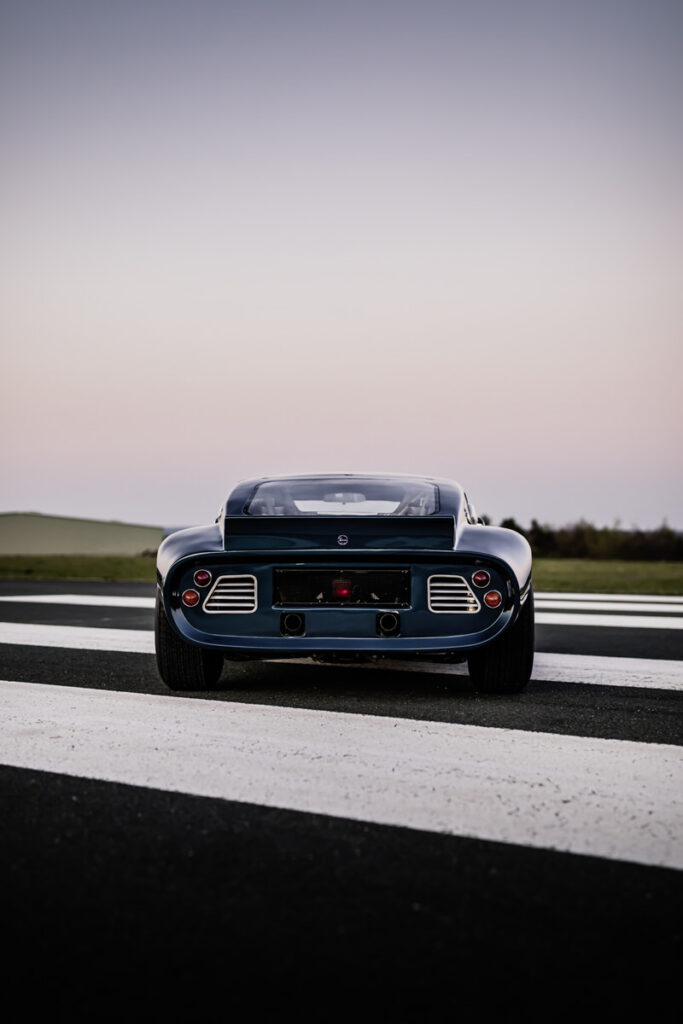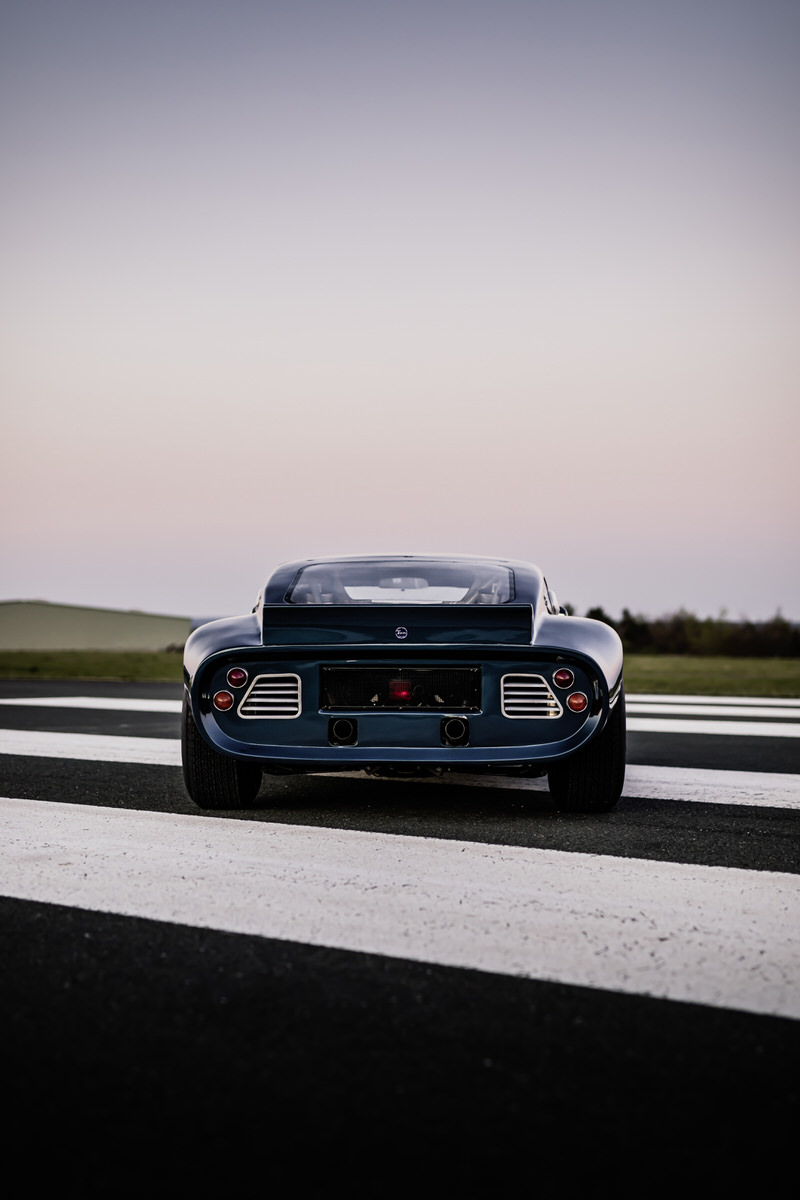 Regardless, at least one Buick V8 was acquired by the team and converted by Stan Sproat to dry-sump lubrication and tuned to produce as much as 228bhp compared to the unit's standard 140bhp. For 1963, trimming his Ecurie Ecosse programme to a series of club and national races only, David Murray signed-on former team driver Jimmy Stewart's promising young brother, Jackie. Doug Graham would also be considered as a team driver for the Tojeiro while the second Tojeiro EE Coupé chassis became the first to be fitted with the Buick V8 engine and Corvair transmission.
Jackie Stewart won one race and finished second in another at Charterhall on June 30, 1963 but in July at Snetterton the car was crashed by Doug Graham. The original ex-Le Mans ex-Climax FPF– engined car was also converted to Buick V8 power and on June 23, 1963, it was driven by Tommy Dickson to finish fourth in one race at Ouston aerodrome, then retired from another that day when driven by local star Jimmy Blumer.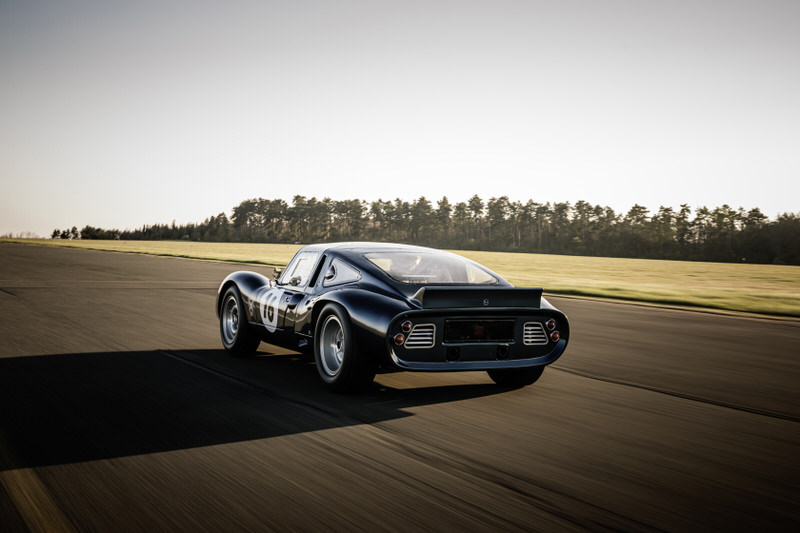 This car finished second at Charterhall driven by Tommy Dickson, retired at Snetterton when Jackie Stewart made his debut in it, and was then placed 14th at Silverstone in the hands of Doug Graham. Back at Snetterton on August 5, 1963, Jackie Stewart won with the car, following up with a third at Snetterton two weeks later, then retirement from a race at Oulton Park on August 31.
At the end of the season the Ecurie Ecosse Association took space in Autosport magazine to advertise the team's 'Success in Development' – citing the Tojeiro-Buick's new outright GT lap record at Oulton Park and race win at Goodwood. The sister EE Coupé had also been completed with a Buick V8 engine, being similarly campaigned until it was equipped with a larger and more powerful 4.7-litre Ford V8 engine for 1964. This is the basis of the car now offered here, it having been converted into an open-cockpit sports-racing car for the 1966 season, at which time the sister Tojeiro EE-Buick Coupé was – according to Graham Gauld's team history – "…sold to a Canadian for £1,140 which included delivery charges to Liverpool…".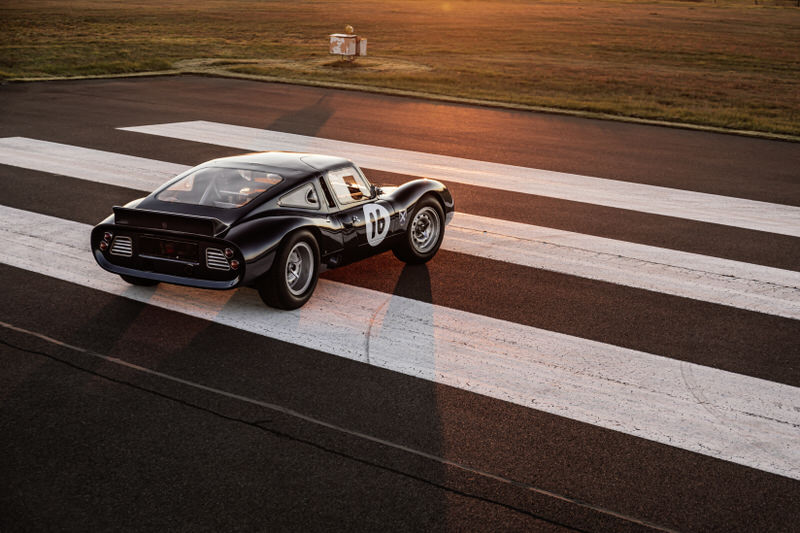 The 1964 record of the Tojeiro EE-Ford Coupe – driven most notably be emergent Scottish star driver Jackie Stewart at the outset of his meteoric career, and later by the experience Lister-Jaguar exponent, John Coundley – was as follows:
May 2 – Silverstone – Jackie Stewart – 6th
May 18 – Goodwood – Jackie Stewart – Retired
July 11 – Brands Hatch – Jackie Stewart – 3rd
July 19 – Snetterton – John Coundley – Retired
September 27 – Brands Hatch – John Coundley –

FIRST

October 4 – Brands Hatch – John Coundley – 2nd.
After the Tojeiro EE-Ford Coupé was cut down into a sports-racing car for 1966, the removed roof panel from the Tojeiro EE-Ford Coupe was eventually given to Edinburgh-based special builder Jack Fisher, who built it into his Fisher Special, as raced by Ed Labinjoh.
The cut-down Tojeiro EE-Ford V8 handled well and had plenty of power, going well at Silverstone driven by new Ecosse driver Bill Stein before its crownwheel-and-pinion failed. The car was then entered for the sports car race supporting the 1966 British Grand Prix at Brands Hatch, where poor Stein was lucky to survive an horrendous crash at the bottom of Paddock Hill.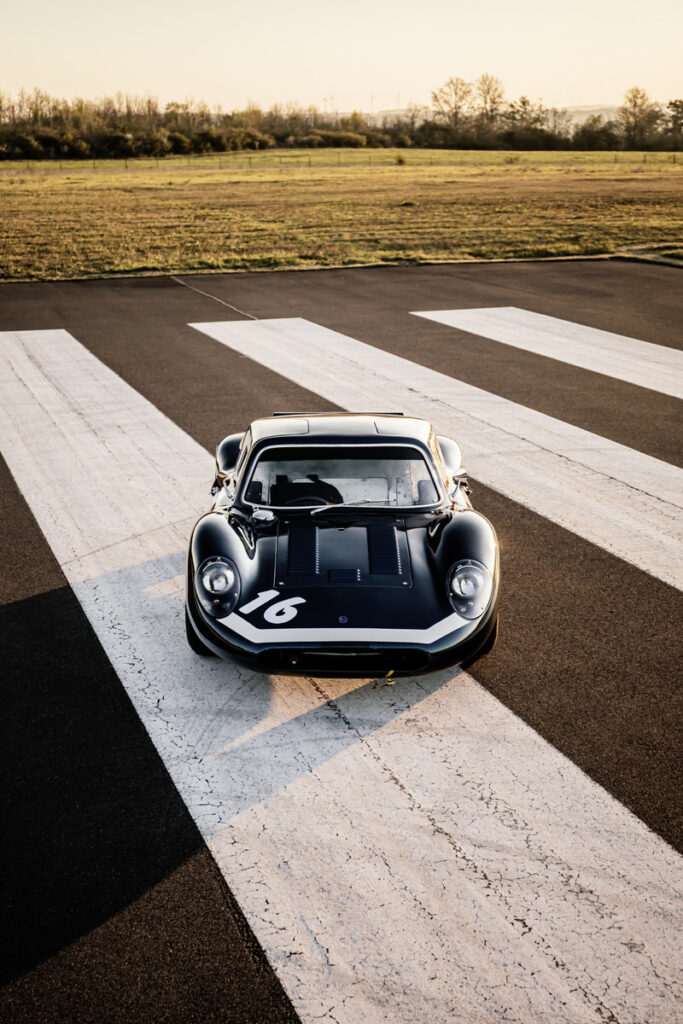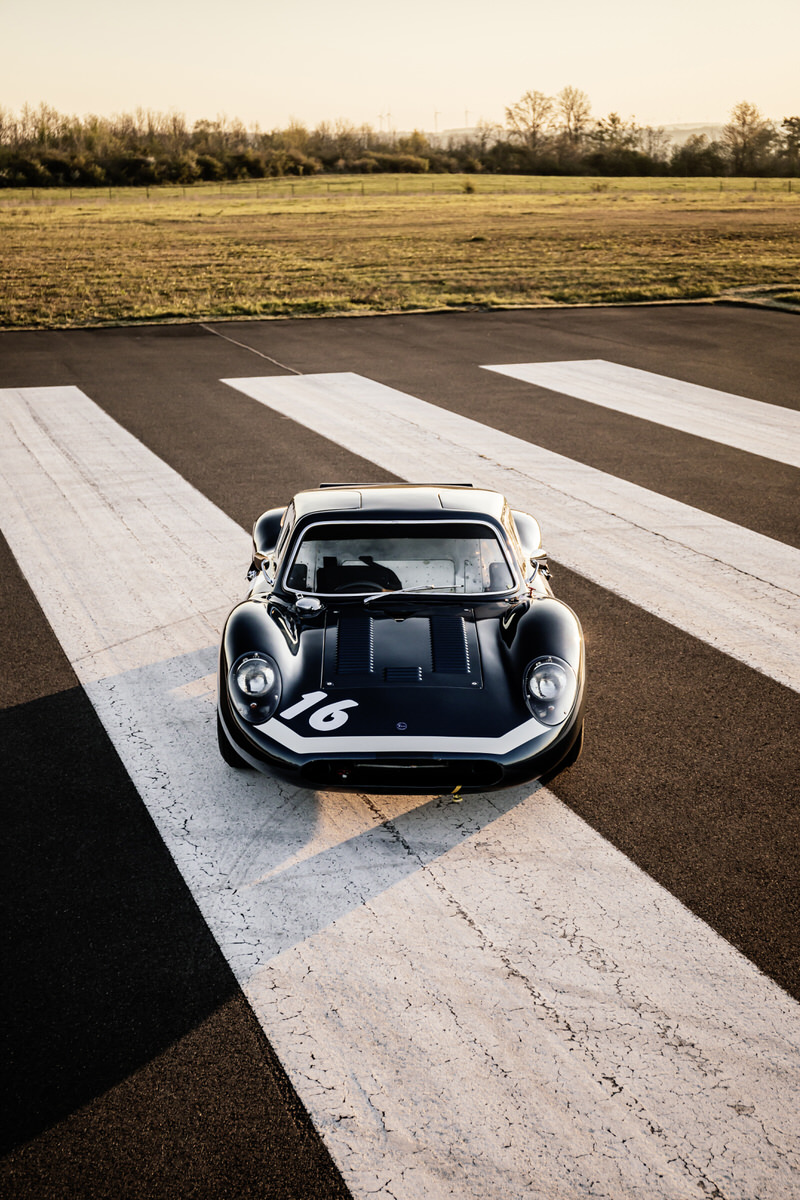 The damaged Brands Hatch car was acquired by Phil Brewer from Berwick-on-Tweed with whom it remained for some 20 years. Subsequent owner Bob Kerr had the chassis straightened by specialist Ken Nicholls and the car passed subsequently to Ecurie Ecosse's modern-era saviour, Scottish enthusiast Hugh McCaig. He subsequently sold the car to the present vendor in 1993. It was stripped and entrusted to leading restoration specialists Crosthwaite & Gardiner, who rebuilt and strengthened the multi-tubular chassis frame, and rebuilt the car overall to incorporate the original roof acquired from Jack Fisher. Brian Wingfield completed the project, the revived Tojeiro EE-Ford then being tested at Snetterton by touring car legend, the late David Leslie. The unique car was sold by Chrome Cars. Find out more