Introduced in 1961, the E-Type roadster proved to be an immediate success. Designed under the guidance of Sir William Lyons, the car was a longer and lower version of Jaguar's D-Type.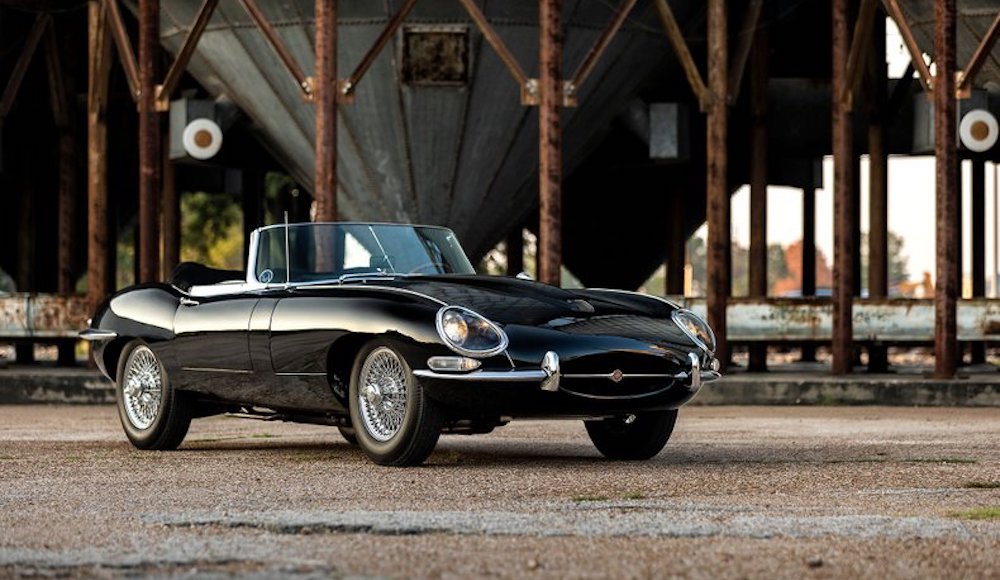 Manufactured between 1961 and 1975, its combination of good looks, high performance, and competitive pricing established the marquee as an icon of 1960s motoring. On its release Enzo Ferrari called it "The most beautiful car ever made".
Early Production Series I (Built September 14, 1961) – Flat-floor, Welded Louver Model
875534 was completed on September 14, 1961, in Black over Beige upholstery with Black top, and dispatched to the U.S. on the 2nd of October through Jaguar Cars, New York, to its first owner Allen V.C. Davis of La Canada, California. Allen V.C. Davis, a successful entrepreneur, purchased this Jaguar in early 1962 at Satori Inc. of Glendale, his good friend who also admired the new model also purchased a 1962 E-type. Soon after Allen's friend wrecked his XKE, and fearful the same would happen to him Mrs. Davis insisted Allen sell his car. Bruce Carpenter managed a business for Mr. Davis, and in the mid-late 1960's Davis gave Bruce a choice of a cash bonus or the Jaguar. Bruce chose the Jaguar, which would remain under his care until 2018. Bruce was a former Marine and accomplished pilot – which accounts for the associated military and aeronautical decals were affixed throughout the vehicle. The car was named The Black Mariah after the song "They Call the Wind Mariah" – Bruce also credits the Jaguar for impressing a certain first date, which later became his wife. The car resided in garage care in the Hollywood Hills, CA with regular short drives through Griffith Park on Saturday mornings to keep the E-Type in shape. After retirement and moving to Nevada in 2011, Bruce would continue this tradition of Saturday morning drives to Cars & Coffee to meet with friends. A more detailed account of its history and can be found in the vehicle's dossier, along with the Jaguar Heritage Trust Certificate and ALL matching original owner's manuals, cards, and pamphlets in vinyl sleeve.
Click here for further information!
Report by driversource.com
---