Thiesen Automobile is offering this stunning Porsche 356 A 1600S Speedster for sale. Extensively partly restored. Original S with 75 hp. Excellent driving performance.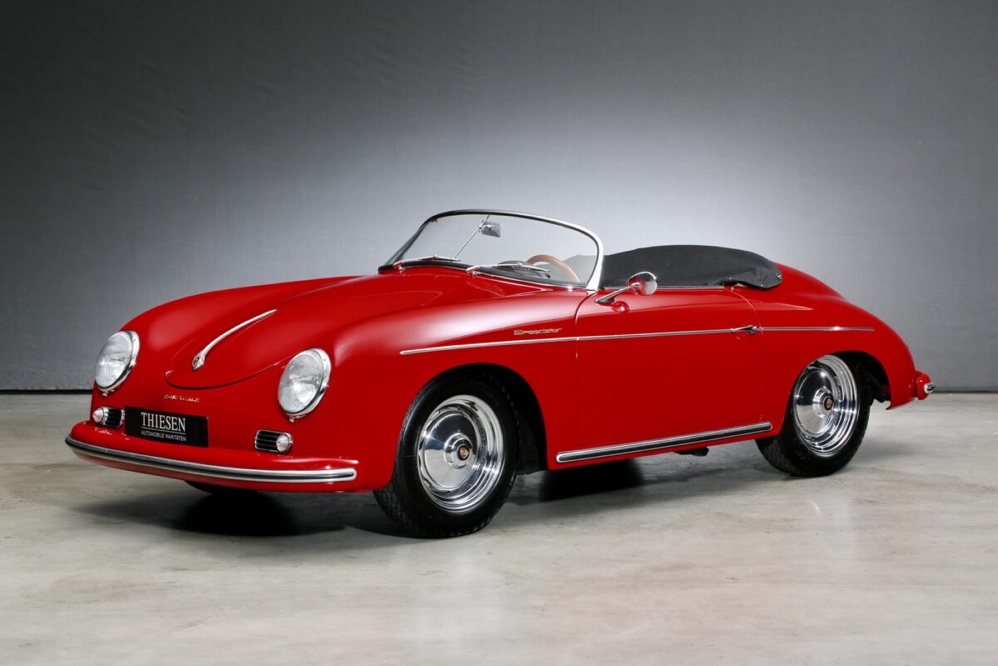 Maxie Hoffman, the most successful Porsche salesman in the USA, had the idea of bringing a light, open and particularly sporty version of the 356 to America in 1952 and had the "American Roadster" developed. Hoffman was only able to sell 24 units with its aluminium body. It was not until the "Speedster" was made of sheet steel that production became cheaper and sales increased. The "Speedster" was made for the rich youth of Los Angeles and Malibu and quickly became the toy of Hollywood stars. Ever since James Dean drove the Speedster, the most purist of all Porsches became an icon of the Zuffenhausen sports car brand.
4144 Speedsters were produced between 1954 and 1958.
According to the available Porsche data sheet, this 356 A 1600 Speedster was manufactured in the 1957 model year for export to Japan. A few years ago, the Speedster was extensively partially restored on a well-preserved original basis. The car was part of a German collection and has a historic road registration. The driving characteristics are outstanding.
Engine: 1.6 litre 4 cyl. boxer engine, 75 hp (factory specification)
Click here for further information 
---
collectorscarworld is partnering with the most renowned classic car specialists and dealerships in the world. We always offer selected rare and sought-after collectors cars and supercars for sale and every day a special car is featured for one of our partners. The passion for classic cars is diverse, sometimes it concerns the beauty of forms that can be admired at a concours, sometimes it is the smell of rubber , old leather and gasoline at a racing event or trip in the sunset.
Or its a classic car you have great memories with or which your parents owned a longtime ago. Classic cars and supercars are an expression of the lifestyle that someone shares with other petrolheads, and which is immortal, enduring and always a lot of fun. If you are looking for a special car or need support in the evaluation and history of cars, please contact us at info@collectorscarworld.com
---