Speedmaster Limited is offering this stunning Maserati 250F for sale. Exacting recreation by Maserati expert Cameron Millar – utilising numerous original parts. Superb historic Grand Prix entry.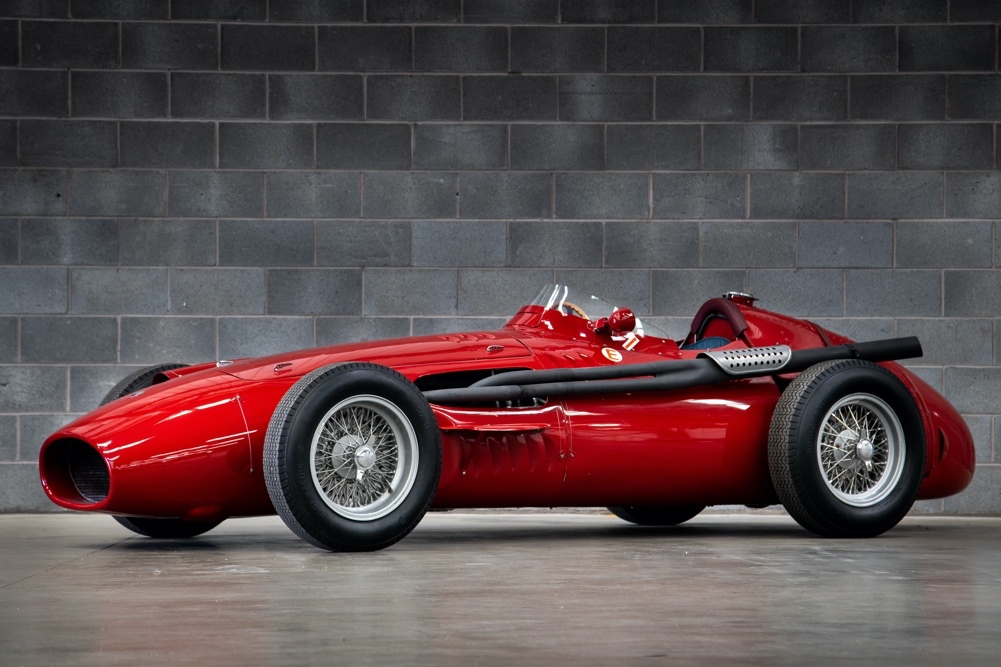 The Maserati 250F is unique among Grand Prix cars, as it has longevity that has spanned seven years of racing and claimed association with a lengthy list of racing greats, including Juan Manuel Fangio, Stirling Moss, Alberto Ascari, Peter Collins, Mike Hawthorn and many more. The 250F was crucially important in carrying Juan Manuel Fangio to two of his five World Championship-winning seasons, in 1954 and 1957. With Fangio driving, Maserati won the first two championship races of the new 2.5-litre formula in 1954. The factory then resumed its program of selling cars to privateers and offering them full support.
An equally impressive list of customers began to take shape. Prince Bira, Harry Schell, Roy Salvadori, Toulo de Graffenried and others took delivery and began winning at both national and international levels. The 250F was awarded legendary status following its success on the circuit and was considered to be one of the greatest and most beautiful single seater Grand Prix racing cars to have ever been built, with its fine handling and powerful six cylinder engine; a competitive car, even today in historic Grand Prix car events.
In addition, the pure aerodynamic shape is one of the finest designs to have been constructed on a racing car chassis, and it remains a '50s icon that is highly desirable among collectors. Squadron leader Cameron Millar was an avid fan of the model and a highly competent engineer who acquired his first Maserati 250F in 1964. This was the start of his life-long love affair that would later result in a small batch of exact replica's hand built by him, which are widely recognised as the nearest recreation of the original 250F that money could buy. Millar became a recognised authority on the 250F and in 1967 is understood to have purchased all the remaining cars and parts from the Scuderia Centro Sud, who had campaigned the cars in period. In addition, he was able to acquire the chassis jigs from the factory that put him in pole position for crafting a second series of cars made as per the original factory production. These Cameron Millar cars were so exacting in their detail that the FIA granted them eligibility to race alongside the original cars and contemporary machines in competitive historic racing events.
In fact, the CM 250Fs attracted huge interest from prominent members of the racing world, and even the great Juan Manuel Fangio himself acquired chassis CM3 to display at his museum in Argentina. Millar began building the limited series of CM cars from 1972 through to 1996, and the early cars were constructed using predominantly original parts from the haul brought from Scuderia Centro Sud, making them the most desirable cars of the series, only 10 cars were built and today most are in long term ownership / collections. We are delighted to offer chassis CM2 a 1957 T2 specification car, the second car constructed in 1979 by Millar, who utilised a plethora of original parts for its build.
The car was raced by owners David Morgan and then Peter Martin before being sold to Alan Cottam, all of who raced the car in historic racing. In the late 1980's the brakes, transmission and various other parts were removed from CM2 to be built into a Maserati 300s sports racing car. Incensed by this Cameron Millar bought the incomplete car and commissioned Hall and Hall to rebuild the car. Hall and Hall fitted a new Cyril Embrey Maserati 250F engine with original Weber sand cast carburettors, original Magneti Marelli magnetos as well as a 5-speed transaxle, brake assemblies to exact T2 (semi lightweight) 250F specification. The car was sold via Colin Crabbe to Ian Duncan in 1996 and has been used on occasional track days and motorsport events as well as being a feature in the Donington Grand Prix Collection.
More recently the car has been part of a private collection in the UK. Speedmaster Limited is pleased to offer this iconic 1950's GP car for sale, this is a fantastic opportunity to acquire a fantastic car that is eligible for the worlds premier motorsport events such as Goodwood Revival, and Monterey Historic Festival.
Click here for further information  
---
collectorscarworld is partnering with the most renowned classic car specialists and dealer-ships in the world. We always offer selected rare and sought-after collectors cars and supercars for sale and every day a special car is featured for one of our partners. The passion for classic cars is diverse, sometimes it concerns the beauty of forms that can be admired at a concours, sometimes it is the smell of rubber , old leather and gasoline at a racing event or trip in the sunset.
Or its a classic car you have great memories with or which your parents owned a longtime ago. Classic cars and supercars are an expression of the lifestyle that someone shares with other petrolheads, and which is immortal, enduring and always a lot of fun. If you are looking for a special car or need support in the evaluation and history of cars, please contact us at info@collectorscarworld.com
---